Domingo German ejected for foreign substance, Vladimir Guerrero Jr. injured, and more as Yankees beat Blue Jays 6-3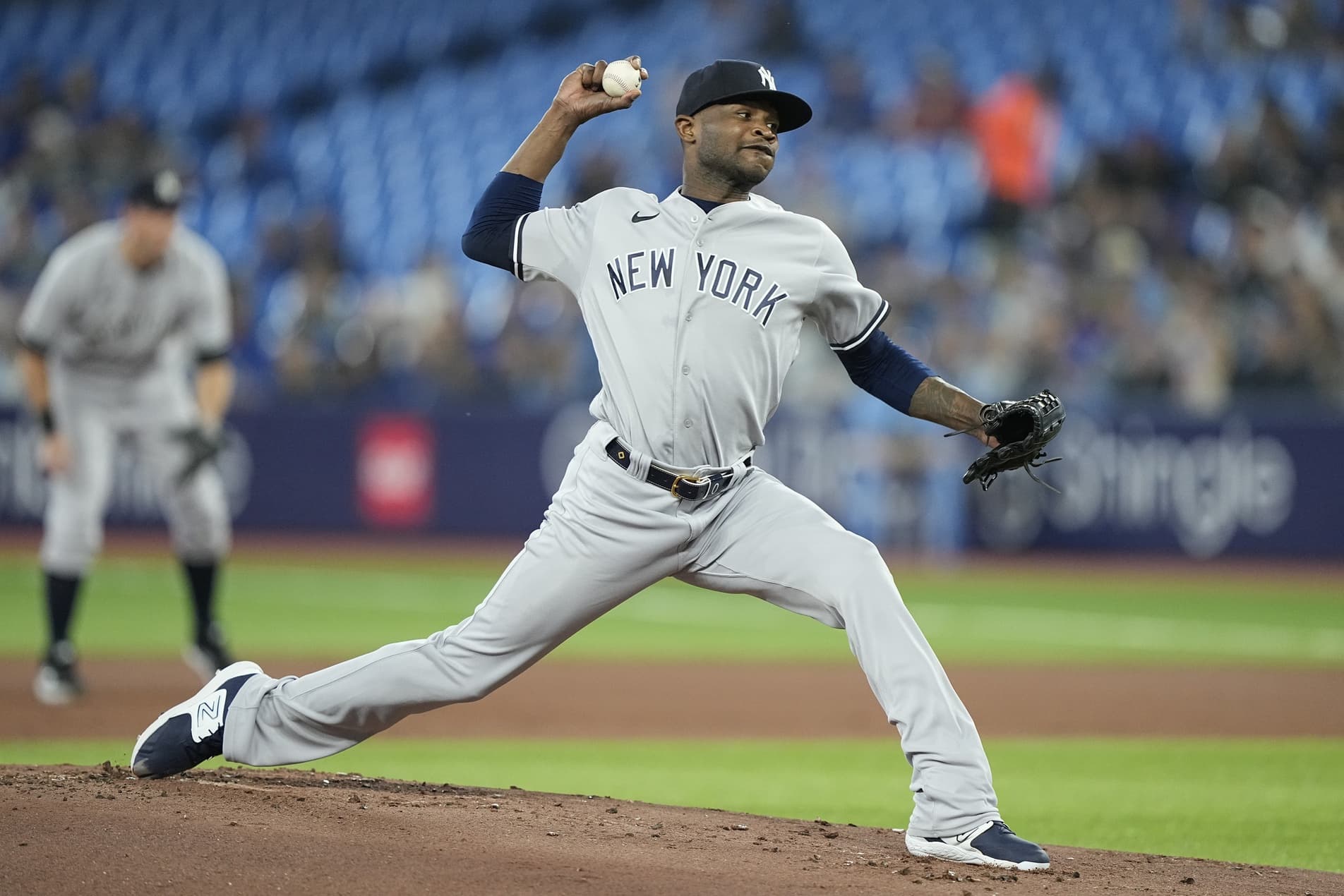 Photo credit:John E. Sokolowski-USA TODAY Sports
It was an eventful night at the Rogers Centre, but another late-inning home run from Aaron Judge sealed New York's second straight win over Toronto with a 6-3 victory on Tuesday night. If you were looking for a game with sticky stuff ejections, coaching staff-to-coaching staff chirping, and an emphasis on the coach's boxes along the foul lines, this one was for you!
Erik Swanson gave up the home run to Judge in the 8th inning, and it came on his slider, a pitch he seldom throws. Swanson loaded the bases after the homer, but he was able to escape the jam without any further damage. Nonetheless, it was probably Swanson's worst outing as a Blue Jay, and it came at a cost. After the game, the Sportsnet crew mentioned how Swanson's best pitches are his fastball and splitter, and that's what he needs to use when facing the game's best.
Blue Jays Nation's Player of the Game: Kevin Gausman
It wasn't a scoreless outing of dominance, but it was a much-needed excellent start from Gausman tonight. He went seven innings on the night, giving up five hits, two earned runs, two walks, and ten strikeouts. Tonight marked Gausman's 4th 10+ strikeout game of the season.
While the splitter was once again elite, Gausman's best pitch of the night was a four-seam fastball he threw in the 5th inning to strike out Judge. Judge was up to bat with a runner on third and two outs, and it was a situation that the Blue Jays could've very easily put him on base with a couple of bags open and a far inferior batter in Harrison Bader on deck. Judge worked a full count, a likely scenario for a splitter from Gausman. Judge had splitter on the mind, and Gausman froze him with a picture-perfect 96 mph fastball on the inside portion of the zone.
Gausman allowed an unfortunate solo home run to Isaiah Kiner-Falefa in the 5th inning, a ball that seemingly floated into the right field seats. It was Kiner-Falefa's first home run of the season and only his fifth over the past two seasons. Despite the numerous things worth mentioning below about tonight's game, I think Yankees fans would admit that that home run was the craziest thing to happen tonight.
Gausman had some nice defensive plays made behind him, particularly from Daulton Varsho and Vladimir Guerrero Jr. Before the aforementioned Judge at-bat in the 5th, Varsho threw out Gleyber Torres at second base trying to stretch a single into a double. The ball was hit 106 mph off the bat, and Varsho did an excellent job cutting the ball off and running to his right. Earlier in the night, Varsho turned a sure-double from Jose Trevino into a long single, playing a hard-hit ball perfectly off the wall and getting the ball back to the infield in time.
Things worth mentioning…
Speaking of abnormal, it was an odd night for the Yankees' pitching staff, which got a little more depleted after tonight's game. Let's begin with starter Domingo German, who was tossed from the game before the bottom of the 4th for having a foreign substance on his hands. If you remember, German was the topic of discussion a few weeks ago when the same umpire crew told him to wash his hands in between innings, only to allow him to stay in the game after finding an issue with his hands after the fact.
It's safe to say that the umps were done giving out chances (that we know of) as they didn't even warn German before tossing him. Furthermore, there was minimal argument from German and/or Aaron Boone afterwards, almost as if they were OK with German being thrown out. Now it will be interesting to see if German gets the Max Scherzer treatment and is handed a 10-game suspension.
New York had to go to their bullpen earlier than anticipated; German had retired all nine of the batters he had faced to start the game. New York went with Ian Hamilton, who loaded the bases in the 4th inning with two outs, only to leave immediately after with a trainer.
Revisiting Judge: Judge was the topic of conversation after last night's game after some footage of him looking at his first base coach or dugout during an at-bat in which he hit a home run. Some accused him of cheating, others were convinced that Jay Jackson may have been tipping his pitches, and some just didn't make anything of it. Regardless, he was showered with boos during his at-bats tonight. In parallel, coaches were told to be cautious of where they were standing along the foul lines, and it led to Pete Walker shouting at New York 3B coach Miguel Rojas in one of the early innings. According to Hazel Mae of Sportsnet, Walker was shouting something along the lines of "I'm keeping my eye on you."
Vladimir Guerrero Jr. caught a bunt pop-up in the eighth inning and appeared to hurt his foot as he was jogging to the ball. Brandon Belt pinch hit for Cavan Biggio in the bottom of the inning and replaced Vladdy at first base defensively in the top of the ninth.
---