Don't give up on Orelvis Martinez as a top-tier prospect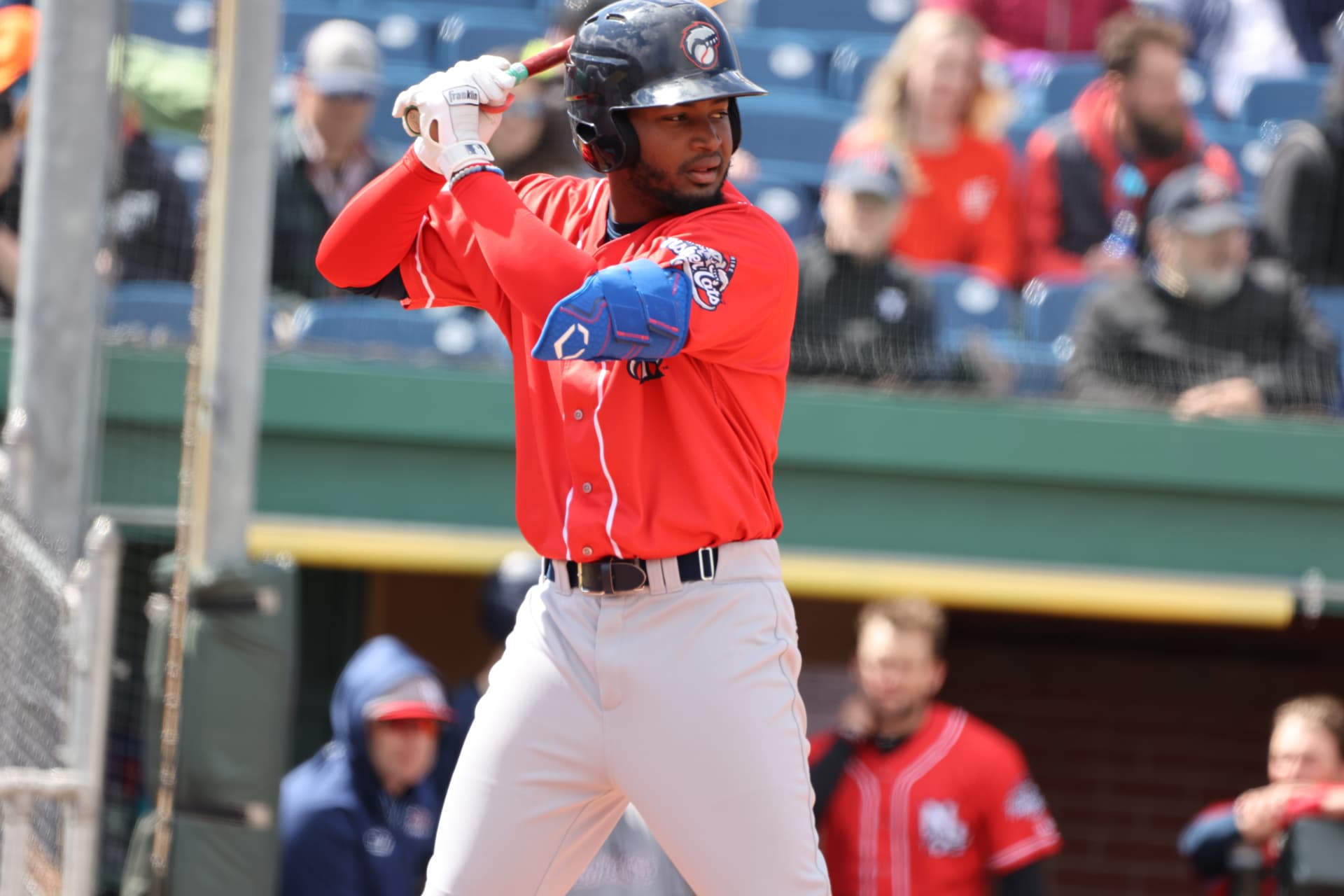 At this point last season, Orelvis Martinez was one of the hottest prospects in baseball.
Fast forward a year, and it seems many fans have lost faith in the 20-year-old shortstop/third baseman. In fact, he has fallen off many Top 100 lists and some fans are even calling for him to be traded (despite his value being low).
While there are significant holes in his game, it's important to remember that he's still incredibly young for the level. Let's start with what he does well.
Don't count out his power:
Before, I had said that Orelvis Martinez is potentially generational. While this isn't the case as he has regressed and I've improved my scouting abilities, this isn't to say that he doesn't have the ceiling of a potential multi-time all-star.
His best tool by far is his power tool. Below is a list of each player in Double A that has hit 20 or more homers, as well as their age and the amount of plate appearances.
| | | | |
| --- | --- | --- | --- |
| Name | Home run total (AA) | Plate appearances | Age |
| Ryan Ward | 27 | 406 | 24 |
| Quincy Nieporte | 27 | 383 | 27 |
| Orelvis Martinez | 25 | 376 | 20 |
| Sean Roby | 23 | 326 | 23 |
| Michael Togllia | 23 | 420 | 23 |
| Leandro Cedeno | 23 | 389 | 23 |
| Moises Gomez | 23 | 257 | 23 |
| Jakson Reetz | 22 | 276 | 26 |
| Kerry Carpenter | 22 | 262 | 24 |
| Aaron Shackelford | 22 | 333 | 25 |
| CJ Alexander | 22 | 381 | 25 |
| Drew Lugbauer | 22 | 425 | 25 |
| Ronny Mauricio | 21 | 404 | 21 |
| Matt Wallner | 21 | 342 | 24 |
| Craig Dedelow | 21 | 430 | 27 |
| Andy Pages | 20 | 434 | 21 |
| Justin Dirden | 20 | 407 | 24 |
The one thing that immediately jumps out on this table is that most players that have hit 20+ homers in AA are 23 or older. Ronny Mauricio and Andy Page are the only two players who are around the same age as Orelvis, but they are also facing the same issues (albeit both are hitting over .240).
The only other comparable is Francisco Alvarez, who had 18 homers in 296 plate appearances before being promoted to Triple A. I also brought him up because he was born on November 11th, 2001, the exact same day as Orelvis Martinez. Fun.
There have been 13 20-year-olds that have played at the Double A level this season. Only five others started the season at the level and have had more than 100 plate appearances. Jhonkensy Noel and Ezequiel Tovar are both older than Orelvis, Alvarez is the exact same age, and Jordan Walker and Masyn Winn are a few months younger.
All of this to say that Orelvis is one of the youngest players in AA so his struggles (power aside) aren't out of the ordinary.
Consider this:
There are also a few more reasons which suggest that Orelvis will be able to improve on his difficulties. The 20-year-old signed in 2018 and made his professional debut in the following season. 
Orelvis played in the equivalent of the Florida Complex League in 2019. He posted a .275/.352/.549 slash line with 7 homers in 163 plate appearances. He had a 17.8 K% and an 8.6 BB%. This gave him a wRC+ of 150, when put alongside his homer totals, showed that Orelvis was the real deal.
There was no minor league season in 2020, so we'll skip ahead to 2021 where Orelvis started his season in Low A as a 19-year-old, a pretty standard level for his age.  He slashed .279/.369/.572 with 19 homers in 326 plate appearances. He had a 10.1 BB% and 26.1 K%, but had a 149 wRC+ before being promoted to High A on August 1st.
After his promotion, he struggled in his 125 plate appearances. With the Vancouver Canadians, he posted a .214/.282/.491 slash line with 9 homers. He also had an 8 BB% and 22.4 K% for a wRC+ of 99. As a 19-year-old, he was -3.9 years younger than the average position player.
In his first 78 plate appearances in High A, he slashed .181/.221/.361 with four homers. His 3.8 BB% and 21.8 K% led to a 50 wRC+. However, in his last 44 plate appearances at this level, he slashed .295/.392/.705 with five homers with a 13.7 BB% and 25.5 K% for a wRC+ of 179.
To me, this showed that there was an adjustment period and after which, he was a darn good player. I, along with pretty much everyone in the universe believed he would repeat High A, but the Jays liked what they saw from him towards the end of the season and in spring training, that he started his season in Double A.
This brings us to his current stats. In 2022, he's slashing .215/.283/.481 with a 6.4 BB% and 30.1 K% in 376 plate appearances. He has hit an enormous amount of dingers, but his wRC+ only sits at 101.
There's obviously a ton of power in his game, but his K% is worrisome. However, when you factor in his age, how quickly he's been rushed up the level, and the fact he missed a year of development, there's no cause for concerns… yet.
If he's still in Double A in two seasons and his average hasn't jumped, or his ability to layoff off-speed pitches hasn't developed, then maybe we'll have a different discussion.
But as it stands now, there's nothing to worry about when it comes to Orelvis Martinez. As he continues to gain experience in Double A, there's a good chance he'll be able to read the ball better. I have plenty of time for his power.
As always, you can follow me on Twitter @Brennan_L_D. His ability to barrel up the ball is incredible, and his swing reminds me a lot of Vlad Jr's, so that's nice.
---