Down the Stretch They Come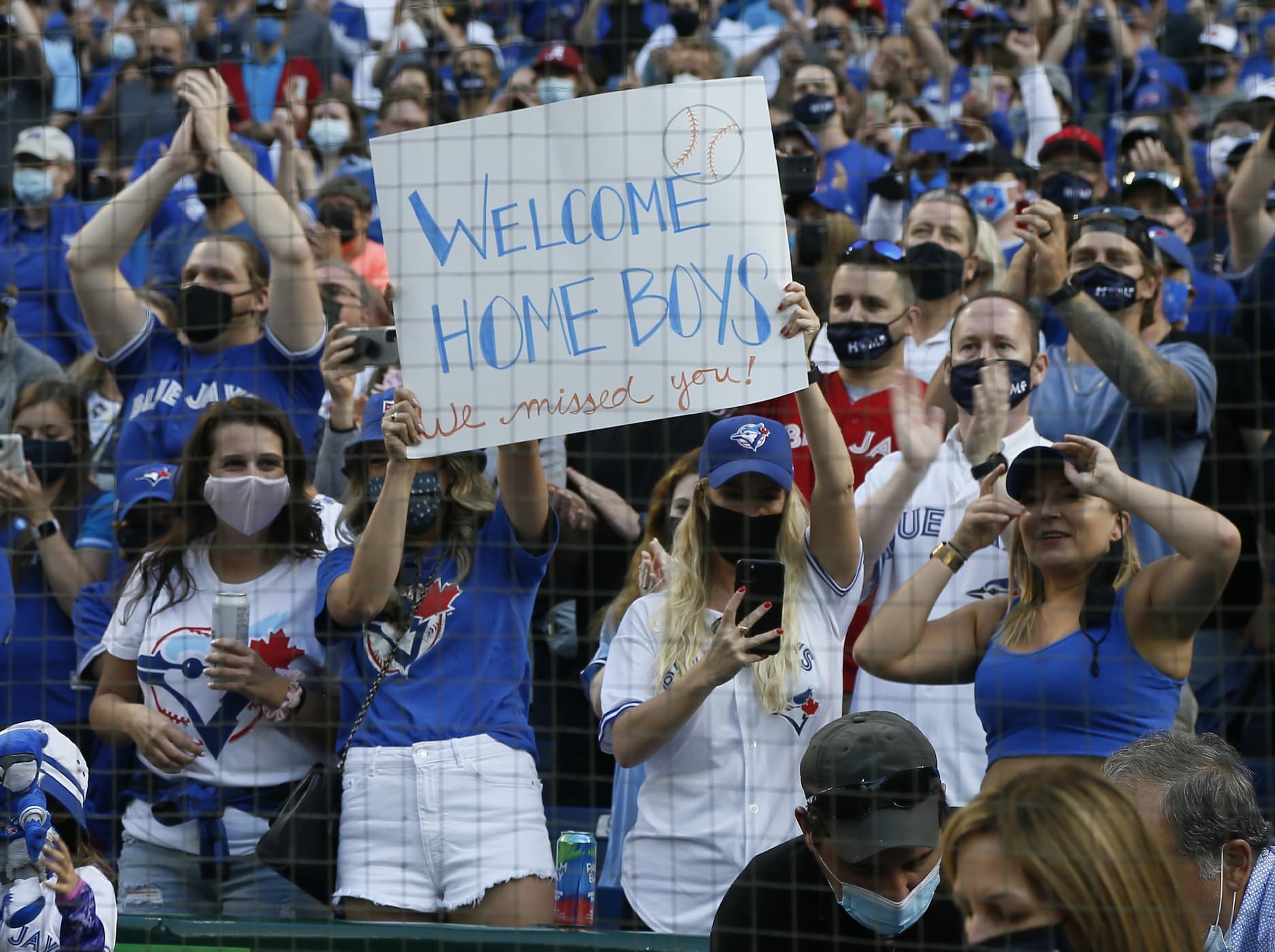 Photo credit:© John E. Sokolowski-USA TODAY Sports
As play began on August 13, Jays World was feeling pretty good about the prospect of watching our heroes make the playoffs in October. Toronto was 16-10 since the break, 29-17 over the previous (almost) eight weeks – the best record in the AL over that period – and George Springer had come back just as that turnaround was beginning and was as hot as any hitter in the game.
Looking ahead, it was easy to be excited about a schedule that promised as much as 10 wins in 15 even before you get to beat up on Baltimore. They were a mere 2 games out of the second Wild Card slot, and a half-game away from passing the Hated Yankees. It was a great time to make hay and a horrible time to go cold, and yet…here we are.
The Yankees went on a ridiculous 13 game win streak while the Jays stumbled to only six wins in that 15 with a barely-there offense most nights even though the starting pitching mostly delivered. Toronto lost EIGHT GAMES in the standings vs the Yankees in little more than two weeks. This little ill-time slumped has moved the Jays from the heart of the wild card race to the periphery but . . . is it indeed "too late"? Is recovery possible? Let's take a closer look.
First of all, whatever might have been true three weeks ago, let's dispense with the idea of catching the Yankees, let alone the Rays. While there's always a non-zero chance of a historic collapse, there's no real point in discussing the implications of something that shows no sign of appearing. Therefore we're talking about a four-team race for one spot: Toronto, Boston, Oakland, and Seattle. Also, before we look forward it's necessary to look back and lay some foundation for the presumptions and half-wit forecasts which will ensue. As far as win/loss records, I'm going to choose four sorts of cardinal points to paint a picture of how teams are trending. They can be rightly called "arbitrary endpoints" but in truth, basically any partial season sample is selected at least somewhat arbitrarily, but I'll have reasons for each.
The first is June 18. On that day, the Jays lost the last game in a seven-game losing streak (to Baltimore no less) but two days later George Springer would be back and on June 19 the team would start an 8-1 run to recover what was lost on the losing streak. As I noted above, it would touch off a stretch of 44 days over which they had the best record in the AL. The second is the All-Star Break. It's extremely common for baseball pundits to note a team's record since the break and the 45 days since the break creates a similar sample to the Jays' best stretch. The third is from July 30. I'd normally just say "In August" (which is no less arbitrary) but because that was Toronto's first true home game, it seems like a landmark point in the season. Finally, the smallest and least important sample – August 13 to yesterday, 8/29. because I don't want to be accused of ignoring the slump. Here's how our four teams stand, from each of these dates to the present:
| | | | | |
| --- | --- | --- | --- | --- |
| | June 19 | July 16 | July 30 | August 13 |
| Toronto | 35 – 26 | 23 – 19 | 17 – 13 | 6 – 9 |
| Boston | 33 – 29 | 20 – 21 | 12 – 16 | 9 – 6 |
| Oakland | 28 – 32 | 20 – 19 | 14 – 13 | 5 – 11 |
| Seattle | 34 – 21 | 22 – 18 | 15 – 13 | 9 – 6 |
Basically, the other three are more or less .500 teams over the longer view. During the Jays hottest period (6/19 – 8/12) they were 12 games over, the other three were all within 1 or 2 of .500. That's closed a bit during the slump but if we take as a given that slumps end – THEY DO! – then the foundational team looking ahead here is better and better suited to make the stretch run count than the others. Now, let's take an individual look at each team's schedule going forward.
Seattle
The Mariners are often, not without justification, dismissed as playing above their heads due to their -60 run differential, but in fairness, I'll note that it's only -10 since the break. Still considerably worse than the others though, who are comparable to each other in their scoring. They are 10 games over at home, basically .500 on the road. Of the 31 games left, they have but six that seem truly easy (against Arizona). There were also three at Kansas City but the Royals just took 3 of 4 from them at Seattle, and there were six against the Angels who are in many ways close to their equals. The rest are against fellow WC contenders and the mighty Astros. As of now, the Jays are but one game behind the M's and I could easily see a final win total in the low 80's when the dust clears.
Oakland
The A's are still 3 games up on the Jays but their recent struggles are even more distressing for their fans, taking two-weekend games in the Bronx from the streaking Yankees notwithstanding. Sadly for the Jays, the timing of their mutual slumps limited the Toronto gain to a mere game and a half. I'm honor-bound to note that there's no more reason to assume the A's collapse continues than that the Jays won't recover. That said, they were a roughly .500 squad for the preceding 54 days and so that's likely what recovery looks like for the A's. On the season they've been as good on the road as at home, Likewise, both home and road records since the break hover around .500 and so there's no change in the pattern. 19 of their remaining 31 games are against division leaders or WC contenders. Among the others, there are three at the recently challenging (one of the better records in the league since June 19) Detroit Tigers and three at the Angels. It's fair to project not much better than a .500 outcome on that schedule.
Apr 20, 2021; Boston, Massachusetts, USA; Boston Red Sox third baseman Bobby Dalbec (29) reacts after hitting an RBI triple during the fourth inning against the Toronto Blue Jays at Fenway Park. Mandatory Credit: Bob DeChiara-USA TODAY Sports
Boston
Similar to the A's, the Red Sox record is propped up by earlier success, but they've been a middling team for over two months. On the season, a dozen games better at homes than on the road, however, a closer look shows they were +10 both at home and on the road before the break, but dramatically better at home than when travelling since the break, balancing each other to a mediocre overall record over that span. Sixteen of the remaining 30 are road games, and 16 are against division leaders or WC contenders. On the other hand, they have six more against the Orioles. Most significantly, they've played at a pace over the last month that wouldn't produce 70 wins on a whole season. Playing sub-.500 the rest of the way is the most likely outcome. That's probably still enough to finish ahead of the Western opponents, and it sets the bar for the Jays at over 20 wins in their 33 remaining games.
Toronto
Winning 2/3, or near to it, out of 33 games requires a team functioning at their highest level, what they've been doing since 8/13 simply will not get you there. This team is capable of such a run, it may already have begun (splitting with the White Sox was an acceptable outcome) but there is literally no more room for error. While it's not impossible for the Red Sox to go into an even worse tailspin, you don't want to be at the mercy of outcomes over which you have no control. So what are the prospects? Perhaps not as bad as one might fear. They've won almost 2/3 of their "home" games since the break, and are one game under .500 as the road team. They're also 12-6 as a true home team in Toronto so that's a fairly strong indicator, apart from sample size caveats. Eighteen of their remaining 33 games are home games, six of those against Baltimore. If they sweep those and win 2/3 of the others that's 14 of the 21-22 wins they need to overcome the Boston projection. Four of the 15 road games are also against Baltimore, if they win three of those and go 5-6 on the rest, that's eight – or 22 wins in all. But be advised, of those 11 non-Baltimore road games, seven are against the Yankees and Rays.
So while on the surface it seems like 22-11 is a tall order, it certainly CAN be done. But it can't be done averaging three runs a game. All aspects of the team will need to come together. But also, remember this: why is it that we beg for, in the lean years, at least – AT LEAST – meaningful September games. Whether they finish a game or two ahead of Boston, or a game or two back, the last 3-4 weeks of the season should be an edge-of-your-seat ride. I recommend rather that we enjoy the ride rather than bemoan some blown save in June.