Eight outfield trade targets for the Blue Jays if they strike out on the free-agent market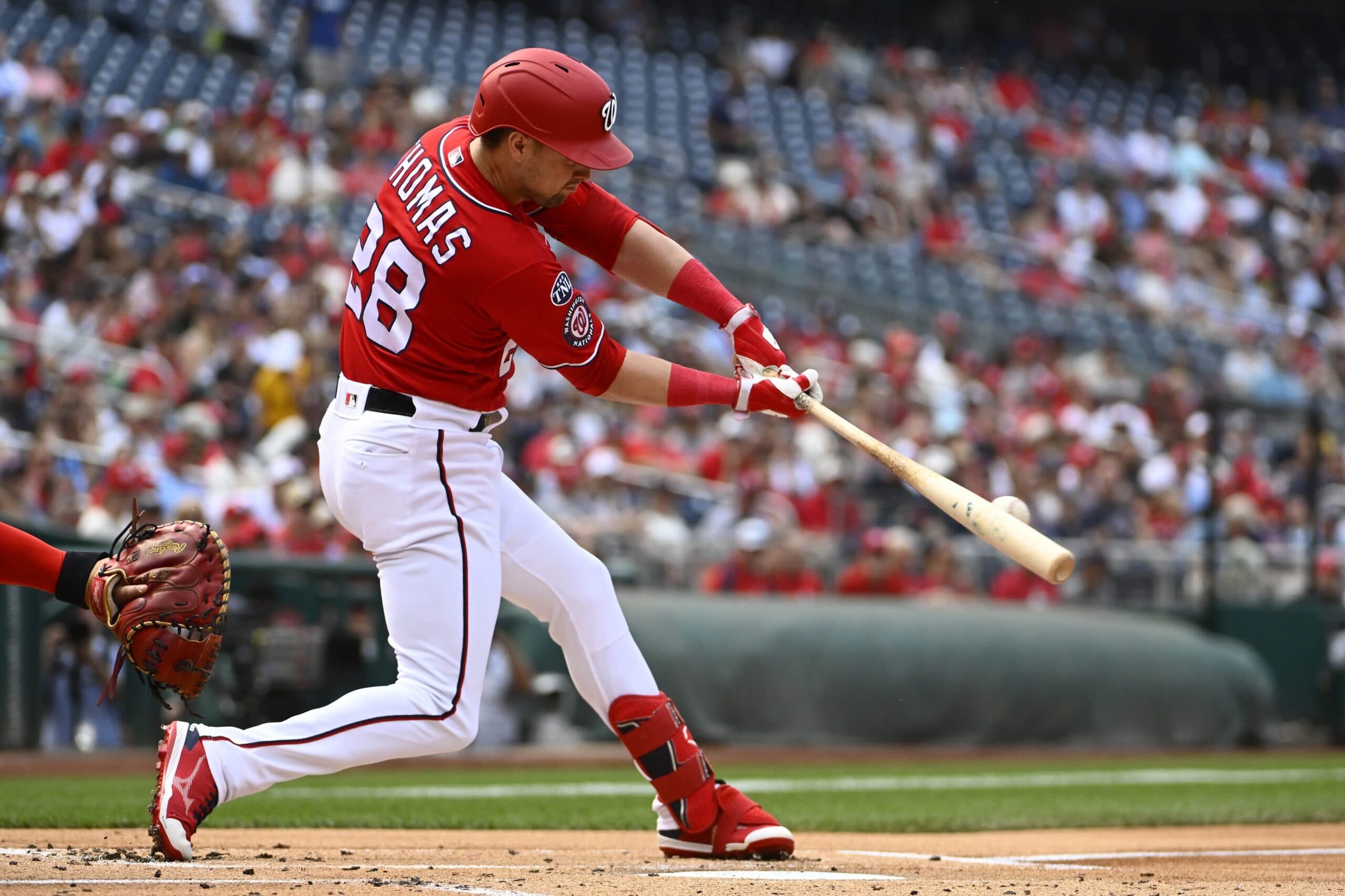 Photo credit:© Brad Mills-USA TODAY Sports
As the Detroit Tigers brought in outfielder Mark Canha from the Milwaukee Brewers, the off-season transaction season officially kicked off. Even though the Blue Jays haven't been active with additions just yet, team president Mark Shapiro made it clear that the team is willing to make additions to improve their roster. 
In an ideal world, the Jays can sign Shohei Ohtani to an astronomical amount of money for at least a decade while snagging Cody Bellinger to a long-term deal to provide power and stability. As much as Jays fans would love to see their team take all the best free agents in the market, they will inevitably miss out on some free agent targets like last offseason. While it is a real possibility for the Blue Jays to address their needs by winning over all the outfield free agents, there is a world where other teams beat out the Jays with better offers. 
If the Blue Jays miss out on the best outfielder free agents, they will have to rely on the trade markets to bring in solid outfielders with decent power. The trade market in the outfield is also incredibly thin this winter, but below are some targets the Jays could consider if they need a backup plan to address their needs. Some of these targets might be ludicrous or nonsensical but let's dream a little bit to set up some fun hypotheticals.
*Note: The list of outfielders is in no particular order.
---
Apr 25, 2023; San Francisco, California, USA; St. Louis Cardinals center fielder Tyler O'Neill (27) scores a run during the eighth inning against the San Francisco Giants at Oracle Park. Mandatory Credit: Ed Szczepanski-USA TODAY Sports
---
Tyler O'Neill
Another homecoming for a Canadian boy would be a great story for the Jays. In that spirit, Tyler O'Neill would be an ideal trade target this offseason. But all the Canadian narrative aside, O'Neill has been a decent outfielder with a good bat and a glove. It's no secret that he's struggled for two seasons straight at the plate, but his track record indicates that some kind of bounceback is possible in the near future. Bringing in O'Neill also means that the Jays can slide Daulton Varsho into an everyday centre fielder role for the 2024 season. As long as O'Neill can rebound to his 2021 production level offensively, this hypothetical trade has the potential to be a home run. (Author's note: The only caveat is that the Jays' farm system thinned out significantly and finding a trade that the St. Louis Cardinals would be happy with will be more challenging this offseason.) 
Lars Nootbaar/Dylan Carlson
Since the Cardinals still have a glut of outfielders, the team would likely trade away a couple of them this offseason to address their other needs around the field. In other words, players like Lars Nootbaar or Dylan Carlson could be on the move, and the Jays would be good partners for the Cardinals again for this type of trade. Production-wise, Nootbaar has the edge with more power but Carlson could provide a different look to the Jays' lineup with his switching hitting advantage. The tricky part about this trade is that the Cardinals may ask a higher price for Nootbaar or Carlson, given that they are under control until 2027 and 2028, respectively. Whether the Jays have something Cardinals like in return would be the question here once again. 
Austin Slater/Mike Yastrzemski/Michael Conforto
While the Cardinals struggle with a surplus of outfielders in the National League Central, the San Francisco Giants are also grappling with their excess outfielders in the National League West. With outfielder Michael Conforto declining his right to opt out of an $18 million salary this offseason, the Giants will look to trade away their older outfielders to help the team get younger. This means that the team could look to deal outfielders Mike Yastrzaemski, Austin Slater and even Michael Conforto to give the team a new complexion in 2024. This could be good news for the Jays as they continue to seek power bats in their lineup. While none of these names mainly sound attractive, these three players can bring consistency to the Jays' offence. All three players have produced 100 wRC+ or above in the 2023 season, and with more stable playing time, there is a chance that the Jays could help one of these players in order to find their full potential again. 
Lane Thomas
Lane Thomas quietly broke out in 2023 with 28 home runs and a 0.783 OPS while flashing his defensive capabilities also. As the Jays try to balance their lineup, Thomas could add a good dimension to the offensive look as a righty power hitter so long as he can hit close to 25 home runs while producing extra-base hits consistently. The only downside with Thomas is that his strikeout rate was at 25.8%, which is slightly higher than the league average. By and large, the Washington Nationals won't mind trading away Thomas this offseason as they look further into the future, and the trade price will also be more reasonable, given that he will reach free agency in 2026. But the Jays would have to consider if Thomas is a gamble that's worth it for them in the long run. On top of that, they'd also have to consider whether they can help Thomas maintain his offensive production from 2023 or not.
Juan Soto
What an absolute dream it would be for the Jays to trade for Juan Soto this offseason. The best part about this hypothetical is that the San Diego Padres won't be able to trade away Soto at the highest price any longer. Soto hasn't had the best years in 2022 and 2023 but has the potential to produce up to 0.300 batting average in the future. Even in his down year in 2023, Soto reached 155 wRC+ and effectively demonstrated the value and consistency he brings. He always had a great eye at the plate with incredible plate discipline and that's the most significant asset he brings to a new team. Since the San Diego Padres are working to reduce their payrolls this offseason, Soto is a valuable and reasonable target for most contenders. The Jays could quickly get in the mix for this trade but the asking price is projected to remain high for a player of this calibre in a weaker hitter market.
---