Examining the Rogers Centre's new dimensions and which players might benefit most from the changes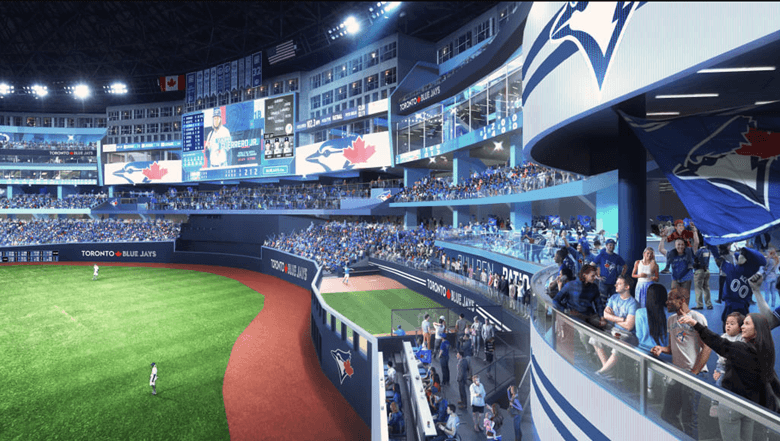 Photo credit:@BlueJays
In conjunction with Winter Fest coming through Toronto last week, the Blue Jays hosted members of the media at the dome to show off how the construction and changes are coming. And with that, we have received a little clarification on what the new outfield dimensions will be…
The team has yet to publicly announce anything, but per this Scott Mitchell tweet, we are going to have a very different-looking right-centre field power alley. For context, I briefly looked through the overlay park dimensions on
Baseball Savant
and the closest I could find to that 357 feet would be just off the line in left field in Citi Field, the home of the New York Mets. Here's Pete Alonso hitting a grand slam to that exact location.
At 357 feet that is going to be the shortest power alley in the Majors, at least looking at MLB ballpark dimensions from this
2021 Sports Illustrated article.
Of note from that article, the Rogers Centre and Kauffman Stadium in Kansas City were the only two stadiums with symmetrical dimensions and uniform wall height. That article also provides the dimensions for TD Ballpark in Dunedin, and of interest as the right field power alley in that park is only 363 feet.
We saw firsthand what a short power alley in right field can do. The Blue Jays played the first two months of the season in TD Ballpark and their right-handed hitters combined to hit nine home runs to the opposite field at home. That tied with the Yankees and trailed Atlanta for the most in the majors over that stretch. That very well could have been in the back of the minds of the Blue Jays personnel when they were making these decisions.
Given these changes what Blue Jays hitters will stand to benefit most from these changes? Specifically, the changes in right field. I want to focus there since the changes in left are significantly less and because I looked at batted balls that travelled at least 360 feet to left field last season and there were very few (one by Vlad, Chapman, Springer and Teo and three by Gurriel Jr.) Since the Blue Jays were so righty heavy most balls hit that distance resulting in home runs, which are still going to be home runs next season.
Before we get to this I want to quickly highlight this
thread from Tom Tango
, where he discusses wall height and the impact that can have. We don't know exactly how high the walls are going to be yet, so bear in mind some of this analysis might change if the walls are significantly higher or lower than before.
With that out of the way, let's get into this. Right away all the lefty bats are going to benefit significantly from this. The new players Brandon Belt and Kevin Kiermaier are moving from two of the worst places to hit as lefties, and Dalton Varsho is moving from a park that was slightly above average overall for lefties but was 11% worse on lefties for home runs. All moving to a park that should play very favourably to lefties at least as far as home runs are concerned. Plus of course the other lefty on the roster Cavan Biggio will benefit as well, with his flyball approach. Perhaps we see him get back to the power he showed as a rookie where he hit 16 home runs in 354 at-bats (depending of course on how much playing time he gets).
Those are the obvious answers, the real fun begins with the right-handed hitters. Right away when I saw the tweet of the dimensions, my mind jumped to Bo Bichette. Bichette led the league with 73 opposite-field hits, and a 33.9% opposite-field rate, ranking third among qualified players last season. If you limit opposite-field hits to right-handed batters only, a few familiar names pop up.
That gives the Blue Jays four of the top 32 right-handed hitters. This had to be part of the reasoning for these dimensions. And why not, build the park to fit your team, especially when it's three core players who can all drive the ball the other way.
While opposite-field hits are great, what we really want is outs that will be turned into hits. How many deep flyballs were caught that could be home runs this year? To find that out I used
Baseball Savant
to see all the opposite field balls hit at least 350 feet, at Rogers Centre, by a Blue Jays right-handed batter, last year. I excluded home runs since of course those will still be home runs and was left with this:
Now I wasn't sure what to expect here but honestly thought these numbers would have been higher. I seem to remember Bichette hitting a ton of opposite-field fly balls that just seemed to die at the wall. But I digress, let's look at these batted balls on video and see which ones might result in hits and home runs this season. (Biggio for the record had two non-home run balls to the pull side travel at least 350 feet, a double off the wall and this
flyout here
. So, you can add one more home run to his total.)
Keep in mind with these clips the wall in right centre is being moved in 18 feet and the warning track is roughly 15 feet, so anything that would have hit the old warning track is now going either be a home run or off the wall.
Alejandro Kirk
Looking at the videos, there are four flyouts and two doubles. The one caught by Rob Refsnyder would change and end up a home run. The first double against Baltimore was deep enough and high enough that it likely ends up as a homer as well. Kirk had an amazing season and it would have looked even better with two more home runs in there.
Vladimir Guerrero Jr.
The first and last clips both resulted in doubles, and both would stay doubles with the new dimensions. The other three however could have all ended up as hits. I think the flyouts against Zerpa and Voth end up as home runs and the one Brett Phillips runs down, could potentially hit off the wall but that's a little more difficult to say. Vladdy ends up turning two flyouts into home runs and perhaps a third flyout into a hit.
Vlad has elite power to all fields, he is definitely going to put a couple more out this season. Is this the year he challenges José Bautista's single-season franchise record?
Bo Bichette
Bichette I think it's pretty straightforward. The first two flyouts against the Orioles are close but are probably still outs. The other two though are hit with launch angles of 26 and 27 degrees respectively. More than enough height and distance to clear the new walls. With two more home runs Bichette would see his triple slash improve to .293/.336/.482 with his OPS going from .802 up to .818.  That's not a huge difference but an .818 OPS is the same as what Vladdy had last season.
Matt Chapman
We don't really know where the wall is going to get out and what the height it will be, so that one Stanton makes the highlight reel catch probably still ends up as out. But the other two though are hit right out to that 375 sign in the alley, those are both homers next year.
Danny Jansen
Both of these I think are home runs next season. They have the launch angle and distance to clear the wall regardless of height. Jansen had a big year with the bat especially in the power department hitting a career high 15 homers. With a couple fly balls like these going out and a healthy season, Jansen could very easily hit 20+ homers.
George Springer
This one likely stays a double, doesn't quite seem to have the height.
So, who benefits most? It's difficult to give a definitive answer. Bichette, Kirk and Vladdy all have power the other way and should see a couple more home runs and probably a few more doubles as well. When the Blue Jays acquired Chapman,
I wrote about his all-fields approach
and while we didn't see him do that much in his first year in Toronto, perhaps another year removed from hip surgery and we see him try and take advantage of these new dimensions.
Personally, I'm going to say Vlad benefits the most from the changes. He tied for second in 2021 with 12 opposite-field home runs, with three coming at TD Ballpark in Dunedin. He had an amazing year in '21 and that opposite-field approach was certainly part of it. If he can do that again and put a few more homers out to right field he could have himself another MVP-level season.
---