Examining the Shapiro Era Trades, Part three: The Toss-ups
Photo credit:Dan Hamilton-USA TODAY Sports
Every now and then, teams will have their tossups, where you can pick either team as a winner.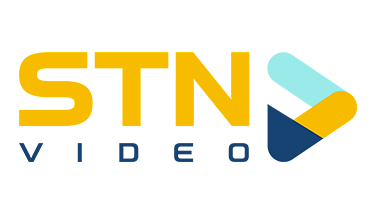 Lane Thomas trade:
This one's on me for not digging deep enough.
The Jays traded Lane Thomas, now a big leaguer, for other considerations. In the poll, 83.4% of 5,093 voters considered this a "nothing" trade, while 15.3% of votes considered this a win for St. Louis.
However, as I was told in the replies, the Jays (who only 1.2% of voters thought won this trade) received international bonus pool money in return.
For his MLB career, Thomas has slashed .237/.314/.412, along with 29 homers in 896 plate appearances for a 99 wRC+. He's been a below-average defender in the outfield and would be at best, the Jays' fourth outfielder.
What I failed to mention in the original poll is the fact that the international bonus pool money the Jays received was for the 2017-2018 international free agency period. The Jays were able to sign Eric Pardinho Miguel Hiraldo, Alejandro Melean, Leo Jimenez, and Alberto Rodriguez.
Pardinho (signed for $1.4 million) was ranked as MLB Pipeline's 6th best available prospect and Baseball America's 14th-best prospect. Hiraldo (signed for $750,000) ranked as Pipeline's 18th best available prospect and Baseball America's 23rd.
Not just that, but at one point, Pardinho ranked as the Jays' 4th-best prospect in 2019, and Hiraldo as their 5th best prospect in 2021. Melean currently ranks 30th, and Jimenez ranks 16th (but was as high as 9th last season).
Add on the fact that Rodriguez was the prospect traded to Seattle for Taijuan Walker, and it isn't unfair to say that the Jays won this trade.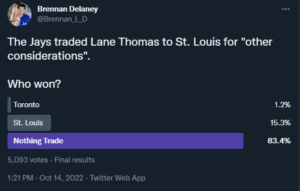 Joe Smith trade:
Anytime a team receives two prospects in return for a reliever whose contract ends at the end of the season, it wins that trade value-wise.
The Jays traded then 33-year-old Joe Smith to Cleveland for prospects Thomas Pannone and Samad Taylor. With the Jays, Smith posted a 3.28 ERA and 2.32 FIP in 35.2 innings pitched and had a 35.4 K%, well above his career average of 21.1%.
Pannone wasn't great with the Jays, posting a 5.43 ERA and 5.14 FIP in 116 innings pitched with the 2018 and 2017 Jays, but he ate innings for two really bad Jays teams.
Taylor is the prospect of note here. First off, he along with Max Castillo was traded to Kansas City for Whit Merrifield, a trade that was considered a win. Secondly, Taylor looks like he could be an impact player in the big leagues.
With Triple A Buffalo in 2022, Taylor slashed .258/.337/.426 with nine homers in 280 plate appearances for a 101 wRC+. He dropped his K% to 22.1%, while walking 10% of the time. He also stole 23 of 28 bases in that short amount of time
Taylor is a versatile defender who can play all over the field and could easily make an impact at Kaufmann Stadium. Getting him for a reliever who would've become a free agent at the season is a win in my books.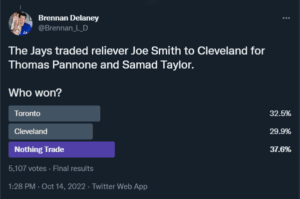 Seunghwan Oh trade:
Oh fits in the same boat as the Smith trade. The Jays traded Seunghwan Oh for Bryan Baker, Chad Spanberger, and Forrest Wall.
Oh, a reliever, was in the final year of his deal when he was shipped to the contending Colorado Rockies. With the Jays, he posted a 2.68 ERA and 3.03 FIP in 47 innings pitched. Obviously, this is solid, but the Jays weren't going to make the postseason in 2018, so there was no point in finishing out his contract with the Jays.
At the time, Forrest Wall was ranked as the 13th best prospect in the Rockies system, whereas Spanberger was ranked as the 24th best prospect on the same list. As far as I can tell, Spanberger hasn't played professional baseball since 2021. He was traded to Milwaukee for Chase Anderson.
Wall, on the other hand, plays for Seattle's Triple A team and posted a .255/.333/.354 slash line with six homers for a 76 wRC+ in 2022, a decline from his 93 wRC+ in 2021 with the Buffalo Bisons.
Lastly, we have Bryan Baker, who was a player to be named later, but wasn't a part of the trade per the Jays' transaction sheet. The 27-year-old throws in the upper 90s, and had a 3.49 ERA and 2.74 FIP in 69.2 innings with the Orioles. He's also a gigantic crybaby.
Like the Smith trade, the Jays capitalized on a reliever in the last year of his deal and got an MLB player in return. Not bad.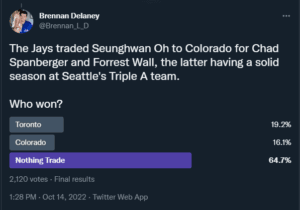 Eric Sogard trade:
The 33-year-old Eric Sogard was pretty good with the 2019 Jays, slashing .300/.363/.477 with ten homers in 323 plate appearances for a 123 wRC+. He somehow was the best player for the 2019 Jays, but this is well above his career average numbers of .246/.313/338 with 26 homers in 2493 plate appearances and an 80 wRC+
Sogard was invited to spring training and signed a contract out of camp before posting those numbers. He was traded at the 2019 deadline for Edisson Gonzalez and Curtis Taylor.
Taylor, a Canadian, was drafted in the minor league portion of the Rule 5 draft in 2021. The 26-year-old reliever posted a 4.08 ERA and 4.92 FIP in 35.1 innings with Washington's Triple A team and looks like he could make his MLB debut in 2023.
Edisson Gonzalez
finally
made his Blue Jays organization debut in 2022. The 22-year-old had a 2.16 ERA in 16.2 innings pitched between the Florida Complex League and Low A Dunedin. In Dunedin, he pitched 11.2 innings and had a 3.09 ERA and 4.12 FIP in 11.2 innings pitched, along with a 26.2 K%.
Time will tell if either of the prospects received in the trade will pan out to be anything, but overall getting
anything
from a career 80 wRC+ player is fantastic. Especially for one who overperformed and signed as a free agent out of spring training. A win in my book.
Foster Griffin trade:
In the last toss-up I believe the Jays won, they traded 20-year-old prospect, Jonatan Bernal, for former first-rounder Foster Griffin.
With the Jays' Low A team, Bernal had a 5.47 ERA and 4.39 FIP with a 20 K% and 9.4 BB% in 52.2 innings pitched.. His numbers didn't improve much with the Royals' Low A team, as he had a 4.70 ERA and 4.65 FIP in 38.1 innings pitched Overall this season, Bernal posted a 5.14 ERA in 91 innings pitched, which saw him register an 18.59 K% and a 7.54 BB%. 
In his minor league career, Griffin has a 4.54 ERA in 811.1 innings pitched. He hasn't faired much better in the majors, as he has a career 6.75 ERA and 4.13 FIP in 8 innings pitched. So how have the Jays won this trade?
Well, 2022 was the first season in which Griffin pitched out of the bullpen. In 51.1 innings pitched, he had a 2.10 ERA in Triple A with a 27.14 K% and a 7.14 BB%. He pitched two innings with the Toronto Blue Jays, not allowing a run and striking out two batters of the eight he faced.
He also had a 27 whiff % of the time of his call-up, which means that 27% of the time, a batter missed when he swung. Griffin features a fastball that sits 92-94 mph, reaching 94.2 mph in the game he pitched in for the Jays. He also features a 86-88 mph cutter, and a 78-81 mph curveball. Griffin is also a lefty, meaning these numbers could even play up from the left side.
Anytime you trade a prospect in the low minors for a reliever who could make an impact in the major leagues, that's a win in my book.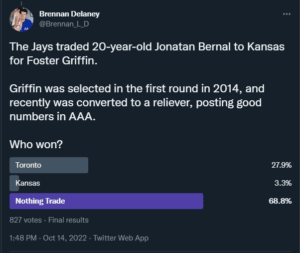 Ryan Borucki trade:
In his debut season, Borucki reminded me a lot of Mark Buehrle, another lefty that works fast and wore the number 56. In 2018, Borucki had a 3.87 ERA and 3.80 FIP in 97.2 innings. He didn't strike out a lot of batters with a 16.1 K%, but he didn't give up a ton of hard contact either.
He spent 2019 injured, before having another good season with the Jays in 2020, this time out of the pen. In the shortened season, he had a 2.70 ERA and 3.61 FIP in 16.2 innings pitched, which saw his strikeout rate rise to 28.8%, along with a drastic increase in his BB% (8% in 2018 to 16.4% in 2020).
Sadly, 2021 wasn't great for Borucki, owning a 4.94 ERA and 5.66 FIP in 23.2 innings pitched with a 21.4 K%. His time with the Jays in 2022 wasn't much better, posting a 9.95 ERA and 7.53 FIP in 6.1 innings pitched, with a 24.2 K% and a 15.2 BB%. Ultimately, he was DFA'ed and traded to the Mariners for a prospect named Tyler Keenan.
Since the trade Borucki posted a 4.26 ERA and a 5.59 FIP in 19 innings pitched with the Mariners. He had a stretch of 13.1 innings where he had a 0.68 ERA and 2.59 FIP, but his overall numbers, specifically because of his last two games, (four earned runs in 1.2 innings pitched) didn't go well. He hasn't pitched since August 8th, but hopefully he can return to his 2020 form.
Keenan is a former fourth rounder in the 2020 draft. He slashed .300/.357/.500 with a homer in 56 plate appearances with the High A Vancouver Canadians. He only had 25 plate appearances after a promotion to Double A New Hampshire. Keenan is a prospect to keep an eye on!
I count this as a win because Borucki was the guy that was going to get DFA'ed no matter what. The fact the Jays got anything for him is a win for me.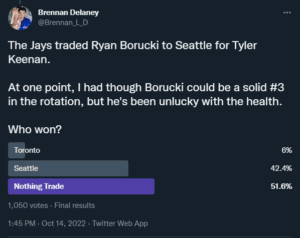 Sam Gaviglio trade:
Now we look at the trades that didn't have a winner but are notable for one reason or another. The Jays traded cash to the Kansas City Royals (yes, this was the third mention of the team).
Is this a win? No, not really. Nor is it a loss, as Gaviglio pitched for some pretty bad Blue Jays teams. Between 2018-2020, Sammy G had a 5.06 ERA and 4.70 FIP in 222.1 innings pitched with the Jays before eventually being DFA'ed in 2020.
Not great numbers, but he ate innings for two seasons of bad Blue Jays baseball, so for that, he deserves a mention. He most recently pitched with the Oklahoma City Dodgers (the Dodgers Triple A team) in 2022.
May he find his way back to the MLB.
Wilmer Font:
In 2019, the worst Jays team in recent years, Font was used as an opener and put up some solid numbers. He opened 14 of the 23 games he appeared in, and posted a 3.66 ERA and 3.75 FIP in 39.1 innings. He also had a 32.7 K% and 6.8 BB%.
He didn't have the same luck in 2020, where he posted a 9.92 ERA and 4.78 FIP in 16.1 innings pitched with a much lower K%. Granted, Font didn't open a single game in 2020, so maybe that was the problem.
Font ate innings on a really bad Blue Jays team, so like Gaviglio, he gets a mention.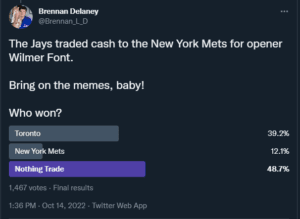 The Derek Fisher trade:
The biggest "it's a nothing trade" out of any trades that the Shapiro/Atkins regime has made. The Jays traded Aaron Sanchez, Joe Biagini, and Cal Stevenson to the Astros for Derek Fishboi.
Since the trade, Sanchez has pitched 114 innings in three and a half seasons. Sanchez also has a 5.64 ERA and 4.86 FIP in 226.2 innings since the start of the 2019 season. Since he had a 3.00 ERA in 2016 (the lowest in the AL), Sanchez has a 5.29 ERA and a 4.91 FIP in 367.2 innings pitched. 
Due to health and poor play Sanchez essentially had no trade value in 2019, which sucks because he had a ton of potential in his first three seasons.
After the trade to Houston, Joe Biagini had a 7.36 ERA and 9.01 FIP in 14.2 innings pitched. Since the end of the 2019 season, he's only pitched in 7.1 innings in the big leagues and actually pitched for Toronto's Triple A team before being released midway through the season.
The prospect, Cal Stevenson is a decent hitter, but unlikely to be an everyday starter. In triple A this season, he slashed .284/.389/.413 with six homers in 307 plate appearances. He also got a shot in the big leagues with the Oakland Athletics, where he slashed .167/.261/.217 in 71 plate appearances with a 47 wRC+. The outfielder may be a solid fourth outfielder down the line.
Fisher had a .225/.359/.452 slash line in 39 plate appearances in 2020 with the Jays. He hit a homer and had a 117 wRC+, so there's that I guess. He only had 146 plate appearances before he was traded to Milwaukee in exchange for Paxton Schultz, a prospect with a nice changeup.
All in all, the biggest toss-up I've ever seen.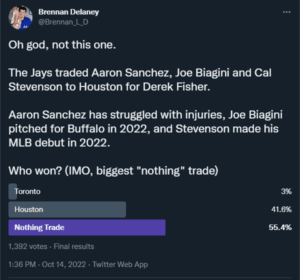 Villar Trade:
The Jays traded Griffin Conine for Jonathan Villar at the 2020 deadline. Villar sucked with the Jays, slashing .168/.278/.203 with no homers and a 27.8 K% in 79 plate appearances. He also walked out of a playoff game due to being pulled. Even though the Jays still had a game remaining. That's gross.
Villar bounced back in 2021, slashing .249/.322/.416 with 18 homers in 505 plate appearances with the Mets. It was reported that the Jays were interested in him, but he signed with the Chicago Cubs and was promptly DFA'ed when he posted a -0.8 fWAR. He wasn't much better with the Angels.
Griffin Conine is fun, as he has 80 raw power per Fangraphs, but oh boy does he strike out a ton. If you think Orelvis Martinez's 28.5 K% in 492 plate appearances as a 20-year-old in Double A is bad, just wait until I reveal Conine's numbers.
This season in Double A, he had 24 homers and a 36.9 K% in 496 plate appearances as a 24-year-old. He walks more, but yeah, that's an oof.
Conine is still a really fun prospect though, and I could see him mashing 30 homers in a season at some point.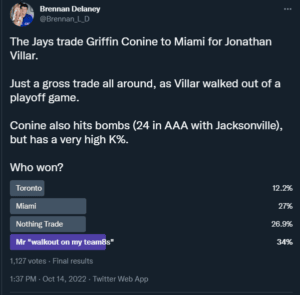 That's it!:
So, that's all the wins, the losses, and the toss-ups the Jays have had in the Shapiro Era. I hope you enjoyed the series, as it was a lot of hard work.
The next series of articles will be looking at the Jays' infield, outfield, starting rotation, and bullpen. We already looked at the catchers, which you can read here.
Either way, I hope you enjoyed the series, and as always, you can follow me on Twitter @Brennan_L_D
---