Exploring three internal injury replacements for Mitch White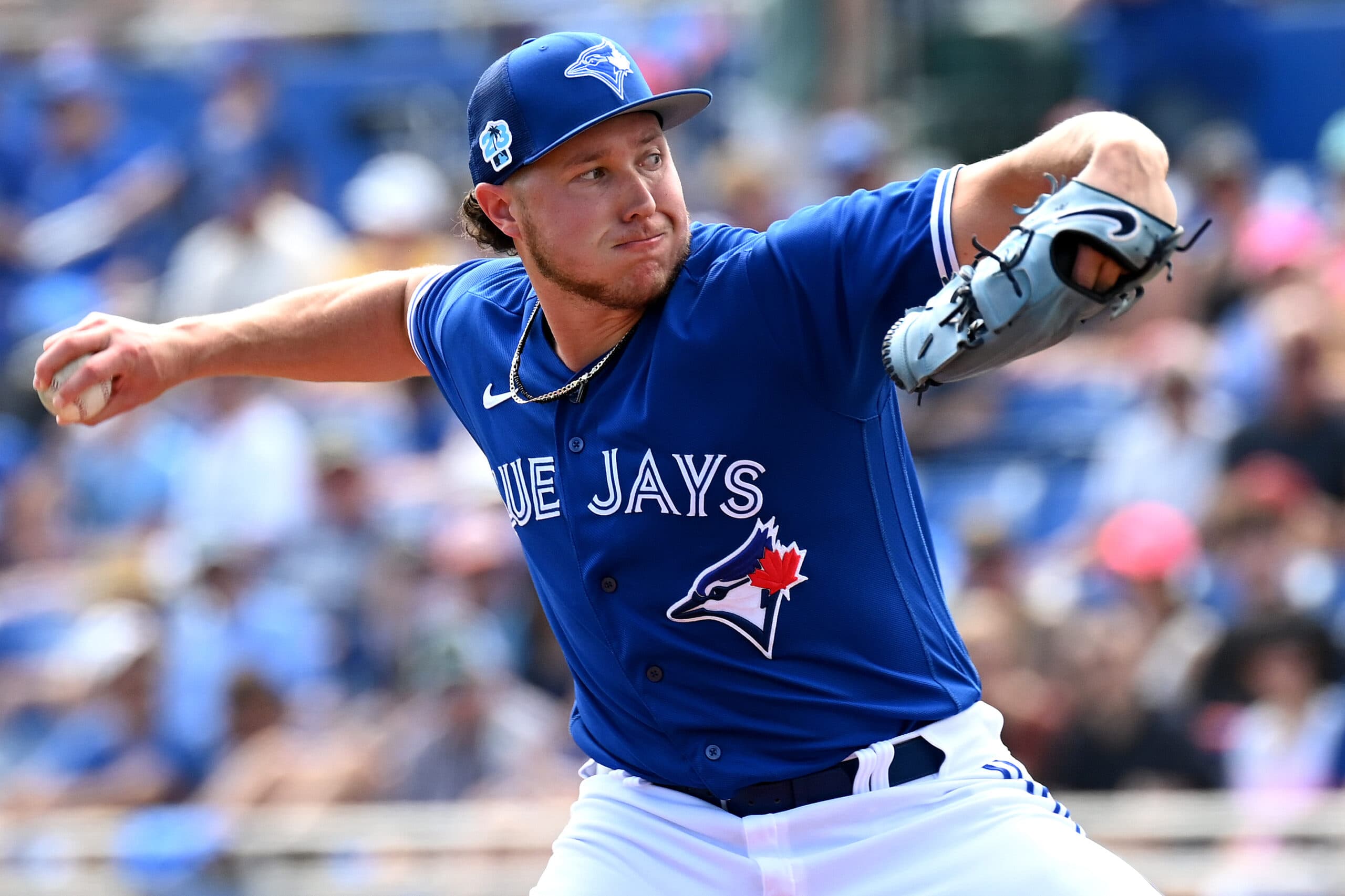 Photo credit:Jonathan Dyer-USA TODAY Sports
Heading into this spring, most of the Toronto Blue Jays roster was already set, with 25 of the 26 spots decided upon, leaving room for internal competition involving the final bench position. But another role could open up in the bullpen if Mitch White isn't ready by Opening Day.
White, acquired by Toronto from the Los Angeles Dodgers at last season's trade deadline, was impacted by a right shoulder impingement over the winter and entered spring training behind schedule. The injury is behind him, although it significantly delayed his off-season throwing program, forcing him to build up his stamina in camp with the team before being cleared for game action.
The 28-year-old is still a ways out from that progression, though, as he has yet to face any live hitters thus far. And he's starting to run up against the clock. He did throw a 40-pitch side session over the weekend, which is a step in the right direction, but he still has a few hurdles to jump before making his 2023 spring debut.
With Opening Day just three-plus weeks away, time certainly doesn't appear to be on White's side regarding his chances of breaking camp with the Blue Jays. That could change between now and then. Unless the right-hander's build-up progresses much quicker than expected, though, chances are he'll open the campaign on the 15-day injured list.
Until a definitive decision is made, White remains projected to round out Toronto's bullpen this season, serving as the club's multi-inning reliever. But if the former Dodger isn't ready by the end of the month, the organization will have to consider its alternatives, needing an internal option to provide injury relief.
That would have been like trying to draw blood from a stone last season, as there was little pitching depth to call upon. That isn't the case this spring, though, with a fresh wave of arms slated to beef up the franchise's triple-A staff. And when injuries arise, as in White's situation, that group will also prove crucial to the big-league club.
With that in mind, let's explore three potential candidates who could act as White's injury replacement this season.
Nate Pearson
Few Blue Jays pitchers could benefit more from White's delayed build-up than Pearson, who is entering a pivotal 2023 campaign and is hoping to put his prolonged injury woes to rest.
The former top prospect finds himself in a promising position early on, having enjoyed a strong off-season without any complications and has already logged a pair of appearances this spring – the same amount he made last spring before being shut down with a case of mononucleosis. So far, the talented right-hander appears to be on the correct path amidst his first uninterrupted spring since 2019.
Pearson, who tossed 12 scoreless innings and punched out 16 batters at Winter Ball, has continued working as a one-inning reliever with the Blue Jays cautiously managing his early-season workload. And who could blame them? But it also goes deeper than simply avoiding another injury setback, although that does seem to be a major factor.
After Pearson returned from a lat injury in 2022, the 26-year-old made eight relief appearances to close out the regular season, recording more than three outs in just one of those outings. He was also quite effective in that role, posting a 31.7 per cent strikeout rate – albeit while his command struggles remained, resulting in a 13.3 per cent walk rate.
Controlling the strike zone remains an issue, something the 6-foot-6 righty aims to improve this spring. He has been overpowering in small doses with his explosive four-seamer, which features the fifth-highest average velocity (98.5 mph) among qualified pitchers (min. three fastballs), according to
Baseball Savant
.
Pearson's heater has dominated out of the gate largely because he's attacking the upper section of the strike zone rather than just the bottom half, utilizing a north-south game plan. And as former Blue Jay Josh Donaldson – one of three punchouts by Pearson on Feb. 26 – discovered, that should be an effective strategy for the hard-throwing righty.
The development of Pearson's secondary pitches (slider, curveball, changeup) will also be vital this spring if he hopes to earn an opportunity with the Blue Jays come Opening Day. That being said, as someone with previous experience in pitching multiple innings, he would likely be considered the front-runner if the club's final bullpen spot were vacated.
Health, of course, will be among the deciding factors for Toronto's coaching staff. So too, will be Pearson's performance through the remainder of the spring. But as an optional pitcher that features two minor-league options, the 28th overall selection figures to be a valuable weapon in 2023 – even if he doesn't open the season in the majors.
Zach Pop
If not for Toronto's immense bullpen depth at the major-league level, Pop would've likely already been guaranteed a roster spot long before White's shoulder injury flared up. But the 26-year-old has been caught in a numbers game and was probably headed to triple-A Buffalo, especially since he owns a pair of minor-league options. Now, however, that isn't as much of a certainty.
The Brampton, Ont., native was effective post-trade with the Blue Jays last season, earning a 1.89 ERA, a 50 per cent ground ball rate and a 5.9 per cent home-run-to-fly-ball ratio over 17 appearances after being acquired from the Miami Marlins. While he's only compiled two innings of work thus far this spring, allowing one unearned run on one hit and a walk, the right-hander looks poised to build off that success during his first spring training with Toronto.
Among the early standouts has been Pop's sinker, as its velocity is already ahead of where it sat last spring, averaging almost two miles per hour quicker (96.2 mph) in 2023. Paired with its exceptional horizontal and vertical movements, the 6-foot-4 hurler's primary offering expects to be his most reliable weapon again this season.
The biggest area that Pop is focused on this spring is generating more swings and misses, particularly with his mid-80s slider. After producing a 20.8 per cent whiff rate last season, the Blue Jays believe his breaking ball can increase that figure with improved command and increased frequency, mainly during two-strike counts.
With the Marlins, Pop relied heavily on his sinker in these situations – a little too much at times – throwing it three-quarters of the time, with his slider occupying the remaining quarter. But the Blue Jays emphasized altering his pitch usage down the stretch, leaning more towards a 50-50 split to help make him less predictable, which proved successful over a two-month sample size.
Unlike Pearson, Pop isn't considered someone who could provide bulk out of the Blue Jays' bullpen, though he did register more than three outs in four of his 17 appearances with the team last season – so he could occasionally serve as more than a one-inning pitcher.
Zach Thompson
We also can't forget about Thompson, acquired by the Blue Jays over the off-season in a trade with the Pittsburgh Pirates. The deal may have gone fairly unnoticed back then, but the 29-year-old could play a meaningful role for Toronto in 2023, especially if White misses time.
The spring didn't start positively for Thompson, who surrendered four earned runs on three hits – including a grand slam – and three walks over 0.2 innings versus his former team in his first outing of the spring. But the right-hander has recovered nicely since then, tossing three perfect innings while recording three strikeouts across his last two appearances. And the Blue Jays feel he has more to add.
Despite faltering to a 5.18 ERA and 8.1 per cent K-BB rate difference with Pittsburgh last season, the 6-foot-7 righty is only a few years removed from his breakout showing in Miami, where he shined to a 3.24 ERA and 3.69 FIP over 14 starts and 12 relief appearances, worth a career-high 1.3 fWAR. He also excelled at inducing soft contact as his hard-hit rate against (33.9 per cent) and average exit velocity (87.6 mph) ranked in the 82nd and 76th percentiles, respectively.
Things trended in the opposite direction for Thompson in 2022, with his hard-hit rate (39.6 per cent) falling to the 31st percentile and his HR/FB ratio inflating to 14.5 per cent, more than double its 2021 percentage. Most of his issues were created by his cutter, which allowed nine home runs in 2022 after witnessing just one leave the yard the previous season.
Left-handers did most of that damage, hitting .378 AVG and .778 SLG against Thompson's cutter. He made it pretty easy on his opposition, though, locating almost all of his cutting fastballs up-and-in to them. This spring, however, he has made an effort to work north and south with his primary offering, with only one of its three batted-ball events featuring a 95 mph or higher exit velocity.
Long term, Thompson is destined to serve among the franchise's first layer of starting pitching depth with the Buffalo Bisons, joining Drew Hutchison, Casey Lawrence and Thomas Hatch. In the short term, meanwhile, the veteran righty could provide length – more than Pearson or Pop – out of the Blue Jays' bullpen while also being a candidate as a spot starter.
As impressive as left-hander Yusei Kikuchi has looked thus far, it might not be the worst idea to carry a break-in-case-of-emergency starter on the roster. If Kikuchi – or any starter – departs early, overusing the bullpen during the first few weeks of the campaign is probably the last thing manager John Schneider would want.
While unlikely, it is also possible that Yosver Zulueta, Trent Thornton or Hagen Danner could receive consideration, as all three hurlers are currently featured on Toronto's 40-man roster.
---