First Look at Potential Blue Jays Farm Rosters: Double-A New Hampshire Fisher Cats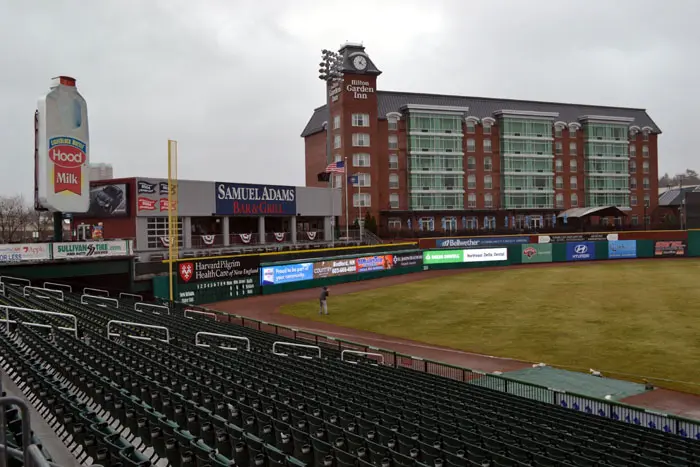 Following up on last week's look at the potential Buffalo roster
, it goes without saying that the nature of such things is that there are fuzzy lines between the rosters, and assumptions about one naturally affects those made about another, but I'm saying it anyway.
EDIT:
Earlier today I added a section to the end of the AAA article addressing the roster changes that are implied by the end of the Lockout. In this case, however, the fallout here is really just somewhat more crowding on the pitching side and MiLB teams tend to find a way to make a seeming excess of arms work out. Look for notes added in the pitching discussion with new material in
italics.
The Fisher Cats roster currently carries 17 names, albeit at least three of which I fully expect to end up in Buffalo. Still, there are more in-house options to sift through here than there was last week.
As we start with the rotation, two names command our attention first…
Luis Quinones, who's 24, has posted really impressive strikeout numbers throughout his career (13.82 K/9 on his career, 12.44 in his 8 AA starts in 2021), and at no point have opponents been able to average more than .190 against him. On the other hand,  his walk rate tempers our excitement (6.75 on his career, 6.44 in AA). IF he came in this spring and showed dramatically better control he'd have a shot at AAA were it not so packed, but otherwise, he'll come back here and try to figure it out as others have had to in the past. Ultimately he may end up in relief, but not yet.
The other name is Elvis Luciano. Still just 22, injuries limited him to just 12 starts in 2021 and AA was a regressive assignment, his year in the majors notwithstanding, given his previous MiLB work in 2018 was in Rookie ball. His stat line was fine, apart from an elevated walk rate, but there's no reason to think of him as a forgotten man just because he no longer appears on prospect lists. His age says it's a good play to at least start him in AA and let him develop, but at some point, he'll have the chance to play his way to Buffalo this year- and it's not inconceivable he could make that case in spring training. ETA: it is now.
Beyond those are Maximo Castillo, who's closing in on his 23rd birthday, who'll need to repeat the level after mediocre, at best, results last year, Nick Fraze, 24, who was dominant in Vancouver last year that earned an August promotion to AA and never fully found his groove at the higher level, yet could be fairly considered a deep sleeper, and 25-year-old Andrew Bash who's basically just roster filler and only got one start in AA last year. Literally anyone further down this article makes AA and he's kicked aside. Indeed, a marginally more promising org guy like Paxton Schultz should be able to slide past him. Given the crowding in AAA, it's possible the Jays could shift Casey Lawrence back here (he spent part of 2021 with the Cats) since he's likely as much coach as pitcher at this point despite his strong finish last year. They would almost certainly get better results than they would from Bash.
But this part of the story doesn't really end with the current roster of course. There are at least two highly regarded prospects who spent time in High-A Vancouver last year that will get at least some consideration for a promotion when camp breaks. Adam Kloffenstein, still just 21, had a disappointing overall line last year, in a season that had some peaks and some very low valleys. The big issue was the troubling tendency to lose the zone, sometimes in the middle of what had been an impressive start, leading to a 5.4 BB/9 ratio on the season. He'll need to show he's found a path out of that maze in order to move up, I'm not sure why they would rush him until he does.
On the other hand, there's Sem Roberrse. A year younger than Kloffenstein, and more polished, he earned his way to an August Vancouver promotion with impressive work in Dunedin but it took him much of the rest of the season to gain his footing. Like Klof, there's no urgency to push him out of Spring unless he really wows them this month.
There are some other filler guys I could mention who are long in the tooth for A ball. Troy Watson, for example, is 25 and lost almost all of 2021 to injury, but the one wild card I want to mention hasn't yet visited Vancouver, Yosver Zulueta. Zulu was the darling of spring training a year ago. The 23-year-old signed out of Cuba needed a little polish but was creating buzz every time he took the mound. Then in his first game for Dunedin he wrecked his knee on a play at first and his season was over just as it began. A year later, thanks to that lost season and the preceding madness, the Jays have just one season to evaluate whether to put him on the 40 man roster. if his talent matches his press clippings, he will certainly end up in AA this season, and it's not impossible he starts there though I am not predicting that. one of the factors is whether they see him as a potential starter or a get-here-fast bullpen monster. For my money, I'd try to see if there's a potential big-time SP in their first because defaulting back to the 'pen is a pretty quick-and-easy conversion if that time comes.
Turning to the bullpen, things are more crowded and less clearly defined once you get past the first couple of names…
The first name to know is Adrian Hernandez. He blasted through three levels in 2021, racking up a 15.6 K/9 against a middling-but-not-scary 4.2 BB/K in over 62 innings. A closer look give an even better view. More than half of his 29 walks came in Low-A Dunedin which was in the process of refining the robo-ump system as the season began leading to a lot of elevated walk rates. If you set that aside, the walk rate drops to a much more pleasant 2.8, and his ERA combined between Vancouver and NH was a tidy 2.03 over 44.1 IP. He features a solid average fastball and a remarkably successful change that's been called the best in the system. Hernandez really should crack the Bisons bullpen out of spring but there may be enough crowding there to hold him back in the opening days of the season, but he'll get the bulk of his innings in AAA, if not the majors.
Lefty Brandon Eisert is the other name you might hear a lot about as the season goes on. in his first pro season (of actual games) challenged to succeed in AA, he did just that. He sported an 11.7 K/9 rate and a 2.7 BB/9 rate Over 63 IP. As above, he's a guy who's a strong candidate to shove one of the guys I mentioned last week aside and break camp with the Bisons. Of course, I penciled in Graham Spraker and Marcus Reyes with the Bisons last week, and Hagen Danner, who'd normally be here is on the 40-man.
Here's the big edit. First of all, Hagen Danner didn't get put on the 40 man roster for nothing. The Jays really liked what they saw last year and expected other teams would as well. In his first year back on the mound he cruised through the High A competition, ending with a 2.02 ERA and over 10K/9 while holding the opposition to a .171 BA. He will pair with Hernandez for a very formidable back of this bullpen. Add in Eisert and Juenger (discussed below) and this core is solid. Another quality arm is Marcus Reyes who now seems to have no immediate room in AAA, but I still expect Graham Spraker to get that promotion despite the crowd. I'd also speculated that Jeremy Beasley would have been a natural fit to fill out the AAA 'pen if the lockout had continued but that path is much less clear now.
Beyond that, the situation is jumbled with uncertainty. Cre Finfrock turned heads in 2019 but missed almost all of 2021 with injury issues so he'll be looking to re-establish. Parker Carrachi had a nice ERA but the walk rate is too high to be at the front of the line. Brody Rodning had some buzz coming into camp last spring but got roughed up when counting games started. Julian Valdez is 23 and has questions still to answer, by mid-May Sean Rackowski will join Mike Ellenbest and Connor Law as a 27-year-old and any of them will be pretty fortunate to earn a spot as roster filler at that age.
That means there's considerable room here for the hot hand from Vancouver to break with this team. And no one there was hotter last year than 2021 6th round choice Hayden Juenger. In 20 IP he racked up 34 strikeouts and issued only 4 walks while allowing 11 hits. Barring injury there's no way he doesn't land in AA for Opening Day.
Edit: You can likely disregard this whole passage. There are at least nine guys ahead of them in the discussion above, even if we dismiss the three older guys. Another guy who'll get a look is Thomas Ruwe. Signed out of indy ball, he's admittedly 26 already and the walk rate in his first year in affiliated ball was quite too high. But they must have seen something when they signed him and they have surely seen enough of the age 27 crowd that's on the AA roster now. The one other guy with a shot if he has a good spring is Gabriel Ponce. Familiar story, great K rate, too many walks.
Mar 29, 2021; Clearwater, Florida, USA; Toronto Blue Jays Orelvis Martinez (95) look on after hitting a home run during the sixth inning against the Philadelphia Phillies at BayCare Ballpark. Mandatory Credit: Mike Watters-USA TODAY Sports
On the field, several positions are projectable…
Phillip Clarke looks to be the predominant catcher. He came into the year with a fair amount of buzz and ended up struggling for most of the year in Vancouver. At the end of July, he was slashing .212/.339/.269, far below expectations. In August that jumped to .282/.333/.397 and over 56 September at bats he hit .321/.381/.643 thanks in some part to hitting 4 of his 6 homers on the season. There's little reason to think he won't ride that progress to AA.
Joining him will be holdover Chris Bec (who didn't really hit at all) and Ryan Gold (who was having his best year at Vancouver but also collapsed against AA pitching after a late-season promotion. Two younger catchers are technically on the roster, but neither are high-profile prospects and neither have more than passing experience above Dunedin.
A tour around the infield starts with 1B Spencer Horwitz, an on-base machine just beginning to sort out how much power he offers. He finished the year with four games for the Fisher Cats, but the bulk of his year was spent with the Canadians where he put up an OBP of .401 and a slugging of .445 while hitting 10 homers in 105 games. Not weak but not what teams typically want from a 1B. The more encouraging news is that 6 of the 10 came in his last 20 games with Vancouver and then he hit 2 more in his four AA games. A homer every three games is a lot more interesting than a homer every ten. He capped the year by putting up a .460 OBP in 16 Arizona Fall League games. Also worth noticing, as BA did yesterday, that the Canadians spent last season playing their home games in Hissboro, which is notoriously unfriendly to homers. But like I mentioned regarding Samad Taylor last week, and is also true of Clarke, they need to come out and maintain that development this year. Horwitz has a good chance with that bat control.
Another likely fixture here is 2B Rafael Lantigua, 23, who's much much more under the radar but earned his promotion. Defensively, he also got time at 3B, SS, and all three outfield positions while registering to log an .845 OPS at High A. There's an argument that he's a lot further under the radar than he deserves to be. Nick Podkul and LJ Talley, who are both 24, and generally unremarkable hitters, though Talley is noticeably better than Podkul, plays more positions, and hits lefty. I'm not certain Podkul will not get cut but I said that about Nash Knight for a few years so what do I know? Also here is SS/2B Hugo Cardona, but he only had three games at AA at the end of 2021 after spending the bulk of the season in Dunedin and will almost certainly be assigned to Vancouver this spring.
In his place, more likely you'll find Luis De Los Santos, another middle infielder with unremarkable offensive skills but more professional experience and played last year in Vancouver. Also, 2B Tanner Morris also played well enough to be in line to move up (plus, he's 24). He's reportedly one of those guys who are pretty good at everything but not exceptionally good at anything.
The big question mark is top-shelf prospect, SS/3B Orelvis Martinez. The Jays' #2 overall prospect absolutely dominated the Southeast league – including a stunning 13 homers in July – leading to an August 2 promotion to Vancouver. In his first 20 games at the new level, he hit five homers but also only .167 with a lone double. But then he got sorted and ran off a 10-for 28 stretch to close out the year with four more homers. Traditionally, just getting 112 games at High A, and not dominating for most of that stretch, says you go back there and get your feet under you, but that same reasoning would have had Jordan Groshans start last year with Vancouver and he didn't. Stay tuned.
Looking to the outfield, if we assume Chavez Young will move up to AAA then the only outfielder listed as such on this roster is Brock Lundquist He hasn't looked promising since 2018. However, Steward Berroa is listed as an infielder which he's most definitely not. He is, however, the burner who stole 58 bases in 67 attempts (mostly in Vancouver) last year. Pair that with a .358 OBP and he's going to be a key component in the NH offense this year. But Berroa isn't the only speed merchant that might land on this roster. Cameron Eden, who has a bit more IF experience than Berroa but is primarily a CF and he stole 30 bases in 32 attempts to go with a .382 OBP in 48 games for Vancouver. They are very similar players.
But wait, there's more. Get used to the name Zac Cook. Cook was an undrafted Free Agent after the super-short 2020 draft and he's looking like a find in early returns. After an .820 OPS in 34 games at Dunedin, he got pushed to Vancouver where he got even better running up a .901 OPS in 48 games. His strikeouts are too high but otherwise a fine debut. Announced as a 2B at signing, he got some turns there but a lot more innings in CF and LF and we should expect that to continue since there are like six guys I've mentioned who can play second. Another possible promotion from Vancouver is IF/OF Sebastian Espino. The 2020 Rule 5 (minor league) draft choice had been an entirely marginal hitter until he landed with the Canadians where he, for the first time, got a lot of reps in the outfield and oh-by-the-way an .869 OPS in 61 games. He'll be under pressure to prove that was for real. Given the infield crowding I expect he'll get most of his time in the outfield this year.
Next week we'll try to sort out the High-A Vancouver Canadians roster.
Recent articles from Tammy Rainey