First Look at Potential Blue Jays Farm Rosters: Triple-A Buffalo Bisons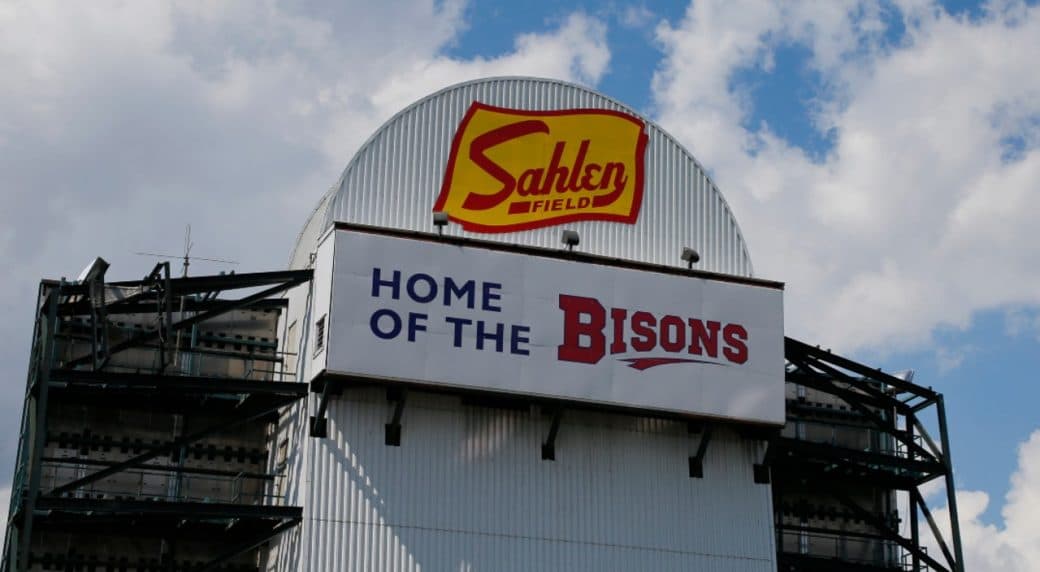 We all know that due to the MLB Lockout, players on the 40 man roster are barred from team facilities or team-organized workouts and development. But I had thought that things would be even more limited than that.
EDIT: Scratch that! Things have changed! I won't mangle what I wrote two weeks ago, but skip to the bottom for revisions to my predictions based on the end of the Lockout restrictions.
There was some confusion about the use of minor league free agent signings that had played in the majors in 2021 and I hadn't gotten a clarification about that until I asked Ben Wagner who stated definitively that it's only 40 man roster players who are locked out.
In any case, my original vision for this piece was "here's how the Bisons put together a roster if they cannot use 40 man roster players or anyone who played in MLB in 2021 – but, apparently, that's not the situation.
So instead, as 170 or so MiLB players pour into Dunedin next week, I'll shift gears slightly and begin a series of hot takes on how the full-season squads' opening day roster might shape up based on what we know now, and taking for granted that we're about to start losing MLB games off the schedule.
One clarification: These projections assume health where the lack of health hasn't been reported. For example, Yosver Zulueta spent all of last year recovering from a knee injury and is reportedly 100%, on the other hand, CJ Van Eck and Nick Frasso are known to be out for most if not all of the season following Tommy John surgery. The assumptions come in for guys like Eric Pardinho, whose exact status isn't yet publicly reported. Such will be discussed as if we're assuming they are good to go.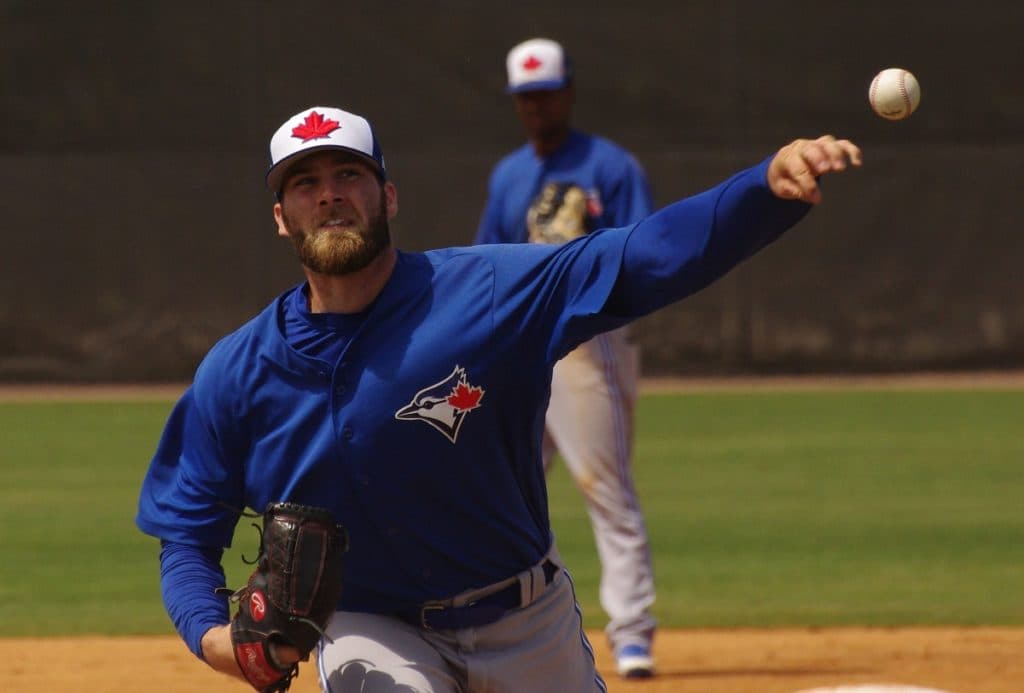 The first concern is constructing a starting rotation…
If this were a normal season it would be easy to envision that at least four of the five regular turns would be filled by players currently on the 40 man, so the biggest changes will be here. That means the most interesting guy will be Joey Murray. He lost almost all of 2021 to a series of injuries but if healthy he'll catch a lot of eyeballs as scouts will be watching to see if his unspeakable spin rates take a fatal hit from the sticky substance restrictions.
Probably the next most predictable member of this unit is Nick Allgeyer. In a normal season, he would almost certainly find himself pitching mostly in relief this year, possibly with some spot starts. Coming off of 2019 he looked like a guy with some juice, notably a BB/9 rate of 2.21 but that's where things went south in 2021. That nice walk rate ballooned to 5.24 and his ERA found its way over five as well. He'll get a chance to redeem his status with Thomas Hatch et al on the sidelines.
The next most certain name is likely 34-year-old journeyman Casey Lawrence. When he returned to the organization last May I was assuming that along with veteran leadership, his role would mostly be long relief with some spot starts, given his age and the depth of other options. But 14 of his 25 appearances, at AAA and AA combined, were starts, including 12 of his last 14. Not only that, in his last 10 outings covering August and September he posted a perfectly pleasing 3.00 ERA, with 38 walks and 10 BB in 42 IP.
After that things get more speculative. One could speculate on promotions from the New Hampshire roster, there are at least three reasonable candidates but I'll go into that next time. In their absence, you have three candidates with extensive starter history in their past that were surely acquired with a vision of bullpen depth being their carrying card. Perhaps most notable in this group is Shaun Anderson. When he was claimed from the Padres in November my initial reaction was "here we go again dumpster diving with guys who have no visible (to fans) attractiveness." But there was a fair bit of beat reporting suggesting that the talent guys thought Anderson had untapped potential to be unlocked. In two-plus seasons in the minors (2017-2019) for the Giants, entirely as a starter (57 outings), he put up interesting quality, but not eye-popping stats. Called up in Mid-May 2019, he did a couple of months of reasonable, back-end, rookie work before reeling off several bad outings and then landing on the IL with blister issues. It's possible the finger had been bothering him longer than was reported at the time. In 2020 the Giants used him out of the 'pen where he dealt with an elevated walk rate. He was traded before the 2021 season to the Twins. Last year he accumulated 16 major league appearances and 18 in the minors, across three different organizations – all out of the bullpen. It's easy to assume that's what the Jays had in mind, but since he was a project anyway, might they see how he works out with a starter workload? I lean towards thinking they will at least look at it this spring.
Next in line is a once-upon-a-time highly regarded prospect, Jose De Leon. Now 29, he's only ever accumulated 22 major league appearances, less than half of those as a starter. But through 2019, almost all of his minor league work was as a starter and, noticeably, he was pretty good even after his prospect status had dimmed. He missed his entire age 25 season in 2018 due to Tommy John surgery, and when he returned, his previously fine control had escaped him (not unusual in the first season back). In '20'21 he pitched almost entirely in relief. The one exception was that he started in his first two appearances in 2021 for the Reds. In which he struck out !!18!! in a combined 9.1 IP. But he gave up two 3-run homers in the second of those games so off to the bullpen he went. Still, he was once special and he can still get the strikeouts if he can ever get the control back. Would be as good a time as any to find out.
The other possibility is Matt Gage, who is also 29, and was a marginal starter in the minors through 2019. He spiked up better pitching exclusively in relief in 2021, so maybe you could dream there's a poor man's Ryan Tepera in there but if forced into the rotation there's no upside. He's never pitched in the majors.
Beyond the rotation, most of the roster is much easier to project…
The obvious bullpen candidates already on the Bisons' roster include Gage, Jackson Rees who lost 2021 to injury but was a monster in 2019, and at 27, is a deep sleeper to watch, Kyle Johnston who blossomed after moving to the pen last year but still needs to refine the control a bit, and Fritz Stadler, a mountainous 6'9″ 245 – who had an elevated ERA in 2021 but struck out 69 in 48.2 IP across two levels. The transition to Buffalo was rough and he could bump back to AA. Also here is David Phelps, surely not signed with the intention of toiling at AAA (on either his part or the team's) but no reason for him not to take advantage of the circumstances.
Technically on this roster is Abdiel Mendoza, minor league Rule 5 selection, but he's 23 and never pitched above A-ball, he's likely bound for Vancouver. Another player you can expect to see here is Jeremy Beasley whom you may remember from his brief stint in Toronto last summer. He's technically on the AA roster but at 26, with MLB service time, he's got a good case for breaking with Buffalo. Like many guys with non-zero potential, his career has been pretty okay, strikeouts make him interesting, control makes him sketchy.
Who else? Well, there's Graham Spraker, if he's not lost in the maybe/not Rule 5 draft (seriously, who even knows?). He was a minor beast in AA last year and impressed everyone in the AFL so no reason he's not in Buffalo on opening day. Another guy who earned a look is Marcus Reyes.  The 26-year-old lefty has a career ERA in the minors of 2.51 with good supporting ratios. Opponents hit .217 off of him last year. It's not wholly impossible that Adrian Hernandez could begin the year here but with only 15.2 AA innings they could afford to give him a month or so back there. Still, few in the system have more helium.
On the hitting side there's less competition and a few holes. With Gabriel Moreno on the 40, journeymen catchers Kellin Deglan, 30, and Rodrigo Vigil, 29, will share the spot. Neither has a track record of offensive production. I wouldn't be stunned if they end up with someone from outside the system that gets squeezed out elsewhere before the season begins.
The only two players listed as infielders on this roster are 3B Cullen Large, plagued by injuries since his short breakout in Lansing back in 2018 until finally getting a run last year, and 2017 first-rounder Logan Warmoth who was drafted as a SS but got all his innings in the OF last year, mostly CF. The latter still hasn't shown the ability to hit even minor league pitching well, the former roared through August and might yet have something to show. But look for him to move around a lot given the AA guys who are incoming.
That story starts with top prospect Jordan Groshans. Drafted and developed as a SS, his destination is surely 3B and he'll spend at least half his time at the hot corner. There's an argument that he was pushed a bit to play at AA at age 21 last year after so little pro experience, and he didn't embarrass himself. A more conservative course would send him back there and let him dominate for six weeks or so first, but if they weren't conservative last year – and it wasn't a disaster – they likely won't be here either.
Another sure thing is 2B (and some OF) breakout Samad Taylor, if he's still in the org by then (he's eligible for the Rule 5 Draft when a Collective Bargaining Agreement gets reached). Taylor's 2021 breakout got a big boost from a hot 14 game stretch in early June during which he accumulated half of his 16 homers on the season and many will be watching to see if the breakout was legit given his high strikeout rate. Another guy I think will get the bump from AA is SS/3B Vinnie Capra. Like Taylor, he had an entirely unexpected breakout in '21 with a .921 OPS over 78 games in an injury-shortened campaign.
Finally, there's minor league free agent signing (though oddly not listed on the Bisons' published roster) Gosuke Katoh. For his career, he's played a good bit more 2B than anything else but he has significant reps at 1B, 3B, and short. He was a solid hitter in '17, '19, and '21 (though the latter was in the PCL) in particular sporting a nice OBP.
Besides Warmoth, who should be listed as an outfielder, the on-roster depth is slim. They brought back former major leaguer Mallex Smith, whose ability to hit MLB pitching seemingly disappeared after 2018, and signed free agent Nathan Lukes. A previously ordinary hitter, Lukes had a fairly successful 2021 for AAA Durham and will be at the head of the line for RF reps. In addition, long-time marginal Jays prospect Chavez Young will likely move up. Young is a talented CF who broke out in 2018 while playing for Lansing but floundered at Dunedin in 2019. He was pretty average in 2021 for the Fisher Cats, though with nice speed. The issue was that he averages more than one strikeout per game and that doesn't bode well for higher levels. There's some Randel Grichuk here, offensively, oscillating between "would you look at that?" and "I can't watch."
That only adds up to 11 hitters, so expect a bit of filler to be added but such names would be unpredictable and, frankly, not names you came here to read about. Next week we'll talk about AA.
New material follows:
As with the previous situation, the major impact is on the pitching side. With the Jays having signed Yusei Kikuchi and Andrew Vasquez, the 40 man roster is full and there are -as things stand now, which could literally change at any moment – there are no less than five starting pitchers, and four or more relievers who are on the 40 man roster and who would be in AAA if they don't make the majors.
A full rotation in Buffalo on Opening day could easily not include ANY of the guys I postulated two weeks ago. Instead we could see Nate Pearson, Thomas Hatch, Anthony Kay, Zach Logue, and Bowden Francis as the front five, with Joey Murray getting as many turns as practical, or possibly piggybacking with Pearson while they manage Big Nate's innings. All of this presumes none of these depart in a trade which any of them could in the right circumstance. In the previously postulated group, all of those others are then potentially bullpen candidates, for a 'pen that's already overflowing, and so there's a real chance that Graham Spraker is the only guy who moves up from AA on opening day despite several others potentially being ready or near ready to rise.
But first it's necessary to note that potentially Kirby Snead, Tyler Saucedo, Trent Thornton, Anthony Castro and possibly Vazquez (depending on transactions and whether or not David Phelps earns a major league job) so you can see how crowding becomes an issue. If we count Murray as part of a 5.5-6 man rotation, there are 12-14 candidates for some seven regular bullpen jobs. That's assuming that no one but Spraker moves. You can see who I discussed previously above, and also there's Joe Biagini who recently signed a minor league deal but there's nothing there really but nostalgia.
On the offensive side, obviously you pencil in #1 prospect Gabriel Moreno behind the plate which may, but also may not, push Vigil off this roster. Another face here will be one of (at least) Otto Lopez or Kevin Smith, again, presuming no trades. Both would presumably continue to home the positional flexibility that makes them more valuable. The other "new" (to this article) name is outfielder Josh Palacios. He'll be looking to re-establish himself after losing most of 2021 to injury.  I should also mention the signing of 1B Greg Bird this week since that makes him the only legit 1B on this roster. Now 29, Bird has always raked in the minors (with the caveat that last year's .894 OPS was in the hitter friendly Pacific league (whatever they are calling it now). This could be a pretty deep lineup for a minor league squad, and with that pitching depth Bisons' fans should have a ton of fun this year.
(Look for a smaller update to the NH column as well)