Former Blue Jay watch: Exploring the performance of Gabriel Moreno, Lourdes Gurriel Jr., and Teoscar Hernández with their new teams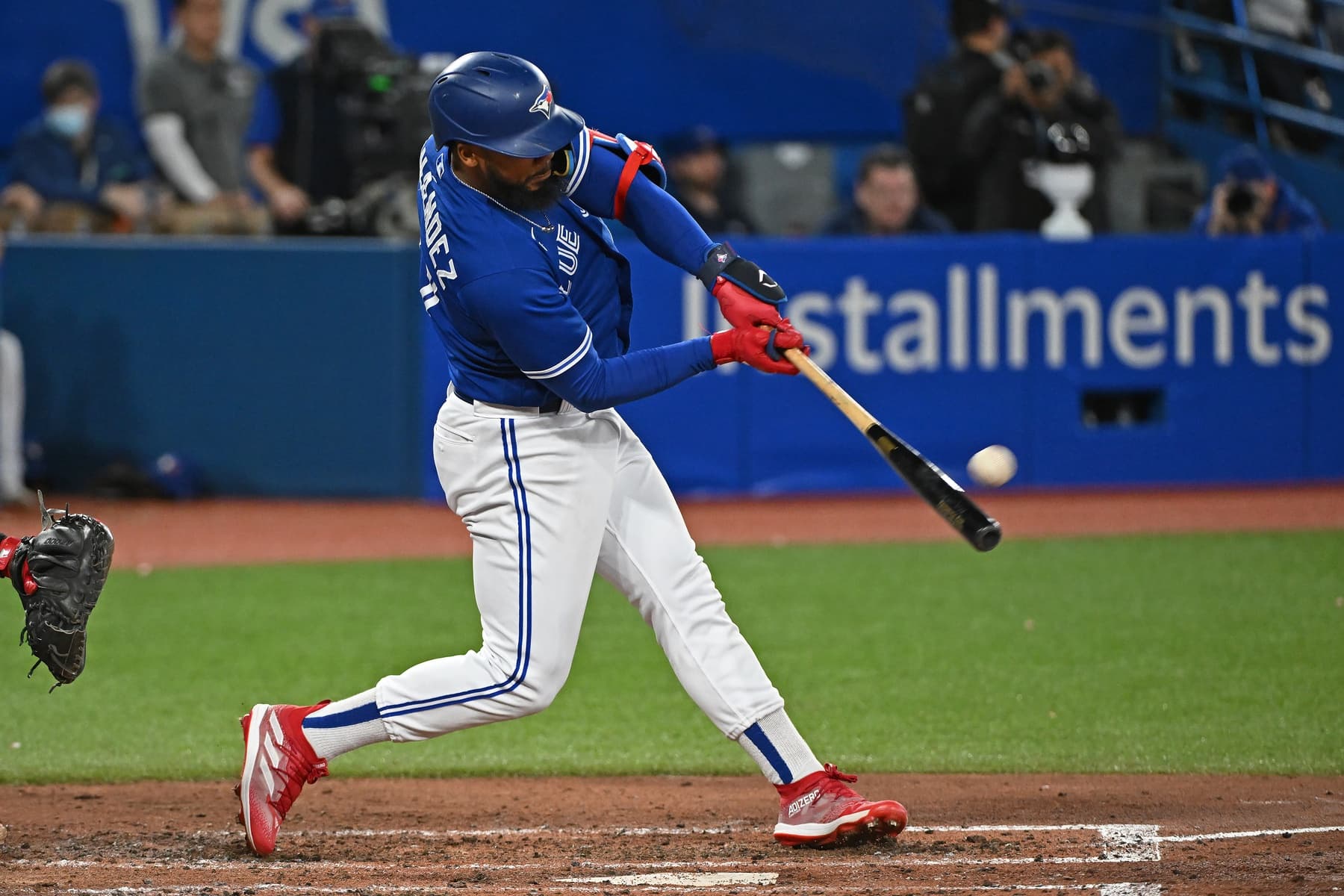 Photo credit:© Gerry Angus-USA TODAY Sports
The opening weekend has come and gone, which begs the question: How did Lourdes Gurriel Jr., Gabriel Moreno, and
Teoscar Hernández
do on their new teams?
Here's a quick recap on who went where and what the Blue Jays got in return.
Gabriel Moreno and Lourdes Gurriel Jr.
were sent to the Arizona Diamondbacks in exchange for Daulton Varsho.
Teoscar Hernández
was traded to the Seattle Mariners for Erik Swanson and prospect Adam Macko.
Let's see how the three players did during the opening weekend!
Gabriel Moreno:
The 23-year-old catcher was a top prospect heading into the 2023 season and managed to make the Diamondbacks out of spring training. It's an incredibly small sample size, but Moreno is slashing .222/.200/.333 with two strikeouts and no walks in his 10 plate appearances.
However, he showed his promise in spring training, slashing .357/.455/.714 with three homers in 33 plate appearances. Last season, Moreno only hit four homers (three with the Triple-A Buffalo Bisons, and one with the Blue Jays), so his power may be returning.
In his 25 innings caught, Moreno already has accumulated a 1 Defensive Runs Saved, one of only two catchers with a DRS above 0. His Catcher Defensive Adjustment, which combines framing, throwing, and blocking is at 0.1, so he's off to a pretty solid start defensively. Base runners are already 0-2 when attempting to steal on Moreno.
Lourdes Gurriel Jr.:
The 29-year-old outfielder was the other player involved in the Daulton Varsho trade. So far in 2023. Gurriel has slashed .250/.250/.250 in 16 plate appearances. Moreover, he has a -0.2 Fangraphs WAR, tied for the fourth-lowest in all of baseball.
With that being said, he had a crucial hit on Sunday which nearly scored the go ahead run in the top of the ninth, before eventually becoming that scoring run.
Defensively, he has played 18 innings in left field, and has a 1 DRS and a -1 Outs Above Average. He also already has an outfield assist, which is the norm for his big arm.
Gurriel will become a free agent at the end of the season, so his involvement in the trade made sense, even if it would have been nice to have his right-handed bat off the bench.
Gurriel was in the outfield when that fan jumped on the field and proposed. Here is his reaction to that fan getting absolutely wrecked by the security guard.
Teoscar Hernández:
It's been a weird season already for Hernández
. The 30-year-old outfielder already has a 3 DRS (literally the best in the majors) and a 1 OAA in his 27 innings played in the outfield. This is even though he hit a base runner on first base when trying to go home with his throw.
His bat, on the other hand, hasn't been great. In 15 plate appearances, he's slashing .071/.133/.143 with just one hit (a double). Moreover, he has a 33.3 K% as he's struck out five times.
With that being said,
Hernández is usually a slow starter, meaning that Mariner fans shouldn't be too concerned yet.
At the end of the season, Hernández will become a free agent, so moving him for an excellent reliever with control made sense. Especially as they got an intriguing prospect in Adam Macko.
What to make of the first weekend:
These three players combined have a -0.3 fWAR in a limited sample size. For context, Daulton Varsho and Erik Swanson both have a 0.0 fWAR.
Still, it's way too early to fully judge these trades, but if trends continue, the Jays did pretty well for themselves.
As always, you can follow me on Twitter and Instagram @Brennan_L_D.