Fortnight on the Farm, Vol. 11
And so the regular season comes to a close for two more Blue Jays farm teams, but never fear – both of them made the playoffs so they yet have a few more games on their schedule.
The Canadians clinched a playoff slot last week and are set to host the last three games (as necessary) in a best-of-five series against the powerful Eugene Emeralds (who've won 10 of their last 12 meetings) which begins with two at Eugene starting today.
Dunedin, by contrast, came into Sunday a half-game up on Bradenton with the season on the line for both, and both were rained out. About as anti-climatic of an entrance into the playoffs as one could imagine but in the post-season they are. They'll face the first-half winner Ft. Meyers (who are just 28-36 in the second half) in a three-game series beginning tomorrow (9/13).
As for the other teams, New Hampshire – long since eliminated from the postseason, has six regular season games left on the schedule while Buffalo has 15 regular season games left and sit 5.5 back in the International League East. This isn't bad in a vacuum but they are also behind four other teams who are all within no more than 3 games of the lead so the smart money says they won't make it.  What to look for here is whether a few of the better players at AA (particularly Zulueta and Barger) get moved up to AAA after the Fisher Cats get done.
Triple-A Buffalo
By now the names will be familiar to you but maybe this is new info. Take Hayden Juenger: his overall line is fine enough, 3.00 ERA, more than a strikeout per inning, etc. But it gets better. He's made 13 appearances for the Bisons. In one of them, he got touched up for four earned runs on four hits and a walk while recording just one out. In the other 12, he's thrown 23.2 innings, allowed 13 hits and four earned runs while walking 10 and striking out 29 – that's a 1.52 ERA. He'll get a lot of chatter next spring. Then there's entirely unheralded lefty Brandon Eisert. On July 9 his ERA peaked at 4.28, since then he has an ERA of 1.77 over 21.1 IP (16 g) while striking out 28 and walking exactly nobody.
The hitting story begins with your regular Otto Lopez update. Since his first return from Toronto (June 28) in .217 PA he's hitting .345 with a .900 OPS. There's a case to be made that he should get every opportunity next spring to claim the regular 2B job in Toronto (assuming sufficient defense which I've heard no slander about). Espinal is perfectly suited to play a reserve infield role and Biggio has a job as long as left-handedness is in short supply (don't ask me how we get rid of Merrifield). But Lopez has paid plenty of dues.
Two weeks ago I highlighted 2B Davis Schneider and 3B John Aiello for the Fisher Cats, both were promoted to AAA since. To expand on the latter just a bit, the 2018 14th-round choice hasn't been an empty bat before but he's really blossomed this year (not unlike Vinnie Capra did last year) including noticeably a .403 OPS at AA. He's among several guys on the fringes of the Rule 5 discussion and he might tempt some team.
There are two other guys here who've not been much mentioned by me that, while not locks to put on a big league uniform eventually deserve at least a hat tip. One is 2B/LF Rafael Lantigua. He might be best described as a poor man's Otto Lopez. Does all the same things, just not an exceptional hitter the way Lopez is. The other is LJ Talley. The lefty hitter is also listed as a 2B but has significant reps at third and first. He has a .773 OPS for Buffalo which is just enough to make him slightly interesting. Either might end up sneaking a John Berti-type career.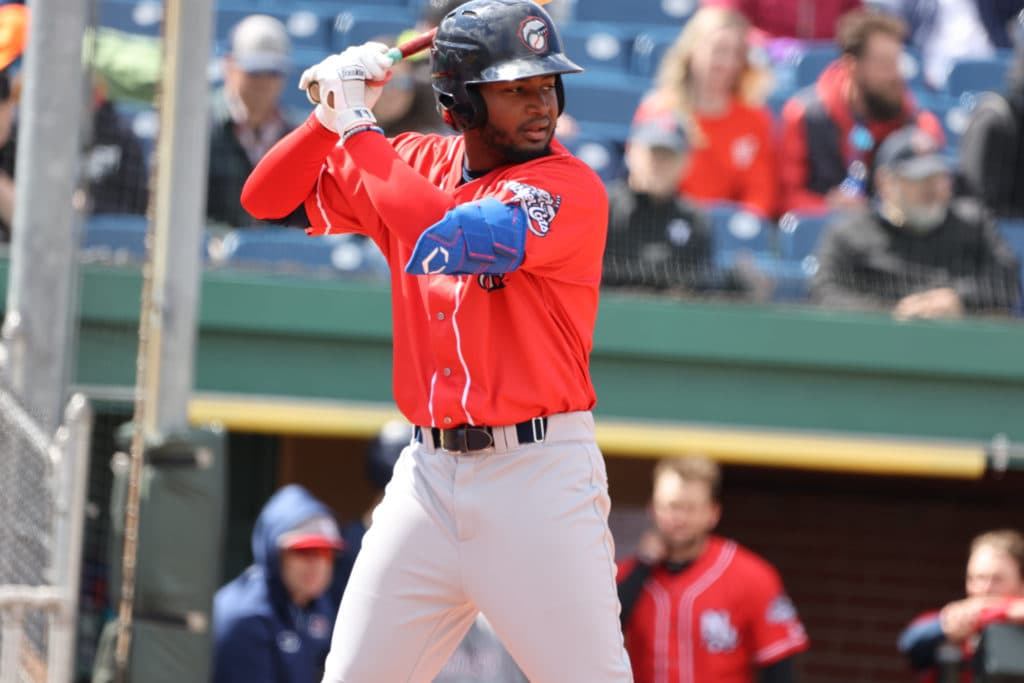 Double-A New Hampshire 
If you're looking for the latest on Ricky Tiedemann and haven't already heard, he hit his inning limit for the season and has been shut down for the year, though they may tinker with some things in instructs next month. On the season he ends with a 2.17 ERA, a .149 BAA, and 13.4 K/9, he also allowed only three homers in almost 80 IP.
Sem Robersse had his best AA outing Saturday, He'll get one more turn this coming week and likely be done after that (at around 110 IP). Yosver Zulueta has been back for a week now after a month on the IL. Three appearances, four IP, and one ER while racking up eight strikeouts. He's at 50 IP now, but after the month off, I'm pretty certain that if he feels good he'll be in Buffalo before the Bisons pack things up, the only question is timing. While Ricky and Zulu have made news all year we did get some buzz about them before the season started.
Even other guys like Dahian Santos were popping up on top prosect lists last winter, so in that context (at the risk of repeating myself) you can argue the actual breakout pitcher in this system in 2022 is Jimmy Robbins. A humble 20th-round pick in 2019 from a basically unknown college who had just 19 professional IP coming into this year after missing all of '21, Robbins has only earned two promotions this year and has a 2.04 ERA in his four AA starts. He struck out nine in five shutout innings on Sunday and will likely get one more turn next Sunday and, like Robersse, NOT be pushed to Buffalo (despite their dearth of AAA starters). Worth noting that I neglected to count him for my article about who needs 40-man roster protection this winter, but he does.
With the recent promotions, there's little offense left here to speak of – basically the success story and the less successful story. The former is SS/3B/2B Addison Barger. In 41 AA games now he still has a .308 BA and a .903 OPS. He's got work to do on the strikeout rate but getting a September taste of AAA while the string is played out makes sense. The latter case is, of course, Orelvis Martinez. In a bizarre twist, he has no XBH in September but a .389 OBP. Small sample and all that. On the whole, he has a .724 OPS and everything about his stats suggests he shouldn't have started the year in AA and most definitely isn't ready to leave it.
High-A Vancouver
The best line here isn't the one belonging to Dahian Santos, but he's the highest profile starter on the current roster. The good news is that after getting knocked around in his first two outings in the Northwest, he seems to have found his footing. He has 9 IP in his two September outings combined, gave up four runs, and oh by the way struck out 17. He's still the one to watch.
Another starter here who's found his groove is Trenton Wallace. Promoted mid-season from Dunedin, he saw his walk rate spike for a while. This of course led to poor outcomes. In his first five games here he threw a combined 17.2 IP and allowed 12 runs, largely because he walked 24. In four starts since, he's logged 21.2 IP, allowed just four ER, and walked only seven while striking out 30. I'm running long but Michael Dominguez deserves a nod for finishing strong. In his last three outings, he's struck out 23 and walked just 3 in 15.2 IP good for a 2.30 ERA.
There's a lot of hitting to highlight here so I might be doing a bit of a speed run. Breakout star OF Gabriel Martinez finished with better slash numbers than he'd had at Dunedin. In 102 at-bats the 20-year-old put up .324/.381/.490/.871 and the suits will ponder whether he's ready for AA next year. First baseman Rainer Nunez also exceeded his low-A rates, thanks to more than doubling his walk rate. Dasan Brown just keeps getting better. After a rough adjustment to the new level in the last third of July, he got heated up. He hit .292 with an .822 OPS in August and so far in seven September games he's hitting .387 with a .977 OPS. That combines for a slash line since August 1 of .317/.374/.450/.824 and while the strikeouts are high, if you can get on base like that and steal 24 bases in 84 games, you're bringing something to the table.
Low-A Dunedin 
Probably the best SP this team can turn to in the post-season is Lazaro Estrada. He turned heads in the DSL in 2018 by striking out 87 while walking only 12 in a league notorious for control issues among pitchers. He gave up too much contact in Bluefield in '19 but was off to a pretty solid start last year before hitting the IL. Given that he was out from June 11 that year until July 15 this season, I'm going to venture a guess that it was Tommy John. In any case, he still has impressive control and the ability to strike hitters out and has a 2.93 ERA for the D-Jays albeit they are still building him back up In two September games, totaling 5.1 IP he issued no walks and struck out 12.
Another guy coming off an injury to keep your eye on is Eddison Gonzalez. Eddie was acquired from the Rays at the deadline in 2019 but wasn't named until after the MiLB season had ended. On June 11 2021 he was placed on the 60-day IL, and only made it back into an official game in late July this year (I'll let you do the math this time). In the Rays' system at 19, he put up a 2.45 ERA and struck out 77 while walking a tidy 13 over 62.1 IP, this year in 11.2 for the D-Jays that patter has held, 11 K and only one walk.
Rafael Ohashi is finally back after three months on the IL, but only getting out there once. Hopefully, he'll get a couple of opportunities n the postseason. The "other Brazilian" has 54 K and 15 BB in 45.2 IP. The workhorse here has been Geison Urbaez whom I've read the organization likes a lot. He has a 3.72 ERA in 58 FSL innings and 55 K to 14 BB. Another guy here was on some of the longer prospect lists in the spring – Kendrys Rojas. The lefty spent all of June and July on the shelf but since returning he's only had one bad outing. Irv Carter is here too but the small sample size precludes any comment.
I have a tentative hypothesis that Manuel Beltre isn't a morning person. When he was on the complex league team (who play their games at something like 10 AM) he hit .234 overall (though he had a passable August). Since moving across town to join the D-Jays (who don't play at that early hour) he's hit .381 in his first five games. A ridiculously small sample of course but he's hot at the right time to help out in the post-season.
Of the New Edition crew we've spoken of before, some have cooled and some are heating up – and a couple just keeps rolling. Cade Doughty is up to 103 AB after a long college season so it's no shock he's slowed a bit in September (no XBH, a high number of strikeouts). Davonte Brown still has more walks than strikeouts and finished with a .926 OPS for the regular season. The switch-hitting CF might be a steal among undrafted free agents. Payton Williams ran off a hot streak in the back half of August but seems to have run out of gas in September.  By contrast, fellow draftee Alan Rhoden heated up this month – in seven September games he hit .364 and put up an .892 OPS.  Speaking of heating up, there's Raque Salinas. Though not in the newcomer group, he's been a new player since the end of July. On July 30 he finished the day with a .605 OPS, but from July 31 through the end of the season he's hit .359/.379/.531/.910 – it's only 64 at bats so… just put him on the potential sleeper list.
---
Recent articles from Tammy Rainey