Fortnight on the Farm, Vol. 6
As I write today, the MiLB season's first half is in the books and the end of the month of June just passed. So while I certainly note the high likelihood of repeating myself, it's a good time to take note of the high-profile guys who took a step back (and those who didn't)  while also noting both the big breakouts and the "now show me you can do it again" cohort who came into this year off of a breakout last year.
Dunedin Blue Jays
With all due respect to the since promoted Ricky Tiedemann, whom we were hearing buzz about as far back as the fall instructs last year, there's no bigger breakout story on the pitching side here than Dahian Santos. Over one seven-game stretch, accumulating 28.2 IP and only TWO earned runs while striking out 49. The slender RH 19 year old might get even better as he fills out with age. Personally, I've already moved him into my Blue Jays Top 10.
Others who've made their mark here have been promoted as well. 2020 draft choice Nick Frasso came back from elbow surgery and was basically untouchable over seven starts. His first outing in Vancouver was Monday night and WOW. Four no hit innings, three batters faced, one walk and TEN strikeouts. Jimmy Robbins, also coming off of injury, first moved into a starting role then moved up to the next level, and made a significant mark. Still here, for now, Trenton Wallace has a 1.26 ERA, a 0.76 WHIP, and 50 strikeouts in 35.2 IP. A college pick who's 23, he may be next in line to board a plane for Vancouver. It would be unfair to not mention Rafael Ohashi, who's made significant improvement from last year. But he's been in the IL for three weeks.
Among hitters, the star turn here is absolutely OF Gabriel Martinez. While he spent all of June on the injured list, he was so very impressive before the injury that he has a case for being the biggest breakout hitter in the system. First baseman Rainer Nunez also came basically out of nowhere in terms of prospect buzz, contending all year for the league lead in homers but also a cautionary strikeout rate.
Whatever happened, you may have asked, to Dasan Brown? Last we checked he was still impressive in the field and mostly struggling at the plate. But what now? Check out this slash line for June: .423/.483/.528 in 26 at bats since coming off a rehab assignment. Yes, the sample is small but it's enough to drive his season OPS for the D-Jays to .807 so, gonna need to keep a closer eye on the man. The news is not so good from well regarded infielder Estevan Machado, who hasn't gotten his OPS over .700 yet.
Vancouver Canadians
To be fair, not a few of the names I'll mention in this section are guys who began their breakout in Dunedin, none more high profile than Ricky Tiedemann. Unlike pretty much all of the other well-known names, even his worst outing was fine work. Just 19 for another six weeks or so, place your bets on whether they will push him to AA before or after his 20th birthday.
The other guy newly on the radar this year is Yosver Zulueta. I mean, he wasn't an utter unknown coming into the year (nor was Tiedemann) but the 24 year old Cuban was on a much shorter clock to prove his talent and for the most part he's done so. He's been promoted to AA after six outings in Vancouver and his first turn there was not what anyone would hope for. but that takes hardly any shine off of his status.  Some have speculated that later in the season the Jays could bring his power arm to their bullpen to finish the year but he has a starter skill set.
Another highly regarded arm that solidified his status over the first half is, of course, Sem Robersse. He had a blip a few weeks ago but it didn't turn into a trend and he, too, probably has some AA time in his future before the season ends. Also, keep an eye on Alejandro Melean whose season, fair to say, maybe the most out of nowhere of any pitcher mentioned so far. Last year's ERA over 2 levels was 5.16 and the only silver lining I noted was he had a fairly interesting line in his innings pitched n relief. But this year he's cut his walk rate by more than half (just 7 in 30 IP) and has a 1.80 ERA. Currently, he's been on the IL for about two weeks.
If you look at actual prospect status, there are basically two guys here you want to be showering praise on. The first has been here all season and seems to be more than ready for a promotion, the other just arrived from Dunedin but didn't miss a beat. Infielder Addison Barger has been much more consistent than he was last year and it's paid off so far for an .882 OPS. He still strikes out too much but I'd have expected a promotion already so it's just a matter of time. The new guy is Canadian (and Venezuelan) 3B Damiano Palmegiani. Reportedly he spent a lot of his youth in BC so he's likely enjoying his homecoming off the field, he surely is on it. After making steady improvement for the D-Jays, he landed a mid-June promotion to the C's and in nine games here has an OPS of .927 (a tiny sample of course). I'll be interested to see if he turns up on any mid-season prospect list updates. On the other hand, Top 10 prospect Leo Jimenez has been entirely ordinary so far for the C's.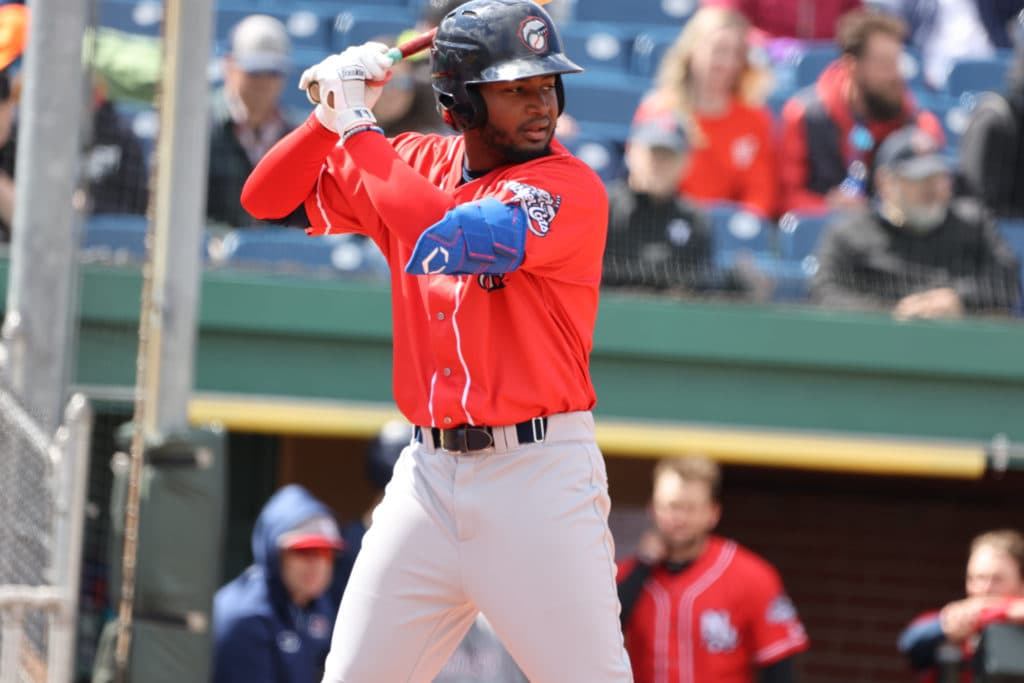 New Hampshire Fisher Cats
Widely recognized as the breakout story of the Blue Jays' AA squad is 2021 6th round selection Hayden Juenger. We noticed of course when he struck out 34 while only walking four in 11 relief appearances last summer, but there was no clear indication the Jays were planning to stretch him out. It's still not certain if they envision ramping him up to a starter or just want a 3-4 inning bulk reliever but if it's the former, he's a lot more prominent prospect and no less an observer than Baseball America moved him into their top 10 on the last prospect update. 2020 third rounder Trent Palmer was and is a middling prospect but moving up to AA before mid-season of your second year without a noticeable drop-off in results solidifies one's standing.
I haven't said too much so far about under-preformed expectations in the first half, but the most common place to find them is among shortstops. As I mentioned, Leo Jimenez has been ordinary in Vancouver and Estevan Machado likewise in Dunedin (De Castro too but he wasn't expected to be too impressive at the plate).
Add to that Orelevis Martinez. A lot of us thought he was rushed with the AA assignment and he's been slow to fully adjust to the league, an impressive May notwithstanding. In most regards, his performance this year mirrors how he finished last year for the VanC's, except for an elevated strikeout rate. The 20-year-old remains a work in progress.
In better news, the prospect that has gone from "kind of an interesting guy" to "wow, look at that" is 1B, Spencer Horwitz. A late season burst of over-the-fence power in '21 might have been an anomaly – but it wasn't. An already above-average hitter, he's improved across the board this year (he has a .930 OPS as of this writing) and while the Jays are not in need of an up-and-coming 1B, he has the makings of an attractive trade chip this summer.
Buffalo Bisons
Can't talk about breakouts without talking about Max Castillo. Most of his previous career can be fairly summed up as "pretty good" – but pretty good minor leaguers don't usually get identified as future big league contributors. His previous best year was 2019 in A+ Dunedin when he cut his 2018 walk rate by a third and turned in a tidy 2.69 ERA and put himself on my radar, even though prospect evaluators virtually never mentioned him. He regressed in 2021 at AA and I mentally kind of said "well, maybe I was wrong" – but maybe I wasn't! Across six games in AA and 5 in AAA, and a respectable showing when pressed into bullpen work for the Jays, he's kept runs off the board.
Adrian Hernandez fell into the "I dare you to do it again" group and he pretty much has. There's little reason to qu8ibble with the results or doubt the sustainability. Even though he was squeezed out in Toronto today (to accommodate probably a lesser pitcher) Matt Gage and his off-season reinvention deserve attention. Another lefty reliever, 24 yr old Brandon Eisert may not be a breakout in the sense of getting dramatically better, but he's been good enough to be on the radar for future MLB promotion. In the category of disappointment, last fall's golden boy Graham Spraker has struggled to stay in the zone all year and has dropped way down the list of potential promotions.
To approach this from a prospect list angle, this team began the year with four hitters who were ranked in the team's top 20. Gabby Moreno, currently on the Jays, you know what you need to know, I assume. Then there's Jordan Groshans who seemed to be getting a groove in May, he was absolutely awful throughout June and joins the list of SS prospects posting a disappointing overall first half. Right now he's sitting on an .686 OPS and has only one homer in almost 200 PA. IF/OF Otto Lopez, who started late due to injury and spent a brief time with the Jays recently, has a .683 OPS but maybe with more justification.
The fourth player is 2B/LF Samad Taylor. He was in the "do it again" group and he has, kinda, somewhat. His line doesn't match the 2021 breakout, largely due to struggling throughout June, but he hasn't turned back into a pumpkin either. Another do it again guy, Vinnie Capra, and he was doing it well enough to break the 40-man roster and spend some time in the majors but he only got into six games after he got back here and hasn't played in a month. Finally, I should mention Tanner Morris. In 21 AAA games he hasn't found his rhythm yet but he had an .898 OPS at AA to earn that promotion which is certainly a breakout performance.
It's way too early to say much about the short season players yet but I'll note a few hot starts.  2021 draftee Cooper Benson has pitched 9.1 IP so far, allowed nine baserunners and no runs – and struck out 16. The 22-year-old Lefty is likely to move across town to the full-season team soon. 1B JC Masson, a Canadian, is setting the GCL on fire with a .406/.545/.594 slash line in his first 12 games. OF Robert Robertis is starting well also (.355/.474/.452).  In the DSL left hand hitting catcher Carlos Vasquez is slashing .348/.483/.391 with more walks than strikeouts,
So now you're set for the second half, 35 players to watch down the stretch.
---