Free Agent Profile: Teoscar Hernández said before the trade deadline that he'd be open to a return to the Blue Jays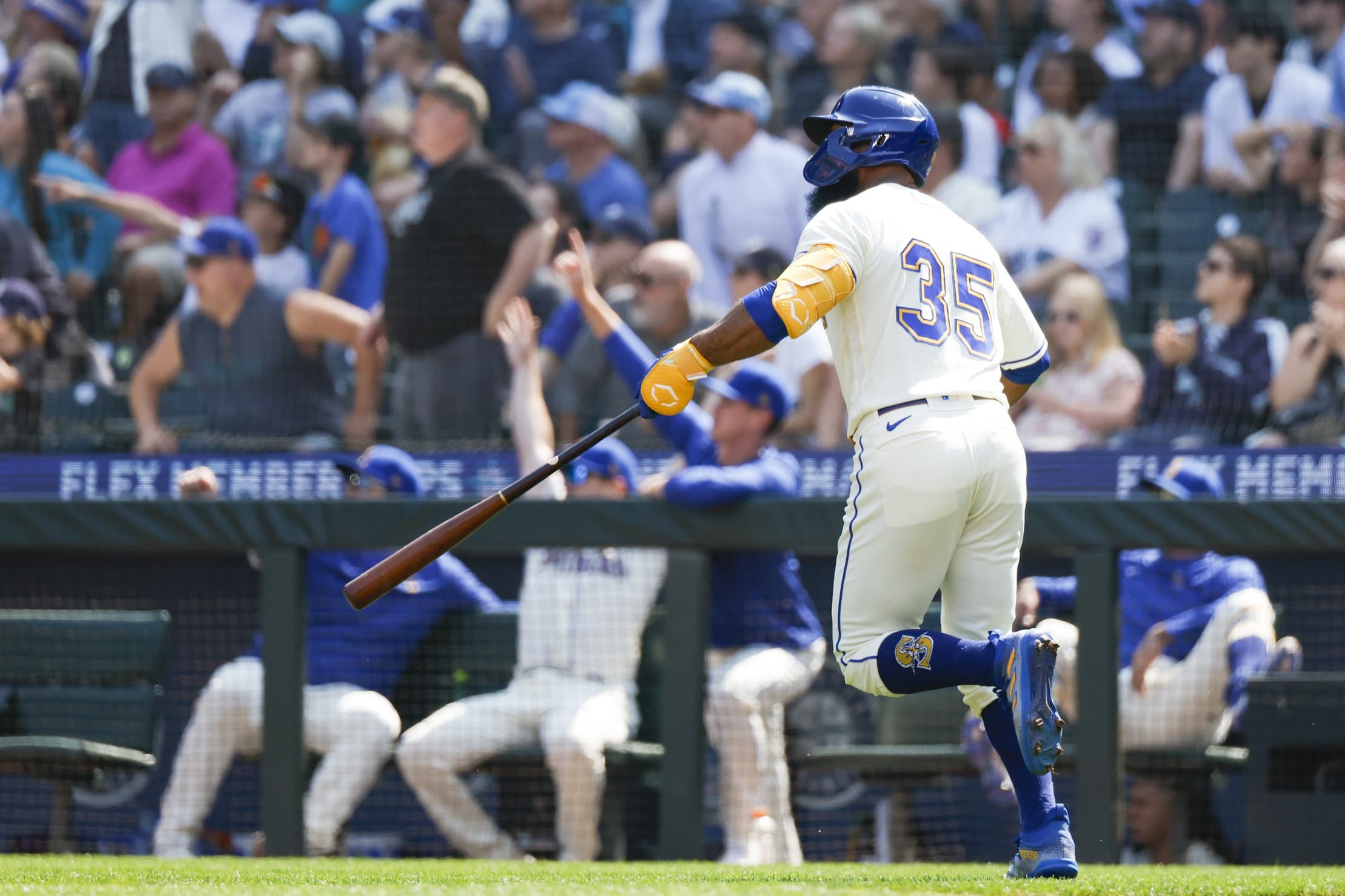 Photo credit:© Joe Nicholson-USA TODAY Sports
Could a reunion with this power hitter be in the works for Toronto?
In this series, we look at free agents who the Jays could have an interest in when free agency opens. Recently, we've looked at Shohei Ohtani, Cody Bellinger, Yoshinobu Yamamoto, Tim Anderson, and Lourdes Gurriel Jr. In this article, we'll look at former Blue Jays slugger Teoscar Hernández.
Teoscar Hernández's 2023:
Just about one year ago, the Blue Jays traded Hernández to the Seattle Mariners for reliever Erik Swanson and prospect left-handed pitcher Adam Macko. It was a tough trade for Blue Jays fans to swallow, considering Hernández was a fan favourite, but the goal was to improve Toronto's outfield defence and they sacrificed power hitting to do so. 
Hernández's first and possibly last season in Seattle wasn't great, slashing .258/.305/.486 with 26 home runs in 678 plate appearances for a 105 wRC+ and a 1.8 fWAR.
His numbers were down across the board, as he hadn't posted a wRC+ below 130 since the 2019 season.
There's always been quite a bit of swing and miss in Hernández's game, but his 211 strikeouts on the season were the third highest, behind Kyle Schwarber's 215 and Eugenio Suárez's 214.
For context, Matt Chapman's 165 strikeouts were tied for 19th in the league.
What will Teoscar Hernández's contract be like:
In Jim Bowden's prediction article for The Athletic, he predicts that the Seattle Mariners will offer a qualifying offer ($20,325,000 for a season) and Hernández will accept.
To me, it doesn't seem likely that Seattle would be willing to pay Hernández over $20 million for the season he had in 2023. Yes, he has power, and yes, he has a track record of success, but that's a lot to commit to a guy with the third most strikeouts in the league and who isn't great defensively
.
If Seattle doesn't offer him a qualifying offer, I could see Hernández signing a two- or three-year deal for maybe $15 million a season. If he were to have a season like he had between 2020 and 2022, perhaps then a qualifying offer is justified when his contract is done.
Is Teoscar Hernández a fit for the Blue Jays:
As noted earlier, when the Blue Jays moved Hernández last winter, they sacrificed power to improve their defence. There's no doubt that the improved defence in the outfield helped their pitching staff post one of the best ERAs in baseball, but the team badly missed that slugging. 
The Blue Jays were
rumoured to have interest
in trading for
Hernández ahead of the trade deadline when it appeared that Seattle might sell but the Mariners opted to keep him instead. Given that, it wouldn't be shocking to see the Blue Jays consider a reunion with Hernández in the off-season, especially if they aren't able to add a bigger fish like Cody Bellinger. 
Jeff Blair: How do you look at your time in Toronto? You started off with the Houston Astros and they traded you to the Blue Jays. How do you look back on it now that you've had a chance to step away from it a bit?

Teoscar Hernández: It was great. I don't regret anything. I have a lot of appreceation for the team, the people over there, the fans, and everybody who took care of me. My family loved it, I loved it. They have a special group over there and the fans love the team. There's nothing to be negative about.

Jeff Blair: The Blue Jays are looking for a middle of the order bat, somebody who can be a veteran, bat right-handed, who can hit left-handed pitching. I know a guy in Seattle who might fit that bill. You're a free agent at the end of the year, do you ever stop and think 'there's a pretty good fit between me and them?'

Teoscar Hernandez: For me, I'm not going to say no. I thank the Blue Jays a lot and if I have the opportunity to come back, I will. But that's not in my hands.
---
As always, you can follow me on Twitter, Instagram, and Threads @Brennan_L_D.
---
Previously…
---