Gausman is here, Semien is gone, Ray is likely to follow. Thoughts on the Blue Jays' busy weekend and what's next!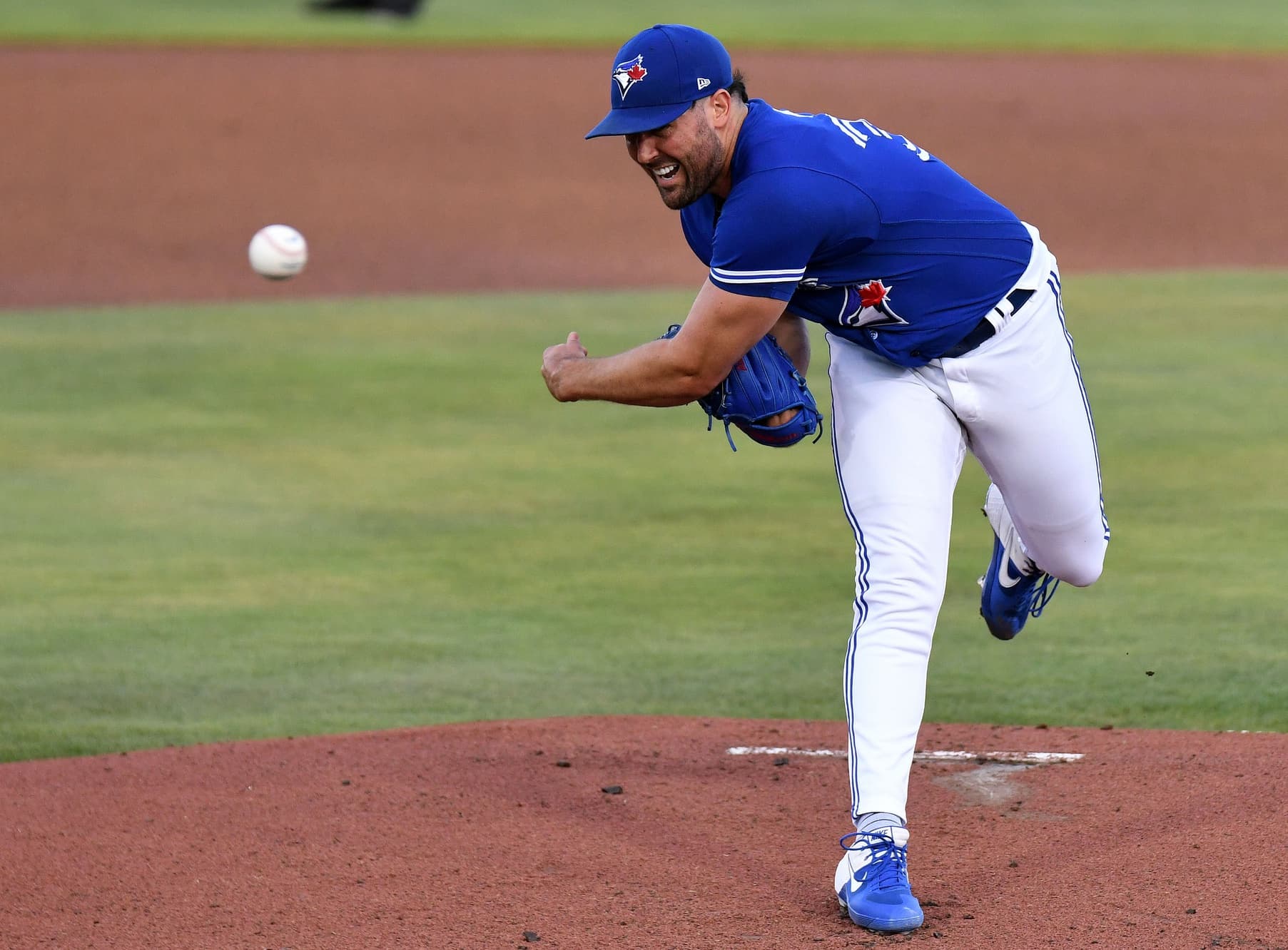 Photo credit:© Jonathan Dyer-USA TODAY Sports
Sunday was quite the rollercoaster in Blue Jay land.
First, we learned that Marcus Semien had inked a seven-year contract worth $175 million with none other than our old adversaries, the Texas Rangers.
That's one hell of a contract for Semien. He got low-balled by the Oakland A's last winter, told them to fuck off, signed with the Blue Jays, had an absolutely incredible season, and then found himself a bag of cash even bigger than the one that George Springer earned. Get paid, Marcus!
Before we even really had much time to react to the news that Semien had left, word came out that the Blue Jays had signed Kevin Gausman to a five-year deal worth $110 million.
In a somewhat similar vein to Robbie Ray, Gausman inked a show-me deal with the San Francisco Giants, turned things around in 2020, accepted his qualifying offer, had an even better season in 2021, and then cashed in with a team who had been interested in signing him for a couple of years.
What a ride!
We don't yet have the full picture of what this off-season is going to look like, but let's talk about Semien leaving, Gausman signing, and what could come next.
Thoughts on Marcus Semien's deal…
The Rangers saw this play and thought 'this will fit perfectly with our franchise's traditional late-game approach in Game 5 of the American League Division Series!' 
HEYYYYOOOO!!!
But, all jokes aside, Semien is a fantastic player and he found himself a well-deserved payday after putting up one of the best seasons in Blue Jays history.
Seven years and $175 million is a hell of a lot of money for a guy on the wrong side of 30, but if there's a greybeard who's going to live up to such a contract, it's Semien, a guy who's only missed 10 games over his last four seasons and who is constantly praised for his work ethic and approach to his daily routine.
This deal makes all kinds of sense for Texas, a team looking to come out of a rebuilding phase with virtually zero dollars committed to their roster in the coming years. For the Blue Jays, though? Given the commitments they've already made to George Springer and Jose Berrios and the ones they'll soon have to make to Vladimir Guererro Jr., Bo Bichette, and Toescar Hernandez, it isn't quite as easy to justify.
It isn't all too difficult to see why the Blue Jays opted not to drop that kind of money on Semien, but, still, his departure leaves a large hole on the roster. Just as the Blue Jays have found a replacement for Robbie Ray, (I'll touch on this in a moment), the team needs to find a replacement for Semien.
The hope, of course, is that the Blue Jays don't try to replace Semien internally. As much faith as you might have in Santiago Espinal being legit or in Cavan Biggio having a bounce-back when he's healthy, those two aren't coming near the 7.3-win season that Semien just put together.
I mean, the reality is there might not be a way to replace Semien's mammoth 2021 season one-for-one (even re-signing him and expecting him to do it again wasn't realistic) but you ideally do better than Espinal at third and Biggio at second.
There are still a handful of very good options on the free-agent market, as top-level names in Carlos Correa and Corey Seager have yet to sign and mid-tier names Trevor Story and Javier Baez are out there as well. And then there are the trade candidates, Oakland's Matt Chapman and Cleveland's Jose Ramirez, who fit Toronto's needs perfectly.
We can't yet fully form an opinion of Semien's departure until we see the full picture. At the moment, it's sad to see Semien go, it makes some sense why the Blue Jays avoided the contract, and the hope is that money will be spent to fill the void with a player who perhaps offers a different skillset. For example, Seager, who bats left, or Ramirez, who gets on base at a higher clip.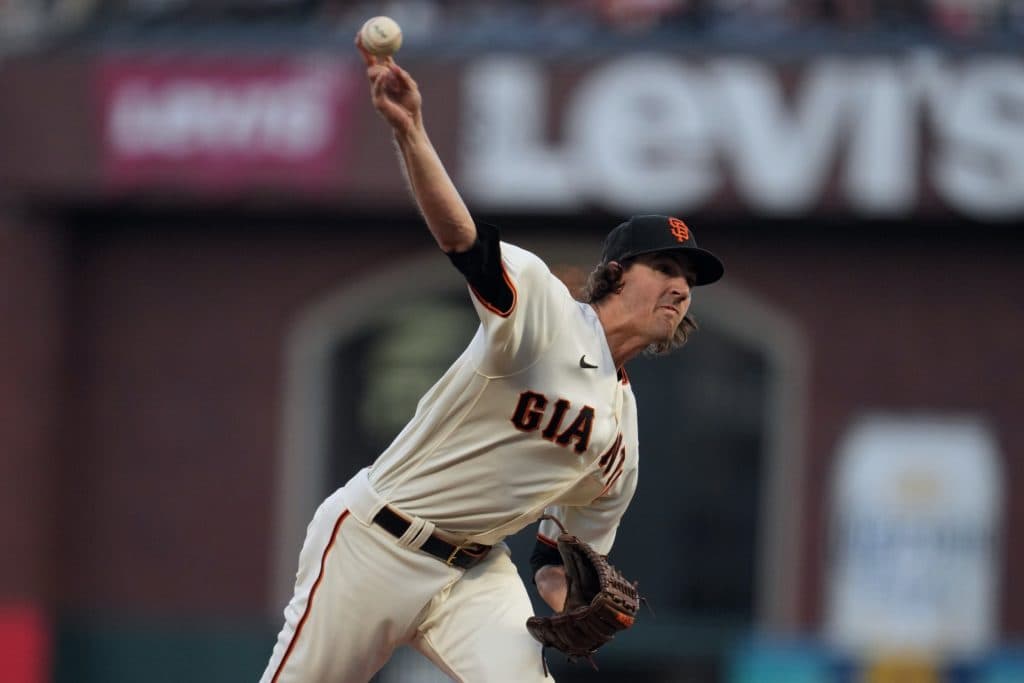 Oct 9, 2021; San Francisco, California, USA; San Francisco Giants starting pitcher Kevin Gausman (34) throws against the Los Angeles Dodgers in the first inning during game two of the 2021 NLDS at Oracle Park. Mandatory Credit: Neville E. Guard-USA TODAY Sports
Thoughts on the Kevin Gausman addition…
Robbie Ray hasn't signed anywhere yet and it appears likely that the Blue Jays have already replaced him by signing Kevin Gausman to a five-year deal worth $110 million.
Ray could still come back, but it's very, very unlikely at this point considering the Blue Jays have now handed out deals north of $100 million to a pair of starting pitchers, Gausman and Jose Berrios, and Hyun Jin Ryu costs the team $20 million annually for two more years. If the Blue Jays do add another starter, expect it to be one to replace Steven Matz at the back of the rotation.
Like Ray, Gausman is a pitcher who made good after undergoing a change of scenery. Gausman inked a one-year, show-me deal with the Giants ahead of the 2020 season and posted a solid 3.62 ERA over 12 outings. He then opted to take his qualifying offer and returned to the Giants on another one-year deal.
In 2021, Gausman had his true breakout season. He made 33 starts, put up a 2.81 ERA, and finished sixth in National League Cy Young voting. Since he had already been issued a qualifying offer, Gausman was able to hit free agency without being bogged down by a draft pick.
That's a key difference between Gausman and Ray. While the Blue Jays will receive a compensatory draft pick if Ray leaves, they didn't have to forfeit one to sign Gausman.  If Ray and Gausman are equal starting pitchers, the draft pick angle leans in favour of Gausman over Ray.
Now, are these two equal starting pitchers?
Gausman and Ray had very similar base numbers in 2021. Ray went 13-7 over 193 1/3 innings with a 2.84 ERA while Gausman went 14-6 over 192 innings with a 2.81 ERA. While Ray strikes out more guys than Gausman does and has a longer history of doing so, Gausman is traditionally better at not issuing walks than Ray and has done a better job at keeping the ball in the park.
They're also both two-pitch pitchers, with Ray using a fastball and slider combination and Gausman using a fastball and splitter. Speaking of that splitter, it's been among the best pitches in baseball over the past couple of years…
Now, of course, there's an argument to be made in favour of Ray because he's the known pitcher in this situation. Ray had success playing in the American League East while Gausman might do the same. But remember, Ray also came from the American League West and put it together after working with Pete Walker.
The Blue Jays have shown interest in signing Gausman in the past, including before he signed his first deal with San Francisco, and they know what they can unlock when he works with Walker. It's reasonable to assume that we haven't even seen the best Gausman has to offer yet and that Walker can get even more out of him.
Anyways, the Blue Jays have themselves a nice-looking rotation here in the coming years, with Gausman, Berrios, and Alek Manoah under control for the foreseeable future. We've come quite a long way from Edwin Jackson going out and serving batting practice simply because there was nobody else available.
Berrios, Gausman, Manoah, and Ryu will be four of Toronto's five starters, while the fifth spot is up in the air. While Gausman is a perfectly fine swap for Ray, we'd ideally like to see another back-end starter added to replace Matz's role. As of right now, the enigmatic Ross Stripling figures to be the fifth guy, while Nate Pearson is also in the mix, likely in a hybrid role because it's a huge risk to assume he can toss more than 100 innings.