GDB 62.0: As series against Houston Astros continues, Toronto Blue Jays face tough decision with Alek Manoah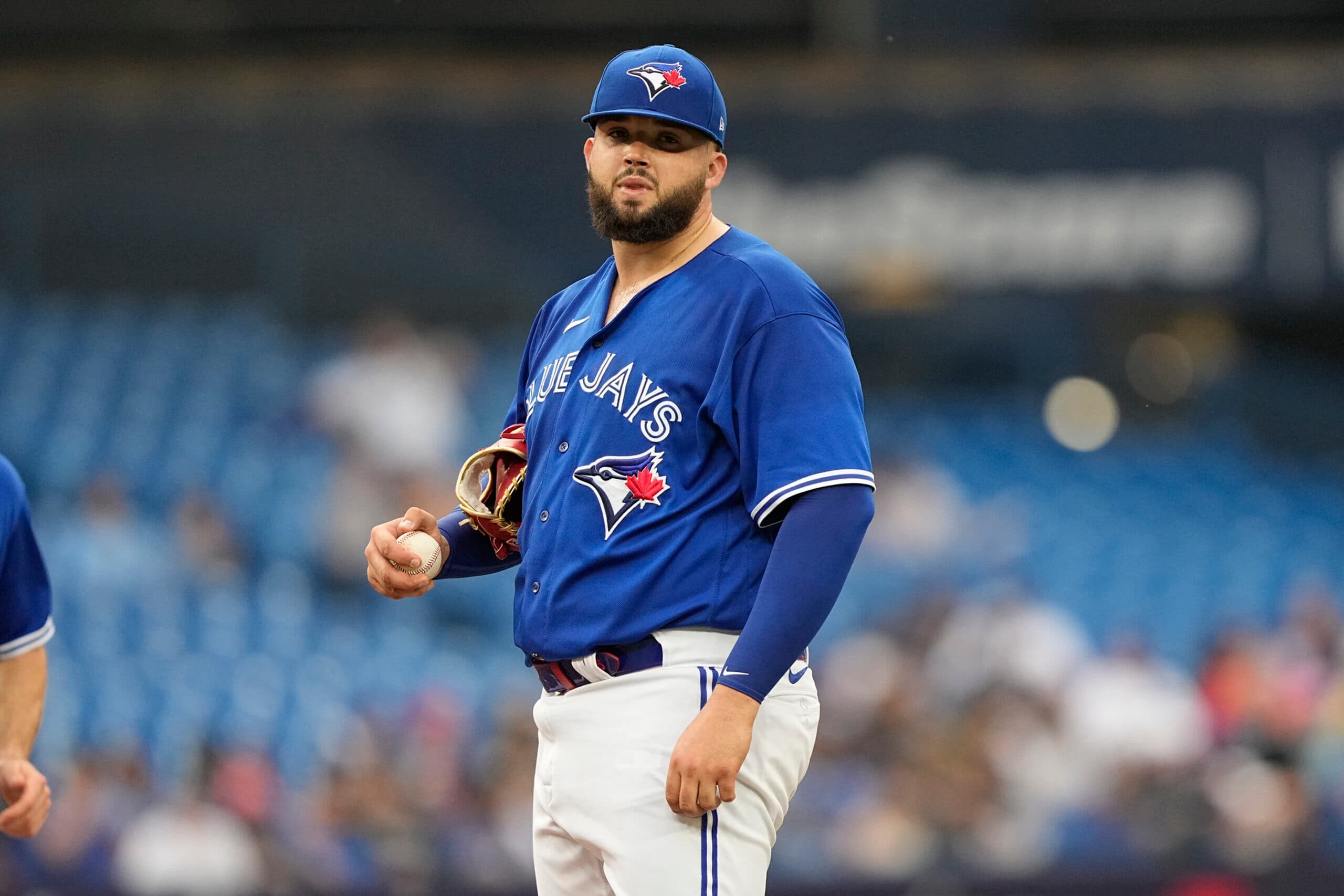 Photo credit:John E. Sokolowski-USA TODAY Sports
Rock, meet hard place.
The Toronto Blue Jays find themselves smack dab in the middle of it when it comes to Alek Manoah.
We could talk until we're red in the fact about what could be going on this year for The Big Man with every analyst, die-hard and fair-weather fan coming up with their own theory as to what has ailed him this season.
But whether or not you think it's the pitch clock throwing his game off, the fact he was maybe overworked last year, or he's a straight-up bust, the truth of the matter is that the Jays need to figure out how to fix things — and fast.
It's the pitch clock! He's a bust! He just lost his game! Send him to the minors!!!!
In Manoah's 13 starts this season, he's posted a 1-7 record and the Jays have a 4-9 record across those 13 games. His best game of the season was in his second start when he allowed no earned runs, one hit, while issuing four walks and five strikeouts across 7.0 innings against the Kansas City Royals.
He's had a few other decent starts, too. In his first game against the Yankees he went 7.0 IP allowing just two hits and no earned runs while fanning five batters and walking one. The following start against the Mariners on April 28th was decent and was a game the Jays won, even if he didn't get the decision.
But since that game, the wheels have fallen right off the tracks. He's thrown 26.2 IP in his last seven games averaging 3.2 IP per start with an 8.10 ERA and 7.41 FIP. Opponents are hitting for average (3.27 BA) and for power (.566 SLG) and last night against the Astros, he got chased after recording one out.
Even with limited options the Jays need to do something with Manoah because continuing to run him out there every four or five days clearly isn't working.
One option that could be easy would be to send Manoah to the complex in Dunedin for a month and let him work on his game. It would take the pressure off him and allow him to solely focus on his game. After his start against Milwaukee,
Manoah said
that when he's getting on the mound "the mindset of 'don't throw a ball here' instead of 'throw a strike right here' is… it's a difference-maker. Right now, I'm stuck in 'don't throw a ball here.'" Dunedin would help him in finding the strike zone.
The second option is for Manoah to "pull his hamstring" and spend 15 days in the Blue Jays bullpen. This, much like with heading to Dunedin, would allow for the pressure to be lifted — for now — and let him find his game. I lean more towards sending him to Dunedin solely because it removes the need for specific timelines.
Pearson, as we all know, is a guy who was supposed to be a starter in this organization but it hasn't worked out that way. He hasn't pitched as a starter since back in 2019 in Buffalo, but the experience is there. Pearson has a history of injuries and the Jays have converted him to a reliever to try and mitigate some of the injury risk, so there's an inherent risk with him pitching longer games. Pearson has been solid for the Jays this season out of the pen pitching 18.0 innings posting a 2.50 ERA, 4.12 FIP and an even 1.000 WHIP.
By going with option one or two, the Jays could call up Bowden Francis. It's convenient because his start days line up well with Manoah's — something likely done by design. In Buffalo this year, he's thrown 15.2 IP posting a 3.45 ERA and 1.340 WHIP, but struggled last year there wither a 6.59 ERA and 1.536 WHIP across 98.1 IP. In 73 IP of AAAE ball in 2021, Franchis had a 4.19 ERA and 1.192 WHIP.
The Jays, in theory, could call him up and play him in Manoah's spot for a few starts. Ideal? Far from it. Given some of Francis' recent struggles, it's hard to say that he's given better results than Manoah.
But that's not the overarching point here.
No matter how they do it the Jays need to get Manoah out of the spotlight, and out of the rotation. He needs to find a place where he can find his game whether that's in the bullpen, the minors, or in Dunedin — and it needs to be done fast.
Manoah's next start is slated for Saturday against the Minnesota Twins, and there's no way in my mind he should be on mound for it.
The Preview
Back to Tuesday, however, as the Jays look to rebound from that disastrous series opener. Kevin Gausman takes the mound tonight opposite of rookie Hunter Brown, who has been rock solid on the mound for the Astros this season.
Much like they did yesterday the Jays enter this one as the favourites in thanks to Gausman, who leads the AL in strikeouts and FIP, looks to put together another long performance to save some bullpen arms.
First pitch: 7:07 p.m. EST
Weather: 30C. In the dome.
Toronto Blue Jays: 33-27, 8.5 GB, 2.5 WCGB, +31 DIFF.
Houston Astros: 35-24, 3.5 GB, – WCGB, +58 DIFF.
Moneyline: TOR -139; HOU -+118.
Starting pitchers:
TOR: Kevin Gausman RHP — 4-3, 12 GS, 75 IP. 2.76 ERA, 2.38 FIP, 1.120 WHIP, 12.0 K/9, 1.4 bWAR.
HOU: Hunter Brown RHP — 5-2, 11 GS, 62.1 IP. 3.61 ERA, 2.90 FIP, 1.235 WHIP, 10.7 K/9, 0.8 bWAR.
Lineups: 
Toronto 
TBA
Astros
TBA
Need to bide the time until first pitch?
---
Zach Laing is the Nation Network's news director and senior columnist. He can be followed on Twitter at
@zjlaing
, or reached by email at zach@thenationnetwork.com.
---
Discover Betano.ca
 – a premium Sports Betting and Online Casino experience. Offering numerous unique and dynamic betting options along with diverse digital and live casino games, Betano is where The Game Starts Now. 19+. Please play responsibly.