Getting to know José Berríos and what we learned from his excellent start against Kansas City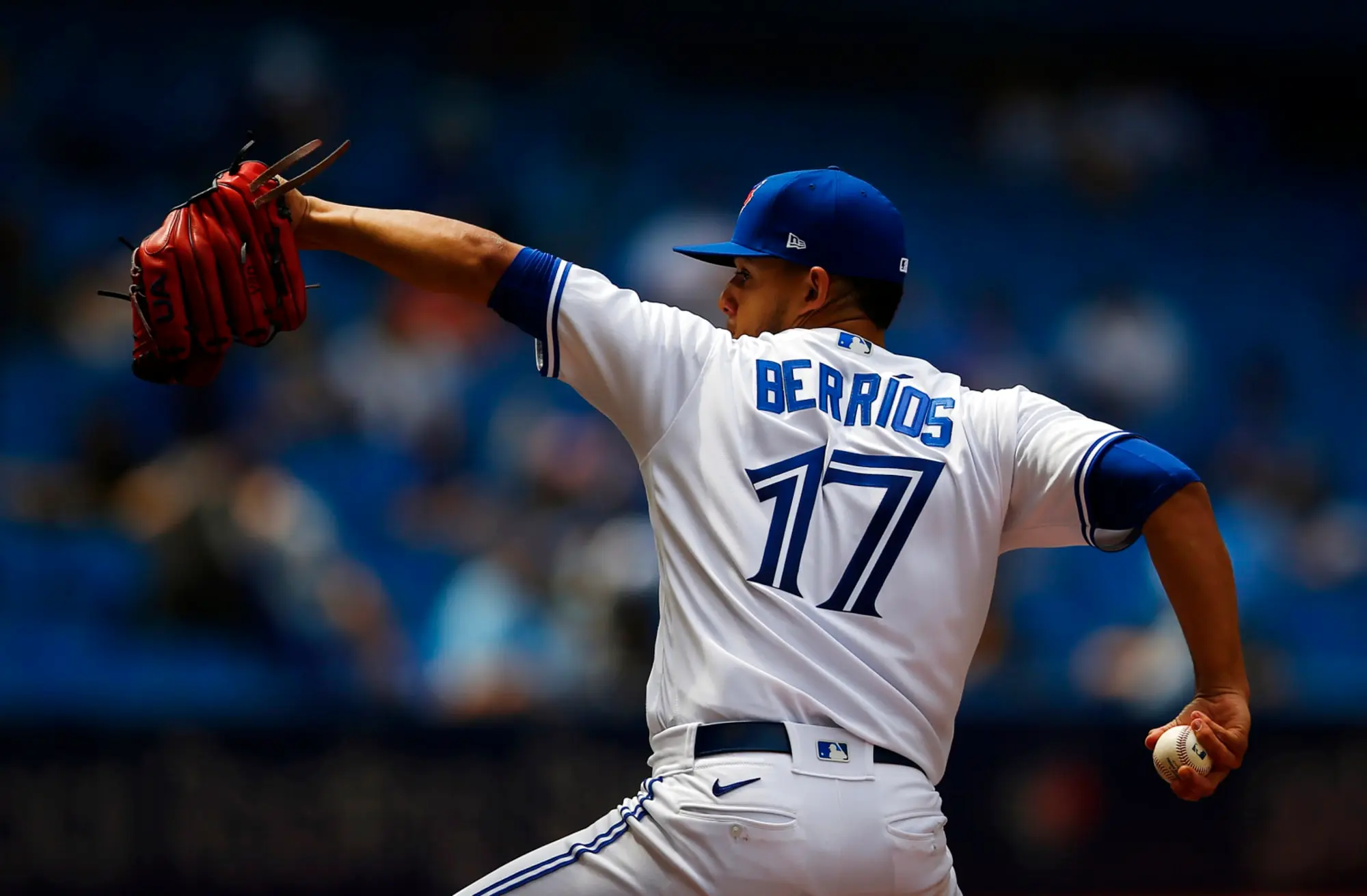 The Blue Jays paid a steep price to acquire José Berríos from the Minnesota Twins but in his first start as a Blue Jay Berríos showed why he was worth such a price. He shut down the Kansas City Royals over six innings, recording seven strikeouts and just one walk (though he did hit three batters).
Berríos went after the Royals with his curveball throwing it 41% of the time. The curve got 21 swings, nine whiffs, 11 fouls and just a single curve was put into play. Unsurprisingly five of the seven strikeouts recorded by Berríos came on the curveball.
With a curveball that filthy you should be throwing it as much as you can, and that's exactly what Berríos does. His curveball is his most used pitch throwing 31% of the time. As you can see if the gif above this isn't some big loopy 12-6 curve, Berríos throws his curveball hard, almost like a slider. At 83.2 miles per hour, it's one of the harder thrown curves in the game. Pitches that hard should move that much side to side as Berríos' does, his curve gets 5.6 more inches of horizontal movement than that of similar curveballs, per
Baseball Savant
. It's an elite pitch that batters have hit just .210 against this season.
Berríos isn't going to light up radar guns, he averages just over 94 with his four-seamer. In a vacuum, his fastball looks rather pedestrian. Doesn't have high velocity or spin, doesn't have elite movement or rise and the location is basically right down the
middle of the plate
.
What the fastball does however is tunnel really well with the curveball making both pitches that much more effective.
What is Nicky Lopez supposed to do there? If you don't pick up the fastball soon enough it's by you or you foul it off with a late swing. Even if you pick up the curveball early, it has so much movement and falls right under the bat.
The spin mirroring is even more prevalent with his sinker.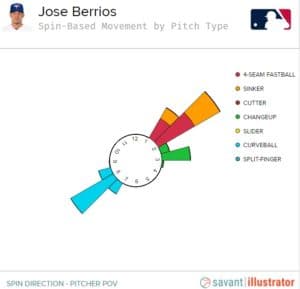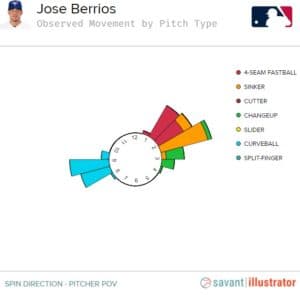 Both his sinker and his fastball have the same spin out of the hand, and they both perfectly mirror his curveball. When they reach the plate you have the sinker moving left, the curveball right, and the fastball staying straight. How is a hitter supposed to prepare for this?
You can't lean out for the curveball or you will get busted inside with the sinker, and you can't look inside or you will never be able to reach the curve. The location of those two pitches has been perfect this season.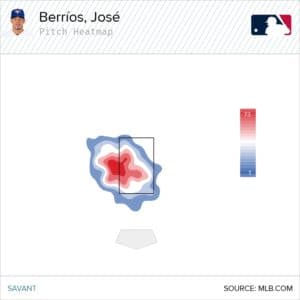 Hitters have so much to think about in the box they can't make a swing decision soon enough. Hitters have swung at fewer than half the pitches Berríos has thrown this season. This has led to Berríos having an above-average called strike rate. His called strike rate of 18.3% over the past two seasons ranks 10th among qualified starters, per
FanGraphs
.
One of Berríos' biggest strengths is his durability. He made 32 starts in 2018 and 2019 then made all 12 of his starts in the shortened 2020 season. This year he's made 21 starts and pitched 127.2 innings. This is one of the reasons why the Blue Jays paid the price that they did, you expect Berríos to be on the mound every fifth day.
Berríos is having his best season to date with a 3.31 ERA supported by a 3.54 FIP and 3.62 xFIP. He has cut his walk rate down while maintaining his strong 25% strikeout rate. His BABIP sits a career-low .265 which explains some of his success this season. Though with the way his pitches move he induces plenty of soft contact which has kept the BABIP down.
Like most pitchers, Berríos did see a change with the sticky substance crackdown. His fastball dropped about 100 revolutions per minute, but as Ben Clemens of
FanGraphs wrote in his breakdown of the trade
, Berríos can simply use his sinker more, as it's the better of his two fastballs. The sinker doesn't have the same swing and miss as the four-seamer but it's still a good strikeout pitch because of all the called strikes he gets. The sinker gets swung at and hit more than the four-seamer but that contact is typically softer and on the ground.
Not to be forgotten Berríos also throws a change-up which is a pretty nasty pitch in its own right.
He throws his changeup predominately to lefties in all counts and situations. The pitch has a 12.8% swinging-strike rate, his second-best pitch for whiffs behind the curveball. It's a pitch that gets hit on the ground more often than not, and overall batters have hit just .113 against it this season.
The Blue Jays gave up a lot to acquire José Berríos. Berríos may not be a true ace but he is a very solid pitcher who brings stability and upside to the rotation. He also isn't a pure rental as he has another year of control before he reaches free agency after 2022. At just 27 years old he fits in with the Blue Jays core and an extension shouldn't be out of the question. With his four-pitch mix, he keeps hitters off balance and always guessing. This trade by the front office shows they are ready to contend. Whether the Blue Jays ultimately make the playoffs or not this is going to be a fun ride down the stretch.