Getting to know prospect Naswell Paulino – Talking Blue Jays, Winter League Ball, and the 2023 season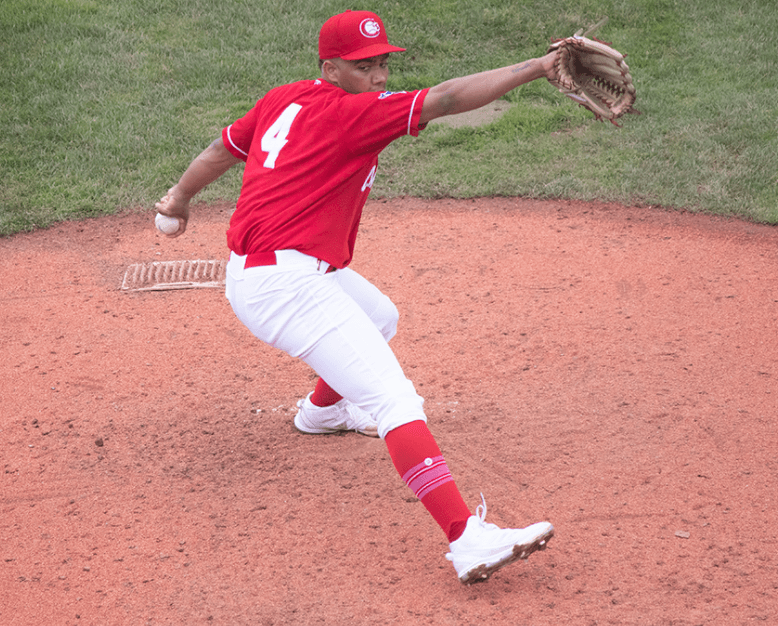 Photo credit:Niall O'Donohoe - CSPlusBaseball
The Toronto Blue Jays have utilized international free agency to bolster the talent within their organization, including players such as Vladimir Guerrero Jr., Gabriel Moreno, and Orelvis Martinez (amongst many others). Another one of those players is left-hander Naswell Paulino, who signed with the Blue Jays back in mid-2016, a product of San Cristobal in the Dominican Republic.
Speaking with Naswell, the southpaw reflected on the free agency process and his decision to sign with the Blue Jays, "I was very happy because the Blue Jays were very popular at that time here in the Dominican Republic, I was a fan of José Bautista and really, when you are a 16-year-old boy looking for an opportunity to play professional baseball and fulfill your dreams, you don't look at the team, you look at the chance to play professionally." Bautista, who was fresh off a 2015 All-Star campaign with the Blue Jays that saw him notch 40 home runs and an AL-leading 110 walks, hails from Santo Domingo in the Dominican Republic.
For Paulino, he began his professional career in 2017 in the Dominican Summer League and since then, has authored a collective 3.77 ERA through 77 appearances, 55 of those being starts. He was promoted to High-A Vancouver for the 2022 season and took the most of the opportunity, amassing a 4.59 ERA through 30 outings, a career-high for the 22-year-old. "When I played the Dominican Summer League in 2017, that team was very special, my favourite part of that year was when I threw 6 innings in the playoffs, I can remember every moment of that game."
Speaking with Blue Jays prospect Naswell Paulino, we take a look at his decision to sign with the Jays, his past within the organization, winter league ball, and the 2023 season.
Paulino spoke about consistency and working on different aspects of his game to achieve positive results, reflecting on a rough outing he had back in mid-2021 with the Single-A Dunedin Blue Jays, "I have learned that consistency is key, you can have the best pitches but if you don't have consistency, you are not going to achieve positive things… Drew Hayes (Dunedin Blue Jays pitching coach) spoke with me and we worked on a little problem that my mechanics had, after that, the season turned positively and I did not have that problem of lack of control again."
Discussing the 2022 campaign with the Canadians, Paulino added, "In Vancouver, I was having trouble finishing hitters early in the season but Pitching Coach Cundari and Bullpen Coach Joel Bonnett helped me find a 3rd pitch and also learn to use 100% on every pitch, and after that, I threw the best 28-30 innings of the season."
This offseason, the Dominican product took the mound for the RA12 in the
Puerto Rican Winter League
, appearing in six contests and allowing just four earned runs through 11.1 innings with a 1.324 WHIP and an 11.1 K/9. Paulino spoke fondly of his time this winter, "It was a very pleasant experience, getting to know a new culture, making new friends and most importantly continuing to develop my knowledge and improve my skills, there are many veterans and the learning is infinite, I think what I learned this past year will be of great importance in 2023."
With his work this offseason, both in Puerto Rico and away from the diamond, we talked about his goals for the upcoming season and looking ahead to 2023, "working on increasing the velocity of the fastball has been the most important thing so far, and in Puerto Rico, my focus was working on the splitter and I got positive results, it's a new pitch that will help me use better the FB/SL combination."
The 2023 season will be Naswell Paulino's fifth season in the Blue Jays organization, as the left-hander continues to keep working hard and moving up the Minor League ladder. All the best to Naswell in 2023 as he continues on his professional baseball journey!
---