Getting to know the Blue Jays new #20 prospect, Adrian Pinto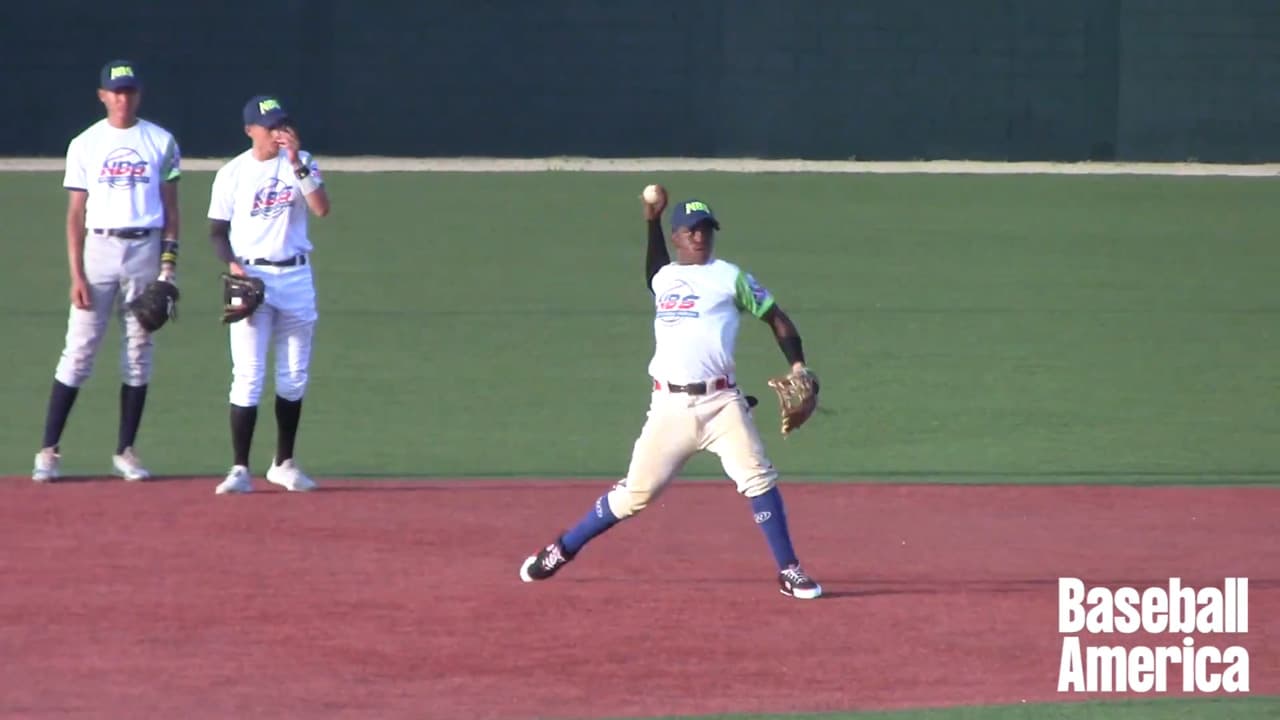 Photo credit:Baseball America
Despite being prospect #6 about to be released, we must track back all the way to prospect #20. 
Background:
The 19-year-old second baseman was signed for $120,000 out of Venezuela in 2019. As you probably know, the 2020 minor league season was canceled, meaning that Pinto didn't make his professional debut until 2021.
Pinto's 2021:
Pinto played the entirety of the season with the Rockies' Dominican Summer League (DOSL). He was 18-years-old for the majority of the 2021 season, which is about average for the age. However, he was far from average in the DOSL, as he won the MVP award for the league.
Pinto's bat:
Firstly, his bat was insane. The then 18-year-old slashed .360/.486/1.029 in only 224 plate appearances. The 5'6, 156 pound second baseman also added an additional three home runs, which is quite a lot for the level. For context, he would have ranked second on the DOSL Blue Jays, one behind noted power hitter Cristian Feliz, and a head of #9 prospect, Manuel Beltre. Pinto also finished the season with 22 extra base hits, including four triples and 15 doubles.
While the homers are impressive, especially for his smaller stature, Pinto also walked 17% of the time while only striking out 8% of the time. If you've been keeping up to date with these prospect reports, you know I look highly on prospects who walk more than they strike out, and Pinto is no exception. 
Batted balls:
In terms of his batted balls, 19.4% went for line drives. This is a solid percentage for line drives, as that is the type of batted ball that results in the highest batting average. His ground ball percentage sat at 47.2%, but he has the ability to run it out with his great speed.
In terms of his fly balls, he only hit 33.3% of batted balls in the air, or 48 in total. Interestingly, 35.4%, or 17 of those fly balls were pop flies. This is not uncommon for a player in the rookie leagues, but most players are not 5'6, 156 pounds. While he may have added on more muscle, the 19-year-old's power may have hit its peak.
One other interesting facet of his batted balls is his ability to go the opposite way. While he pulled the ball 49% of the time, he also went the opposite way 33.1% of the time, a pretty impressive number. This is to say he's a spray hitter with sneaky power with the bat.
It doesn't end there though, as he stole 41 bases in 49 attempts, which is good enough for an 83.7% success rate. The young player has plus speed, a good eye at the plate, and sneakily good power for his size, but what about his defense?
Pinto's defense:
Sadly, the minor leagues do not have advanced stats such as Defensive Runs Saved or Outs Above Average, so we're stuck with using the good old fielding percentage.
At second base, where he is projected to stay, he played 252 innings. Interestingly, he did not commit a single error throughout the season at the position. He did however, commit three errors playing shortstop in 86 innings.
The Rockies noted that Pinto also had great speed with a plus arm, as they played him 42.2 innings in centre field. The Jays could potentially see him playing there.
What the scouts say:
According to MLB Pipeline writer, Keegan Matheson, Pinto just missed out on the Rockies top 30 list for MLB Pipeline. The diminutive second baseman also didn't feature on Fangraphs top prospects list.
With that being said though, he did place 19th on Baseball America's list. They note that he has great hand-eye coordination and a short stroke. Coupled with his smaller stature, Pinto has a great eye at the plate, which you can see by the fact he walked 17% of the time.
Despite being only 5'6, Pinto does have sneaky power as he hit those three home runs mentioned in the section above, which also notes his 22 extra base hits.
I asked Francys Romero (@FrancysRomeroFR) for any information on the 19-year-old second baseman. To paraphrase, [Pinto] is a pure hitter, with great bat speed. He has a plus arm (60 grade) and plus speed (70 grade). He also has the ability for extra base hits.
Lastly, I asked TSN's Scott Mitchell where Pinto would have ranked in his Top 50 Jays prospects, which he had this to say.
Pinto in 2022:
It's all but a guarantee that Pinto will start the 2022 MiLB season Stateside. Usually, a player that does well enough in the DOSL moves to the Jays FCL team to start the next season. However, keep in mind Pinto won the DOSL MVP.
It's likely that he starts his season with the Dunedin Blue Jays at the Low A level. It's a little bit of a jump, but Pinto has clearly shown he's too good for the rookie leagues. This also puts him back on track, as most non-high profile IFA signings play their age 17 season in the DOSL, age 18 season in the FCL and then join Low A in their age 20 season.
In terms of what he needs to improve, quite frankly, not a lot. While it's unlikely he'll ever be a power hitter, fellow 5'6, 166 pounder Jose Altuve registered two 31 homers. Pinto certainly has the bat speed to hit homers, the question is can he add on the muscle to lift balls into the outfield.
In fact, according to a scout that fellow BJN contributor, Brendon Kuhn spoke to, Pinto was 5'6 at the time of the signing in 2019. It's possible that he's added a few inches.
If he can continue to show plate discipline as well as spraying the ball over the field, it's highly likely that the 19-year-old Pinto could be the Jays breakout prospect of the season. He may even get some reps in centre field, a farm position of need.
Either way, this was a great trade for the Blue Jays, as Tapia fills the Blue Jays biggest needs, they got rid of Grichuk on the payroll and they got a prospect who could potentially become a very good player.
As always, you can follow me on Twitter @Brennan_L_D. I will be covering the 19-year-old in my farm system round up, so stay tuned if you enjoy prospect coverage.