How are the prospects the Cardinals received from the Blue Jays doing?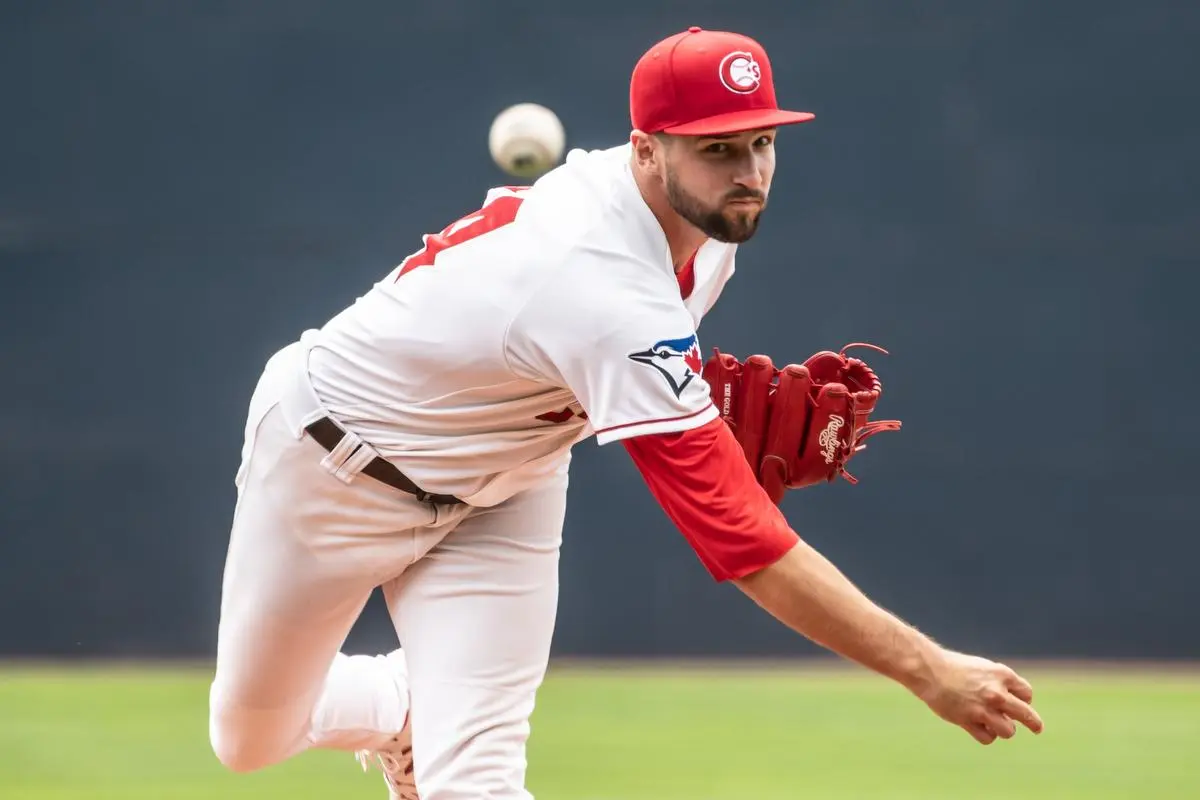 Photo credit:Mark Steffens
It's been a week since the trade deadline, so let's check in and see how former Blue Jays prospects are doing!
In this article, we'll look at the four prospects that were traded to the St. Louis Cardinals for Génesis Cabrera, Jordan Hicks, and Paul DeJong.
We'll start with the first prospect moved, a catcher I'm pretty excited about.
How is Sammy Hernandez doing?:
The 19-year-old's season started off rough. He was one of the youngest players to start in the Florida State League, and he slashed .192/.241/.317 with two homers in 112 plate appearances, along with a 4.5 BB% and a 24.1 K%.
Despite the low batting average, the young catcher selected in the 14th round in 2022 has a cannon of an arm. With the Single-A Dunedin Blue Jays, he threw out 14 of 45 runners for a 31.1 caught stealing percentage, a pretty darn high number with the new rules.
When the Florida Complex League opened he was reassigned there, and performed quite well against competition closer to his age. He slashed .261/.382/.478 with a homer in 55 plate appearances, along with a 5.5 BB% and a 25.5 K%. Even more exciting is the fact he threw out eight base runners in 16 tries for a 50% caught stealing percentage.
So you may be wondering how the young catcher is doing with the FCL Cardinals. Well, great in fact, as he's slashing .333/.529/1.000 with two homers in just 17 plate appearances for a 252 wRC+. Base runners have attempted to steal the base eight times already, and he's thrown out three for a 37.5% caught stealing percentage.
He's definitely a player to keep an eye on, even if he's in a different organization now.
How is Adam Kloffenstein doing?:
The 22-year-old right-handed pitcher raised his stock immensely with the Double-A New Hampshire Fisher Cats. In 89 innings pitched, he had a 3.24 ERA and a 3.44 FIP, along with a career-high 27.6 K% and an 8.9 BB%, well down from his 11.3 BB% the season prior in New Hampshire.
A great season with the Blue Jays Double-A affiliate earned him a promotion immediately to Triple-A for the Cardinals organization. He's only pitched one game, but he finished with a line of
5 IP, 6 H, 1 ER, 3 BB, 6 K.
Even with quite a bit of traffic on the bases, Kloffenstien was able to pitch a great game, and that's just the biggest difference between the past two seasons and this season. He's getting out of jams, and he'll end up on the Cardinals 40-man roster after the season.
How is Sem Robberse doing?:
The 21-year-old right-handed Dutchman had an alright season with the Blue Jays Double-A team, posting a 4.06 ERA and a 4.58 FIP in 88.2 innings pitched. He also had a 23.1 K% and an 8.9 BB%.
Like Kloffenstein, Robberse's performance with New Hampshire earned him an immediate promotion to Triple-A in the Cardinals organization. However, it didn't go as well as Kloffenstein's debut, as Robberse finished with a line of
3.1 IP, 11 H, 6 ER, 3 BB, 1 K.
Still, being 21 years old in Triple-A is not something that often happens, as Robberse is one of only eight pitchers that are 21 or younger that have pitched in Triple-A this season. He'll be a big leaguer at some point.
How is Matt Svanson doing?:
Matt Svanson had a great year with the High-A Vancouver Canadians, posting a 1.23 ERA and a 2.49 FIP in 29.1 innings pitched. The 24-year-old right-handed pitcher also had a 31.3 K% and a 9.6 BB% in a closing role for the Northwest League's best team. In fact, he was promoted to Double-A New Hampshire a day prior to the deadline.
However, the former 13th round pick in the 2021 draft was moved to the Cardinals for Paul DeJong, so how did his Double-A/St. Louis Cardinals debut go? Not the best. He finished with a line of
1.2 IP, 2 H, 3 B, 1 BB, 1 K
, giving him a Double-A ERA of 16.20 and a FIP of 4.29.
Still, Svanson can reach back and touch 98 mph with movement, along with a pretty nice slider. We'll see how he continues to develop in the Cardinals system.
What to make of these three deals:
At the end of the day, the Blue Jays acquired three big leaguers who have a real chance at helping the Blue Jays make the playoffs this year. Prospects are always an "if", and even though quite a few of these guys will surely get opportunities in the big leagues, and maybe even excel, these moves were needed to reach the 2023 playoff goals.
It's always sad seeing prospects you've watched for two or more years traded to a different organization, but that doesn't mean you can't root for them any longer. Hopefully all four of these guys make it to the big leagues in the future!
---
As always, you can follow me on Twitter, Instagram, and Threads @Brennan_L_D.
---