How Bowden Francis' developed curveball has made him an intriguing bullpen option for the Blue Jays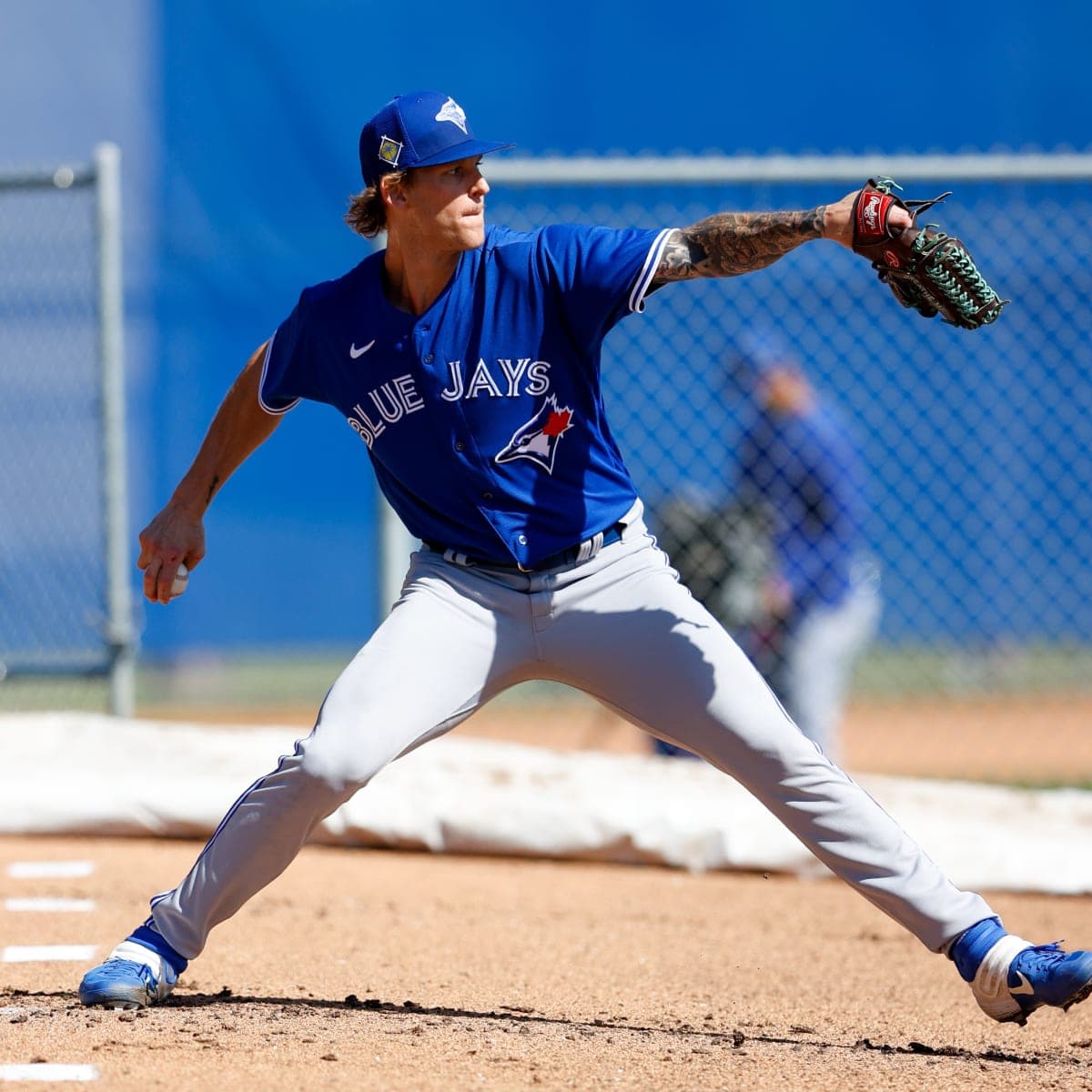 Photo credit:Nathan Ray Seebeck-USA TODAY Sports
Remember last season when the Blue Jays bullpen was really crappy?
We think we have it bad now, but the early season 2021 Blue Jays were a pain to watch once the starter was removed from the game.
To remedy this, the Jays traded first baseman Rowdy Tellez for reliever Trevor Richards, as well as a Triple A prospect. Now you may say, wow that trade really sucks as Richards has a 5.27 ERA and 5.11 FIP in 42.2 innings pitched. Not just that, but Tellez has gone on to have some success in 2022, posting a 117 wRC+ with 22 homers in 405 plate appearances.
While that may be the case in 2022, it cannot be understated how important Richards was to stabilizing the Jays bullpen in 2021 as he posted a 3.31 ERA and 4.61 FIP in 32.2 innings pitched.
However, this article isn't going to focus on the trade and how it's played about. This article will focus on how Bowden Francis has emerged as a legit bullpen option a year and a bit later.
Let's dig into Francis' stats:
For the 2021 season, Francis pitched as a starter. He posted a 4.19 ERA and 5.65 FIP in 73 innings pitched with the Buffalo Bisons. Prior to the trade, he had pitched with the Brewers Triple A team, posting a 3.49 ERA and a 3.78 FIP in 38.2 innings pitched. Not fantastic numbers, but solid enough.
Here's a spoiler alert for the 2022 season: his numbers are utter crap. This season, Francis has posted a 7.14 ERA and 6.73 FIP in 69.1 (nice) innings pitched. He has a K% of 24.1 and a BB% of 9.4, which again, isn't great.
After 2021, the Jays planned to use Francis as a starter. In the first six games he appeared in, he started each of them and posted a 6.83 ERA and 7.05 FIP in 29 innings pitched. During this time he had a 21.6 K% and an 11.5 BB%. Again, utter crap.
Francis was moved to the pen starting on the May 21st game and once again, produced less than desirable numbers. Between May 21st and July 2nd, Francis' ERA ballooned to 10.57 while his FIP was an incredibly high 9.86 in 23 innings pitched. His K% decreased drastically to 17.6% while his BB% increased quite a bit to 9.3%.
So you may be asking why on God's green earth I'm intrigued by the 6'5 righty-hander.
A curve in his development:
This past month, Francis has had incredible success. His ERA in this time frame sits at 3.12 and his FIP is an even lower 2.03. While that's already impressive, it's not even the best part. In those 17.1 innings pitched, he has a
38.4 K% and a 5.5 BB%. 
Obviously, this is a small sample size and it's hard to draw conclusions based on only 17.1 innings, but I believe there is causation. 
When you look at any prospect site, it will mention how his slider is his best pitch, but that isn't the case in my opinion. Francis' curveball has replaced his slider as his best pitch. 
The curveball in action:
If you don't follow me on Twitter (@Brennan_L_D), firstly, what are you doing with your life? Secondly, I post minor league highlights every single night. It's a great resource to use when doing an article such as this one. Let's look at each of his strikeouts over the past month. 
July 6th:
These last two strikeouts here excite the hell out of me. The fifth strikeout (the first one in the embedded tweet above) is a NASTY curveball. This thing is sitting at eye level as it's near the dirt, but by the time it's in Jansen's glove it JUST caught a piece of the plate.
The second pitch is a breaking ball that I believe to be a curveball. The insane vertical drop plus the great command makes this specific pitch unhittable.
July 10th:
We're going to focus on his third and fourth strikeout of the game. The third strikeout is another curveball that just drops like a ton of bricks, generating a whiff despite it looking juicy.
The fourth strikeout looks like a meatball, right? Well, he utilizes his high fastball to catch the batter off guard, generating another whiff on the curve.
July 14th:
Here are two more strikeouts due to the curveball, both generated a swing and miss. The first strikeout looked like it was above the zone before plummeting to the outside edge of the zone. The second one was much of the same.
July 22nd:
I did a reaction to these two strikeouts as well, and literally thought I had used the same clip twice by accident (I had done it on the previous strikeout thread). However, these two pitches are from two separate strikeouts, and both were absolutely beautiful.
July 27th:
At this point, it'd just be repetitive to say "it looked like a meatball before dropping drastically", so here's another strikeout on a curveball. This was his only strikeout of the day, but he only pitched an inning.
July 30th:
Out of all four of these strikeouts, this one was the only one on a curveball. Unlike basically all the other curveballs in this article thus far, one could argue that the placement of this one wasn't great.
However, he had used high heaters to strike out the other three batters, so the change of velocity really caught this batter off guard.
August 3rd:
The broadcast didn't catch the first strikeout, so I have no idea what pitch it was on. However, he fired retired three batters on a curveball, before placing a beautiful heater at the bottom of the zone. I included three clips here, as there were three strikeouts via curveball.
August 7th:
He struck out three batters on a curveball and nearly had an immaculate inning, throwing just one ball.
Out of his 28 strikeouts in this span, 16 of them have come on the breaking ball (57.14%), 11 were on a fastball (39.29%), and one cannot be determined (3.57%). 
What's next for Francis?:
A sample size of just 17.1 innings isn't enough for me to write a "call him up" article. However, the development of his curveball over the past month or so is a promising sign for a prospect who was highly regarded when that trade happened. It has led to an increase in strikeouts, which the Jays bullpen is in desperate need of.
If he continues to dominate for the next month or so while maintaining the high K% and low BB%, there is a real argument for his call-up, especially since he's on the 40-man roster and he is currently pitching as a bulk reliever.
With that being said, Francis had fallen off my radar after the rough start, but he's quickly emerging as an option for this Toronto Blue Jays bullpen.
As always you can follow… Never mind, I already plugged it. I hope you enjoyed the article as it became a bigger project than I intended. In the near future, I'll be using more clips from Twitter, as I'm starting my Top 60 prospect list articles soon.
---