How does the Blue Jays' offence stack up to the rest of the American League East?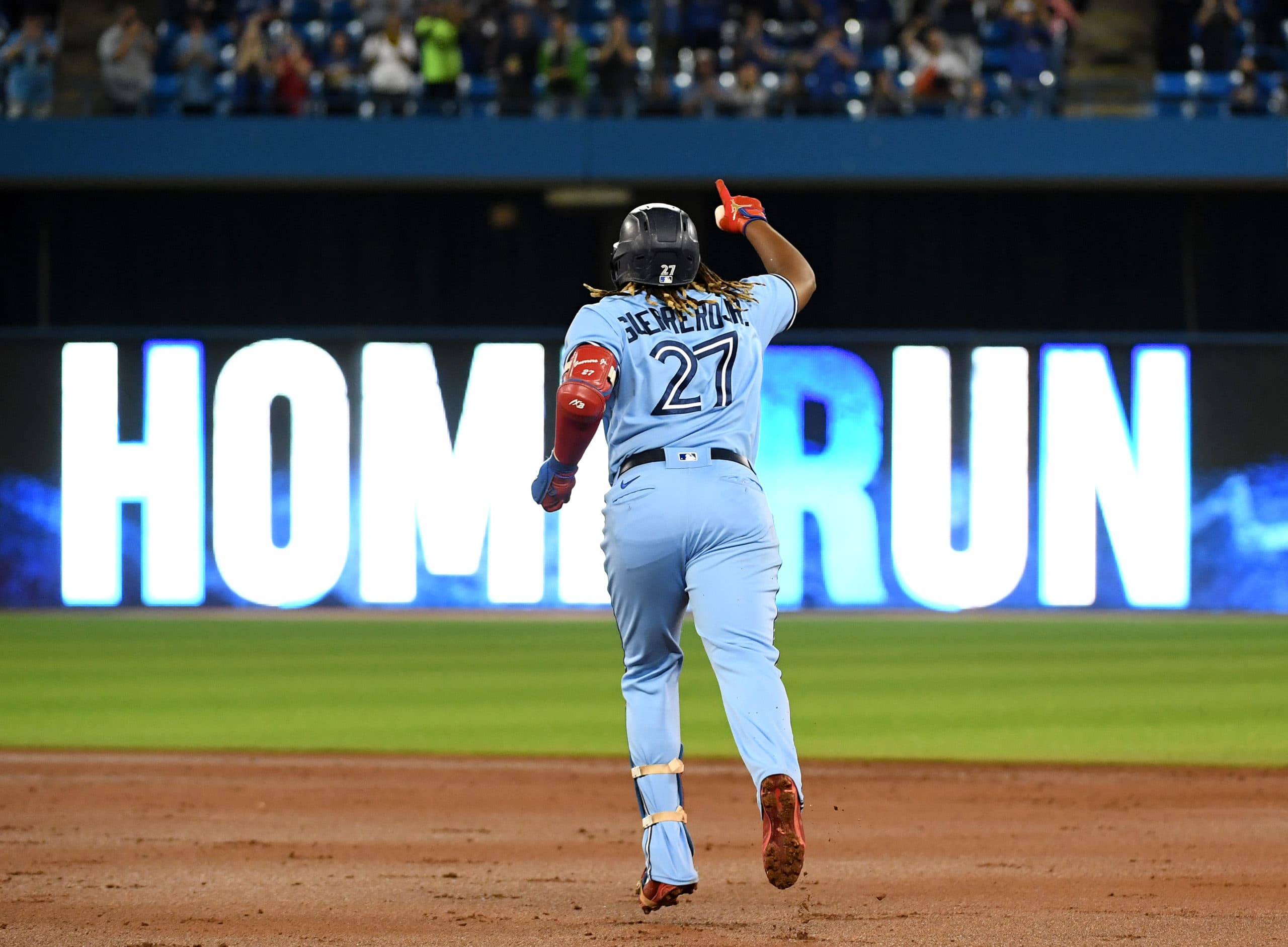 Photo credit:Dan Hamilton-USA TODAY Sports
It's entirely possible that the Blue Jays add a third baseman once the lockout concludes. Whether they sign Kris Bryant or trade for Jose Ramirez, I find it hard to believe that the front office is done building this team. With that being said, let's look at the Jays' position players.
Infielders:
Danny Jansen (Catcher)
Alejandro Kirk (Catcher)
Vladimir Guerrero Jr (First Baseman)
Cavan Biggio (Second Baseman)
Bo Bichette (Shortstop)
Santiago Espinal (Third Baseman)
Otto Lopez (Utility)
Gabriel Moreno (Catching prospect)
Starting with Jansen, he struggled in the early part of the season and then got injured, but once September hit, he tore it up. From August 31-October 3rd, he had 65 plate appearances and hit 6 home runs, and slashed .322/.385/1.148. However, prior to his injury, he was slashing .176/.259/.595 with only 5 home runs in 140 plate appearances. 
Furthermore, he had a DRS of 0. Defensively, he's only had a DRS above 1 once in his 4 seasons. The key for Jansen is to start hot. You can bet on him finishing hot, but until he proves he can hit above average for the majority of the season, you have to question his hitting ability.
23-year-old Alejandro Kirk played only 60 games and had 189 plate appearances. However, the catcher showed why he has a ton of promise. He slashed .242/.328/.764 and added 8 home runs. However, the most impressive aspect of Kirk's game is his strike zone discipline. He walked 10.1% of the time while only striking out 11.6% of the time. The offensive tool set is there, but with a -3 DRS, questions linger about his defense. Either way, this is not a bad catching situation to have.
Vladimir Guerrero Jr will be 23 during the 2022 season. I don't have to put much here, he played MLB the show, but in real life. You know how good he is and it's scary to think he'll become even better.
Cavan Biggio played 79 games and regressed hard. The rate of which he hit home runs decreased as he only hit 7 in those games (16 in 100 games in 2019, 8 in 59 games in 2020). Furthermore, he had a career low slash line, hitting only .224/.322/.678. More worryingly however was his decrease in BB%, as it dropped from 15.5% to 12.6%. His K% also increased from 23% to 26.5%. He also had a -1 DRS at second base and a 0 DRS at third. Maybe a return to the full time duties at second base could help him have a bounce back season?
Bo Bichette finished the season with a slash line of .292/.343/.828 and 29 home runs. He and former Jay Marcus Semien combined for the most home runs from two middle infielders. Surprisingly, he finished the season with a 2 DRS at shortstop, which confused me quite a lot upon research. He'll be 24 during the 2022 season, so look for him to constantly improve.
Back on August 1st, I wrote an article
 on how Santiago Espinal became an every day player. In turn, the 27-year-old had what could be his best season ever. He finished the season slashing .311/.376/.781 and had a BB% of 8.9% and a K% of 12.2%.
What Santiago really excelled at however, was defense. He played 551.2 innings and owned 8 DRS and 6.1 UZR due to his excellent range at the position. While he is due for a regression, if the Jays were to sign/trade for a third baseman, one could easily see him and Biggio platooning at second.
If the Jays didn't have enough great young players on the team, catcher Gabriel Moreno is on the cusp of breaking the Jays big league roster. The soon to be 22-year-old absolutely tore up Double A, posting a slash line of .373/.441/1.092 in 145 plate appearances, adding 8 home runs. Sadly, he was hit in the hand with a pitch and missed a big part of the season. 
However, he played Fall League and you guessed it, absolutely tore it up. In 100 plate appearances, he hit .329/.410/.904. He also had an even BB% and K%, drawing 13 of each. Moreover, he played in Venezuelan League, where he was -7.3 the age difference and posted solid numbers. In 73 plate appearances, he slashed .279/.397/.758.
Expect Moreno to start the season at Triple A, but expect a call up if he continues to dominate.
Credit: Dan Hamilton-USA TODAY Sports
Outfielders and Designated Hitter:
Randal Grichuk (Right Field)
George Springer (Centre Field)
Lourdes Gurriel Jr. (Left Field)
Teoscar Hernandez (Designated Hitter)
Josh Palacios (Backup Outfielder)
It is important to keep in mind that this is from Fangraphs' projected roster. It is highly likely that the Jays rotate their outfielders much like they did last season. Furthermore, it is probable that the team adds a new face to the backup outfielder role.
I actually don't mind Randal Grichuk as at this point, we know what type of player he is. He can give you power and plays well defensively at the corner outfields, but he struggles with consistency and has a high chase rate. He slashed .241/.281/.703 and added 22 home runs in 2021. Furthermore, he had a 6 DRS in right field with a 5.5 UZR in 330.1 innings played. However, I don't see his role being more than a backup outfielder, regardless of his power and defense.
It was recently the one year anniversary of Brendon Kuhn announcing George Springer to the Toronto Blue Jays. Springer, who signed a 6 year, 150 million contract in the 2020-21 off season, was marred by injuries all season. However, when he did play, we saw what he was capable of. He slashed .264/.352/.907 with 22 home runs in just 342 plate appearances. Non-Blue Jays fans are quick to point out that the team lost Marcus Semien, but they forget that Springer was rarely healthy in 2021. If he stays healthy, expect an MVP performance.
Lourdes Gurriel Jr., man, what can I say about him. The guy hates to walk and will swing at everything, yet his 18.9 K% rate in 2021 was the lowest in his career. He also slashed .276/.319/.785 and added an additional 21 home runs, a career high. Defensively he is interesting, to say the least. He registered a 6 DRS in 2021, but this was solely due to the cannon that is his arm. His range at left field was -6.4, meaning that he didn't cover as much ground as he should have. Realistically, Gurriel is the ideal DH.
Lastly, we come to Teoscar Hernandez. In his first four seasons dating back to 2016, he had a batting average of .230, .261, .239, .230. In 2020, he broke out with a slash line of .289/.340/.919 with 16 home runs in 207 plate appearances. He also had a high K% of 30.4%. His BABIP was on the rather high side at .348, so many believed that 2020 was a fluke.
In 2021, he slashed .296/.346/.870 with 32 home runs in 595 plate appearances. More impressively however, was his significant drop in K%, as it landed at 24.9%. He is by no means perfect in the outfield with a -2 DRS, but he has improved defensively at right field since he became a full time player.
Verdict
Over the past few weeks, I've been taking a look at the other four teams in the AL East…
As it stands, I will argue that the Jays have the best offense in the AL East. Vlad Jr is basically playing a video game, Bo Bichette will continue to improve and you have a healthy George Springer? That's already terrifying, but once you add Teoscar Hernandez and Lourdes Gurriel to the mix, they have to be ranked first. This is excluding the fact that they'll get offensive production from catchers and could perhaps even upgrade the third base position.
As always, follow me on Twitter @Brennan_L_D