How Matt Chapman can get back to being a great hitter for the Blue Jays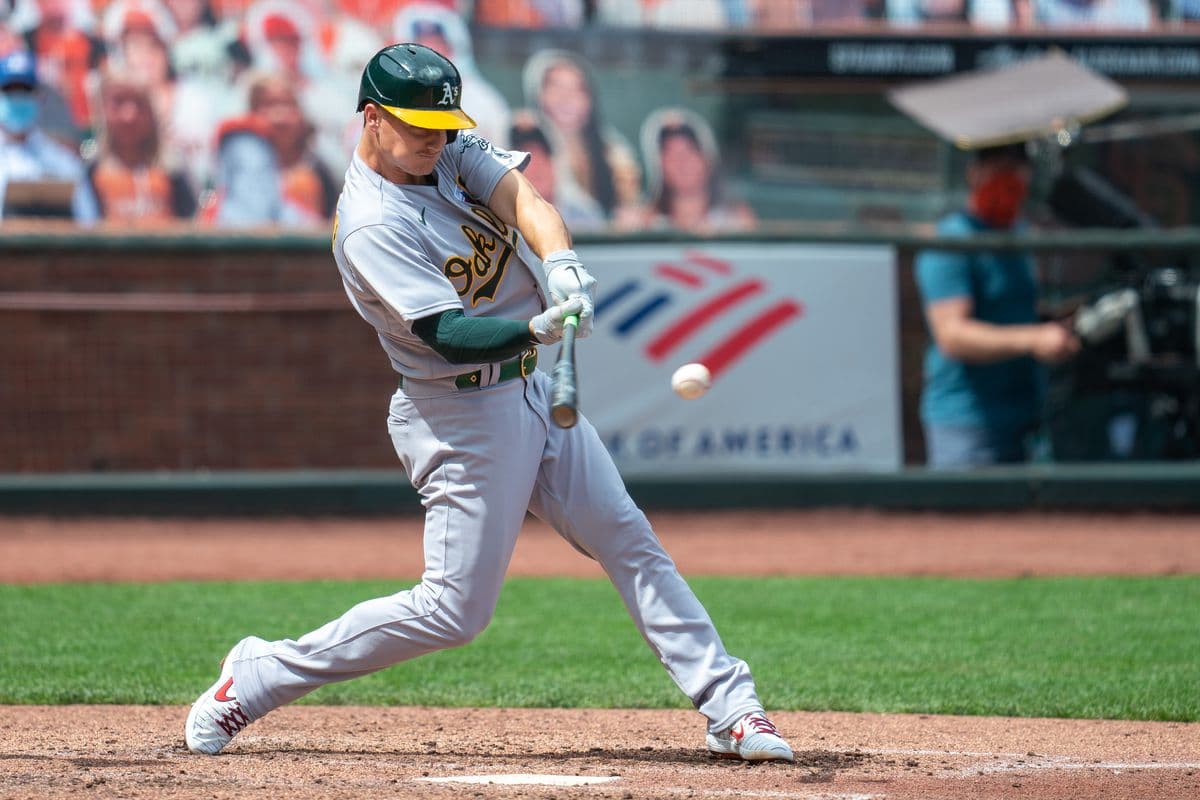 Photo credit:Neville E. Guard-USA TODAY Sports
From 2018 to 2019 Matt Chapman was one of the most valuable players in baseball. He hit a combined .263/.348/.507 good for a 132 wRC+. That batting line plus his outstanding defence at third made Chapman the sixth most valuable position player over those two seasons, worth 12.8 WAR.
Earlier this off-season I wrote about Chapman as a player who could be "the next Marcus Semien." The reasoning behind this was Chapman was once an elite player who had taken a dip after a somewhat disappointing (by his standards) 2021 season. Chapman was still a good player last season; he hit 27 home runs, played his usual tremendous defence at third, and was worth 3.4 WAR.
However, this season had its warts. A 32.5% strikeout rate and a career-low .210 average. Outside of the home runs, he didn't hit for much power, a .403 slugging percentage and .193 isolated slugging were both career lows. He did walk at a career-high 12.9% clip, but his OBP was still below average at .314.
His struggles at the plate really began in 2020. He had a hip injury that needed surgery in September that year. He had the torn labrum repaired and was able to play in 151 games in 2021 but as he explained to Shayna Rubin of The Mercury News, the injury forced him into some bad habits that season.
"I was in pain and not able to do the things I wanted to do," he said. That led to Chapman creating some bad habits in the batter's box as he tried to compensate for the pain in his back leg.

"Subconsciously I started using some of my bigger muscles and trying to muscle the ball to get bat speed instead of taking a direct, quick swing and use my back side," Chapman said.
Chapman was healthy in 2021, but those bad habits continued.
| | | | | |
| --- | --- | --- | --- | --- |
|   | SwSTR% | Launch Angle | Fly Ball% | Pull% |
| 2018-19 | 9.0% | 15.8 | 41.3% | 41.4% |
| 2020 | 15.2% | 24.1 | 50.6% | 49.4% |
| 2021 | 13.2% | 18.6 | 51.8% | 40.8% |
An elevated fly ball rate, increased launch angle, a big spike in pull percentage, and more swing and miss? This is a player that is selling out for power and home runs. When Chapman is at his best he is someone who hits the ball hard and hits for power to all fields.
This is all of Chapman's base hits for 2018 and 2019. There is obviously quite a large cluster in left field, but there is a good smattering of doubles and home runs hit out to right and right centre. Now compare that to the 2020 and 2021 seasons.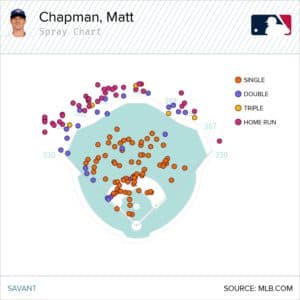 This is a pretty clear indicator of why his power numbers declined. He completely lost the ability to drive the ball the other way. Even in 2020 when he started compensating for the pain in his leg Chapman still hit the ball hard. His exit velocity for 2020 was 93.6 miles per hour which is right in line with 18-19. Last year that number dropped to 89.7 and being unable to drive the ball the other way was a major culprit as to why.
| | | | |
| --- | --- | --- | --- |
|   | Oppo EV | Centre EV | Pull EV |
| 2018 | 89.0 | 93.9 | 95.1 |
| 2019 | 89.8 | 92.9 | 94.5 |
| 2020 | 92.6 | 90.9 | 95.9 |
| 2021 | 83.4 | 90.3 | 92.7 |
The exit velocity is down across all fields but the opposite field sticks out like a sore thumb. Especially considering how good Chapman was at using all fields. From 2018 to 2020, Chapman had a .420 wOBA, per Baseball Savant, when hitting the ball to the opposite field. He was one of the best opposite-field hitters in the league. In 2021 that fell all the way to .266.   
Looking through the video nothing mechanical looks to be off or different with his swing…
2019
2020
2021
The overall swing looks to be the same but the differences come from not being as quick and compact to the ball. In the first clip he takes a fastball down and away and almost puts it out of the park. In the last clip again gets a fastball down and away but gets under it and flies out. Chapman struggled with fastballs last season which lines up with everything else we have seen. He has to compensate with his arms more since he couldn't rotate with the same strength.
The good news with Chapman is that his plate disciple didn't suffer throughout this. He maintained a strong eye at the plate. He wasn't chasing out of the zone any more than he normally does. The tools that made him a great hitter in the past are still in there. Hopefully with a healthy off-season he can get that strength back in his legs and get back to what made him such a good hitter.
Matt Chapman doesn't need to be a great hitter to be an impactful player for the 2022 Blue Jays. He is such a great defender, all the pitchers will benefit. Even if Chapman just repeats his 2021 season this trade will be a win for the Blue Jays. If he is healthy though there is a ton of potential in his bat. If he can bounce-back offensively his ceiling is sky-high and he can once again be one of the better players in the league.