How much better does George Springer make the Blue Jays?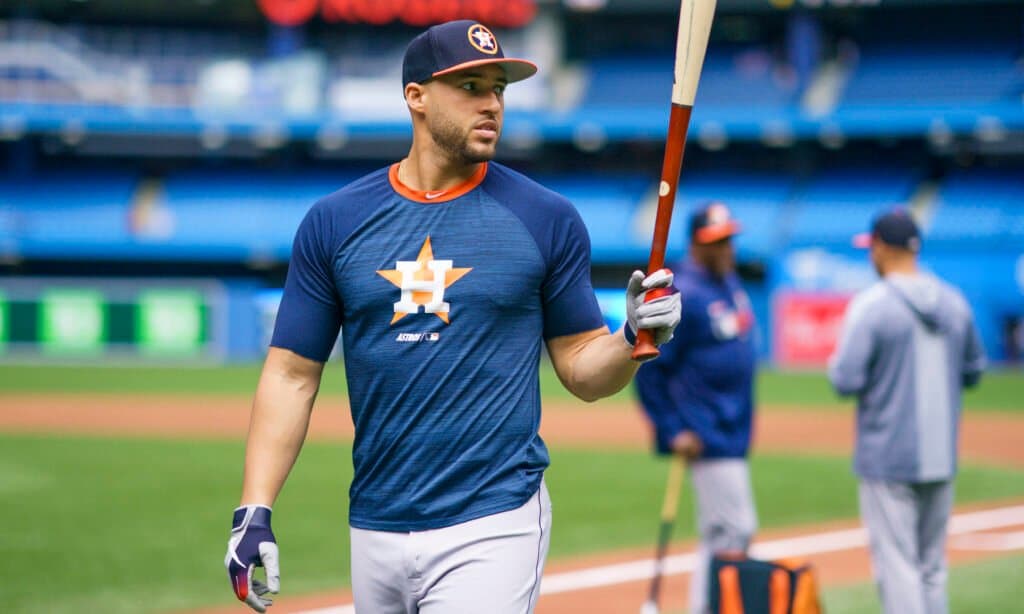 The Blue Jays have done it. They landed the big fish in free agency, signing George Springer to a 6yr $150M deal, the largest contract given out in franchise history. Springer is one of the best hitters in the league and plays solid defence in centre field. This is a massive addition for the franchise.
Before we go any further, it's best to address the elephant in the room. Springer coming from the Houston Astros was a part of their cheating scandal of 2017. He had a great season in '17, but has had even better offensive seasons in 2019 and 2020 when the cheating stopped.
This article from Jake Mailhot on Fangraphs
, breaks down the banging scheme and how it helped each Astro hitter. On Springer this is what Mailhot found:
"George Springer was unable to take advantage of the trash can system when the game was on the line or when the game was all but decided, but he really thrived in medium leverage situations."
This suggests that Springer's overall production wasn't affected as much as some of the other Astro hitters. He obviously cheated and participated in the sign stealing, this isn't a justification. It's just that the sign stealing didn't make him into a great hitter. For what it's worth, Springer during the 2017 season had a 140 wRC+ at home and a 139 wRC+ on the road.
With that out of the way, let's get into this. Springer is one of the best hitters in baseball. Since he joined the league in 2014 he has had a wRC+ above 100 in each season. His career 134 wRC+ ranks 24th in the league over that time. He has the rare combination of power and patience reserved for the game's elite hitters. Over the past two seasons, Springer is one of just eight qualified hitters to have a walk rate over 10% and a slugging percentage over .570. The other names on the list: Mike Trout, Nelson Cruz, Christian Yelich, Cody Bellinger, Juan Soto, Freddie Freeman and Anthony Rendon.
Springer succeeds not by putting up gaudy exit velocity numbers, Springer's average exit velocity last season was 88.7 mph and he has never had season in which he has averaged over 90 mph, but through his elite plate discipline.
This is Springer's swing percentage from 2019-20, courtesy of
Fangraphs
. He does not chase out of the zone very often. Over this period, Springer has swung at pitches outside of the strike zone, just 24.1% of the time. Among hitters with at least 500 plate appearances that's the 24th lowest rate. Of note Cavan Biggio leads in that category swinging at a miniscule 15.9% of pitches outside the zone. This approach causes Springer to draw his fair share of walks, but don't be confused into thinking he is up there looking for the free pass, when he gets a pitch in the zone, he's swinging.
Of the players who had an outside the zone swing percentage of less than 25%, Springer had the highest zone swing percentage at 73.4%. Biggio for comparison swung at 62.8% of pitches in the zone. Springer does have some swing and miss in his profile, though he doesn't strikeout a ton. His swinging strike rate was 11.1% in 2020 and is 11.9% for his career. His strikeout rate reached a career low 17.1% last season, and he's been below 21% in each of the last four seasons.
Springer started slow in 2020, he was hitting .194/.331/.388 as of September 2nd. He was hitting more fly balls and pulling the ball more than ever.
| | | | | | | |
| --- | --- | --- | --- | --- | --- | --- |
| | LD% | GB% | FB% | Pull% | Centre% | Oppo% |
| 2017 | 17.9 | 48.3 | 33.8 | 40.8 | 33.8 | 25.4 |
| 2018 | 16.0 | 49.4 | 34.6 | 39.8 | 36.9 | 23.3 |
| 2019 | 19.7 | 44.6 | 35.7 | 40.3 | 37.0 | 22.7 |
| 2020 | 20.9 | 35.9 | 43.1 | 48.0 | 34.9 | 17.1 |
Prior to 2020 Springer had been the model of consistency. He uses the whole field and while he hits the ball on the ground a fair bit, as a right-handed hitter with speed this isn't a concern. Even with Springer exploding in September, hitting .341/.394/.703 from September 3rd through the end of the season, 2020 sticks out. This coincided with an increase in launch angle to 18.3°, a large increase from the 9°-10° he's had for his career.
While this is interesting, given the nature of 2020 we can't read much further into it. Springer still ended up having a great shortened season. He's had an approach that's worked for him for years; it seems a bit odd that he would change it without cause (injury, or poor performance). This will be something to watch for next season, to see if this continues or if it was just a small sample fluke.
Springer is more than just an elite hitter. He can hold his own in centre field, which will be a significant upgrade for the Blue Jays.
| | | | |
| --- | --- | --- | --- |
| | DRS | UZR | OOA |
| Blue Jays CF 2019 | -9 | -8.1 | 5 |
| Springer 2019 | 7 | 3.9 | 3 |
| Blue Jays CF 2020 | -7 | -1.8 | -1 |
| Springer 2020 | 6 | -0.4 | 1 |
These numbers for Springer only account for his time in centre. He fared well in right too. No matter how you slice it Springer is an upgrade. He's not going to be mistaken for Kevin Kiermaier, but even if he just does what he did last season, which was basically league average, he'll be as asset defensively. The question with an outfielder on the wrong side of 30 is always when will they slow down? As of right now this isn't an issue for Springer. His
sprint speed per Baseball Savant
last season was 28.2 ft/s, essentially the same as the 28.4 ft/s in 2019. The major league average is 27 ft/s, so you would expect Springer to remain a strong runner through at least the first half of this contract.
The only concern with Springer is his age and durability. He hasn't had a major injury but something minor seems to happen every season. In 2017 it was a left quad strain, a sprained thumb in 2018, a hamstring strain in 2019, and a right wrist strain this season. Nothing serious, though two leg injuries is something to keep in the back of your mind, particularly when they get back to playing in Toronto on the turf.
Entering this offseason the Blue Jays knew they needed to upgrade in centre field. In George Springer they got more than just an upgrade but one of the best outfielders in the league. Springer
projects to be one of the five best centre fielders
next season. This move pushes the Blue Jays firmly ahead of the Tampa Bay Rays and has them banging on the door of the New York Yankees for the best team in the American League East.