How Yusei Kikuchi is emulating Robbie Ray and why it's working
Photo credit:Christopher Katsarov/The Canadian Press
Yusei Kikuchi is coming off his best start as a Blue Jay. On Monday against the Seattle Mariners, his former team, he threw six shutout innings, allowed just one hit, and struck out six. He did walk three batters, but that was the only blemish in what was otherwise a great outing. After the game, Kikuchi talked about the adjustments he had made and how he was trying to emulate what Robbie Ray did last season.
With the Blue Jays Ray made three distinct changes. He altered his mechanics, increased his fastball usage, and threw more pitches in the strike zone. Kikuchi is not someone who likes to make
mid-season adjustments
, but we have seen him already make changes in his short time with the Blue Jays.
The first clip is from Kikuchi's first start with Toronto and you can see he has the hesitation in his delivery, which he used throughout his time in Seattle. In the second clip that hesitation is gone. That's not the only change that he has made, however.
These two screen shots are at the apex of Kikuchi's leg kick. In the first shot, you can see his hands are separated early and it appears you can see his hand and perhaps the ball below his leg. In the second slip, he keeps his hands together at the top of his leg kick and it looks to me like he hides the ball behind his leg longer. We can't say for certain if hitters were able to see the ball before or if they were able to pick something up, but dropping the hesitation is a notable change and makes his overall mechanics much more fluid.
With these changed mechanics we have also seen Kikuchi change his pitch mix throughout his first six starts.
Kikuchi threw his four-seamer 64.4% of the time in his last start, the highest rate of the season and well above his season average of 51%. Kikuchi has a very good fastball; he averages 94.9 on the pitch and can run it up to 97 mph on occasion, making him one of the
hardest throwing lefty starters
. Batters this season have hit just .109 off of Kikuchi's fastball and slugged just .217. He doesn't get much swing and miss on the pitch, only a 9.9% swinging strike rate the lowest of his four pitches. What the pitch does though is get hit weakly in the air. The pitch has a 45.5% fly ball rate and of those fly balls, 40% of them have been infield flies. Fly balls already have a lower BABIP, and with this new dead ball, fewer of those fly balls are going to leave the yard.
The bigger change Kikuchi has made and what was alluded to in the tweet at the start of this article is the big cutter/slider pitch Kikuchi is throwing. Looking at the numbers it looks like Kikuchi started throwing this pitch in his April 29th start. The average vertical break on the pitch went from -40 inches to -30, and Kikuchi started throwing it harder increasing the velocity on the pitch from four miles per hour up to 88 mph.
The results are going from a pitch that looked like this:
To something that looks like this:
| | | | | | |
| --- | --- | --- | --- | --- | --- |
| | MPH | Pitch% | BA | SLG | K% |
| First three starts | 83.8 | 16.7 | .389 | .722 | 16.7 |
| Last four Starts | 88.3 | 30.3 | .240 | .520 | 19.4 |
With this new pitch Kikuchi, much like Ray doesn't have to worry about nibbling on the edges of the strike zone. He can throw it right down the middle and let the ball do the work.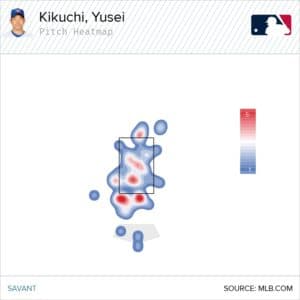 On the left we have a pitcher who is trying to work the edges with a slow slider, making sure to keep the ball down. On the right, we have the much harder slider that is still being thrown down but not with the same avoidance of the middle of the plate. Kikuchi doesn't have to be afraid to throw strikes, even when batters hit this pitch it's not leading to loud contact.
With this new pitch and mechanical adjustment, Kikuchi has been significantly better since the start of the season. Data from
FanGraphs
| | | | | | |
| --- | --- | --- | --- | --- | --- |
| | ERA/FIP | F-Strike% | SwSTR% | LD% | O-Contact% |
| First three starts | 3.75/6.26 | 47.4% | 8.3% | 16.2% | 78.0% |
| Last four Starts | 3.15/3.49 | 54.4% | 13.6% | 8.9% | 51.9% |
Kikuchi had a solid ERA in his first three starts but it was all smoke and mirrors, regression was coming if he didn't make a change. He made the changes and once again the results speak for themselves. He is pitching extremely well and doing it by throwing more strikes. He's getting more swing and miss and hitters aren't squaring him up like they were. Hitters don't chase out of the zone too much with Kikuchi but when they have they have seen a large decline in their contact rate.
Is Yusei Kikuchi the next Robbie Ray? No chance, Kikuchi is not winning the Cy Young Award this season, and even at his best Kikuchi is still the fourth starter on the Blue Jays. What he has done though, is learned from the success of Ray and followed the same path. He has changed his mechanics, altered his pitches and pitch mix, and started throwing more strikes. The results have been a string of good starts for Kikuchi and he looks like he could be the latest pitcher to find success under the tutelage of Pete Walker and the Blue Jays coaching staff.
---