Hyun Jin Ryu is nearing his return and Mitch White might be the odd man out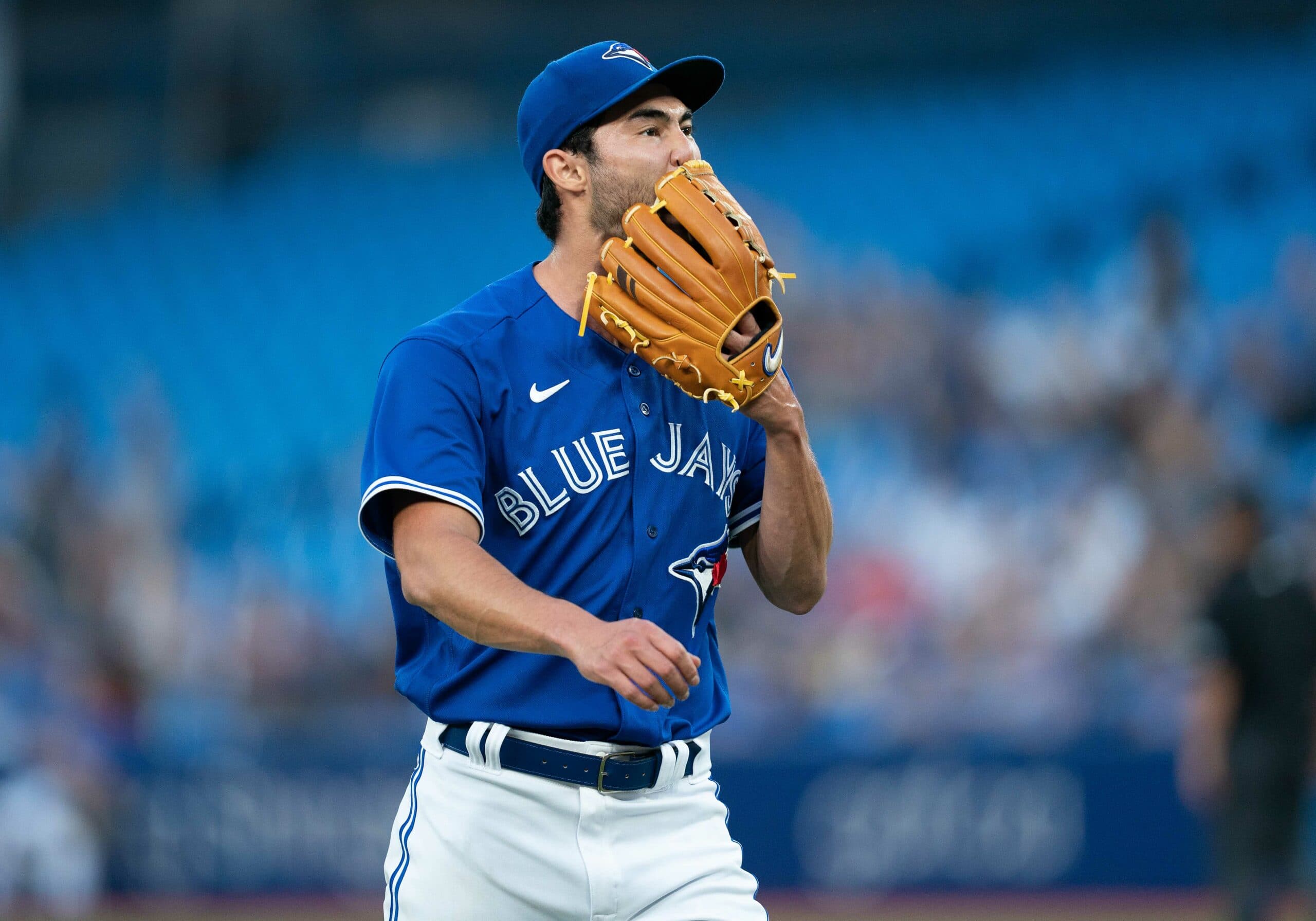 Photo credit:Nick Turchiaro-USA TODAY Sports
Hyun Jin Ryu made another positive step on his journey back from Tommy John surgery.
The veteran lefty took the mound for the Triple-A Buffalo Bisons on Saturday and allowed one earned run over five innings of work. He scattered three hits, didn't walk a batter, and struck out five.
Through three appearances on his rehab assignment between the Florida Comples League, Low-A, and Triple-A, Ryu has allowed just two earned runs over 12 innings of work with 11 strikeouts and not a single walk.
Ryu made just six starts for the Blue Jays during the 2022 season before being shut down to undergo Tommy John in June.
Just over one year later, Ryu is back on the mound carving up minor-league hitters and his return to the Blue Jays appears to be right around the corner. It's been an incredible turnaround for a player who appeared to have possibly thrown his last pitch at the big-league level.
When Ryu is back, the Blue Jays can either go with a six-man starting rotation or they could move one of their starting pitchers to the bullpen. The most obvious candidate to move would be Yusei Kikuchi because he fills a need that the team has. Kikuchi did well pitching as a reliever down the stretch last season and the Blue Jays only have one lefty, Tim Mayza, in their bullpen right now.
The more complicated decisions for the Blue Jays to make will come when they need to bring Ryu back from the 60-day Injured List to the active roster. They'll need to remove somebody from the 40-man roster to make space for Ryu and they can only have 13 pitchers on their 26-man roster so an arm currently on the team will have to go as well.
Assuming Kevin Gausman, Jose Berrios, Chris Bassitt, Alek Manoah, Kikuchi, and Ryu are all on the roster, the Blue Jays would have seven more available spots for pitchers. Jordan Romano, Erik Swanson, Tim Mayza, Trevor Richards, and Yimi Garcia will fill five of those spots, so there are two left for other relief pitchers.
Going off of the results, it should be a no-brainer for Nate Pearson and Jay Jackson to fill those two spots. Pearson, Toronto's former top prospect, has found his groove in the bullpen and has a 3.48 ERA over 33 2/3 innings. Jackson joined the team on a minor-league deal and has allowed just one earned run over nine innings of work with the Blue Jays.
Both Pearson and Jackson have options, so they can be sent to Triple-A without any issues. That isn't the case for Mitch White, who would need to go through waivers in order to come off of the 26-man roster.
The Blue Jays acquired White from the L.A. Dodgers ahead of last season's trade deadline to give the team some added starting pitching depth. The hope was that he could fill into the Ross Stripling swingman role but White hasn't been able to do that. He was injured in the off-season, couldn't build up to a starter's load, and is now a mop-up guy at the back of Toronto's bullpen.
White has made eight appearances for the Blue Jays this season and he's allowed six earned runs over 10 1/3 innings. Most recently, White came into the Blue Jays' series finale with the Arizona Diamondbacks on Sunday to close out a 7-2 lead. He walked three batters and was only able to record two outs and Erik Swanson had to come in put out the fire.
The Blue Jays traded away a high-quality prospect in Nick Frasso to acquire White last summer and they'd surely like to avoid losing him for nothing on waivers but they're also a contending team that needs to field the best team possible. Designating him for assignment would open up the 40- and 26-man roster spots necessary to activate Ryu.
They could also DFA a depth arm like Thomas Hatch and demote Jackson to Triple-A to activate Ryu, but it's hard to imagine White remaining on the team a few weeks later when the Blue Jays have to go through this same thing again to bring Chad Green back from the 60-day Injured List.
Maybe the Blue Jays could stash White on the Phantom Injured List or trade him in a deal that clears a spot on the 40-man roster. Whatever happens, it's difficult to see where White fits on the Blue Jays when they're finally at full health.
---