If Tyler O'Neill becomes available, he'd fit perfectly on the Blue Jays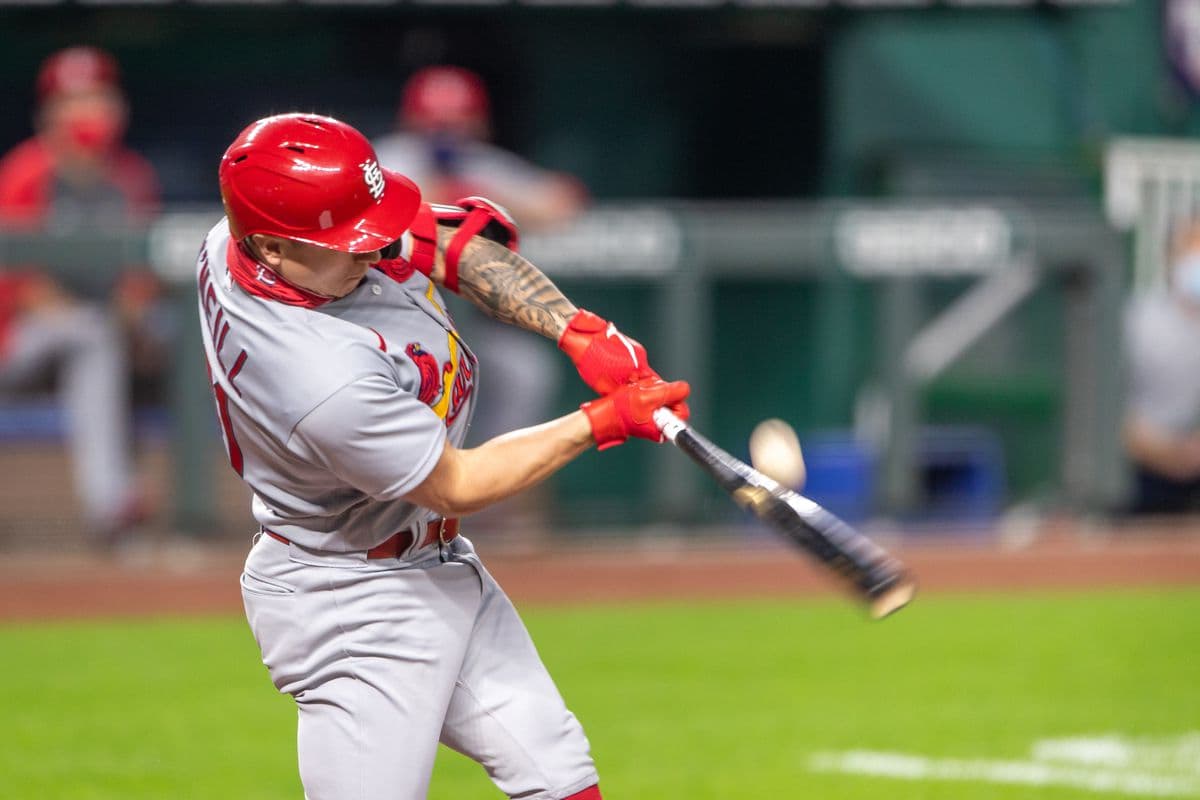 Photo credit:William Purnell/Icon Sportswire
Despite winning their first season series against the Blue Jays, there appears to be some discontent with the St. Louis Cardinals.
The Cardinals were recently swept by the team from Atlanta, and the biggest news from that series is how Canadian Tyler O'Neill was benched after being hosed at the plate.
Admittedly, this wasn't his fault. It was an awful send from the third base coach, and
Ronald Acuña Jr. has an incredibly strong arm.
So, say there is a further breakdown in the relationship, or that the Cardinals are out of the playoff race by the trade deadline. Is O'Neill a fit?
What does O'Neill bring to the table:
For starters,  the 27-year-old outfielder was born in Burnaby, British Columbia. If the Jays were to trade for O'Neill, he'd be the fourth Canadian on the 26-man roster. It's worth mentioning that O'Neill actually grew up a fan of the Seattle Mariners, being from the west coast.
What's more important is what he brings offensively and defensively. Last season, he slashed .228/.308/.392 with 14 homers in just 383 plate appearances for a 101 wRC+. His career-high offensive year came in 2021 when he slashed .286/.352/.560 with 34 homers in 537 plate appearances for a 144 wRC+ and a career-high 5.6 fWAR.
O'Neill is a right-handed batter, and has slashed .254/.356/.460 with 13 of his 70 homers in just 286 plate appearances against left-handed pitching. Furthermore, his 123 wRC+ is 10 points higher than it is against right-handed pitching, while his on base percentage is .36 points higher.
Offence is just one half of the game, so how is he defensively? Well, O'Neill won the National League Gold Glove award for left field in 2021, posting an 11 Defensive Runs Saved and a 4 Outs Above Average. For his career in the outfield, he has a 25 DRS and an 11 OAA, with experience in both right field and centre field.
So yeah, O'Neill has shown to hit for both power and average while providing excellent defence. What about his contract situation?
O'Neill's contract situation:
This season, O'Neill makes $4,950,000 and has an additional season of arbitration remaining before becoming a free agent heading into 2025. Speaking of arbitration, he and the Cardinals went to arbitration over $750,000 in 2022, despite O'Neill posting the best Fangraphs WAR on the team.
While it doesn't always strain relationships, it certainly has in the past. For example, Marcus Stroman wasn't a big fan of the things said about him when the Blue Jays took him to arbitration in 2018. Corbin Burnes was also not a fan of how the situation went down with the Milwaukee Brewers in 2023
It's worth noting that having essentially two seasons with team control will only boost his value for the Cardinals.
What would it take:
Although O'Neill had that 5.6 fWAR season in 2021, he has yet to have a second 2+ fWAR season in his six-year career. He has only hit 200+ plate appearances twice in his career as well, in 2021 and 2022. He's a great player but has missed time due to injuries. Despite that, his value is high in terms of what he brings to the table.
There's also the case that he has essentially two seasons of team control remaining, which also help increase his value. If he were to be a free agent at the end of the 2023 season, it'd knock his trade value down quite a bit.
The last important factor is that the St. Louis Cardinals likely believe they are a playoff team, playing in the incredibly weak National League Central. Although the playoffs didn't go their way in 2022, they still went 93-69 (nice) last season.
So as a playoff team, they'd likely be looking for Major League players or prospects in the high minors that could help in 2023.
One aspect that would benefit teams that want O'Neill is that the Cardinals have deep outfield depth. Last season, Lars Nootbaar emerged as one of the best young prospects in baseball, while Jordan Walker is considered a top 5 prospect by most sites. Furthermore, they have Alec Burleson, Dylan Carlson, Brendon Donovan, and Tommy Edman, all of which are natural outfielders or have spent significant time there. So yeah, the Cardinals can spare O'Neill, but for the right piece.
While the red birds have a ton of depth in the outfield, their starting pitching is their weak spot. So perhaps a trade for a Blue Jays starter + prospects could get the trade done. Perhaps a three team trade would work better.
To summarize:
While acquiring O'Neill would be great for the Blue Jays, it doesn't seem like it's a possibility at the moment. The Cardinals' biggest need is starting pitching, which the Blue Jays don't have an excess of.
Moreover, O'Neill would cost a significant amount due to what he brings to the table, as well as his contract situation. Plus the Jays don't
really
need a right-handed batting outfielder, as they recently picked Jordan Luplow off waivers, with Otto López deserving some Major League at bats as well.
With that being said, O'Neill does fit the Blue Jays for a litany of reasons, even if it seems incredibly unlikely.
As always, you can follow me on Twitter and Instagram @Brennan_L_D.
---