It looks like the end of the line for Ryan Broucki with Blue Jays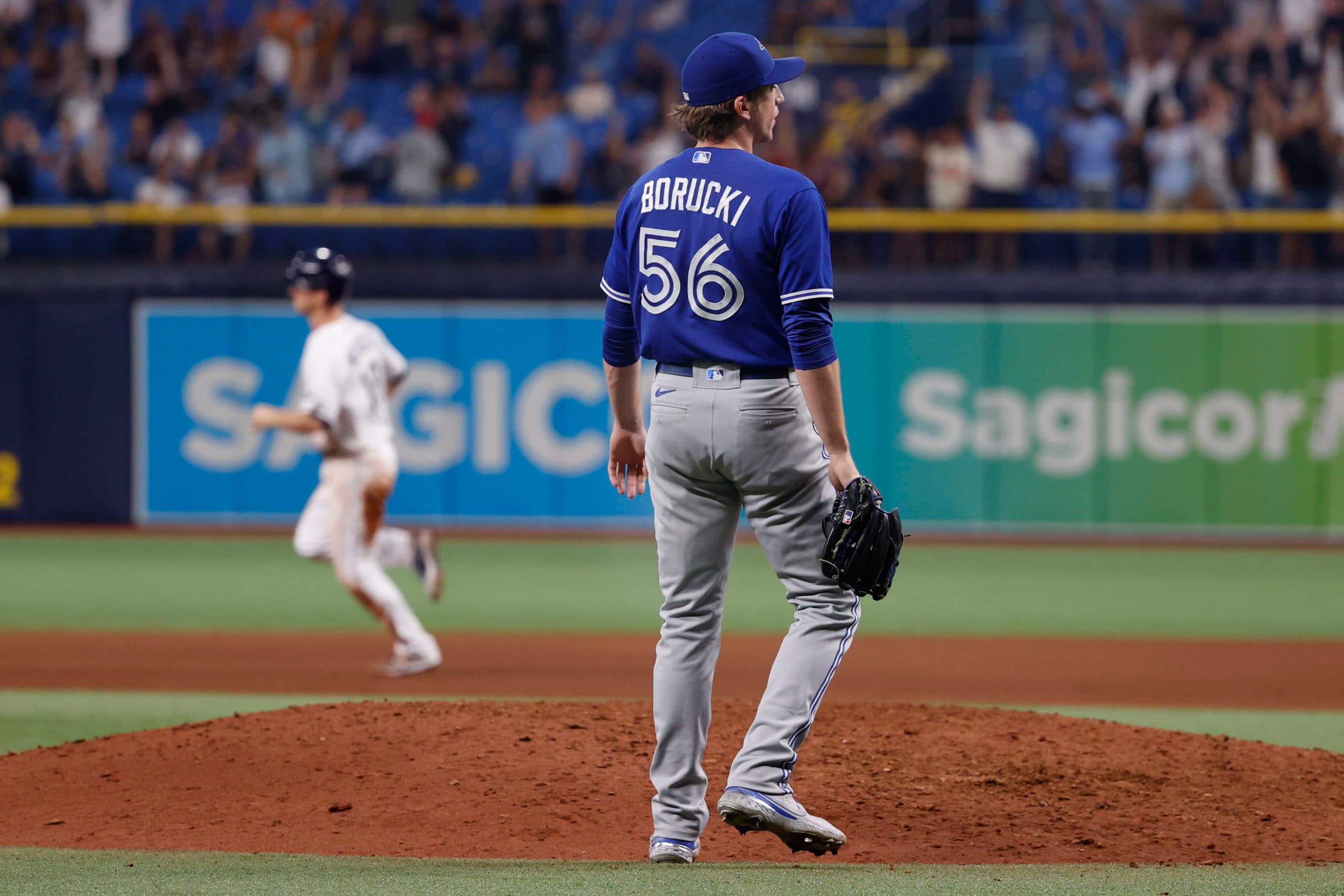 Photo credit:Kim Klement-USA TODAY Sports
The clock is seemingly ticking on reliever Ryan Borucki's tenure with the Toronto Blue Jays.
For any player without a minor-league option, as is the case with Borucki, front offices will usually exhaust every last resource before having to designate them for assignment. And that time could be coming very soon for the Blue Jays hurler.
Heading into the 2022 season, Toronto was hoping to utilize the 28-year-old as its second left-handed reliever next to Tim Mayza. But that plan hasn't worked out thus far. Instead, we've witnessed the former 15th-round pick from 2012 struggle mightily on the mound for a second straight campaign.
A season ago, Borucki performed to a 4.94 ERA, 4.54 xERA, 5.66 FIP and a -0.3 fWAR rating through 23 2/3 innings in 24 appearances. Unfortunately, his results have been far worse in '22. So far, he carries a miserable 9.95 ERA, 8.19 xERA, 7.56 FIP and a -0.3 fWAR rating across 6 1/3 inning over 11 appearances.
One of the biggest issues the left-hander has faced early on is not throwing nearly enough strikes. He currently owns a 39.4 per cent zone percentage and a 45.5 per cent first-pitch strike percentage – the lowest of his career. This has largely resulted in his career-worst 15.2 per cent walk rate.
Granted, Borucki's strikeout (24.2 per cent) and whiff rates (33.3 per cent) are both respectable, however, they've each been greatly overshadowed by his inability to consistently attack the strike zone. When you're walking high amounts of batters around the bases, nobody stands to notice your strikeout and swing-and-miss totals.
Paired with his command woes, the 6'4″ hurler has also been allowing plenty of contact this season, most of which has been of the hard-hit variety. Opponents are currently hitting .259 AVG off him, and have posted a 42.1 per cent hard-hit rate against and a 15.8 per cent barrel rate against. Both percentages are the highest of his career since the '19 season.
Keeping balls in the yard has been a major weakness for Borucki, as well, which was evident during Toronto's latest road trip. In total, he surrendered a pair of home runs across two appearances – one in St. Louis and the other in Los Angeles – including a 414-foot blast from Angels outfielder Taylor Ward.
An important thing to note here is that almost all of Borucki's struggles have come against right-handers. He's actually been quite successful versus lefties. If you can believe it.
This season, left-handers are slashing just .133/.235/.133 against the native of Highland Park, Illinois. In addition, he's also recorded six strikeouts, a single walk and a 66.7 per cent ground ball rate during these situations.
While facing righties, however, Borucki has enjoyed very little success as those hitters have produced a monstrous .455/.600/1.091 slash line against him. Making matters worse, he's allowed four walks compared to just a pair of strikeouts along with a 44.4 per cent line drive rate.
If the Blue Jays could strickly use Borucki as a lefty specialist, he'd be an extremely valuable weapon in their bullpen. The problem with that, though, is teams need relievers to be effective against both types of hitters due to the three-batter minimum rule. It's not enough to record outs versus one set or the other.
So can the former top prospect learn to be successful against righties? Not unless he improves his command, particularly involving his high-80s slider.
When a left-hander is at the plate, Borucki's breaking ball largely finishes away from them, making it a quality swing-and-miss offering. But if a righty comes up, that same pitch is supposed to be located down and in, only it's been missing in the heart of the zone so far.
It gets worse for the left-hander's breaking ball, too.
Due to its ineffective location, the opposition hasn't endured any issues creating hard contact when it's been thrown, leading to career-worsts in average exit velocity (93.3 m.p.h.), barrel rate against (50 per cent) and hard-hit rate against (75 per cent).
Thanks to all the hard contact Borucki's slider has allowed, its expected metrics (.408 xAVG, 1.282 xSLG, .560 xwOBA) have mirrored its traditional figures. This suggests his breaking ball likely isn't destined to improve any time soon.
From what we've witnessed thus far, the converted reliever doesn't appear to be anywhere close to breaking through with his command against righties. What's worse is his mid-90s sinker also likely requires an adjustment as it's been somewhat lucky during these same spots, as it holds a .437 xAVG, a .567 xSLG and a .560 xwOBA.
There's no denying Borucki has the stuff to perform at the big-league level, his sinker and slider can definitely play. He just simply hasn't put together a complete effort to date. That may occur eventually in the future, but he could be hard-pressed to do so this season.
Even as talented as Toronto's coaching staff is, especially from a pitching standpoint, assisting with Borucki's struggles against right-handers might be too difficult to accomplish in-season. He'd have a much better chance to improve his craft in the minors, but that can't happen unless he clears waivers first.
At this point, considering the current state of the team's bullpen, it's no longer beneficial to hold onto the struggling lefty anymore. They need reliable relievers that can provide length, not ones who'll prove to be a liability.
Now might be the time to part ways with Borucki, especially if Tim Mayza – who's been sidelined with left forearm inflammation and is eligible to be activated when healthy – is ready to return during this homestand.
But if Mayza can't go, perhaps that could provide an opportunity for one of the other pitchers on the 40-man roster – potentially Bowden Francis, Anthony Kay or Trent Thornton. All three of these players have previously spent time in the majors earlier this season.
Either way, it seems like it's only a matter of time before Borucki's runs out in Toronto.
---