It's Clinchmas Eve as Blue Jays open Rays series with commanding victory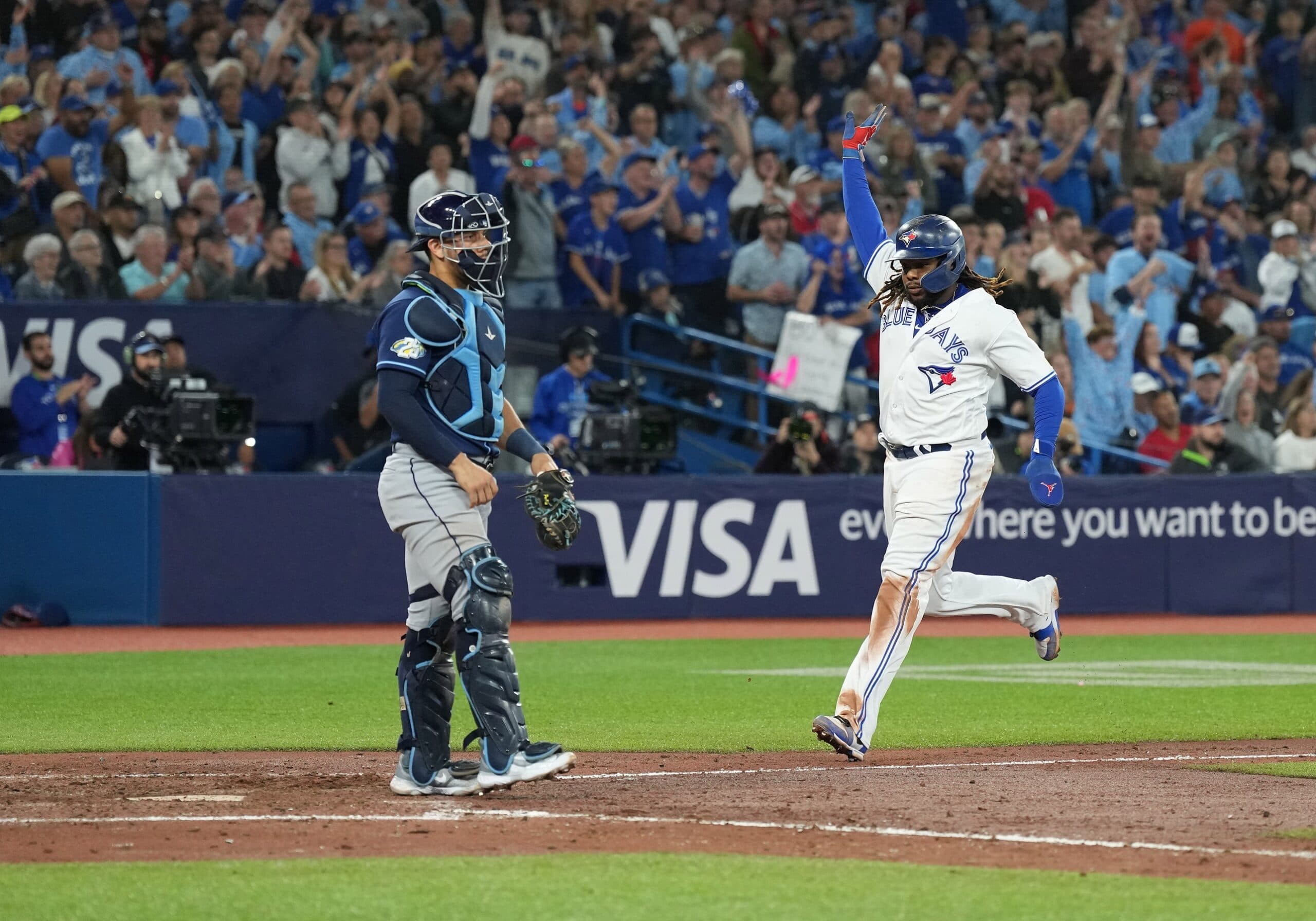 Photo credit:© Nick Turchiaro-USA TODAY Sports
By Saturday morning, the Blue Jays could lock in a trip to the 2023 playoffs.
On Friday evening, the Jays started their final series of the regular season, hosting the Tampa Bay Rays. And my oh my, did they ever beat them up, winning by a score of 11-4.
Let's take a look at the Blue Jays Nation's Player of the Game, as well as things worth mentioning.
Blue Jays Nation's Player of the Game: Bo Bichette
It was clear that the Jays were missing their star shortstop in August. However, he had his best game since coming off the injured list, going 4-5 with an RBI and a double.
The 25-year-old will finish either third or fourth in American League batting average, as he's slashing .307/.338/.472 with 20 homers in 591 plate appearances.
He's consistently been one of the Blue Jays' best hitters throughout the season, and hopefully, he can keep it up if the Jays make the playoffs.
Things worth mentioning…
Cavan Biggio
is for real. It took me a while to believe it, but he has consistently hit well since May, and he deserves to be in the lineup every day. The 28-year-old utility player went 2-4 with a strikeout and a walk Friday.
Vladimir Guerrero Jr.
also had a great game Friday, as he went 3-4 with a walk and two doubles. The first baseman has played well in September, and he's now slashing .266/.346/.446 with 26 homers in 677 plate appearances. Hopefully, he can keep it up throughout the playoffs and the 2024 season.
Alejandro Kirk
hasn't had a great season with the bat in 2023, but he had a great game Friday. He went 2-5 with three RBIs, including his eighth home run of the season. The 24-year-old catcher is now slashing .251.336/.360 with those eight homers in 417 plate appearances, giving him a 97 wRC+. This is on top of gold-glove calibre defence.
Matt Chapman
is getting hot. The third baseman hit his second home run in as many games, and his 17th of the season. The 30-year-old is now slashing .242/.333/.428 with 17 homers in 577 plate appearances. Yes, a lot of those numbers are thanks to an insane April, but Chapman sure has shown his value this season.
Brandon Belt
could arguably be the pick-up of the off-season for any team. He hit his 18th home run of the season Friday evening, and is now slashing .252/.369/.483 in 398 plate appearances for a 137 wRC+. Great signing.
Jay Jackson
made his first appearance since being recalled, and once again did his thing. He finished with a line of
2 IP, 0 H, 0 ER, 0 BB, 2 K,
and now has a 2.12 ERA on the season in 29.2 innings pitched.
If Seattle loses to Texas on Friday evening, the Blue Jays will have secured their playoff spot. If the Astros
also
lose, the Blue Jays will have a date with the Tampa Bay Rays in the wild card series, which will be played at Tropicana Field.
As always, you can follow me on Twitter, Instagram, and Threads @Brennan_L_D.
---