It's time for the Blue Jays to take advantage of the Oakland A's again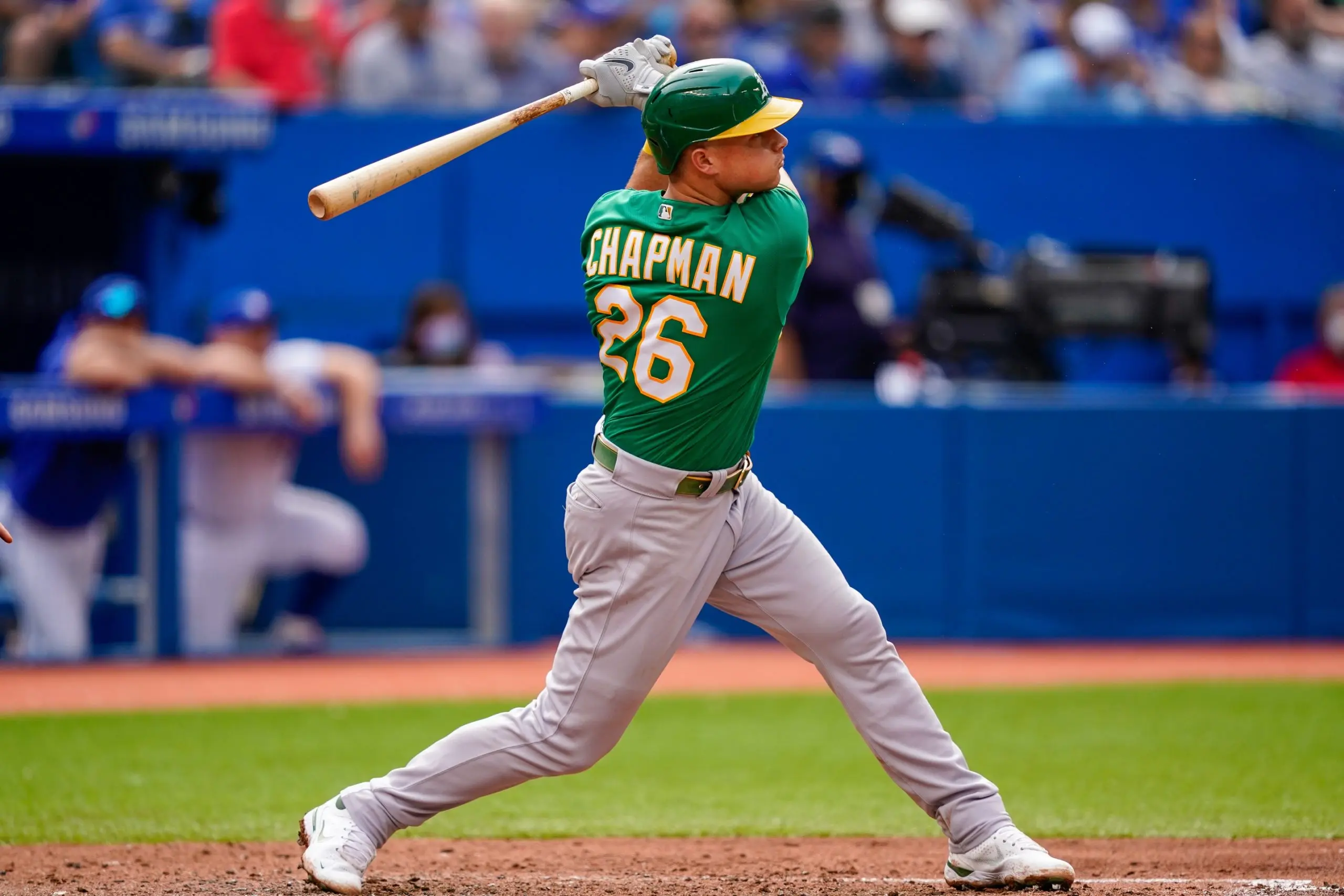 Photo credit:© Kevin Sousa-USA TODAY Sports
We're about one month from the seven-year anniversary of arguably the best trade of Alex Anthopolous' tenure with the Blue Jays.
On Nov. 28, 2014, Anthopolous came out of nowhere and acquired Josh Donaldson from the Oakland A's in exchange for Brett Lawrie, Franklin Baretto, Kendall Graveman, and Sean Nolin.
There was a little bit of skepticism around the trade at the time. Lawrie was a fan favourite who many believed was still a key part of the future and the difference between him and Donaldson didn't seem as steep as the trio of prospects Toronto sent back. Barreto had just put together a big season in Low-A and both Graveman and Nolin appeared to have mid-to-back-end rotation upside in the near future.
Now, with the benefit of hindsight, it's pretty hilarious to think that there was any doubt about this deal. It was an absolute fleecing.
Donaldson won the American League MVP in 2015 and helped the Blue Jays reach the ALCS in back-to-back years. Lawrie played one season in Oakland and fell off the grid shortly after. Nolin pitched 29 innings for Oakland in 2015 and randomly resurfaced in 2021 with the Nationals. Graveman posted a 4.38 ERA over parts of four seasons with the A's and the Mariners turned him into an excellent reliever this year. Barreto, who ranked as high as No. 35 on Baseball America's top prospects list, has a .549 OPS in 101 MLB games and was traded for Tommy LaStella in 2020.
Here we are now. There are some parallels from the 2014 A's that opted to sell off Donaldson and the team right now that could very likely be staring down the barrel of a blow-up.
Back in 2014, the A's were a legitimate contender. They made mid-season moves to acquire Jon Lester and Jeff Samardzija but struggled down the stretch and wound up just squeezing into the wild-card game, where they'd ultimately lose to the Kansas City Royals. Their farm was already thin at this point, and they dealt off their top two prospects, Addison Russell and Billy McKinney, to the Cubs in the Samardzija trade.
They kicked off the offseason by dealing Donaldson, who was eligible for arbitration for the first time, to Toronto, and then, shortly after that, they flipped Samardzija to the White Sox in exchange for Marcus Semien and Chris Bassitt. Derek Norris, the team's All-Star catcher, was also traded to San Diego.
In a similar fashion this year, Oakland was only six games back of the Houston Astros for the AL West when they traded their top prospect, Jesus Lizardo, to the Marlins in exchange for Starling Marte. They went on a tear for a while, coming to within a game-and-a-half of Houston, but then fell apart in September.
The A's were 74-61 when they came to Toronto on Friday, Sept. 3 and then Semien said, "hey, remember when you didn't give me a qualifying offer? Fuck you."
Oakland finished the season with an 86-76 record and wound up missing the playoffs by six games. And, like in 2014, the A's have a pretty barren farm system and a handful of veteran players on the verge of arbitration and free agency.
You know what that means? Oakland Athletics firesale!
The first domino of Oakland's off-season fell last night completely out of the blue. Manager Bob Melvin, who recently had his option picked up by the team for the 2022 season, signed a three-year deal to join the San Diego Padres, presumably for significantly more cash.
Who's going to follow Melvin out the door? Name a player, really.
Starting pitchers Sean Manaea and Chris Bassitt are headed for arbitration for one final time this offseason before they can become free agents next winter. Matt Chapman and Matt Olson, Oakland's All-Star third and first basemen, have two more years of control left before they can hit the open market, as do pitcher Frankie Montas and outfielder Tony Kemp.
Now, let's circle back to the Blue Jays.
Toronto has a huge off-season coming up. They just had a breakout season, going 91-71, but, unfortunately, it wasn't quite enough to reach the playoffs.
As much as it seems the competitive window is just opening, success is no guarantee just because you have a talented young core. Just look at the Padres, who went 37-23 in 2020 and were expected to compete with the L.A. Dodgers for the NL West in 2021. Everything went sideways for San Diego and they finished this season with a 79-83 record.
The Blue Jays have two of their best players, Robbie Ray and Marcus Semien, set to hit free agency this winter and there's a fair chance both might move on. As great as they were in 2021, investing a massive sum of cash in two players who are over the age of 30 might not be the right play, especially when Vladdy Jr. and Bo Bichette are going to start getting paid real money soon.
With a handful of different needs, a deep farm system, and a complicated, tight 40-man and Rule 5 draft situation on their hands, the Blue Jays are a prime candidate to pull the trigger on some big trades this winter. It wouldn't at all be shocking to see Toronto take the compensatory draft picks for both Ray and Semien and look to a team like Oakland to replace them.
Chapman is coming off of a bit of a down season, as he slashed just a .210/.314/.403 line, but his glove always makes him a plus and his track record suggests a bounce-back is realistic. Remember, Donaldson had a down season in 2014 right before getting traded to Toronto. And then there's Manaea and Bassitt, both of whom are excellent pitchers who would be welcome additions to Toronto's rotation.
A way in which Toronto could potentially lower the prospect capital they would have to give back in a Chapman-plus-a-starter deal would be taking on Elvis Andrus' salary.
Andrus is already a bit of a Blue Jays legend thanks to his work in Game 5 of the 2015 ALDS, so seeing him play here would be sort of funny. Once a very reliable shortstop who could field and hit, Andrus has fallen off a cliff in his 30s, as he's slashed just a .235/.287/.322 line over his last 175 games between 2020 and 2021. Andrus is set to be paid $14,250,000 in 2022 and there's no doubt Oakland would like to get out from under that commitment.
So, long story short, the Blue Jays and A's are ideal trade partners. Let's hope that a deal transpires this winter and it works out as well for the team as it did last time.