It's time to call up Jeremy Beasley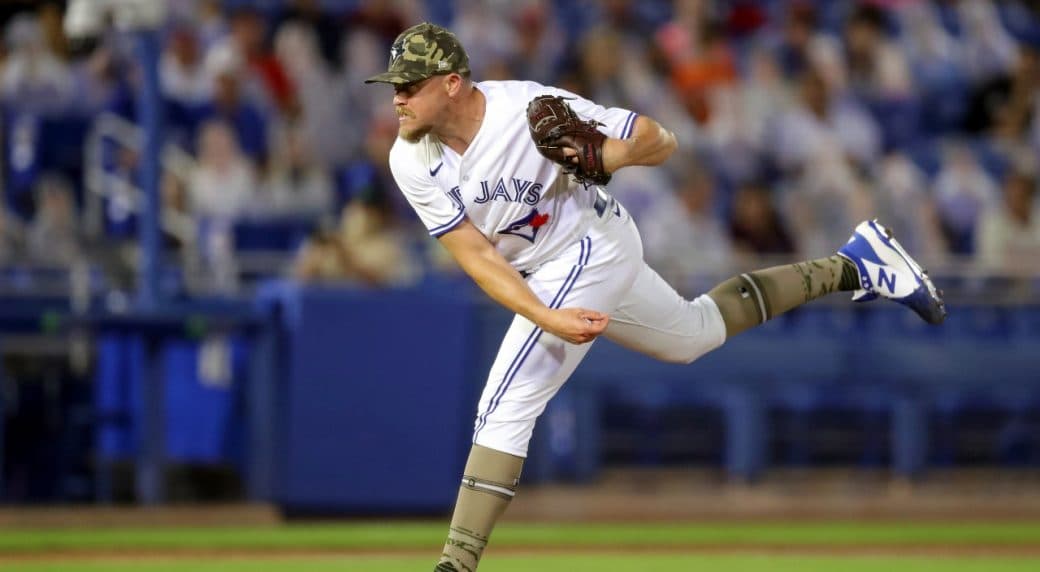 Photo credit:Mike Carlson/AP
I never thought I'd be writing an article on him, especially after the grand slam he surrendered against Tampa last May, but here we are. Let's look at his 2021 season, which wasn't very good.
Beasley's 2021:
After getting claimed off waivers by the Blue Jays, the then 25-year-old struggled with the Blue Jays. In 9.1 innings, he posted a 7.71 ERA and an 8.10 FIP. Furthermore, while his K/9 of 12.54 was rather impressive, he struggled with command as he had a BB/9 of 8.68.
Besley was demoted to the minors, with his first stop being Double A New Hampshire. He posted a 7.71 ERA and 4.80 FIP in 4.2 innings. He had an incredibly high K/9 of 15.43 and his BB/9 dropped to 3.86. However, dominance was expected for the former major leaguer.
After that short stint, Beasley was called to Triple A, where his ERA decreased drastically to 2.89 in 18.2 innings pitched to finish the season. Moreover, he had a FIP of 3.15, so what's not to love?
Well, Beasley's command issues remained, as he had a BB/9 of 7.23 while he had the exact same K/9 as he did in the majors at 12.54.
Beasley's 2022:
As a 26-year-old with major league time under his belt, I wouldn't call him a prospect. So why am I writing about the hard throwing righty?
Well, in 2022, Beasley has dominated Triple A. In 26.2 innings pitched, he has a 1.01 ERA and 3.02 FIP. Not just that, but his BB/9 has decreased exponentially to 2.70, the lowest he's had at any level since pitching with the Double A Angels in 2018.
Beasley's K/9 has also dropped to 10.46, but he is still making batters swing and miss, which brings me to my next point…
How would Beasley fit in the Jays bullpen?:
I don't see Jeremy Beasley being a high leverage reliever with the Jays. However, he'd still play an important role as a bulk inning guy or a spot starter.
Beasley has also shown a penchant for swing and miss in his game. According to Savant data from 2021, his four seam fastball sits around 95 mph with quite a lot of spin (2500 RPM). 
Beasley threw 110 4-seam fastballs, or 55.6% of all pitches thrown and had a Whiff% of 35.2%
(Whiff% calculation: # of swing and misses / # of swings.)
He paired his fastball with a slider he threw 24.7% of the time (Whiff% of 40.9%) and a changeup he threw 18.7% of the time (Whiff% of 44.4%).
After Merryweather's struggles on Saturday night (or Sunday morning), I could see them optioning him to Buffalo while calling up Beasley.
The only issue with this is the fact that Jeremy Beasley is not on the 40-man roster, being a player would have to be DFA'ed, traded or added to the 60 day IL to make room for the 26-year-old Beasley.
Either way, I think Beasley has impressed enough to be given a second chance with the Blue Jays, and hopefully this article gave you some information you may not have known.
As always, you can follow me on Twitter @Brennan_L_D. Join me as a Beasley truther.