It's time to move Bo Bichette to Second Base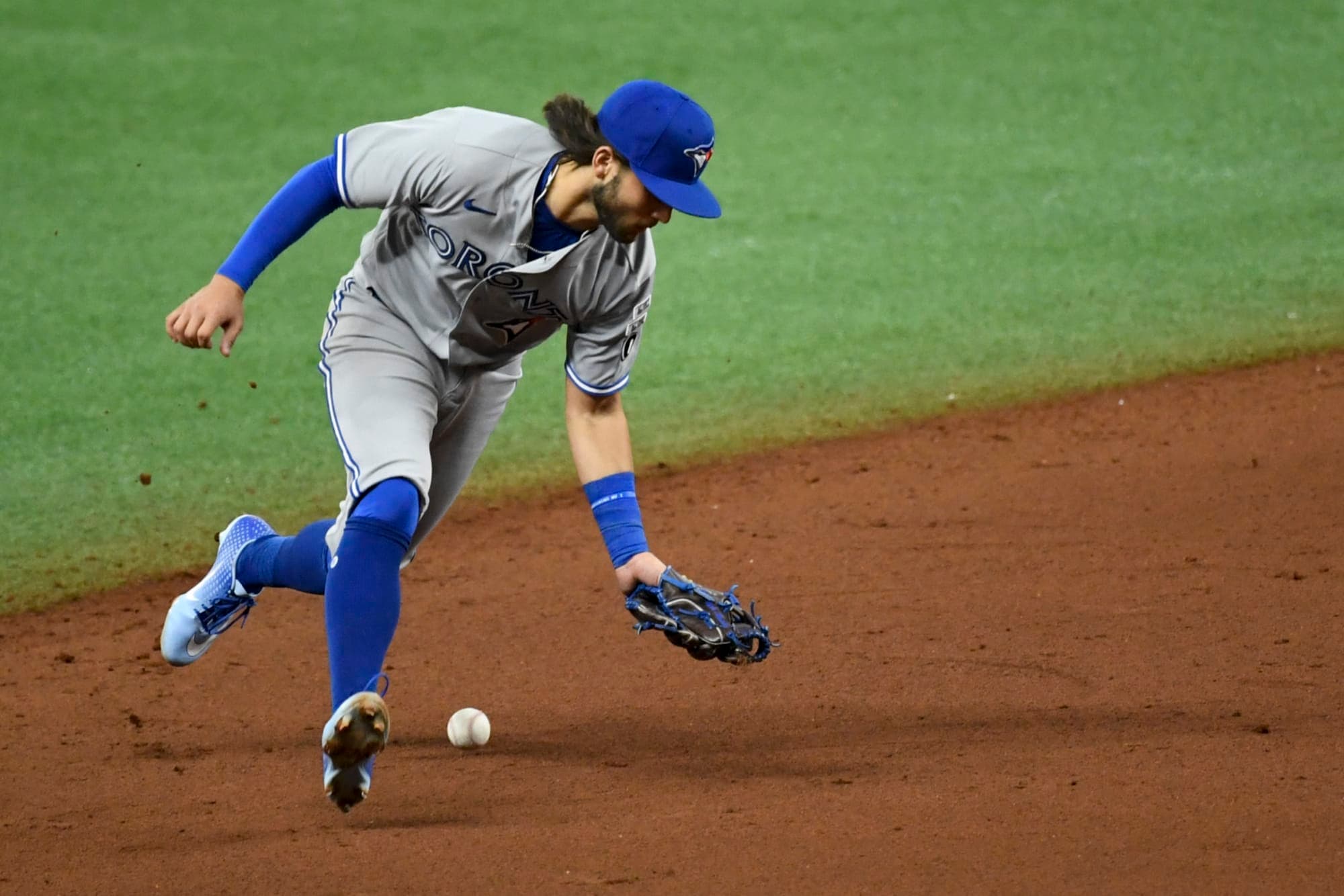 When asked about how I would like to exit this world, I often say surrounded by friends and family, or Blue Jay fans.
Today is the day that I may be eliminated from this early for saying that Bo Bichette needs to be moved from shortstop.
Before you get mad at me, this article is not saying Bo Bichette is a bad player, much to the contrary, actually. His bat will get him all-star votes and he's still only 24-years-old, meaning that defence could come with experience.
Let's briefly go back in time:
A few years before my birth, there was a baseball player you may have heard of. His name is Derek Jeter.
Drafted in the first round in the 1992 draft by the Yankees, Jeter went on to have an illustrious career being on a team that won 5 titles. The shortstop was a big part of those teams, as his hitting ability and clutch performance took the Pinstripes over the top.
When it came to Hall of Fame voting, he got in (as he should have), but there was only
one
vote out of 397 that said no to the "shortstop". Had this one voter said yes to Jeter, he would have been only the second player ever to be voted in unanimously.
While Jeter should have absolutely been voted into the Hall of Fame, there was one big glaring hole in his game – his defence.
Total Zone is a predecessor to Defensive Runs Saved (which was first tracked in 2002). From 1995-2001, Derek Jeter had a Total Zone of -71 at shortstop. From 2002-2014, Derek Jeter had a DRS of -162.
The issue with Jeter was his range, as those "great" jump throws he made were simple plays for better shortstops.
After reading "The Captain" by Ian O'Connor (great book, highly recommended), it was clear that Jeter did not want to be taken off shortstop. However, had the Yankees done so, it would have allowed Alex Rodrgiuez, a far superior defensive shortstop, to play his natural position.
Moving Jeter to the outfield (he had a wicked arm) or second base, where he'd need less range, would have helped his already fantastic career. Instead, the Yankees did not want to move him from a "valuable" position.
Had he not cost them 162 runs, maybe they wouldn't have won only one title in Jeter's final 13 seasons.
It's even happening now:
Defensively, Bo Bichette isn't even the worst in his own division. Moving to Boston, we have Xander Bogaerts. Throughout his career, he's been successful with his bat. However, Bogaerts is absolute crap defensively.
In his 9325.2 innings played at short (since 2013), he has a -55 DRS. His Outs Above Average is even worse, as that is a -42 despite only being tracked since 2016.
This wouldn't be that big of a deal if they didn't have anyone else, but they recently signed Trevor Story to play second base. In his 1175 innings played at shortstop, Story has a 69 (nice) DRS and an OAA of 18.
Story is far better defensively than Bogaerts at short, yet the Red Sox are intentionally shooting themselves in the foot. Why? Because playing second base is "less valuable" than playing shortstop. To that I ask, to whom?
Back to Bo:
Unlike Jeter, Bo's biggest issue isn't his range, he's actually solid with that. In fact, from general observation, I believe Bo's biggest issue is his mentals, it's composure.
Surprisingly, in his 2073.1 innings played at short, Bichette has a +4 DRS. However, his Outs Above Average sits at -13. Unlike Defensive Runs Saved, you can actually see the calculation and
why
a player is struggling defensively.
After the Jays acquired Chapman, there was a lot of talk about how Bichette's right side would be covered. However, Bichette is actually fine moving to his right, as he only has a -2 OAA when moving towards third base since 2019.
He also doesn't struggle moving to his left, as he has a +3 OAA in his career. The same is true with moving back, as his career OAA is at a +4. Nope, Bichette's issue is moving in. Throughout his career, he's already at a -18 OAA for moving in, including an enormous -13 in 2021.
Even this season, it's been his big issue, as he already has a -4 OAA (-3 total) when he has to come in on balls. To me, it just seems like he's trying to rush things. Let's look at last night as an example.
First and foremost, the fact that Bichette was able to keep that ball close is quite impressive as it had an exit velocity of 119.8 mph off the bat. No, the issue with this play is the throw. 
Notice how much time Bo had to throw out Stanton, who has the 12th slowest sprint speed according to Baseball Savant. Below is just the throw.
If you look at the majority of Bichette's errors, they are errors because he tries to rush things. Now, as a 24-year-old, there is still plenty of time to fix this in his game, but…
They have a better defensive option:
Espinal's natural position is shortstop and in just 156 innings at the position in 2020, he had a 1 DRS. When looking at Espinal's OAA in 2020, he had a +3 in 2020 in just a short amount of time.
Much like how Story is the better defensive shortstop for Boston, Espinal is the superior
defender
at shortstop on the Blue Jays. If the Jays are serious about winning, it's time to move Espinal to shortstop and allow Bo to have less defensive responsibility at second base.
It's worked before, even for the Blue Jays. Semien has an OAA of -27 at short since 2016, but he put up Gold Glove calibre numbers at second base last season. In fact, he won the AL Gold Glove at second, and not a Jeter like Gold Glove, as Semien definitely deserved the award.
Could Bichette do the same? It's hard to say, but second base is the second easiest position on the infield and we've seen many people make the transition.
It unblocks prospects:
This is obviously thinking way ahead, but moving Bichette off short would "unblock" two of the Jays three top 100 players. Both Orelvis Martinez and Jordan Groshans are natural shortstops, and if the Jays believe they could be above average defensively, it may be worth moving Bichette to second.
However, both Orelvis and Jordan are projected to play third base as they continue to climb through the minors. I just wanted to make note of this.
Will the Jays do it:
To me, push has to come to shove. Bichette struggled at the start of last season, but as the season progressed, he made less errors. If that type of scenario happens again, I can see the team wanting him to stay.
However, if Bichette continues to struggle, I think it's only a matter of time until the Jays hand is forced and Bo makes the move to second. As I mentioned, Bichette is only 24-years-old. Some good defensive shortstops like Trevor Story, didn't break into the MLB until they were at least 23.
Either way, Bichette's bat is all-star level, and he still has room to grow defensively. The question is whether or not he'll be growing as a shortstop or second baseman. I think the latter is better for Bichette.
As always, you can follow me on Twitter @Brennan_L_D. Please don't yell at me.
---