It's time to stop blaming the umpires: A lesson in pitch framing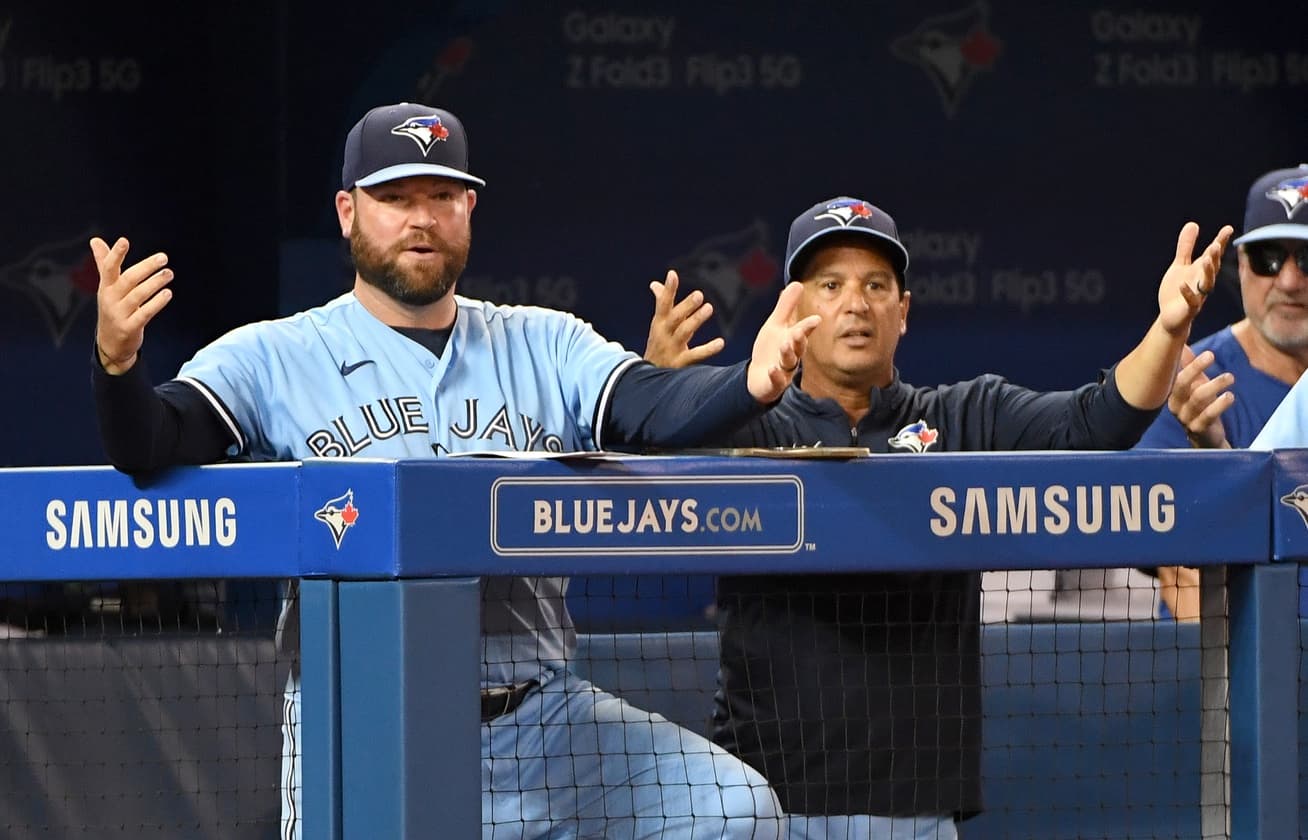 Photo credit:© Dan Hamilton-USA TODAY Sports
You may or may not like this article, but blaming the home plate umpire for a loss is not the way to go.
Don't get me wrong, some calls are pretty atrocious, but in reality, the Twitter account "Umpire Scorecards" is incredibly misleading. I've spoken about it before, but framing is a super important aspect of a catcher's game.
Why pitch framing:
Remember when everyone was mad at Kirk when a Robbie Ray wild pitch snuck by him with a runner on third? While blocking is easier in the traditional stance for catchers, I'd argue that framing is a lot more important. 
While the traditional stance would have been more useful in this scenario mentioned above, stealing strikes that are actually balls leads to more strikeouts and balls in play. As the game has moved away from the stolen base, we've also moved away from the need to throw out runners (which the traditional stance helps).
Every team is looking for a pitcher that strikeouts the batter, and pitch framing helps a lot in this regard.
The first seven games:

Thus far, there have been four different catchers that the opposing pitcher has pitched to. In the first game, it was Mitch Garver of the Rangers. Jonah Heim caught the last two games of that series. In the Yankees series, Kyle Higashioka caught the first three games with Jose Trevino catching the game on Thursday.
We'll use "Catcher Framing Runs" which essentially converts how many pitches in the "shadow zone" (or just outside the strike zone) were converted for strikes. Last season, Reese McGuire led the Blue Jays with a +4. Danny Jansen, who is an above-average defender, had a +1, while Alejandro Kirk had a -1 CRS.
Garver and Higashioka caught a combined four games and their Catcher Framing Runs both sat at +3, which is well above average. Trevino caught the game on Thursday, but last season he had a CRS of +8, which was tied for third-best last season.
Heim caught the last two games of the Rangers series, and he was even better than Trevino last season, posting a +9 CRS. That means that all four catchers that the Jays faced this season all steal strikes at a high clip.
Let's play a game:
Let's play a game as to
why
these umpires got this call wrong. First, we'll start with a "strike" against Vlad. Think about why this was called a strike.
While this was very obviously a ball, this pitch was called a strike because of where Higashioka's glove was when he caught the ball. He started low and met the ball at the knees, but due to his momentum, his glove stopped at the bottom of the zone. 
One reply noted the fact that he actually dropped his glove back low to retrieve the ball, but I think the recovery goes to show how good of a pitch framer Higashioka is. Let's play another one, but this time with a pitch received by Danny Jansen.
So why is this one considered a ball? Well for starters, I actually think it was a ball. The faded strike zone on broadcast isn't always correct, so using just that can be incorrect.
Furthermore, look where Jansen's glove starts. It's in the middle of the zone, and while the pitch was up high, it's likely that he and Cimber wanted the ball low. It doesn't help that Cimber misses the location on his pitch, which really hindered Jansen's opportunity to frame it
Here's a "strike" call that actually goes for the Jays. Kirk doesn't do much when he catches the ball, he slightly moves to his left and frames it perfectly. The strike zone overlay also doesn't account for movement of the pitch, which this fourseamer had a lot of.
This is definitely a ball, but Kirk did enough to get the call.
So what's the solution:
Despite the umpires not being great in any of the games that the Blue Jays have played in, it's not the reason for their losses. Either their pitching failed them (game three of the Rangers series) or their bats have gone cold. Neither of which are because of the umpire.
This isn't to say that the umps shouldn't be blameless. There have been times when the human error behind home plate impacts the game. Yes, catchers use framing to their advantage, but the MLB should make the switch to Robot Umpires as soon as possible. 
In fact, it's already being tested at some levels of the minor leagues. There'll still be a home plate umpire to relay the calls, but it takes most of the human error out of the game. It'll render pitch framing useless, but at least we can find other excuses as to why our beloved Blue Jays lost.
As always, you can follow me on Twitter @Brennan_L_D. I'll be doing another article about catching in a few days, so stay tuned!
---