It's time we Start Appreciating Reese McGuire
It's time we sit down and talk about Reese McGuire
Just a side note, I won't be making any jokes about the incident that happened pre-pandemic. They aren't funny. 
Before becoming a Jay
McGuire was drafted in the first round, with the 14th overall pick in the 2013 draft by the Pittsburgh Pirates. Drafted out of high school, the potential was evident in the Washington born catcher.
According to his pre-draft bio, defense was always Reese's speciality, as he excelled at calling games, receiving and blocking. Not just that, but he also had fantastic arm strength, which we can see to this date.
The one question surrounding the young player was his hitting. Here is the ending to his bio on Baseball America.
"Even if [McGuire] doesn't reach his offensive ceiling, McGuire's defense will allow him to be a big league back, but if he hits he has all-star potential."
Prior to the trade to the Jays, Reese was highly regarded as a prospect by both MLB Pipeline and Baseball America. Here is a table that shows his ranking between 2014-2016.
| | | |
| --- | --- | --- |
| Year | MLB Pipeline | Baseball America |
| 2014 | 7 | 8 |
| 2015 | 5 | 5 |
| 2016 | 5 | 6 |
On August 1st, 2016, the Blue Jays traded the struggling Drew Hutchison for McGuire, Francisco Liriano and fellow prospect, Harold Ramirez.
Reese's bat:
Despite Reese's bat being hot at certain points, he isn't known for being a hitter. It's important to realize that catchers aren't expected to produce, even if the Jays have Kirk and Moreno on the cusp of breaking out.
Let's run through why Reese's hot streaks have to be taken with a grain of salt.
Reese in 2017-2019
Sadly for Reese and Blue Jays fans, his bat never came around.
Reese started his first full season in the organization well in 2017. He slashed .278/.366/.861 with six homers for the New Hampshire Fisher Cats in only 136 plate appearances. Sadly, when he was promoted to the Triple A team in 2018, Reese hit a wall with a larger sample size. He slashed .233/.312/.641 with seven homers in 369 plate appearances.
Despite the poor season, he was called up to the Jays in late 2018, where he put on a show in his 33 plate appearances. The catcher slashed .290/.333/.914 with two homers, where he showed that
maybe
he could be a solid hitter, despite that small sample size.
In the 2019 season, he returned to Triple A with small improvements. He slashed .247/.316/.683 with one homer in 277 plate appearances. Again, he was called up to the MLB late in the season, where he had a larger sample size. He slashed .299/.346/.872 and added five homers in 104 plate appearances.
We saw glimpses of what could have been in terms of his bat, as he hit seven homers in his first 138 plate appearances in the bigs. The catcher also managed to slash .297/.343/.882 with an OPS+ of 133 during this time, which was unsustainable as we could see by his larger sample size in the minors.
2020s:
Then the incident hit. We all know what happened and we won't go into depth about it. However, it was evident that McGuire struggled for the first time at the major league level. He only slashed .073/.073/.220 in 45 plate appearances, before being sent to the alternate site.
Let's talk about what Reese excels at.
Reese McGuire behind the plate:
The traditional defensive metrics I use in my articles fly out the window. So despite a 2 DRS in 2021, despite the fact he threw out 11 runners or 35.5% of would be base stealers, put all of that aside. 
Recently, I spoke to a fellow Blue Jays community number on Twitter. He pointed me to Baseball Prospectus' catching statistics, as it uses better metrics. I'll also be using Baseball Savant, as it also has some useful advanced defensive metrics for catchers.
Baseball Prospectus loves him:
This metric is used by pulling play-by-play data and adjusting it with the number of plays made in comparison to others at his position. Read more here. 
Reese has a 5.8 in this statistic, which is the eleventh most with catchers catching over 8500 pitches. Compared to everyone else, Reese has faced the third least amount of pitches (8862), but his FRAA ranks higher than both Mike Zunino and Buster Posey, two great defensive catchers.
I can tell you that McGuire's CDA is 8.5, which again, ranks above Zunino and Posey. In fact, it ranked ninth in the league with catchers that caught over 8,500 pitches.
What about is framing:
One advanced stat for catchers that has really garnered a lot of attention in the past few years is framing. While this was always part of the game, Baseball Savant came out with the stat "Catcher Framing Runs" in 2015.
Per Baseball Savant: "CFR converts strikes to runs saved on a .125 run/strike basis, with the inclusion of park and pitcher adjustments". Another important part of CFR is that this applies to pitches that were in the "shadow zone" (off the plate, but near the edges) that were not swung at.
Reese received 1732 such pitches and converted 48.8% of them into strikes. This gave him a 4 CFR, which tied for 10th in the league with J.T Realmuto. If we contrast this to the other Blue Jays catchers that qualified, we can see that Reese surpasses both of them defensively.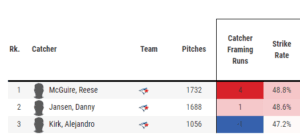 What we can see from this is that Jansen, who is also a pretty good defensive catcher in his own right, had his season hampered by injuries. Kirk, who I'll be writing about soon, isn't as bad as some people think (even in terms of his Baseball Prospectus stats).
Let's give Reese some love:
The way I see it, the Jays will likely carry all three catchers. Kirk is the best offensively, McGuire is the best defensively, and Jansen is right in the middle. Both Jansen and Kirk get a lot of love, but I think it's time we start to appreciate how good Reese McGuire is.
As always, you can follow me on Twitter @Brennan_L_D. If you don't follow me yet, please do, as I'm aiming for 500 by the all-star game.