Jose Berrios got lit up by the Royals … but at least the home run drought is over!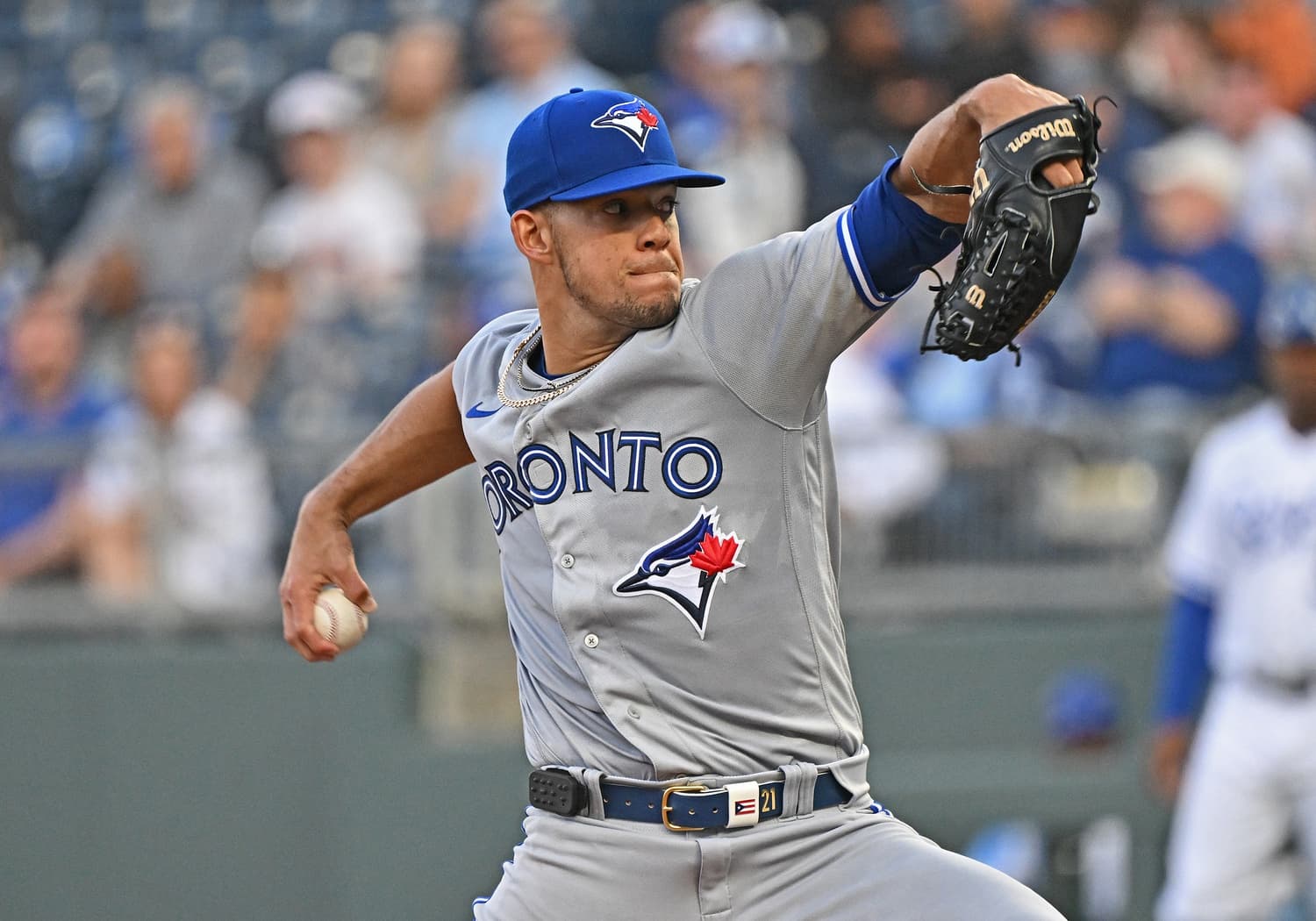 Photo credit:© Peter Aiken-USA TODAY Sports
One of the most anticipated debuts of the 2023 season was that of Jose Berrios, who's 2022 season appeared to be an outlier amongst the rest of his career. Would an offseason of work, tweaks, and film study pay off for the 28-year-old righty?
The answer for tonight, at least, was no. Although pitching far longer than his season debut last season, Berrios gave up more earned runs than that outing, giving up 8 earned on 9 hits over 5.2 innings of work on Monday night, as Toronto dropped the first of a four-game set in Kansas City 9-5. It is already the third time this season that the Jays have allowed nine runs in a game.
The Blue Jays were facing a far inferior lineup as opposed to what they were up against during opening weekend in St. Louis. They couldn't get anything going off of Royals starter Brady Singer, who was making his season debut tonight like Berrios. To make matters worse, Ryan Yarbrough saw action in tonight's game for Kansas City. We just can't avoid him.
Blue Jays Nation Player of the Game: Zach Pop
Sure, he allowed a 2-run homer to MJ Melendez in the 6th inning, but Pop had electric stuff tonight. Despite being given the final spot on the roster, Pop has already gotten a lot of work out of the bullpen for John Schneider.
His 7th inning was eye-popping (no pun intended), as his sinker and slider were working complementing each other like a young couple in love. His most impressive pitch of the night was this disgusting 87 mph slider to Michael Massey, striking him out on a pitch that nearly hit him.
Pop has been solid so far, owning a 2.70 ERA through 3.1 innings pitched.
Things worth mentioning
I won't bash Berrios for his outing too much, as I am, personally, still a believer in Jose. He had some quality stretches sandwiched in between his rough innings, as three of his frames were hitless. Unfortunately, he doesn't get any passes for that, as he allowed three runs in the first inning, and four in the fourth. Joe Siddall pointed out after the game that, while the Royals hit some good pitches, some of Berrios' pitches weren't getting low enough in the zone. Because of that, balls stayed up on the barrel plane, and the Royals turned them into loud contact – singles, doubles, and triples all included. Berrios did strike out seven, and I believe that there are positives to take into his next scheduled start in Anaheim.
Giving up nine runs is not easy to keep up with, but the Blue Jays had several opportunities with runners on the base paths. Toronto was 2-11 with RISP, including two instances in which they had the bases loaded. Unfortunately, they were only able to generate one run on each of those opportunities. They weren't very exciting either, as they came via a bases-loaded walk and an RBI GIDP.
Matt Chapman was my other choice for Player of the Game, and he certainly had an argument to win it. Albeit a small sample size, Chapman has continued to impress with his work at the plate. Chapman had another solid night tonight, going 2-for-3 with a walk and two loud doubles to right field, bringing his season average up to .533.
The Blue Jays finally hit their first home run of the season, as Bo Bichette connected on his first of the season in the 9th inning. For a minute, it looked like a fan may have interfered on the homer by reaching over the fence (remind anyone of 2015?), but upon review, the home run gods were with Toronto. Maybe that will kickstart the home run barrage.
It was the return to Kansas City for Whit Merrifield. Merrifield spent six and a half seasons in KC before being traded to Toronto in the middle of last season. Surprising to many, Merrifield was not in the lineup tonight, but it has been reported that he will be in the lineup for potentially the next several games.
The Blue Jays will seek to even things up tomorrow night, as Yusei Kikuchi makes his season debut against Kris Bubic.