Jose Berrios implodes as the Angels beat the Blue Jays 9-5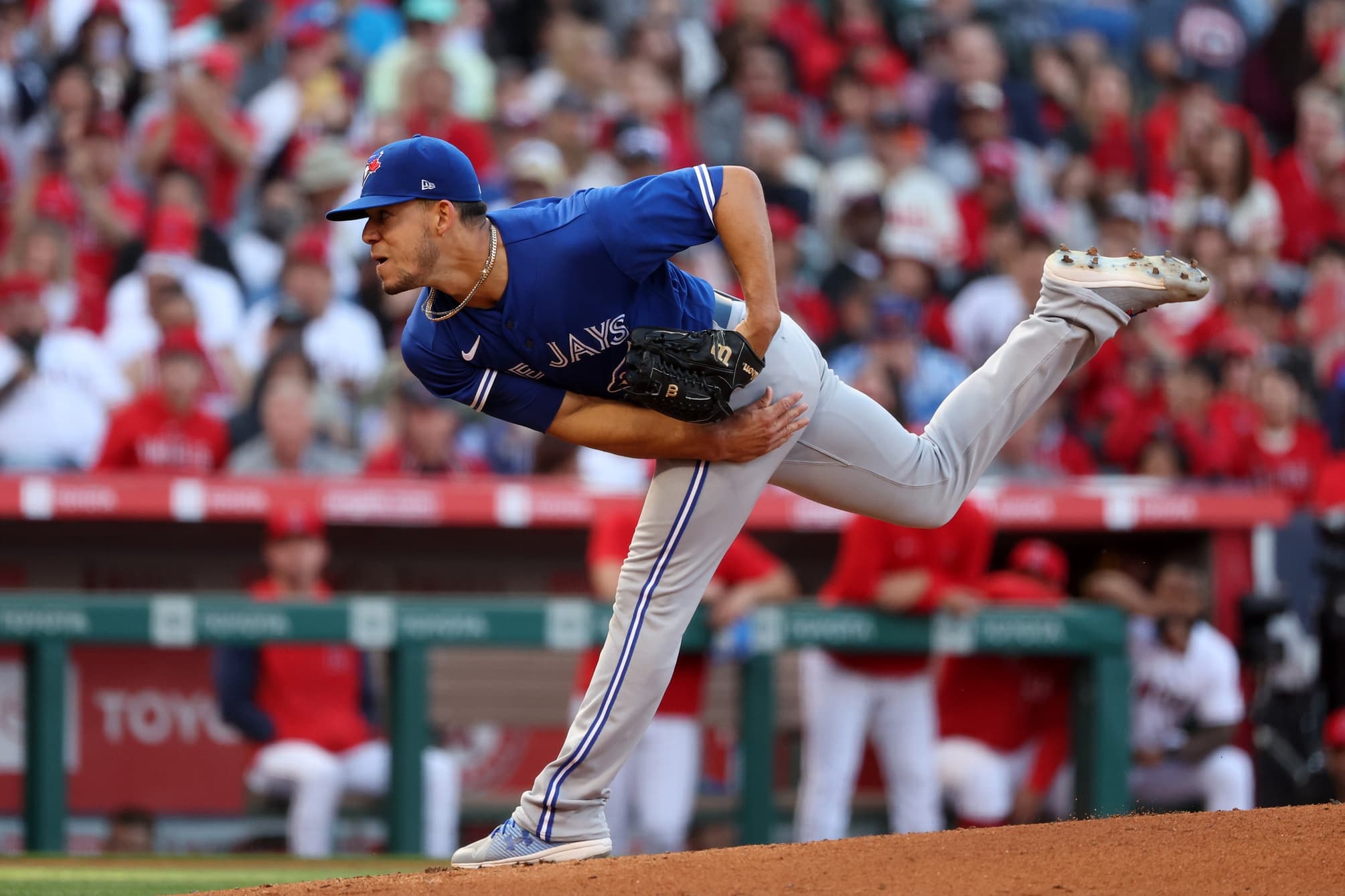 Photo credit:© Kiyoshi Mio-USA TODAY Sports
You know what you're going to get when you face the Angels: a steady dose of Mike Trout and Shohei Ohtani. With that, you're hoping not to let their "supporting cast" beat you. That was the formula that Toronto followed last night, but tonight was a different story. Hunter Renfroe and Luis Rengifo homered, as the Angels stole game two of the series with a 9-5 win over the Blue Jays on Saturday night.
Renfroe was 2-for-4 with three RBIs, as well as his first home run as a member of the Angels. Renfroe's home run almost certainly put the game out of reach, as it came in the 8th inning off of Anthony Bass, extending the Halos lead from two to four. Rengifo, who hit very well against the Blue Jays last year at Rogers Centre, went 1-for-3 with his first home run of the season as well.
Tonight's win for the Angels was the first time since 2021 that the home team won a game in a series between these two teams.
Blue Jays Nation's Player of the Game: Matt Chapman
Chapman has been so good for Toronto, and his numbers are placing him in the top five of many MLB statistical categories. Bo Bichette could've earned this honor from his 3-hit performance tonight, but since Chapman finally hit himself a home run, I'm going with him. Chapman went 2-for-4 with a double and 2 RBIs, as well as the aforementioned first home run of the season. This one was a no-doubter, as it sailed over the bullpen and into the left field seats. Chapman's double was his 7th of the season, which currently leads the majors.
Things worth mentioning
I may be beating the same drum on this series, but the right handed bats of the Blue Jays had to do some heavy lifting during this weekend given the fact that they were facing three left-handed pitchers. While last night warranted just one big hit to secure the win, Toronto got a handful of homers tonight from the top of their order against Tyler Anderson. The Blue Jays struck first on the scoreboard in the third inning, as a pair of two-run home runs from Chapman and Bichette quickly gave them a 4-0 lead.
George Springer homered in the 5th inning, a solo shot that, like Chapman, was his first home run of the season. I mentioned during last night's recap that both Springer and Chapman nearly missed home runs on Friday night, so it was good to see the home run gods work in their favor tonight. Between Springer, Bichette, Vladimir Guerrero Jr., and Chapman, they accounted for 10 hits, 5 runs, and 5 RBIs.
If you're asking yourself, "Wasn't that the entire Blue Jays offense tonight?" you'd be correct. While the Angels got some help from their role players, Toronto got almost nothing from spots 5 through 9 in their lineup tonight. That group combined to go 0-for-18 with a couple of walks.
Despite a nice start, it ended up being another relatively rough go of it for Jose Berrios. Berrios faced the minimum through the first two innings, but after giving up an unearned run in the third inning, things started going off the rails. His 4th inning started off walk-double-RBI groundout-RBI double, and the 4-1 lead he had entering the inning was now 4-3.
Springer's home run gave Berrios a little more cushion, but that was eliminated in the bottom half of the frame, as Rengifo's home run gave that run right back. A throwing error from Berrios put Matt Thaiss on base, and he was pulled from the game after he allowed a single to Taylor Ward one batter later. It was then Adam Cimber's turn to clean up the mess on the base paths, but Trout put the Angels in front with a three-run home run.
Berrios' final line was 4+ IP, 6 H, 4 ER, 1 BB, and 5 K's. He's already 0-2 on the season, and it'll be back to the drawing board for him as his next start is scheduled for the currently undefeated Tampa Bay Rays.
The rubber match of this series will take place tomorrow afternoon, as Yusei Kikuchi gets his second start of the season. Kikuchi will be opposed by Reid Detmers, who pitched 5 and 1/3 shutout innings last August in Toronto.
---