José Berríos has returned to his pre-2022 form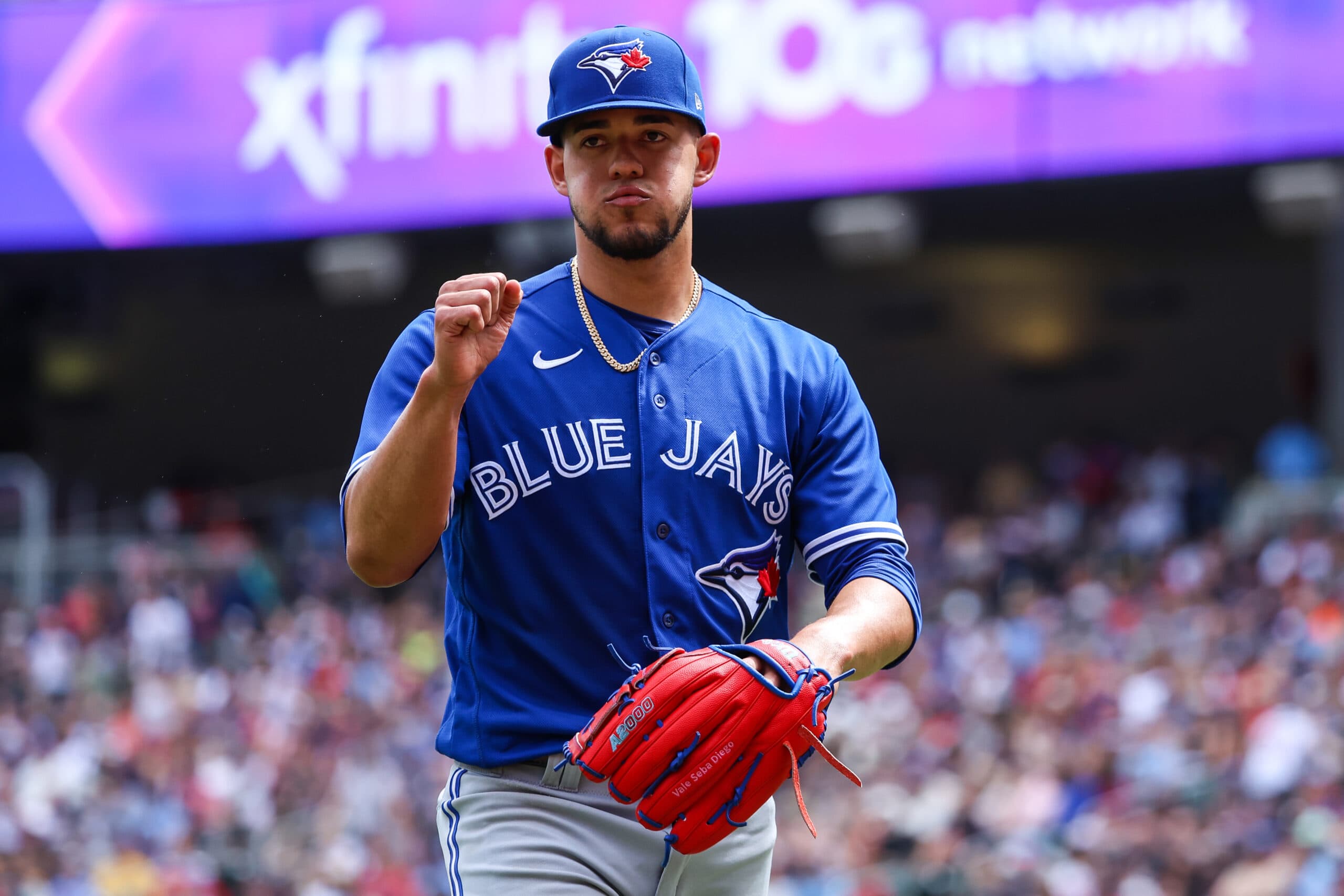 Photo credit:Matt Krohn-USA TODAY Sports
José Berríos is officially back. Or so it appears based on an impressive nine-game stretch, where he has looked precisely like the pitcher who the Toronto Blue Jays inked to a seven-year, $131-million contract following the 2021 season.
The 29-year-old has performed to a 5-2 record, posting a 2.59 ERA and 3.91 FIP with a 15.2 per cent strikeout-to-walk rate difference (K-BB%) across 55.2 innings since Apr. 14 – including a four-hit shutout during his most recent start versus his former team, the Minnesota Twins. And the encouraging results don't stop there.
Inducing weak grounders has been one of Berríos' biggest strengths during this span, as he features a 28.4 per cent hard-hit rate against and a 47.7 per cent ground-ball rate. Thus, opponents are hitting just .234 AVG and .282 BABIP against him over the last month-and-a-half.
Home runs have been prominent at times, which has seen the Blue Jays right-hander surrender one round-tripper or more in five of his previous nine starts. Even so, his 2.59 ERA still ranks
13th lowest in the majors
among 75 qualified starting pitchers. He also ranks second in hard-hit rate and tied for 13th in ground-ball rate.
If you didn't follow this team regularly, you likely wouldn't have realized Berríos endured a miserable start to his 2023 campaign, allowing 14 runs – 12 earned – on 15 hits (one home run) and three walks over his first two outings against the Kansas City Royals and Los Angeles Angels.
Berríos got hit hard, as 16 of his 31 batted ball events were put in play at 95 m.p.h. or harder, resulting in a 51.6 per cent hard-hit rate against. Since he also possessed a concerning line-drive rate (25.8 per cent), those two factors were a disastrous recipe. So, too, was his inability to command the strike zone, evidenced by his zone (37.5 per cent) and first-pitch-strike percentages (54.3 per cent).
Both figures have been trending in more favourable directions lately, leading to a 40.6 per cent zone% and a 61.6 per cent F-Strike%. Aside from his last start, where he walked five – two of which should've resulted in called strikeouts, though – the veteran righty has been able to limit the free passes, issuing two walks or fewer in seven of his previous nine starts.
By throwing more strikes, Berríos has been pitching deeper into games, completing at least five innings in all nine starts since Apr. 14, including a trio of outings where he exited after the seventh. If this extended run of success feels somewhat unprecedented, that's probably because it has been a while since we've witnessed a quality sample size like this from him.
The two-time All-Star, who registered the highest ERA (5.23) and second-highest xERA (5.11) among qualified starters last season, never reached the five-inning threshold in more than six consecutive starts in Year 2 with Toronto. And yet, he has already surpassed that streak in 2023.
Providing length has historically been Berríos' calling card – well, that and consistency – which he displayed upon being traded to the Blue Jays in 2021, tossing five innings or more in 10 of his 12 post-trade starts. He was also just as effective at reaching that mark with the Twins, doing so in 79 per cent of his outings from 2016-20.
One area that has helped Berríos return to his pre-2022 form has been the development of his changeup, a pitch that has become essential like never before. Previously, he mainly utilized it against lefties but never seemed to unlock its full potential. Until now, that is.
This season, the former Twin has reduced his changeup's average velocity (82.6 m.p.h.) by nearly 2 m.p.h., creating additional separation between his mid-90s fastballs. That adjustment has added more vertical break to his off-speed weapon, increasing its average movements from 33.9 inches in 2022 to 36.0 in '23.
Additionally, Berríos has also lowered his changeup's average spin rate (1,425) by almost 100 RPMs, giving it a more effective downward shape versus its previous iterations.
The traditional metrics aren't sparkling, but if you look under the hood, you'll be amazed by its 35.2 per cent whiff rate, good for
fifth among 32 qualified pitchers
. For those wondering about Trevor Richards, his changeup owns the second-highest whiff rate (48.7 per cent) behind Shane McClanahan (52.3 per cent).
Berríos' off-speed pitch, meanwhile, also sits fifth in hard-hit rate (16.7 per cent) and seventh in strikeout rate (31.0 per cent), putting it on par with his wipeout slurve as his premier swing-and-miss offerings. Thanks to its pinpoint location, finishing in the bottom quadrants of the strike zone, it has proven effective against both righties and lefties.
But as much as Berríos' resurgence is tied to his changeup, he wouldn't be performing at this level without the adjustments made to his two-seamer/sinker. While its mechanics and pitch properties have remained unchanged, it doesn't feature the same attack zones from 2022, increasing his output of glove-side fastballs this season.
With 16 inches of horizontal break, the 6-foot righty is throwing significantly more front-door sinkers to lefties and back-door ones to righties, utilizing movement and velocity to keep them off balance. That approach has also helped him avoid the heart of the plate.
As a result, opponents are hitting .232 AVG, .420 SLG and .351 wOBA over 81 plate appearances against his sinker, producing a 58.9 per cent ground-ball rate – the highest of his career since 2016 (62.3 per cent).
Source: Baseball Savant
Prior to this season, though, Berríos primarily located his sinker on the opposite side of the plate, with almost all of his heaters finishing arm side. But that made him far too predictable in 2022, as most batters could single out one specific quadrant of the strike zone.
It also didn't help that many of these pitches missed over the middle, with opponents mashing .317 AVG, .452 SLG and .374 wOBA in 207 plate appearances against it. They also generated tons of hard contact, leading to a 42.0 per cent hard-hit rate against, 15.2 per cent higher than this season's clip.
Source: Baseball Savant
It seems Berríos didn't feel quite comfortable with his changeup or sinker early on, as both their pitch usages took a backseat to his slurve and four-seamer's over his first few starts. But a shift started in mid-April, leading to increased confidence in his sinking fastball and reduced in his primary one.
That scale, of course, wavered back and forth briefly until his four-seamer – which has produced a 57.8 per cent hard-hit rate against this season – was ultimately relegated to his fourth-most utilized pitch in May. And rightly so.
Reducing the frequency of his four-seamer has not only made Berríos more effective, but it has also afforded him the ability to equally rely on his top three weapons (slurve, sinker, changeup) – a skill he displayed last time out, as he threw each of those 26 times.
Source: Baseball Savant
Making any grand affirmations this early into the season always comes with some level of risk, and this time is no different with Berríos. But nine starts is a fairly large sample size, one that has seen the talented righty produce similar results that placed him among baseball's most consistent pitchers prior to last season.
As long as he maintains the process that got him here, there is no reason to suggest he can't sustain a sub-four ERA – or even a sub-three – through the remainder of the season. He has already been worth more (1.2 fWAR) in 11 starts this season than he was over 32 games (1.1) a year ago. If that doesn't signal progress, you'll be hard-pressed to find something that does.
The Blue Jays have also needed every ounce of success from Berríos thus far amid Alek Manoah's season-long woes, plus Chris Bassitt and Yusei Kikuchi's recent struggles. So, despite a rocky start in early April, the $131-million hurler has quickly emerged as one of the club's most reliable starters – an outcome not many could've predicted coming out of spring training.
Berríos might be aligned as Toronto's No. 4 starter, but if this team is to claw its way back from the basement of a juggernaut AL East Division, he must remain a vital piece of the starting rotation moving forward.
---