Keep or Walk: Brandon Belt, the MVP of the Blue Jays, is contemplating retirement this winter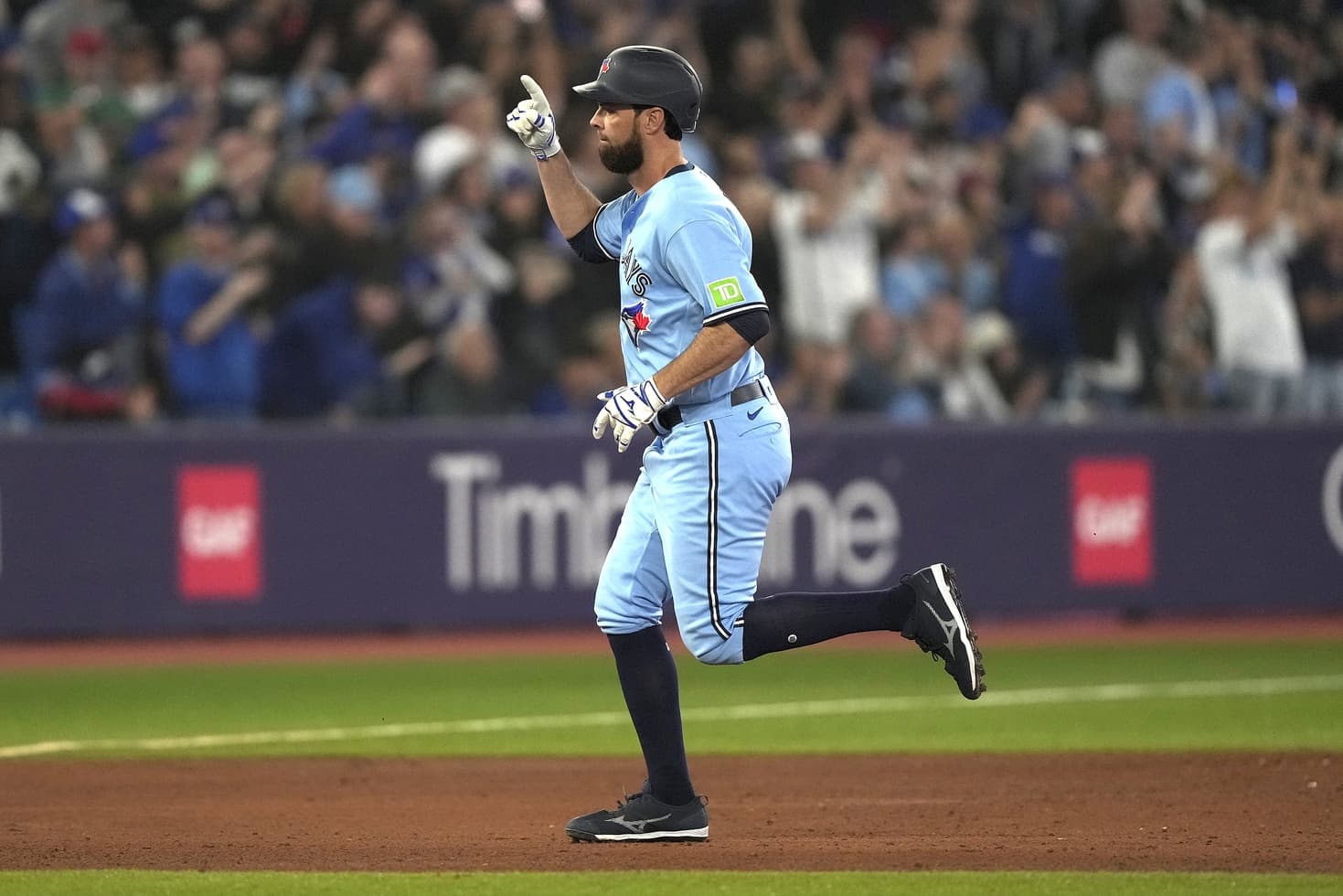 Photo credit:© John E. Sokolowski-USA TODAY Sports
For the first time in his 13-year career, Brandon Belt concluded an MLB season with a team other than the San Francisco Giants. Belt signed a one-year, $9.3 million deal with the Blue Jays before the 2023 season, serving as the team's backup first baseman and primary designated hitter.
John Schneider started Belt out in the sixth spot for Opening Day against the Cardinals, and he quickly drew some scrutiny after batting .154 with 19 strikeouts through his first eleven games. However, Belt promptly became one of Toronto's best power hitters, which may not be saying too much relative to the rest of the team, but nonetheless, Belt was proving his value to the Blue Jays amidst a season of underwhelming offensive performances.
We'll dig into the stats below as we explore the pros and cons of re-signing Belt or letting him walk. Still, it's important to note that Belt contemplated retirement multiple times this season, most recently following Toronto's ALWC loss to the Minnesota Twins.
The case to keep Belt
For the 2023 season, Belt slashed .254/.369/.490 with an .858 OPS, 19 home runs, and 43 RBIs. For any hitter on Toronto's roster to play a minimum of 100 games, Belt was only one of two players to have an OPS over .800 (Bo Bichette being the other), and the .858 number in fact led the team.
Belt underwent knee surgery at the conclusion of the 2022 season, so there were some questions as to how close to 100% Belt would be for 2023. Belt clearly showed there was still something left in the tank, as his 19 homers are the second-most in his career for a single season. Furthermore, his OBP was the fourth-highest of his career, reflected heavily by his 15.1% walk rate.
Re-signing Belt at this juncture in his career would probably require a deal similar to the one the Blue Jays got him for last year. With that being said, it would be a very team-friendly deal. Also, it's hard to find a substitute for experience, and that's exactly what Belt has given he has been a part of two World Series teams.
Finally, at least from the fan's eye, Belt was a well-respected veteran in the clubhouse. Even Vladimir Guerrero Jr. said during a May game against the Baltimore Orioles while mic'd up, "I've played with three veterans who have been amazing – [Brandon] Belt, Freddy Galvis, and Justin Smoak. Wow." Belt would sarcastically refer to himself as the team's MVP, receiving several "MVP!" chants in the dugout after a home run.
The case to let Belt walk
Much like Hyun-Jin Ryu, Belt is in the latter stages of his career. The 35-year-old Nacogdoches, TX native spent two stints on the IL this season for hamstring and back injuries, which won't jive with Toronto's apparent trend to not re-sign players in their mid-to-late 30s.
The biggest reason that the Blue Jays will probably look beyond Belt (outside of his potential retirement) is that, despite a shallow free-agent class, there are multiple DH options that Toronto should be pursuing heavily. Shohei Ohtani is in a league of his own, but there are also players like Joc Pederson, Cody Bellinger, Jorge Soler, Teoscar Hernandez, or maybe even Justin Turner that the Blue Jays could show interest in.
Beyond that, the Blue Jays also have a handful of internal options that they'd like to give more at-bats in 2024. Spencer Horwitz played well during a stretch when Belt was injured in September and Davis Schneider might not have a pathway to full-time usage at second base.
The verdict
If you ask me, getting Belt for $9 million this year was worth it. Unfortunately, looking at the team as a whole, he was one of their more valuable hitters, which speaks more to the rest of the offence. There aren't a whole lot of glaring red flags that tell the Blue Jays not to re-sign Belt, but I believe that the one-year deal was enough, and there are better options going forward.
---