Kevin Gausman is putting together amazing results despite some terrible luck
Photo credit:Rick Osentoski-USA TODAY Sports
The life of a major-league pitcher can become very frustrating at times, especially with so many uncontrollable factors at play. It can often be lonely when things aren't going right.
To be successful at the highest level, being lucky is sometimes just as important as featuring enough talent. Those two traits often go hand-in-hand. But for starter Kevin Gausman, very few bounces have gone his way during his inaugural campaign with the Toronto Blue Jays.
Gausman, who signed a five-year, $110-million contract last off-season, has been a valuable addition to the club's starting rotation this season. Though, that's largely been forgotten as the 31-year-old has easily been one of the unluckiest pitchers in the sport, leading to a handful of uncharacteristically poor starts.
The right-hander has allowed two runs or fewer in 15 of his 21 starts in 2022. However, he's surrendered at least seven hits and four runs in three separate outings. There have been times when he's looked unhittable, but there have also been others where he's struggled to limit contact. What's more frustrating is the majority of this damage has been out of his control.
This season, opponents are hitting .268 off Gausman – that's the worst OPP AVG of his career since 2019 (.273). The 6'2″ hurler also carries a career-worst .367 BABIP, good for
second-highest among big-league starters
, with only Washington's Patrick Corbin (.384) placing higher.
One of the main reasons that Gausman is allowing significantly more hits is because of Toronto's defensive positioning. No other team has ever shifted more for him than the Blue Jays have, particularly against right-handed batters, who've encountered three infielders on the left side of the diamond at 42.0 per cent. A season ago, while with the San Francisco Giants, that percentage was down to 4.4 per cent.
The biggest flaw regarding this defensive strategy, though, is that the former fourth overall selection in 2012 has allowed plenty of balls in play to the right side versus righties. And with three fielders on the left side, several hits that could've led to outs have been directed to the opposite field.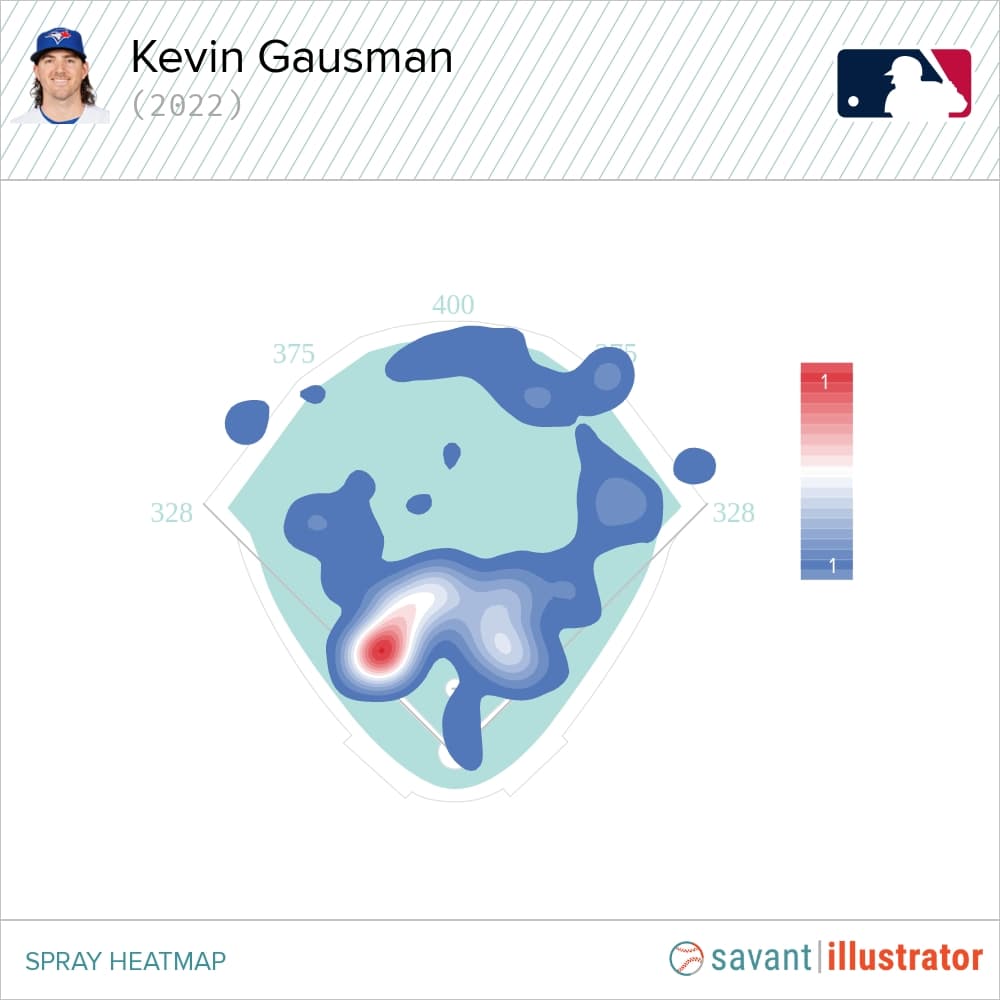 Granted, the Blue Jays have since corrected their early-season mistake and are now playing much more straight up behind Gausman. Though, that hasn't exactly fixed the problem as the veteran righty holds a .372 BABIP over his last six starts.
Additional defensive adjustments are needed to help Gausman perform at his full potential down the stretch. That much is clear. Because when he's at his best, the explosive hurler can dominate any opponent on the mound, just as he's displayed this month.
In two starts, the 2021 NL All-Star hasn't surrendered a single run, giving up just seven hits and one walk while striking out 15 batters, earning himself an AL Player of the Week honour for Aug. 1-7.
Due to Gausman's poor batted-ball luck, some of his inflated traditional metrics appear much worse than they actually are. In reality, he's been one of the game's premier pitchers. For example, his ERA (2.91), which currently sits 0.10 points higher than last year's (2.81), is 0.92 points higher than his FIP (1.98). That's a difference of 0.92 points – the second-largest difference among qualified starters.
Not to mention, the Centennial, Colorado native owns the best FIP and FIP- (48) among all major-league starters this season. He also possesses the third-best xFIP (2.78), and his ERA would likely rank near the top of the leaderboard if not for his unluckiness.
This is exactly why advanced metrics hold enormous value in today's world. They show you something that might escape your eyes while watching Gausman pitch. Just because he's struggling to limit base hits doesn't mean he isn't delivering on his high expectations. Gausman is doing both at the moment.
Even with his poor BABIP results, Gausman is enjoying a brilliant performance with the Blue Jays – one that's been arguably better than his breakout 2021 showing with the Giants.
Last season, the hard-throwing righty posted a 2.81 ERA, 3.00 FIP, 3.28 xFIP and a .208 OPP AVG across 192.0 innings. He possesses a slightly higher ERA and has allowed more hits to fall this season, although his FIP and xFIP are both significantly lower. Thus, proving his run prevention has been more effective.
You can also argue that Gausman has improved his ability to generate swings and misses. His strikeout (28.1 per cent) and whiff rates (29.7 per cent) haven't increased, however, they've only marginally declined while his chase rate (40.7 per cent) has skyrocketed to the 99th percentile. A season ago, it placed in the 92nd percentile.
Along those same lines, Toronto's front-line starter has also improved his walk rate, lowering it from 6.5 per cent in 2021 to 4.1 per cent in '22. As a result, he's increased the difference between his strikeout and walk rates, climbing to 24.0 per cent, which is the fifth-highest percentage among qualified big-league starters.
Another category where Gausman has excelled involves his value. He's been one of the most – if not the most – meaningful Blue Jays pitchers, currently leading the club with a 4.4 fWAR rating. That's also tied for the highest in the majors. At this rate, with two months remaining, he's on pace to surpass his career-best rating of 4.8 from last season.
And yet, almost no one considers Gausman to be in contention for this year's AL Cy Young Award. His teammate, Alek Manoah, probably has a much better chance to be one of the three finalists, with Houston's Justin Verlander currently viewed as the favourite.
The Louisiana State standout's metrics, however, are a perfect example of why he deserves to at least be in the Cy Young conversation. Unless his luck improves, though, chances are that likely isn't going to happen. Nevertheless, he should be recognized internally for his strong efforts.
In a season where the Blue Jays haven't received enough quality production from their starting pitching, more often than not, Gausman has provided his team with an opportunity to compete even when luck hasn't been on his side.
---