Left-hander Ian Churchill is finding his way to High-A Vancouver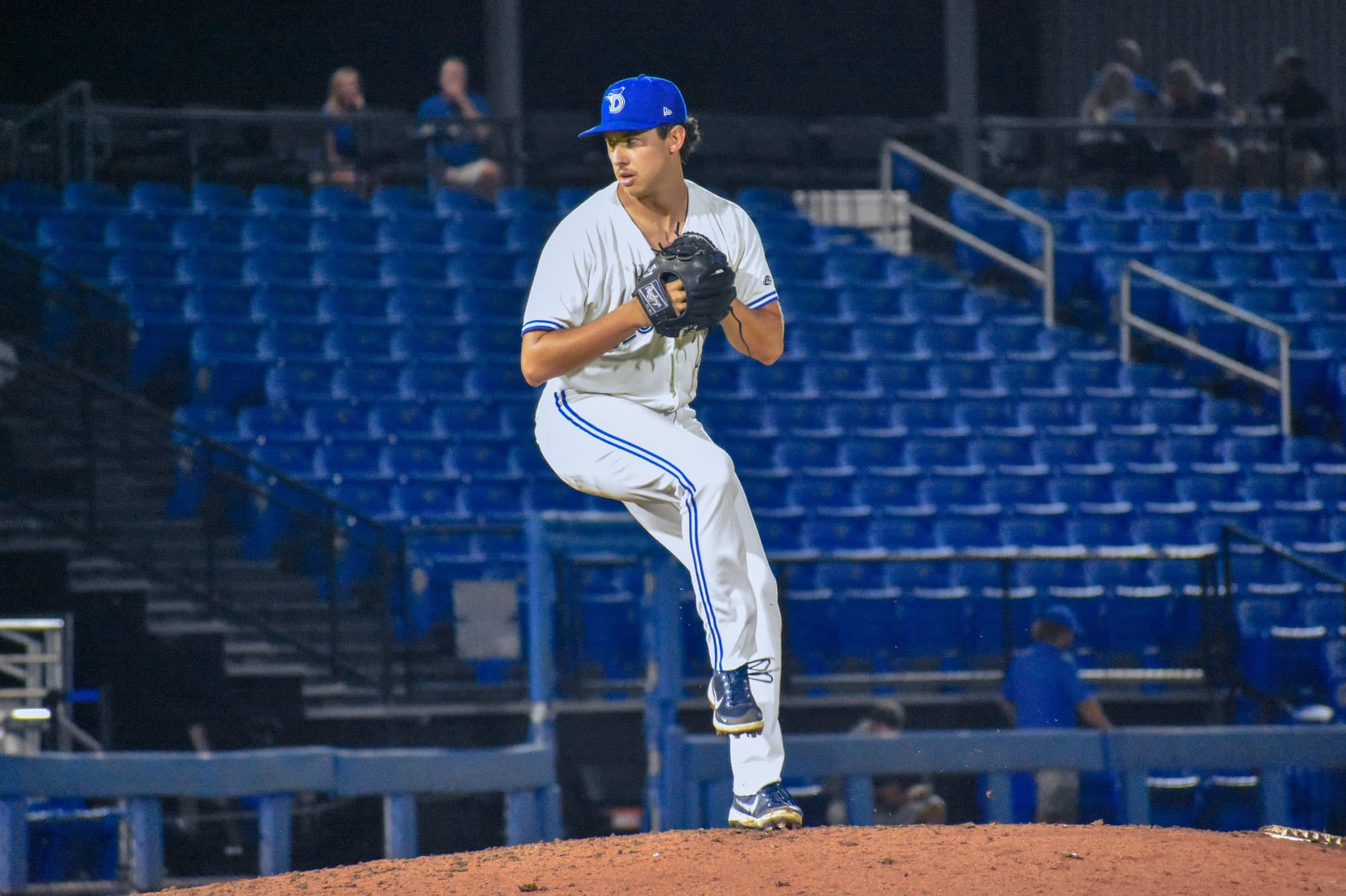 Every year, there are always standouts from the MLB Draft, with some players transitioning from prep or college baseball with the slightest of ease into professional baseball, usually starting in either Rookie League or A-affiliated baseball. For the Blue Jays, reliever
Ian Churchill
is one player taking advantage of the opportunity.
Drafted by the Jays in the 10th round last season, Churchill went down to Single-A Dunedin shortly after and did well to finish the season, posting a 0.75 ERA while allowing just one earned run while striking out 18 through 12 innings of work. In his
first week with the club
, Churchill was part of a combined no-hitter, closing out the ninth inning in spectacular fashion.
Picking up right where he left off, the University of San Diego alum is once again off to a hot start this season, similar to how the 24-year-old finished last year. Back in Dunedin, Churchill has amassed a 1.33 ERA through 16 games, including finishing nine games for the Jays while racking up two saves in the process.
Blue Jays prospect Ian Churchill earns a promotion to High-A Vancouver
Speaking to Blue Jays Nation, Churchill discussed his season so far down in Single-A, "I think things are going really well. I have been working on some stuff over the winter and through the season and I have had some good outings but also some rough outings, riding that rollercoaster. Being in Dunedin and getting to know the team and building that chemistry is really cool and we really push ourselves every day."
The California product did not give up a run until his eighth outing of the year, allowing just six hits through 9 1/3 innings of work. Churchill would follow that effort with a season-high two earned runs the following outing but since May 12th, the southpaw has not allowed another run to cross the plate, holding opponents to just a .094 batting average with a minuscule .167 BABip. With just three hits and three walks through his last seven outings, Churchill has struck out 14 batters while throwing at a 61% strike rate.
"I took what I did last season and kept the same mentality on the mound. I keep competing and keep wanting to win, and I am always working on things but my main goal is always just to make sure I am getting the batters out. Our team (the Blue Jays) really challenged ourselves inside the clubhouse in Dunedin and we really supported each other both on and off the field to accomplish our goals within the organization. The atmosphere is fantastic inside that clubhouse."
On the season, Churchill has amassed a 1.33 ERA and has been one of the most effective relief pitchers on the Blue Jays squad while being tied for first place in appearances at 16. He currently sits second on the squad in K/9 (12.4) and H/9 (4.9). With such a strong performance, the organization recently promoted the left-hander to High-A Vancouver, with the relief pitcher currently with the squad but having yet to appear in a game.
"We were playing in Bradenton and my pitching coach brought me into the manager's office and congratulated me and told me I was heading up to Vancouver. I went back on the bus back to Dunedin and flew out the next day to Everett, where they were playing the AquaSox and I got to meet the team after flying across the country. I actually just got into Vancouver today (Monday) and I really love the city and everything about it so far."
Working with a mid-90s sinker, a slider, and a changeup in his arsenal, the left-hander has a good mix and a deceptive yet repeatable delivery that keeps hitters guessing in the batter's box, regardless of which pitch he throws. With his ability to strike out opposing hitters as well as generate weak contact to keep batters off the base paths, it was only a matter of time before Churchill got the call to head to the Pacific Northwest.
"I just want to keep going and just keep feeling good. It means a lot to me to move up to the next level and it feels good to accomplish this next step. I am going to keep pitching one game at a time and keep getting better bit by bit. I think I can really surprise some people by the end of this season, including myself."
---