Let's take a moment to appreciate Marcus Semien's season, which was one of the best in Blue Jays history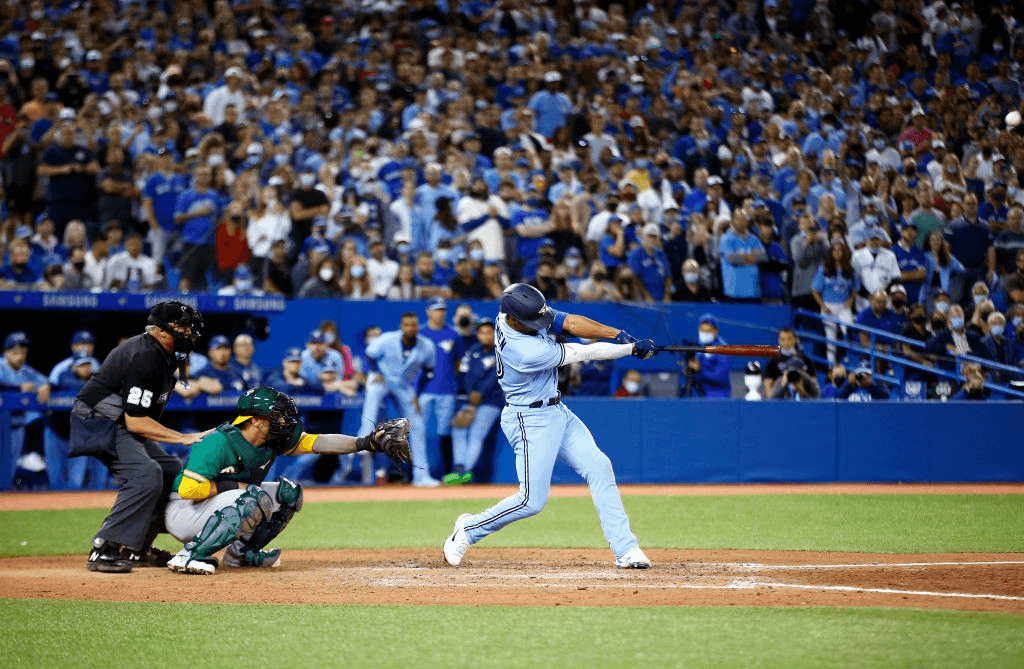 Marcus Semien is a shortstop. Yes he played all season at second base, but that doesn't take away from the fact he spent the previous 6 seasons playing short. This is not a bad thing, in fact, it's a testament to how insane Marcus Semien was this past season.
18 million without giving up a pick has never looked so good. The phrases "Semien was good this season" or "Semien will get paid" are both understatements. While I won't speculate on the figures he'll make this upcoming off-season, I feel the need to write about just how damn good he was. Yes, even better than Vlad or Ray.
Slash line:
I like using slash lines as it's a good basic statistic to use. If you look at Semien's, it doesn't particularly stand out. If I said a .265/.334/.873 player should receive MVP votes, you may look at me and say "why?". To that, I say, the stats, while a nice tool, doesn't actually show how valuable the player is.
It's the same as basic statistics for defensive play like fielding percentage. It looks great on paper, but it can be incredibly misleading. However, there is one basic stat that when you look at it, you truly can tell how remarkable Semien's season was.
Home runs > Small ball:
In an article about Charlie Montoyo, I complained about bunting for an entire section of the article. In this section, I will do the same, just this time I'll be complaining about how small ball is dumb.
Regardless of what someone tells you, having nine homer un hitters bat in a row will win you games. There is a term in baseball called the four true outcomes. If you don't watch the videos below, a four true outcome is when a batter either strikes out, walks, gets hit by a pitch or hits a dinger.
Baseball has changed, rarely do you ever see a successful team practice small ball as a game plan. Long are the days where the lead-off batter walks and steals second. Long are the days sacrifice an out by bunting him to third. Long are the days of the balls staying in the park for a sacrifice fly.
Home runs are a quick way to score runs. That walk may still happen, but what if the next batter just goes deep? In that case, you now have two runs (instead of run) with no outs (instead of two). Yes he may strike out, yes he may ground into a double play, but it's better than decreasing your chances of scoring a run. 
Yes, bunting literally decreases your chances of scoring. In these charts, having a runner on first with no outs gives you a run expectancy of 0.86. Sac Bunting puts a runner on second, but with that, the run expectancy drops to 0.66. You see a clear trend as the second chart shows bunting 2nd to 3rd with no outs and bunting runners from 1st and 2nd over to 3rd.
Most home runs by a second baseman:
So I just complained about how bunting is bad and how home runs are the way to go. That section didn't mention Marcus Semien, but I wanted to illustrate how inept sacrifice bunting is. Home runs are simple to understand, but incredibly useful. Marcus Semien broke the MLB record for home runs by a second baseman.
You may say "wow, that's not impressive as second basemen aren't usually power hitters, I'd be more impressed if he even came close to the record by shortstops."
Well, my dear reader, he did.
I'll list you two players, Alex Rodriguez and Ernie Banks. One is in the hall of fame and the other would be in the hall of fame if he didn't decide to use steroids. Despite playing 2B all season, Marcus Semien is a shortstop. Since 2014, he had played second a total amount of 0 innings.  His 45 home runs is the highest number ever by a second baseman, but like I said, Semien is actually a natural shortstop that moved to an easier position.
Want to know where 45 home runs would rank amongst shortstops? Tied for fifth. The record holder currently belongs to Alex Rodriguez who had 57 in 2002. In the year previous, he hit 52 and in 2003, he hit 47. With that being said, he was playing for Texas at the time where he admitted to taking steroids starting in 2001. Should I include this? That's up to you. While Alex Rodriguez cheated, it is important to keep in mind that we are all human beings and we all make mistakes.
It's debatable if A-Rod's record should count, but there was no doubt about Ernie Banks' 47 home runs in 1958. One trick pony? Absolutely not. There was only one season between 1955-1959 where Banks didn't register at least 43 home runs. Excluding the years that Alex Rodriguez cheated between 2001-2003, Ernie Banks would have the top four most home runs for a shortstop.
Ernie Banks is one of the men that helped break the colour barrier. In fact, he was the first Chicago Cub of African American descent, the same team that Marcus Semien was drafted by. Before playing for the Cubs, Banks played for the Kansas City Monarchs of the NAL in 1951 and 1953. Semien, who is very active promoting the sport for people of colour in the Bay area where he was born, has made multiple trips to the NL baseball museum. It is only fitting that Semien would be the only player to post home run numbers like Ernie Banks.
Gold Gloves, deserved or underserved:
It is my belief that defense in all forms of sports is incredibly underrated. Yes, a highlight catch will make a fan's jaw drop, but I rarely find people talking about consistent defenders. Semien had a historical offensive season, but how well did Marcus Semien play at second base?
The simple answer is he'll win the Gold Glove.
Underserved Gold Gloves:
Now, if you follow me on Twitter, you know I despise the argument that a Gold Glove is a metric for someone's defensive abilities. I'll rag on another New York Yankee in Derek Jeter as an example.
Without a doubt in my mind, he's a first-ballot Hall of Famer. I also think he shouldn't have been nearly unanimous. For as good as he was with the bat, especially in clutch situations, Derek Jeter was one of the worst defensive players for a shortstop.
Defensive Runs Saved is a metric I've written about quite a lot. Errors and fielding percentage tell you how often a defender flubs up a play they engage in. However, in no way is it a good defensive metric. It doesn't account for many other factors such as range, footwork or how slow a player throws. Ultimate Zone Rating is another metric that measures range and errors.
Derek Jeter has five gold gloves, they were won in 2004, 2005, 2006, 2009, and 2010. His DRS/UZR in those years?
2004: -13 DRS, -0.8 UZR
2005: – 27 DRS, -15.0 UZR
2006: -16 DRS, -7.3 UZR
2009: 3 DRS, 6.8 UZR
2010: -5 DRS, -6.7 UZR
Want to know a fun fact? Since advanced fielding metrics were introduced in 2002, Jeter only registered one season with a positive DRS and UZR (2009), and even then that shouldn't have won him a Gold Glove. As good as Jeter was with the bat and in the playoffs, he was one of the worst fielders in the history of the sport as he had a
-162 DRS and -66.1 UZR.
I can go off on this for another 1,000 words, but you came here for Semien.
Semien Deserves a Gold Glove:
So now you know why I hate "Gold Gloves are a good metric of good defense", but you may think I'd be contradicting myself by saying Marcus deserves a Gold Glove. So let's take a gander at the same metrics used to describe Derek Jeter's defense.
In terms of Defensive Runs Saved, Marcus Semien saved 11 runs at second base. In comparison to the rest of the MLB, this would rank third (with the two ahead of him also playing in the American League.) Semien also registered an Ultimate Zone Rating of 6.3, the highest in the MLB. His Revised Zone Rating, which is a percentage of opportunities for an out converted, was .780%, third highest in the MLB and highest for the American League.
So on top of one of the best hitting seasons for a middle infielder, Semien also provided the Blue Jays with a fantastic defensive season.
Whatever happens, Semien was a fantastic pick up:
I can't sit here and write that come the start of Spring Training 2022 that Semien will be a Blue Jay. He'll command a lot of money and it's possible the Jays look elsewhere. With that being said, Semien made 18 million on a one year deal and it was by far the most deserved 18 million anyone has ever made.
If he signs elsewhere, instead of remembering what could have been had the Jays made the playoffs, remember how awesome Marcus Semien was for this team.
As always, follow me on Twitter @Brennan_L_D. I have a plethora of articles coming up in the next few weeks, so stay tuned!