Looking at how the Blue Jays value versatility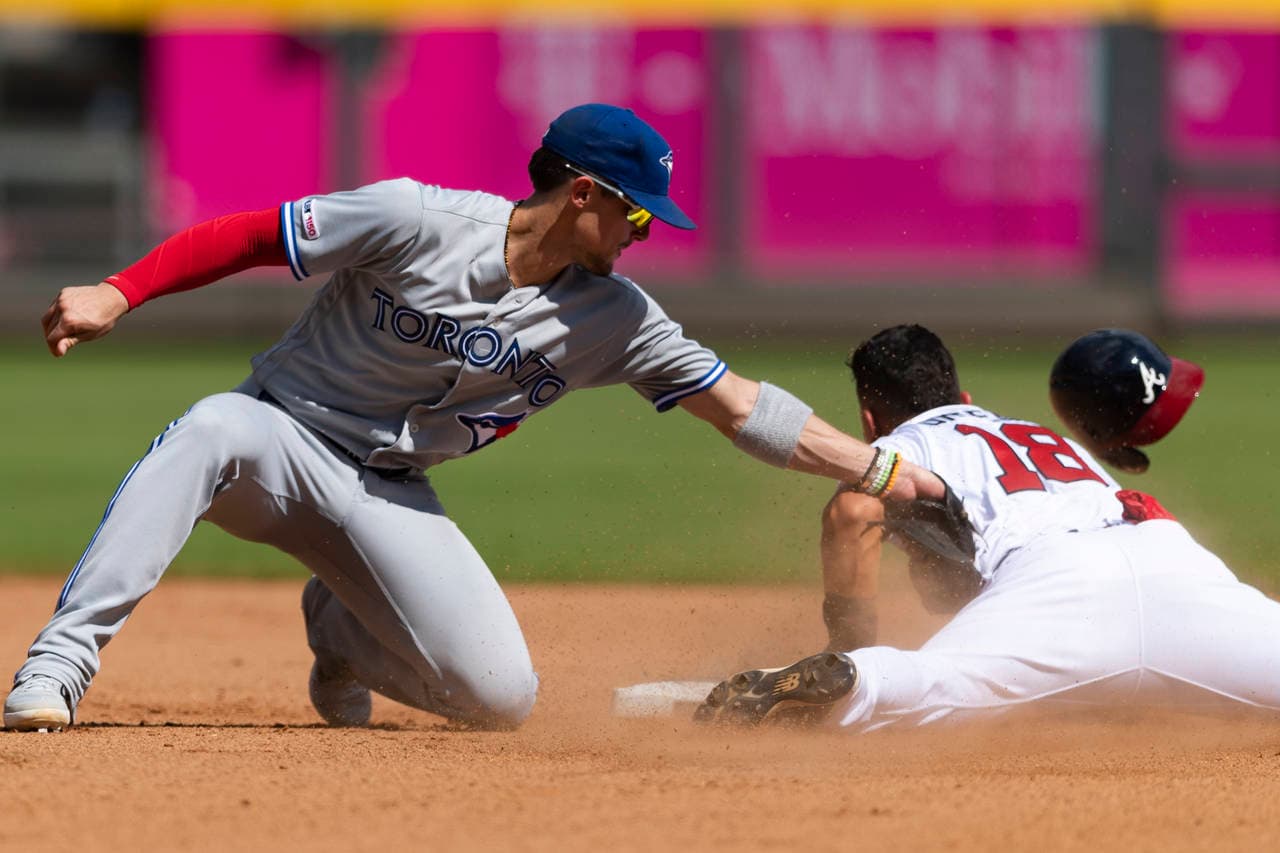 Photo credit:AP Photo/John Amis
"No duh, Brennan, versatility is incredibly important. So what point are you trying to make here?"
You may be asking yourself as you read the title. Yes, versatility is one of the most important facets of the game of baseball. Lacking versatility can significantly limit the use of a player below replacement level.
So why bring up versatility? Well, let me ask you a question. Who is the Jays backup first baseman? In this article, I'll be speaking on quite a few topics regarding how the Jays use versatility, including the big leagues and how it plays a role on the makeup of the team, the minor leagues, and finally, what we can look for during the trade deadline.
Versatility in the big leagues…
The Jays have many needs, relief pitching is the first thing that comes to mind, but the starting pitching staff can use more depth and the Jays need a third baseman. One position that has not been needing an upgrade is first base, even though the Jays only have one first baseman on their 26 man roster. Even with all this said, Vlad has played a significant amount as the DH.
This is where versatility comes into play. Even though they do not have a spare first baseman on the bench, the versatility of the roster allows the team to get away with it. Next to Vlad, there have been four other players to play 1B for the Jays this season.
Rowdy Tellez is their only other pure 1B. However, because of the inconsistent bat and some defensive mistakes, he's only played 132 1/3 innings in the field this season. Furthermore, he's currently playing in Triple-A
Why do the Jays place their only 1B in the minors? Well, that answer is because of three players that can play more than one position, Biggio, Gurriel and Panik. Firstly, we'll start with the traded Joe Panik.
Panik:
Panik only played 17 innings defensively at 1B this season before he was traded. Panik was their traditional utility infield as in his two years with the Jays, he played in all four infield positions. He only had two plays at the position, but it allowed Vlad to get rest. More importantly, if Bichette or Semien needed to get off their feet, Panik's versatility allowed them to place him in that spot.
Gurriel:
Much like Panik, Gurriel has barely influenced the game defensively while playing first base. However, the versatility that Gurriel gives the Jays by being able to play in left field and first base allows them to get his bat in the lineup. What's more is that while he was struggling playing in the infield before his move to LF, it's still an option to play him in the infield.
Biggio:
Lastly, we're going to talk about who I believe should be the super-utility player on the team. Biggio has roamed the field this season, mainly playing 3B, but has plugged in at 2B, LF and RF this season. Moreover, he played 33 defensive innings at 1B in 2019 and 23 defensive innings in center field last season. His bat is good enough to be in the lineup often, meaning that the Jays have the option to place Biggio in whatever spot needs a rest.
It's not just first base though:
This isn't just a first base phenomenon, though. Discluding the outfielders, the only player who has stuck to one defensive position this season has been Bo Bichette. You could add Vlad to that as well as he's only played two defensive innings at third, but in a pinch, Vlad could actually play there.
Versatility allows Charlie to be flexible with the roster, something that his former team, the Tampa Bay Rays, preach.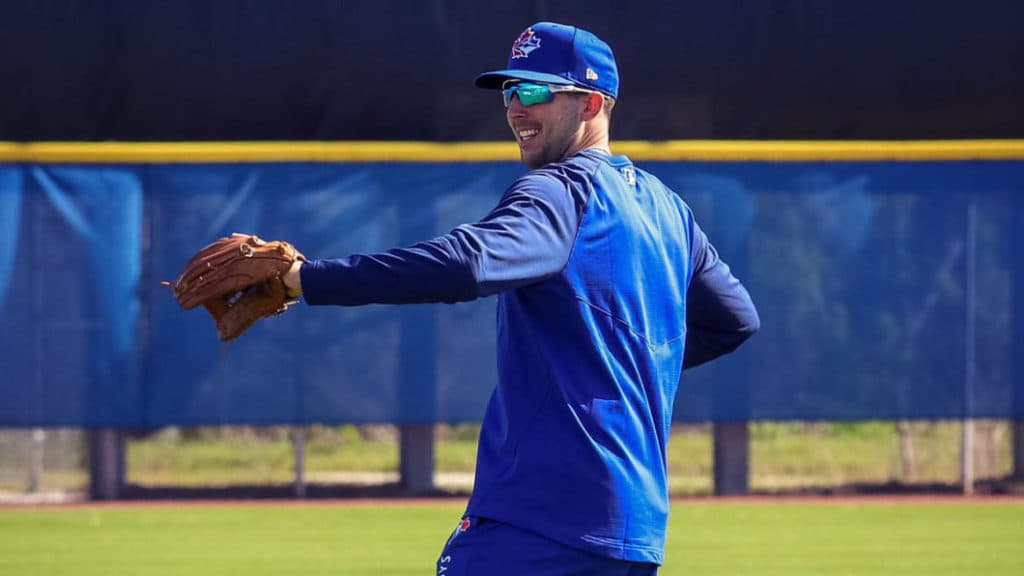 Minor League Versatility…
An interesting tidbit before his injury is that Gabriel Moreno who was a shortstop before the conversion to a catcher played third base for a game. That got me thinking about versatility in the minor leagues as well.
The Blue Jays have 16 position players in their top 30 according to Pipeline. Their top position player, Austin Martin, has the versatility to play short, third and centerfield. Groshans has been playing third base, Otto Lopez, their No. 11 prospect literally is described by Pipeline as "INF/OF". Kevin Smith, who I've been hollering for the Jays to call up, has played a few games in left field as of late.
What does this mean? Well, I believe the front office is running the team as a small market with big market money, much akin to the Los Angeles Dodgers. A lot of these players may never get a look on the Jays, so improving their versatility increases their value as players which in turn means that they are more valuable in a trade.
An example is Samad Taylor, a former top 30 prospect. While he is still young, his bat before this season was never there. So where would his value come from? Well from the fact that he has played all over the field. Will he ever play for the Jays? Who knows, but his versatility along with his bat has made him an asset that could be moved for big league help.
Possible trades for versatile players…
It's no secret that the Jays are in need of some help at third base. This deadline there would be many options available to fill that hole, but none better suited than Eduardo Escobar in my opinion.
Even without mentioning that bat, Escobar has played time at 2B, SS and 3B this season. However, in previous years he had played significant time in LF. His versatility is just what the Blue Jays front office would be looking for during this deadline.
So while you should be expecting bullpen help as it's on the way, it is important to keep in mind that the Jays will also be looking to add a versatile fielder who is mainly a third base.
The front office and manager came from two small-market clubs, Cleveland and Tampa. While Toronto is not such a small club, that doesn't mean that some small club ideals such as versatility and sustainable development of prospects don't fit into the big market. Expect to see the organization continue to promote versatility as it's useful for the big leagues as well as minor leaguers who could be traded.
As always, give me a follow @Brennan_L_D. I'm almost at 169. Nice.