Looking at the Miami Marlins as a trade partner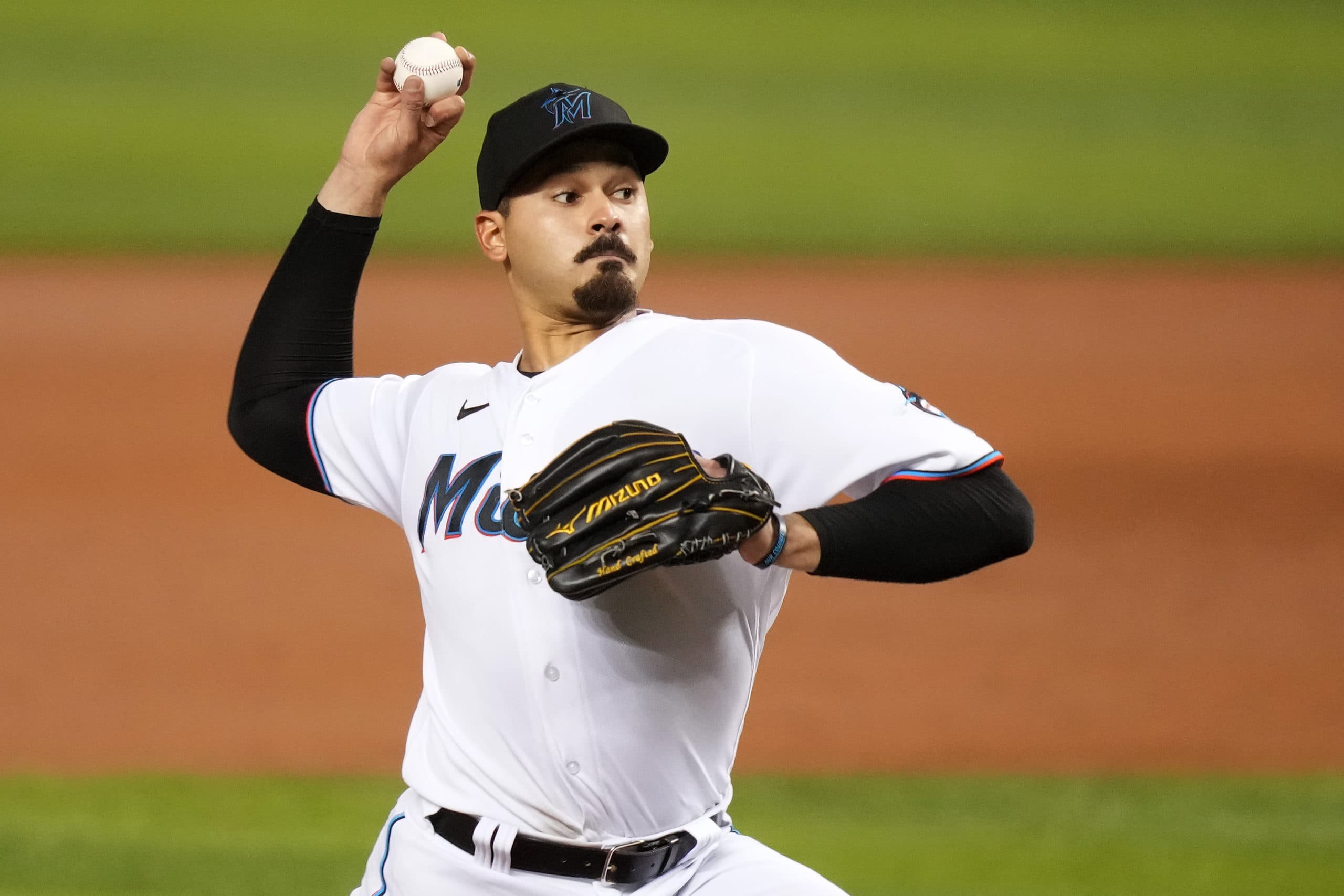 Photo credit:Jasen Vinlove-USA TODAY Sports
Coming into the 2021 MLB season, one could easily say that the starting rotation for the Toronto Blue Jays was the weakest link. They had the bats and they had a good-looking bullpen until the injury bug hit the team. The team's starting pitching, however, was a concern. 
However, at the end of the season, the team had the sixth-best ERA in the Major Leagues. Robbie Ray's emergence as a Cy Young winner certainly helped, but the team called up Alek Manoah at the right time and made the trade for Jose Berrios. This along with the off-season acquisition of Steven Matz, a phenomenal back-end of the rotation pitcher, contributed to a successful 2021.
So what does the starting pitching staff look like next season? Hyun-Jin Ryu is looking to bounce back after a rough second half and will be paid 20 million in the next two seasons. Alek Manoah is still on his pre-arbitration contract. Lastly, Jose Berrios is in the final year of arbitration before hitting the free market.
That's only three starting pitchers, so what will the Jays do to fill up those two final openings?
Starting pitching was good, bats were great:
According to Jon Morosi, the Blue Jays have been looking into Pablo Lopez and Eliser Hernandez. While this in itself comes as no shock as both pitchers are pretty darn good, pairing it up with the news that the Miami Marlins are adding to add bats and you got yourself a rumor!
While the starting pitching of 2021 was good, the Blue Jays bats were even better. The team led the league in home runs with 262 (21 more than 2nd), was second in batting average, had the second-lowest strikeout rate, and had the second-highest wRC+. This is to say that the Blue Jays could spare a good bat or two.
Let's focus on Pablo Lopez:

The burning question is: "Does Pablo Lopez fill a void?". The answer to that question is quite simple. Absolutely.
In 102.2 innings pitched in 2021, Pablo Lopez had a 3.07 ERA and a FIP of 3.29. While that is a great start, the underlying stats are just as good. He registered a BB/9 of 2.28 with a K/9 of 10.08. That is a strikeout to walk rate of 4.42 strikes per one walk.
The thing is, it's not like Pablo hasn't done this before either. For his career, he owns a 4.04 ERA and a FIP of 3.80 in 330.0 innings pitched. Furthermore, his career K/9 is a nice 8.59 while his BB/9 is a very low 2.43.
This doesn't even mention his contract situation. This off-season will be the first of three years of arbitration for the 25-year-old, meaning he won't be a free agent until 2025. If the Jays could get a potential ace who's under team control for another three years and is only 25, you have to think that they pull the trigger on that immediately.
However, there are a few concerns. Firstly, Lopez has played two full seasons, yet has only pitched 214 between the two which is an average of 107 IP per season. Only July 18th, Pablo was placed on the 10-Day IL with a right rotator cuff strain and didn't return until the last game of the season. He's gotten better in every season he's played, but there is concern about his durability.
Secondly, LoanDepot Park is a notorious pitcher's ballpark. Are his numbers a product of the stadium? If this is the case, moving to the AL East could heavily inflate his numbers as most stadiums are hitter-friendly.
With that being said, if I were Ross Atkins, I'd look heavily into making a trade for Pablo Lopez
Let's focus on Elieser Hernandez:
Hernandez's stats aren't as good; however, he showed flashes of his potential in the COVID shortened 2020 season. He had a 3.16 ERA, but a FIP of 3.89 in 25.2 IP. While the sample size is small and his FIP isn't the greatest, it's important to note an underlying stat. He had a K/9 of 11.92 and a BB/9 of 1.75. 
He regressed this season as he had a 4.18 ERA and 5.38 FIP. However, he did have an HR/FB ratio of 20%, meaning that for all the fly balls he registered, a fifth of them left the yard. Using xFIP at the end of the season is controversial, but xFIP's greatest use is what the FIP would look like if the HR/FB ratio normalized.
Whichever way you cut it, the 20% is an abnormal number, considering his career number for this stat is at a much more reasonable 15.8%.
Hernandez would also be a much cheaper option than Pablo Lopez as his career numbers aren't nearly as bright. As you know, however, the Jays have the ability to find under-the-radar players and help improve their game. Perhaps Hernandez is the next pitcher that meets Pete Walker?
Let's focus on Sandy Alcantara:
The likelihood of this happening is next to none. If the Jays want to make an impact though, Sandy Alcantara is a player that they should go for. The 26-year-old could easily win multiple Cy Young awards in the near future.
In 2021, he had an ERA of 3.19 and a FIP of 3.42. While he doesn't strike out as many batters as Pablo, he still had a K/9 of 8.80.  Alcantara also had a low BB/9 of 2.19. Unlike Lopez, Alcantara did this over 205.2 innings pitched.
His career numbers are phenomenal as well. In 487.1 IP, Sandy has an ERA of 3.49 and a FIP of 4.04. His BB/9 of 3.23 appears high, but he has dropped that every year that he's played.
Will Sandy be traded to the Jays? More than likely no, but if they really want to make a bold statement, Sandy Alcantara is the pitcher they should go for.
On a scale of 1-10, what's the likelihood the Jays trade for a Miami pitcher:
I'd have to give it a good 8. While it's improbable that they trade for Alcantara, both Pablo Lopez and Eleiser Hernandez fit what the Jays would look for. At the 2021 deadline, the Jays moved top prospects for Jose Berrios. I would say a trade for Pablo Lopez would look somewhat similar in shape.
However, if the Jays want to make another Matz-like trade, Elieser Hernandez would be the pitcher on the Marlins that they look at.
Either way, this off-season will be the most fun in years.
As always, follow me on Twitter @Brennan_L_D. Imagine a starting rotation of Max Scherzer, Pablo Lopez, Alek Manoah, Jose Berrios and Hyun-Jin Ryu. That'd be insane.