Looking back at Ross Atkins' Trade Deadlines with the Blue Jays — 2017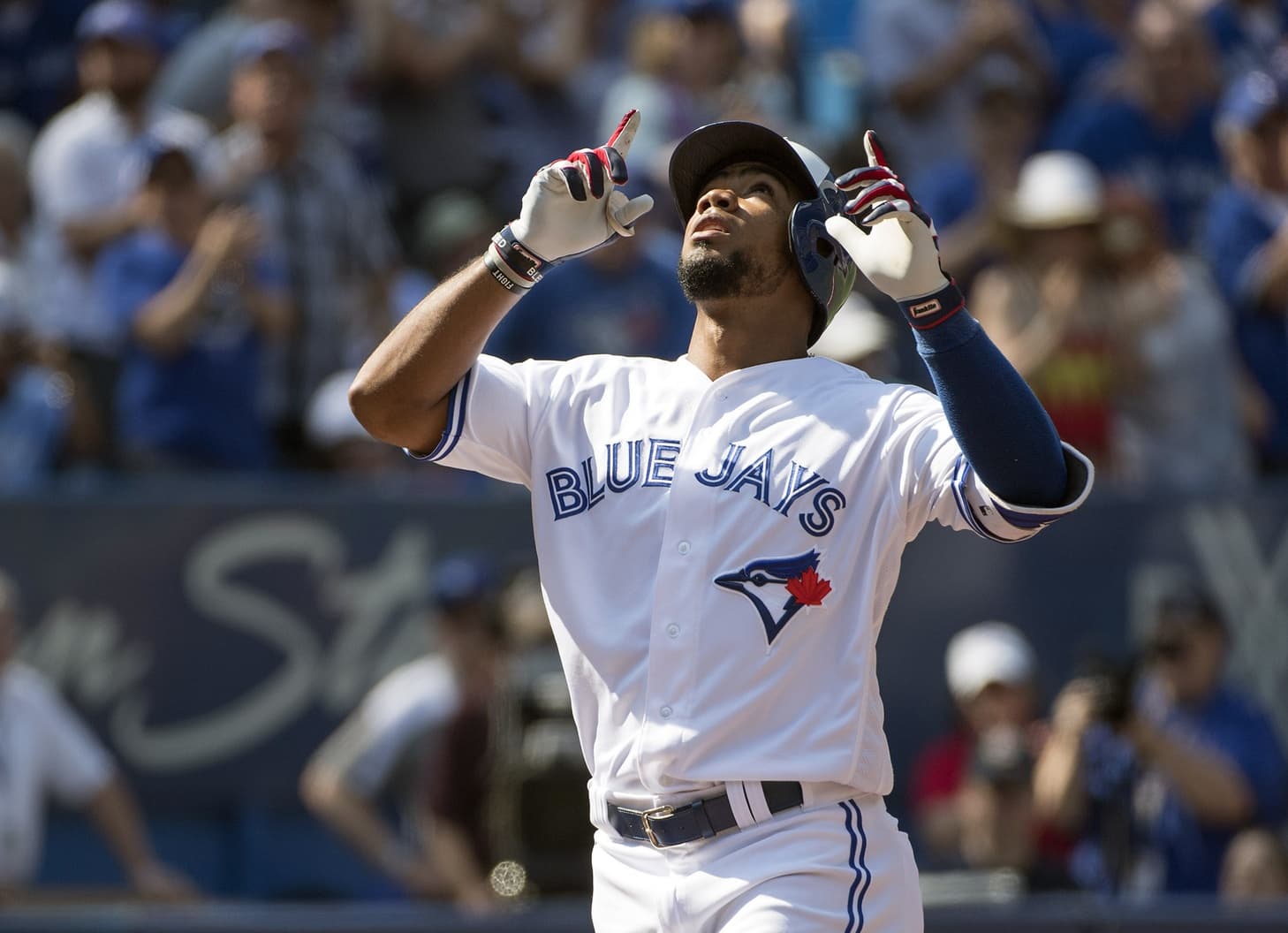 Photo credit:Nick Turchiaro-USA TODAY Sports
The next Blue Jays trade deadline on the list to look at is the 2017 season. This year wasn't as good as years past, with Toronto getting off to a rocky start and never really launching. They ended up missing the playoffs for the first time since 2014 by going 76-86 over the course of the season.
At the halfway mark of the season, though, they were still within a shot of reaching the postseason. So what did the team do?
July 23rd: Toronto acquires SP Nick Tepesch from Minnesota for cash considerations
Nick Tepesch was a speculative add by the Jays early in the week. He had pitched two seasons from 2013-14 as part of the Texas Rangers' rotation but struggled from that point on. Tepesch got blown up in his one and only start with the Los Angeles Dodgers in 2016 while only making one opening appearance for the Twins, pitching 1.2 innings and racking up a 5.40 ERA. The right-hander was out since the middle of May with an elbow injury but clearly intrigued the Jays enough to add him.
The cost of bringing Tepesch in lined up appropriately with his performances in Toronto. The pitcher made 3 starts with the Jays, going 1-1 with a 5.14 ERA over the course of those games. He did play well for Buffalo in Triple-A ball but was DFA'd on September 6th. Tepesch would return on a minor league contract with the Jays in 2018 before being dealt to the Detroit Tigers on August 8th. He would go on to retire the next year.
July 23rd: Toronto acquires IF Rob Refsnyder from New York for 1B Ryan McBroom
Probably in an effort to give the Jays contributors at the major league level quicker, Toronto sent former 2014 15th-round pick Ryan McBroom to the Yankees in exchange for Rob Refsnyder. McBroom had a good year with the Vancouver Canadians in 2015, being named Midwest League MVP for his efforts. He was trending in the right direction too as a member of the New Hampshire Fisher Cats, slashing .321/.402/.723 with 12 homers and 54 RBIs. Refsnyder on the other hand was hitting .135 with two stolen bases in 37 at-bats.
While Refsnyder initially reported to Buffalo, an injury to Troy Tulowitzki meant that the new acquisition would see playing time behind Ryan Goins and Darwin Barney. He didn't manage to do much offensively, batting .196/.281/.216 with only 10 hits in 51 plate appearances. Refsnyder would be claimed off waivers by the Cleveland Indians, going on a couple of stints with different MLB teams before settling with the Red Sox in 2022. Still in Boston, Refsnyder is slashing .269/.389/.345 with one homer on the year.
As for McBroom, the prospect spent the rest of the season with Double-A Trenton. He'd post some solid numbers to close out 2017 before splitting 2018 between Trenton and Triple-A Scranton/Wilkes-Barre hitting a combined .302/.348/.458/.806 with 15 home runs and 60 RBI. McBroom was later dealt during the 2019 season to the Kansas City Royals in exchange for international bonus pool allotments and cash considerations or a player-to-be-named-later. He'd go on to play parts of three seasons in KC, hitting decently well in the game time that he got. Finding himself in Triple-A again to start the 2021 season, McBroom was granted release to pursue opportunities in Asia. He is currently playing for the Hiroshima Toyo Carp in the NPB.
July 31st: Toronto acquires OF Nori Aoki and OF Teoscar Hernández from Houston for P Francisco Liriano
The Drew Hutchison trade tree continues with this deal, flipping the struggling Liriano to the Houston Astros in exchange for Aoki and Hernandez. 2017 was not a good year for Liriano after a very good 2016 with the Jays. He posted a 5.88 ERA and 1.62 WHIP in 82.2 innings of work, looking very out of place in the Jays' lineup. For the return, Toronto acquired the ever-solid contact hitter Aoki and the Astros' 8th-ranked prospect in Hernandez.
Aoki was regarded as the piece that would contribute the most in the short term as the Jays tried to claw their way into the postseason. He didn't do too poorly, racking up 3 homers in just 34 plate appearances while batting .281/.294/.594 in Toronto. However, that didn't stop Toronto from DFAing him on August 28th before releasing him the following day. Aoki currently is back in Japan, playing his second stint with the Tokyo Yakult Swallows.
The main attraction is the second part of that deal. Hernandez cameoed well to finish off the 2017 season but really broke out in 2020. He earned the AL Silver Slugger Award for right field, before following that up with his first All-Star appearance in 2021. Hernandez would finish 2021 batting .296, a career-high 32 home runs, and 116 RBIs to earn his second consecutive Silver Slugger. 2022 wasn't quite as good, but the outfielder still managed to hit 25 homers slashing .316/.491/.807. He was dealt in the offseason prior to the 2023 campaign to Seattle in exchange for Erik Swanson and Adam Macko.
July 31st: Toronto acquires P Thomas Pannone and 2B Samad Taylor from Cleveland for RP Joe Smith
Joe Smith was signed by the Jays as another bullpen arm, sporting a 3.28 ERA with 51 strikeouts and 10 walks over 35.2 innings in a setup role. He was essentially flipped for two prospects that weren't in the Indians' top 30, which just feels like an odd move to make at this juncture of the season.
Smith would pitch 18.3 innings with Cleveland recording an ERA of 3.44. He'd sign with the Houston Astros the following season before joining the Mariners in 2021 and the Twins in 2022. Currently, Smith finds himself a free agent after recording a 4.61 ERA in 27.1 innings of work.
The prospects the Jays got back in return for Smith would be a mixed bag. Pannone would pitch in a total of 49 games between the 2018 and 2019 seasons for the Jays, recording an overall ERA of 5.43 in 118.2 IP, 1.365 WHIP and 7.7 SO/9. He's probably most known for getting suspended 80 games in the 2018 season for testing positive for a PED. Pannone was DFA'd on August 24th, 2020 before becoming a free agent. He would spend a couple of seasons bouncing around the minor leagues with the Angels and Red Sox, pitching in Korea for the Kia Tigers in 2022 before returning to the MLB with the Brewers this year. Pannone has only played in 1 game for Milwaukee, recording a 6.75 ERA in 2.2 IP. As for Taylor, he would tear up Toronto's minor league system, his speed the biggest weapon in his arsenal. The second baseman would move his way up to Buffalo in the 2022 season, before being jettisoned to the Royals in exchange for Whit Merrifield. Taylor has made his major league debut with KC, and is currently slashing .152/.275/.152 in 41 PA, sporting an OPS of just .427. He does have two stolen bases to his name over the course of 13 MLB games.
---
Previously…
---