Looking back on this beautiful, unforgettable, heartbreaking season, and looking forward to what's next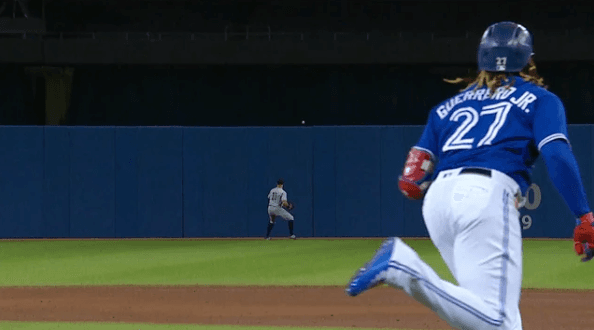 It's incredibly difficult to summarize the whirlwind that was last weekend — which is only fitting given the weird, confusing, magnificent rollercoaster ride this Toronto Blue Jays team took us all on.
On one hand, it's absolutely gut-wrenching and heartbreaking that two inferior teams, the Yankees and Red Sox, will be facing off against each other in the American League Wild Card game tonight and the Blue Jays, with their absurd +183 run differential, came up just shy of making it. On the other hand, it's incredible that this team managed to make its way into the conversation after trudging through four months of living out of suitcases to start the season.
And then, on a more macro scope, this is a very, very young team that navigated a whole wealth of hurdles to find themselves in the mix during the dying days of the season, and, more than likely, it seems the best days are yet to come. But it's also difficult to ignore the fact that a lot of things also went right for this team and there's a very real possibility that next season's roster isn't a better version of what it was this year.
Long story short, there isn't really one way to summarize what just happened.
I find myself bouncing between all of these things, looking back fondly on the time that George Springer hit a three-run homer against the Red Sox to bring the idea of a late-season run to life, and then, moments later, looking back in frustration at the time Vladdy couldn't catch a poor throw from Marcus Semien to wrap up a victory against the Tigers and what that win would have meant just a little over a month later.
The same goes for the big-picture stuff, looking forward to what a core of Vladimir Guerrero Jr. and Bo Bichette will accomplish in Toronto over the years, and then, moments later, looking back on the incredible seasons that soon-to-be free agents Robbie Ray and Semien just had and wondering if they'll stick around or if suitable replacements will be found.
You can really drive yourself insane thinking about all of this.
What if Semien made that throw? What if the bullpen didn't blow so-and-so game back in June? What if Charlie put in this reliever instead of that reliever? What if George Springer didn't get injured in Seattle? What if they traded for Jose Berrios a week earlier? What if this winds up being the best season of Vladdy's career? What if that ball was hit just a couple of inches further and the Blue Jays beat the Yankees on that cool Thursday night in Toronto?
Who knows! Maybe they would have bowed out in a frustrating Wild Card loss or maybe they would have run all the way to the World Series.
Unfortunately, they came up just short and wound up on the outside looking in. It feels like an unfair fate for a very, very good team, but it's the reality. The Blue Jays were dealt an uphill battle and they did an amazing job pulling themselves back into the race but they also failed to capitalize on the chances they had late in the season to seal the deal.
Tell yourself whatever you want — Charlie cost them the season, there were too many injuries, the playoff format is unfair, they choked when it mattered most, the best is yet to come, they'll never be better than this — but, in my mind, it's a win that people are talking about all of these things right now.
This team brought baseball back to life in Toronto. That's the important conclusion to draw.
After trudging through watching the rotting husk of the 2015 and 2016 teams fall flat in 2017 to watching two years' worth of completely meaningless games in 2018 and 2019, the Blue Jays of the past two seasons have capitated an audience. They're an endearing, lovable group that you can't take your eyes off of and they allow you to dream about the possibility of winning it all.
As I wrap my head around how disappointed I am that I won't be watching the Blue Jays in the Wild Card game tonight, I also find myself wildly excited to jump on this rollercoaster next spring and do it all again, regardless of what happens.