Luis Castillo makes it look easy against the Blue Jays in Game 1 victory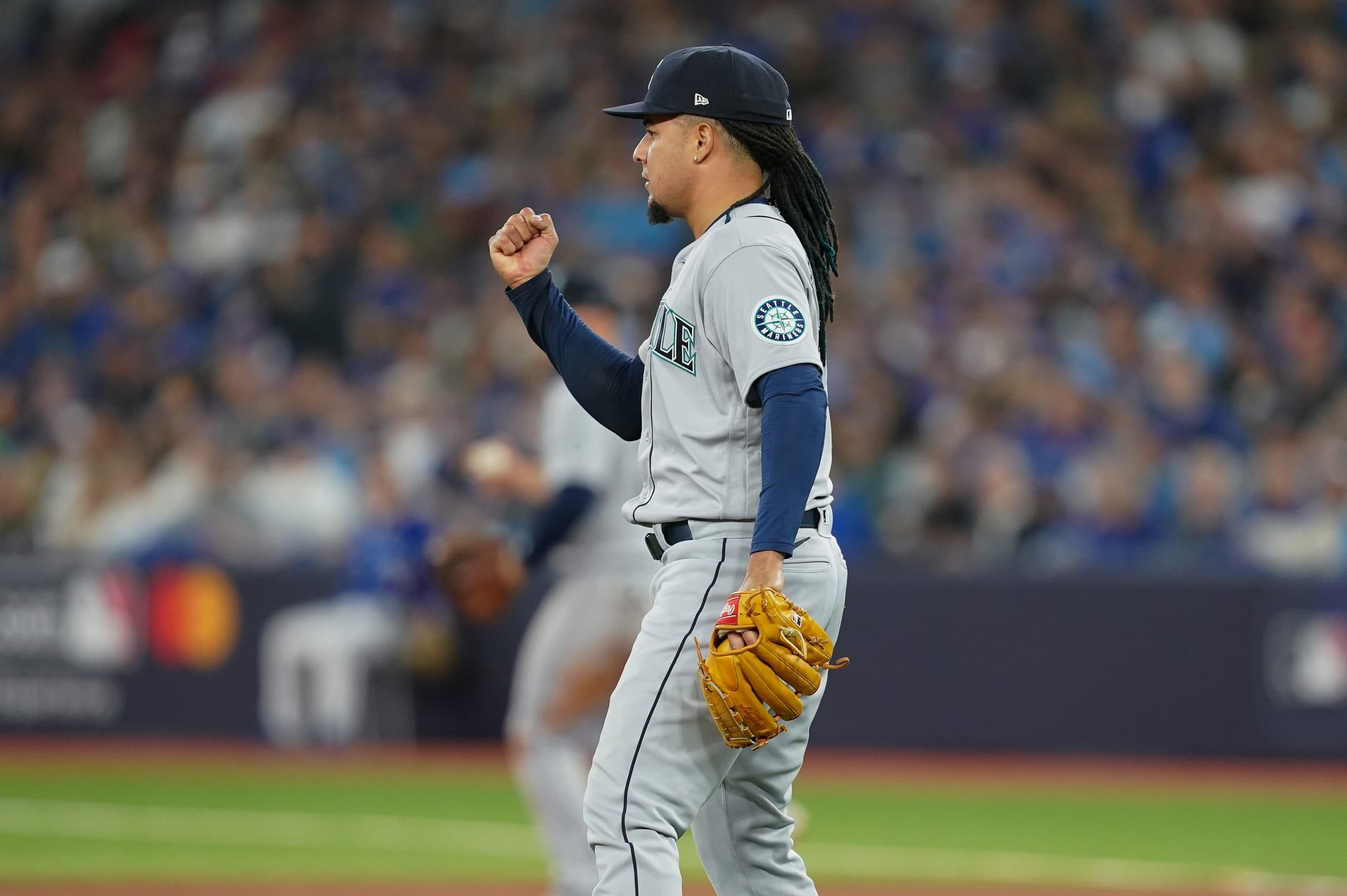 Photo credit:© Nick Turchiaro-USA TODAY Sports
When the Seattle Mariners acquired Luis Castillo at the trade deadline, they had to hand over a decent sized haul back to the Cincinnati Reds. Four prospects went Cincinnati's way, including Noelvi Marte, who is already the #2 prospect in the Reds' system. Not only were the Mariners acquiring a pitcher with experience and an elite pitching repertoire, they were acquiring a guy who could make a postseason start just like the one Luis Castillo made today.
Castillo stymied the Blue Jays through 7 and 1/3 innings, allowing six hits, no runs, no walks, and striking out five en route to Seattle's Game 1 victory over Toronto 4-0 this afternoon. With that start, Castillo is the only pitcher is Mariners history to go 7+ scoreless innings in a playoff game.
The Blue Jays didn't have much of a chance early, as the Mariners offense scored three runs in the 1st inning off of Alek Manoah, giving Castillo some breathing room from the jump.
Manoah fought off some adrenaline, but couldn't locate efficiently early on. He hit Julio Rodriguez in the first at-bat of the game, and nearly hit Ty France with a fastball one batter later. Eugenio Suarez doubled in Rodriguez, followed by a two-run homer from catcher Cal Raleigh. In the blink of an eye, it was 3-0, and a lot of the energy from the Rogers Center was put to rest. Manoah threw 26 pitches in the first inning, but settled in from there.
Manoah had clearly entered a zone when he faced Rodriguez for the second time; the Mariners' rookie sensation struck out on three nasty sliders, each one having more break than the last. He retired nine batters in a row between the 2nd and 5th inning, trying to give the offense a chance.
Seattle tacked on another run in the 5th, with what started by another Rodriguez HBP. France singled, moving Rodriguez from first to third. Despite Manoah getting the ground ball from Suarez he needed to potentially turn a double play, it didn't reach Matt Chapman's glove fast enough, only allowing the Blue Jays time to turn one out. Rodriguez came into score, and the Mariners led 4-0.
In all, Manoah's first postseason start went 5 and 2/3 innings, four hits, four runs, one walk, and four strikeouts. The four runs he allowed today matched the total amount of runs he allowed in September.
As you can tell from the score, Toronto's offense struggled immensely throughout the day. Six of the seven hits they had came with two outs, which sounds really good, but with no one on base to begin with, it continued to leave the next hitter with no room for error. Add to that only one extra base hit from today – Chapman's double in the 9th – and you're staring down the barrel of a shutout.
As nonexistent as the offense was, a lot of credit deserves to go to Seattle's pitchers (Castillo and Andres Munoz), as they were simply outdueling Toronto's offense, giving them a heavy dose of 100+ mph fastballs and wipeout secondary pitches.
The Blue Jays now face a win-or-go-home situation, as the Best-of-3 series has swung in Seattle's favor. Former Blue Jay Robbie Ray will start for Seattle tomorrow, with Toronto sending Kevin Gausman out to the mound. Ray faced the Blue Jays back in July, only allowing one run over six innings of work.
It's the playoffs and it's never going to be easy, but now we find out how this team will respond with their backs against the wall.
---