Max Castillo deserves extended opportunity in Blue Jays' starting rotation
Photo credit:Nick Turchiaro-USA TODAY Sports
The Toronto Blue Jays are currently enduring their worst stretch of the 2022 season as they've lost nine of their previous 10 games, dropping into a tie with the Seattle Mariners for the final wild-card seed.
Things certainly aren't going their way as of late.
Amid this miserable stretch, there's been one constant theme: poor starting pitching. Unlike earlier this season, the current state of the club's starting rotation is in shambles due to Kevin Gausman's ankle injury and Yusei Kikuchi underperforming and requiring some time off to manage a quote-unquote neck strain.
That's left two massive voids to fill within Toronto's pitching staff. Since there isn't much immediate depth in the minors, the team has been forced to call upon Thomas Hatch and Casey Lawrence to make emergency starts, however, neither pitcher has been effective thus far.
Max Castillo is another hurler that's received an opportunity in the majors, but surprisingly, he's displayed some very encouraging signs recently. Granted, the 23-year-old was roughed up in his MLB debut as he allowed a pair of home runs in one inning against the New York Yankees – who nearly signed him out of Venezuela in 2015 before an issue involving his physical blew up the deal.
The right-hander, who ultimately signed with the Blue Jays for $10,000, has bounced back extremely well since then. He went on to make three quality relief appearances, holding the opposition scoreless on just four hits across 7.1 innings.
Then there was Castillo's impressive showing on July 7 versus the Mariners, where he entered the game after Anthony Banda and Lawrence surrendered seven combined runs on nine hits through the first three innings. But he cleaned up their mess very nicely. In total, the youngster allowed just one run on one hit – a solo home run – while striking out five batters through three innings.
Later in the series, with Gausman still unable to pitch, the Blue Jays went back to Castillo in the finale on Sunday, providing him with his first big-league start. And he made the most of it. Despite pitching on two days of rest, the 6'2″ hurler threw 59 pitches in 4.1 innings and committed just one mistake, allowing a solo home run to Carlos Santana for his only earned run. He also recorded a trio of strikeouts.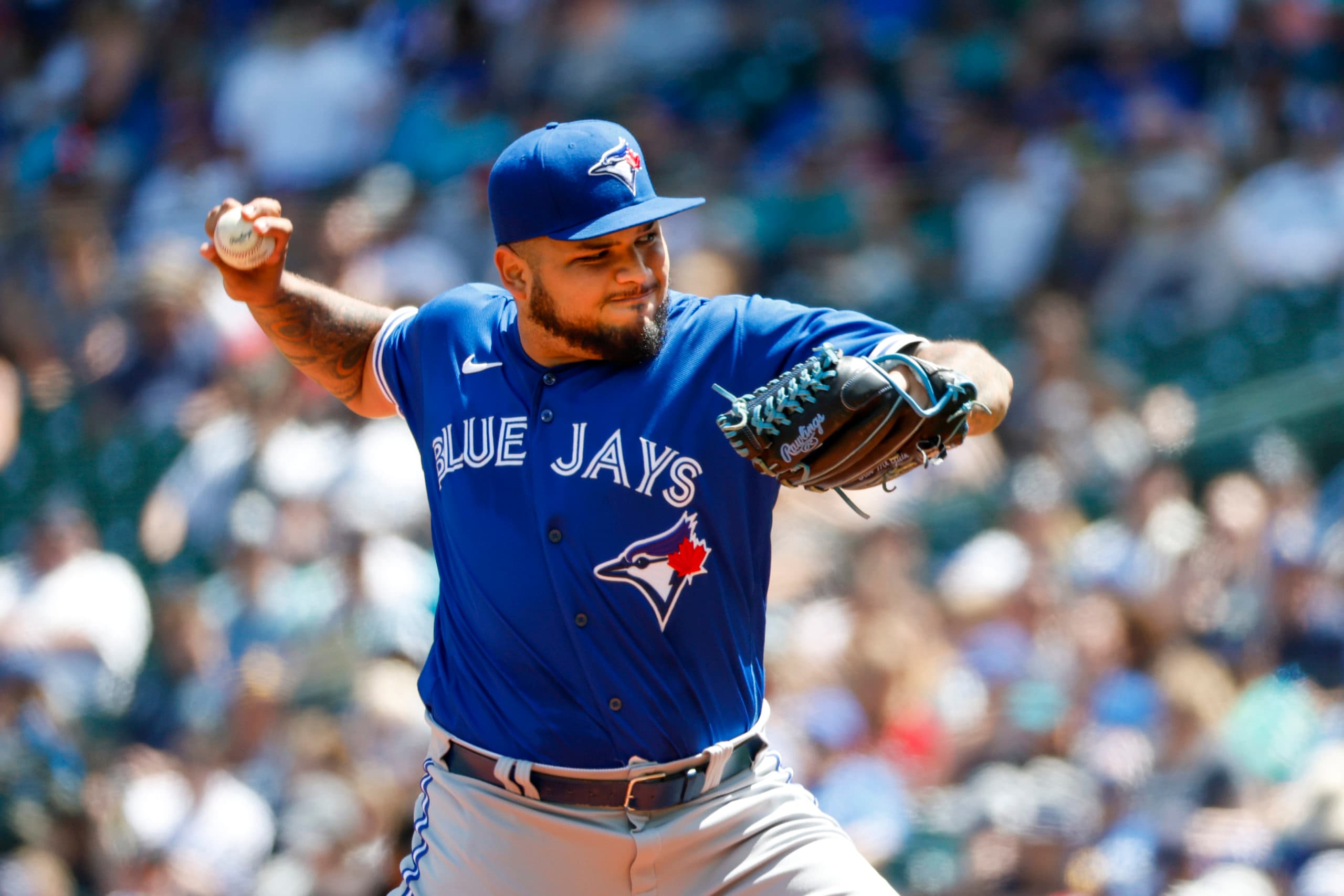 Credit: Joe Nicholson-USA TODAY Sports
Now, as we enter the final week before the All-Star break, the team must fill at least one spot – perhaps two if Gausman can't throw this week – in its starting rotation. With Jose Berrios starting Tuesday, Ross Stripling will likely throw on Wednesday, followed by Alek Manoah on Thursday. Though, nothing official has been determined.
That leaves a pair of vacancies on Friday and Saturday. Hopefully, Gausman can pitch on one of those days. As for the other, well, there's no better candidate to call upon than Castillo. He's certainly pitched well enough to earn an extended opportunity as a starter.
Overall, Castillo has performed to a 1.23 ERA with a 31.5 per cent strikeout rate over his last five appearances. Opponents are hitting just .157 against him, with 19 of his 34 batted-ball events coming via ground balls. That's resulted in a promising 55.9 per cent GB rate. Toronto's versatile pitcher also hasn't allowed much hard contact during this current stretch, holding a respectable 38.2 per cent hard-hit rate against and a 90.3 mph average exit velocity on his batted-ball events.
What's more encouraging is that Castillo has been successful against both righties and lefties this season, which is key to performing effectively in the majors. There aren't many reliable starting pitchers at this level – if any –  who succeed versus just one type of hitter.
Of the 28 right-handers he's faced since June 25, only five have reached base, three on hits and two via walks. Additionally, 10 have been retired on strikes, earning him a 5.0 strikeout-to-walk ratio. In total, righties are slashing just .115 /.179/.231 against him.
Castillo has faced 26 left-handers during that same timeframe, who're hitting .200/.231/.320 off him. He's also induced seven strikeouts and only one walk, resulting in a 7.0 strikeout-to-walk ratio.
How has someone who's been in the majors for less than a month been so effective? One of the biggest reasons for his success is his arsenal, which includes a mid-90s four-seamer, high-80s change-up, mid-80s slider, low-80s curveball and a mid-90s sinker.
Of course, most of the focus early on has been directed to Castillo's off-speed weapon. And rightly so, it's been utilized 38.2 per cent of the time this season, generating seven of his 18 strikeouts and a 26.1 per cent whiff rate. His first big-league punch-out also came via his change-up.
But as good as Castillo's change-up has been, however, his fastball has acted as the biggest difference-maker thus far. Since Jun. 25, opponents are slashing just .185/.214/.296 against it, producing one walk and 10 of his 17 strikeouts.
The young righty doesn't throw hard, although that hasn't prevented his four-seamer, whose usage sits at 50 per cent, from being effective. Rather than featuring explosive velocity, it possesses a ton of horizontal movement, averaging 13.4 inches of break. That'd
rank 13th-highest in the majors
among other four-seamers if it qualified.
Paired with his heater, Castillo has been very effective at tunnelling his change-up, which averages 13.9 inches of horizontal break. Together, this combination has made him extremely effective at generating swings and misses, and should continue to do so moving forward.
Closing out the first half with Castillo in the Blue Jays' starting rotation seems like a no-brainer. At this point, no other pitcher has done more to earn this opportunity over him. It's time to determine what the team has in one of its intriguing young hurlers.
If he pitches well again, perhaps an argument can be made about keeping him as a starter coming out of the mid-season break. That could lead to a tough conversation with Kikuchi, though. But those are probably already taking place anyway. At the very least, Castillo could return to the bullpen and take over Stripling's previous role as a multi-inning reliever.
There are plenty of routes to take involving Castillo's future position. First things first, however, he needs to further showcase his skills at the highest level of competition.
---