Max Castillo is getting the call up to the Blue Jays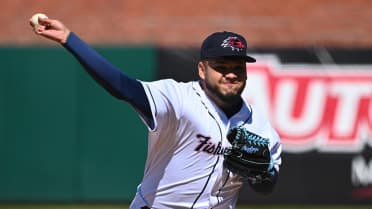 According to Alfonso E. Saer Gomez, Max Castillo has gotten the MLB call up.
The 23-year-old righty started his season with the New Hampshire Fisher Cats, posting a 3.10 ERA and 3.79 FIP in 29 innings pitched with the Double A club.
He was promoted to Triple A Buffalo, where his numbers improved quite a lot, despite facing former big leaguers. In 27.1 innings pitched, he has a
0.66 ERA
and a FIP of 3.49. Furthermore, his BB/9 sits at a rather low 3.29 while his K/9 sits at 9.55.
While he climbed the minor league ladder rather quickly in the first few months of the season, it's not a reach to say that he definitely deserved the call up.
Where does he fit in the pitching staff:
A question I've been asked a few times is where does Castillo fit with the pitching staff. In my opinion, he fits best as a spot starter and a traditional long man. While the Jays have several players that can eat multiple innings, they don't have that traditional long man (say for Casey Lawrence eating four innings yesterday.)
In my opinion, Max Castillo, who has the ceiling of a #3 starter, will take Stripling's role before the Hyun-Jin Ryu injury.
If a starter gets knocked out early, expect Castillo to come in to eat some innings. It's to be seen if he'll be pitching in high leverage moments.
As always, you can follow me on Twitter @Brennan_L_D.