Meet the Sellers: After last year's successful trade for Whit Merrifield, the Blue Jays could look to the Royals for more veteran depth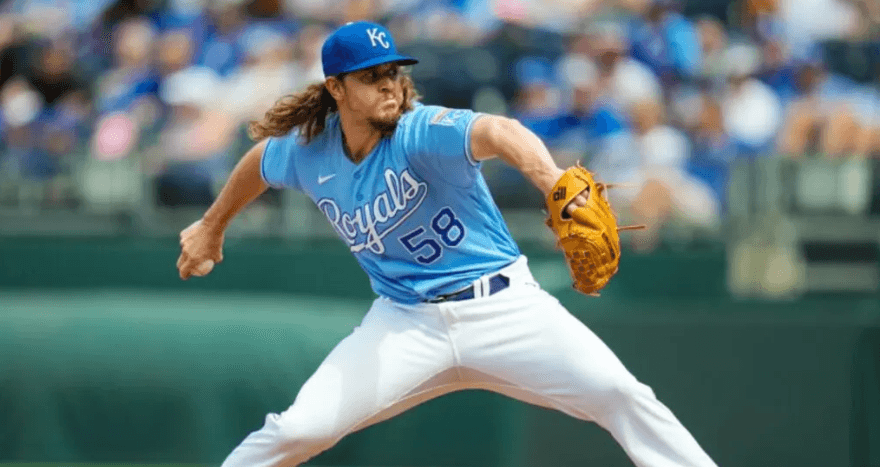 Photo credit:Jay Biggerstaff/USA TODAY Sports
I won't lie, I had high hopes for Kansas City coming into this season. Their youth was and still is aplenty, and a weak AL Central left the door open for the Royals to maybe make things interesting.
Well, the Royals have been playing at an Oakland A's-level in 2023. Kansas City entered the All-Star break at 26-65, only 1.5 games ahead of Oakland for the worst record in all of baseball. There isn't a specific person or group that you could point to – the Royals are just not that good. As a team, they rank 29th in runs per game, 28th in team ERA, and 27th in Defensive Runs Saved.
Bobby Witt Jr, Vinnie Pasquantino, MJ Melendez, Michael Massey, Nick Pratto, and Brady Singer are amongst the distinguished core that Kansas City has represented, and that group showed glimpses of promise during the 2022 season. Unfortunately, the results haven't improved this year even in a division that is looking to have a .500 winner.
The Royals were one of the first teams to make a trade within this season: they dealt Aroldis Chapman to Texas on June 30th in exchange for Cole Ragans and a prospect. I'd expect them to continue to be active, but Chapman was easily their most attractive trade chip with his track record and one-year contract status.
Notable trade history with the Royals
November 8, 2012: Traded Jeremy Jeffress to Toronto in exchange for cash considerations.
August 14, 2013: Traded a PTBNL to Toronto for Emilio Bonifacio.
July 28, 2014: Traded Danny Valencia to Toronto in exchange for Liam Hendriks and Erik Kratz.
October 30, 2014: Traded Liam Hendriks to Toronto in exchange for Santiago Nessy.
March 21, 2018: Traded Sam Gaviglio to Toronto in exchange for future considerations.
March 17, 2019: Traded Jason Adam to Toronto in exchange for cash considerations.
August 2, 2022: Traded Whit Merrifield to Toronto in exchange for Max Castillo and Samad Taylor.
Potential Acquisitions
Matt Duffy
Although he has slowed down of late, Duffy is statistically one of the best hitters for average on this team. The eight-year veteran is slashing .283/.336/.695 in 45 games with a home run and 8 RBIs. Duffy doesn't hit for power, and while Toronto could use a loud bat, they could also benefit from a bench bat that prefers to simply put the ball in play and hit for singles. Duffy has a .304 batting average and a .810 OPS versus lefties on the season, he plays multiple infield positions, and he's also batting .300 as a pinch hitter (albeit only 10 at-bats).
Duffy won't turn Toronto into World Series champs, but this would be a significantly cheap bat if Ross Atkins felt like spending the minimal amount of prospect capital. Hell, with all due respect to Duffy, this one could go for cash considerations.
Scott Barlow
Whether it was last year's trade deadline, this past offseason, or now, Barlow has seemingly always been a name that has floated on Toronto's radar as a potential relief pitcher acquisition. It's been for good reason, but could this be the time Toronto gets it done?
After posting back-to-back seasons with an ERA in the mid-to-low 2.00s, he's taken a step back this year. Through 32 games, Barlow has a 4.09 ERA, 1.33 WHIP, and a 12.0 K/9. While the walks have gone up, Barlow keeps the ball in the yard. He ranks in the 90th percentile and above in average exit velocity, chase rate, and hard hit%. He throws his slider 44% of the time, and he's been staying away from his fastball which has surrendered a .476 batting average this year.
Barlow is under team control until after the 2024 season, and he was probably second to Chapman in interest garnered from other squads. Depending on how much Toronto is willing to spend, Barlow would be a great bullpen add for the remainder of this year and next.
Amir Garrett
Between Chapman, Barlow, and Garrett, the Royals quietly had an exemplary 7-8-9 reliever group. Garrett is in his 7th year in the league with his year-to-year statistics fluctuating quite a bit. This year, bound to enter free agency once this campaign is over, he has been a solid reliever for the Royals. In 27 appearances, Garrett has a 3.33 ERA, 1.73 WHIP, and a 10.4 K/9. His numbers against lefties are similar to those against righties, so he doesn't offer unique value in certain splits. He does, however, have a 1.27 ERA pitching in the 7th and 8th innings this season.
The strikeouts have always been a specialty to Garrett's repertoire; he's had a K/9 of 10 or higher in five of his seven seasons. The one knock on him has been his walk rate, and he's put up troubling numbers in that category this season. His 17.9% BB% and 7.4 BB/9 are both career highs, and he's averaging nearly a walk per inning.
The southpaw hurler is certainly valuable in a competitor's bullpen, and between his brawls with the Pirates and trash-talking to Javier Baez a few years ago, he's shown his competitiveness and electricity while on the mound. Again, he'll be a free agent after this season, so I think the Royals will definitely look to move him.
Nicky Lopez
Lopez is currently caught in the numbers game with the Royals. Although he can play second base, third base, and shortstop, Kansas City has a lot of their younger guys playing those positions as well. That coupled with his performance this season has made him a potential trade chip for Kansas City. In 57 games, Lopez is batting .221/.338/.639 with 12 RBIs and 5 doubles. It's not pretty, but he is only two years removed from a .300 batting average, 21 doubles, 22 stolen bases, and 4.4 WAR. He offers speed on the base paths and defensive flexibility, as well as good contact skills – Lopez has led the AL in sacrifice hits in each of the past two seasons.
Lopez has recently spent some time in left field, and he's shown some nice flashes there. He's still only 28 years old and won't be a free agent until 2026, but if Kansas City really wants to open up a spot on their roster, they may be willing to sell him for cheap. If they can get him for a good price, there's potential for him to be a solid bench bat for the Blue Jays, but that would probably require some roster movement from Toronto considering the amount of left-handed bats they have as well as their surplus of second basemen.
Josh Staumont
From his rookie season in 2019 through 2021, Staumont had quietly been one of the best young relievers in baseball. 2022 and 2023 have been a different story, though, as Staumont has struggled to keep hitters off the base paths – his WHIP, H/9, and BB/9 all took a step back in that time frame. This year, Staumont has a 5.40 ERA, 1.45 WHIP, 10.8 K/9, and 5.9 BB/9 in 21 games, and he's been on the IL since early June due to a neck strain.
Staumont's fastball averages over 95 mph, and he compliments it with a pair of quality breaking pitches in his slider and curveball. He's not a free agent until 2026, but his value to other competitors is clearly shown in his high ceiling. Buying Staumont now would be hoping to get what he did to begin his career, and I'm not sure if that is a price the Blue Jays would be willing to pay right now.
---
Previously in this series…
---