Meet the Sellers: Colorado Rockies
Photo credit:© Ron Chenoy-USA TODAY Sports
The Colorado Rockies are a hot mess.
They sit second-last in the National League West, only ahead of the miserable Arizona Diamondbacks (who will be examined in the next "Meet the Sellers" segment). The Rockies, as of June 21
st
, hold a record of 30-43, 16.5 games back of the Giants and unlikely to compete with three dominant teams ahead of them.
The big story (pun intended) for the Rockies is the likely selling of superstar shortstop, Trevor Story. In the Blue Jays' case, I personally do not see the fit right now. I am adamantly against moving Bichette from his regular SS position because I think he needs to continue developing there. I think he still has a chance to be a very good defender, despite the occasional hiccups. Moreover, the Blue Jays have a plethora of right-handed power bats at their disposal already, and bringing one in to move your young star SS to a new position seems unnecessary to me.
Despite this, the Rockies still have some higher profiled names expected to be available. They have a couple of high-end starting pitchers available for trade, as well as a couple of valuable bullpen pieces. One of the starting pitchers to be mentioned in this article is likely the most valuable starting pitcher on the market, based on his stuff and his contract.
Here are some players that fill the Blue Jays' needs…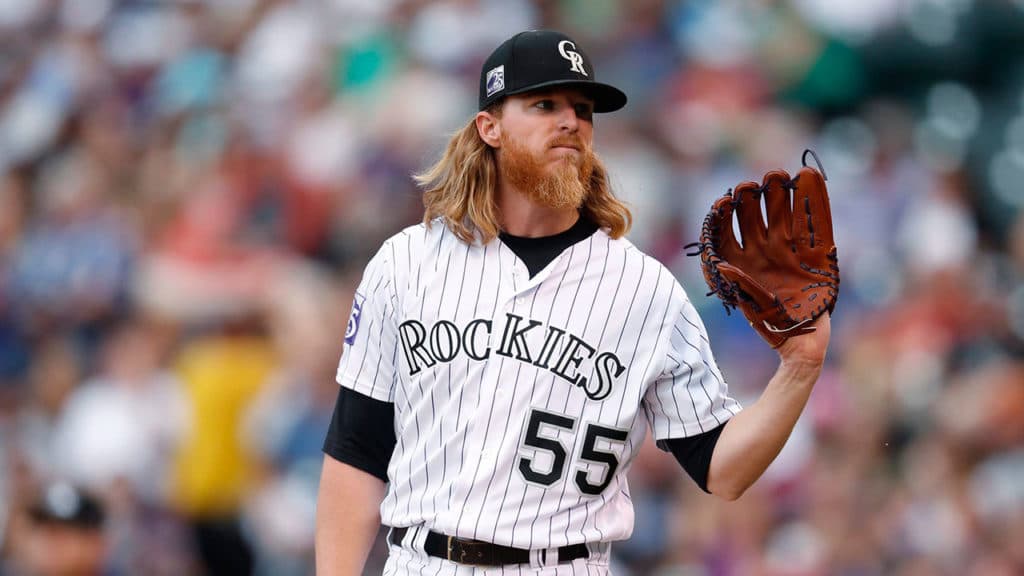 Jon Gray
This is not the most valuable starting pitcher potentially on the move from the Rockies, however, this is another starter that would be valuable if the asking price on the other was too high. Jon Gray is eligible for free agency in 2022, therefore he is a rental. He is currently signed for the rest of this season at $6M. 
The first thing I want to mention about Gray is the fact that he has been hit the least hard this year on his career. His hard-hit percentage this year is at a career-low 34.2% versus 46% last season and 47.1% the season before. In a home ballpark where the ball is often hit harder and carries more due to the mile-high air, the improvement is important to note. Moreover, his ERA on the season is 4.29 compared to his 6.69 ERA last season. His FIP this season is slightly higher than his ERA, sitting at 4.61 which could be slightly concerning. Last season it was the opposite, as he had a FIP of 5.06 versus his ERA of 6.69. Additionally, he has improved his K/9 from last season, going from 5.1 to 7.1. 
The one statistic in my eyes that is worrisome is his elevated BB/9. He is walking batters at a 3.9 BB/9 rate this season, the largest in his career. If he can reduce that under 3, he should be valuable to any team he is moved to. 
Jon Gray is a former first-round selection by the Rockies, selected 3
rd
overall. He has the draft pedigree and the upside still, as he is only 29 years old. A move out of the dominant NL West and the horrible pitching confines of Coors Field would likely help Gray.
German Marquez
Now for the starting pitcher mentioned in the opening section. What makes German Marquez so valuable? He is 26 years old and signed until 2024 with a 2024 team option. He was signed to a team-friendly 5-year deal, worth $43M in 2019. 
Despite pitching in a hitting-friendly environment, he has a 4.26 ERA and 3.58 FIP through 15 starts. The FIP proves that his ERA is inflated because of the defenders behind him. Both statistics are elevated a bit this season, as his ERA was 3.75 last season and his FIP was 3.28. On the other hand, his K/9 is up a full point this season, up from 8.0 to 9.0. The reason his ERA is up this season is probably because of his elevated BB/9. When you give runners free passes in Coors Field, it often leads to damage. He is walking 4.3 batters per 9, well above his previous numbers. The highest BB/9 in his career before was 2.8, which came last season. Even with the scary confines that is Coors Field, he has a career-low HR/9 through 15 starts, with just a 0.7 HR/9. 
If you look through his game logs, his ERA is also swayed by two horrid starts. On May 4
th
, Marquez allowed 8 earned runs in 0.2 innings and on June 12
th
, he surrendered 8 earned runs again in 5 innings. If you ignore those two rough outings, his ERA is exponentially lower. Furthermore, Marquez is a starter that can give you innings. He currently leads the major leagues in complete games, with 2 and he is averaging over 5 innings per start even with that 0.2 inning outing.
If I am Colorado, the first piece I am asking for back is likely Jordan Groshans. From the Blue Jays' perspective, if they ask for Groshans as the main piece, I am still listening because Marquez has great numbers, a great contract, and is still young. 
Daniel Bard
The closer for the Rockies should also be a priority for the Blue Jays. If he can be had in a package for one of the starting pitchers I have mentioned, that would be a huge steal for a team needing bullpen help. His contract works well for the Jays as well, as he is arbitration-eligible after this season, and is not a free agent until 2023. His current deal is 1-year worth $2.93M.
Through 28 appearances this season, his ERA is inflated at 4.20 with a FIP of 3.50. Bard is also striking batters out at the best rate since his rookie season with an 11.1 K/9. Since returning to the majors last season, he has also controlled his walks and rid himself of the yips. He has posted an even 3.6 BB/9 this season and last season. Daniel Bard is another guy that keeps the ball in the ballpark, as he only surrenders 0.9 HR/9. He is a reliable end-of-game bullpen piece, racking up nine saves this season and 6 last season. 
Although he does not give up many home runs, the main concern surrounding Bard this season is how often he is giving up base hits. After 30 innings, he has given up 35 hits. That H/9 needs to lower for sure, but outside of that, I see a very reliable relief arm the Blue Jays need to inquire about.
Mychal Givens
Yet another bullpen piece for the Blue Jays to call on. Mychal Givens is a free agent at season's end, currently signed to a 1-year deal worth $4.05M. 
Like Kyle Crick in the Pittsburgh Pirates article, I view Givens as a bit of a BUYER BEWARE situation. He has a sparkling 2.78 ERA but that comes with an adjusted 4.98 FIP. It sounds as if he has had some good luck this season. Last season he had an ERA of 6.75 and FIP of 9.41. Those numbers were only through 9.1 innings, however, that's still alarming, to say the least. Givens has a solid K/9 of 9.9, but he also has an alarming BB/9 of 4.4. 
Although he has his question marks, Givens does have lots of experience in the AL East, pitching with the Baltimore Orioles from 2015-2020. During those seasons, he did have lots of success, pitching a sub 4 ERA every season except for 2019. He also had some closing experience in the AL East, which cannot go unnoticed. He has 21 career saves, 20 of which came with the Orioles.
Recent articles from Eric Lightfoot