Meet the Sellers: Detroit Tigers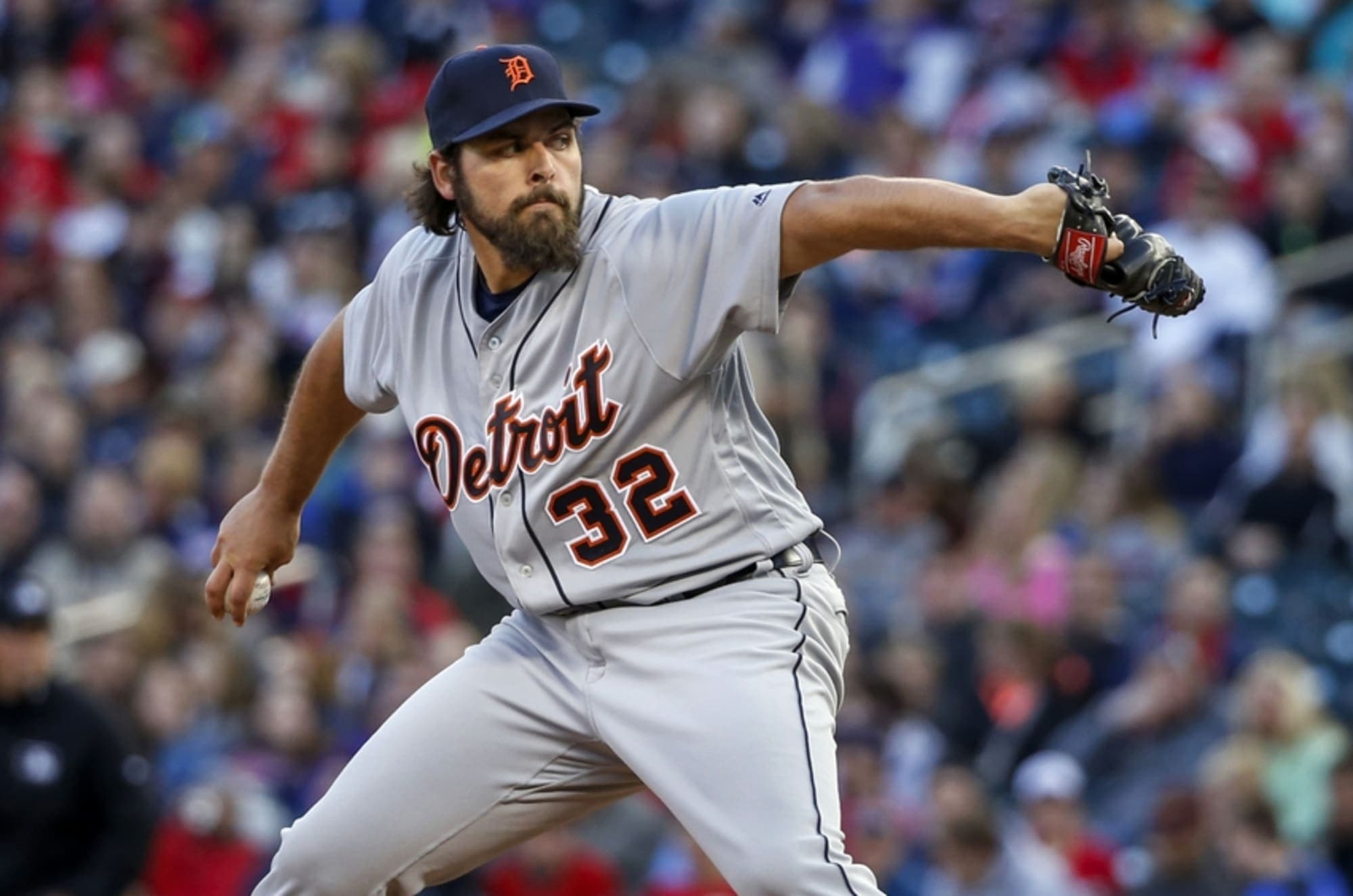 After signing Jaiver Baez, you'd expect the Detroit Tigers to be good.
Looking at the 2022 Tigers Baseball Reference page, they only have three players with an OPS+ of over 100, one of these players we'll be looking at.
Their strength lies in pitching, more specifically, the bullpen. For example, 27-year-old closer Gregory Soto has really emerged as one of the best in the American League. He has a 2.05 ERA and 3.82 FIP.
The two other players we'll be looking at are relievers with pretty strong numbers as well.
Let's start with the position player…
Austin Meadows:
Austin Meadows is a 27-year-old left handed outfielder. In my opinion, his acquisition cost would be quite high, but that is due to his past performances and contract. 
Fun fact: He was part of the absolute steal of a trade, in which the Rays sent Chris Archer to the Pirates for Tyler Glasnow, Pipeline's #12 prospect Shane Baz and Meadows himself.
Statistics:
This season, Meadows is slashing .252/.348/.330 with no homers in 132 plate appearances. His wRC+ sits at a rather low 103, but he's done a fantastic job of not striking out (only 12.9% of the time), while walking 10.6% of the time.
Last season with the Rays, he slashed .234/.315/.458 with 27 homers in 591 plate appearances. He also kept the K% down to 20.6% while his BB% was a solid 10%. He finished 2021 with a wRC+ of 113.
His career best season was in 2019 with the Rays, where he slashed .291/.364/.558 with a wRC+ of 144 in 591 plate appearances. He had a BB% of 9.1% and K% of 22.2% and made his first career all-star appearance.
Defensively, he's nothing special. He's played the corner outfield positions for the majority of his career, compiling a -9 Defensive Runs Saved at the two positions. However, in left field, he has a +3 for his career. 
In terms of Outs Above Average, he also has a -9 in his time at the corners, although he's only at -1 for his career in left field.
This season, he is posting a DRS of +3 between the two positions, including a +2 at right field. His OAA sits at -1.
Meadows missed nearly a month due to vertigo, but has featured in every game versus the Blue Jays.
Contract:
When looking at his statistics, Meadows has been a slightly above average hitter for the past three seasons. However, Meadows' team control is what really boosts his value.
This season, Meadows is making $4 million, which is great value for the type of player he is. With that being said, Meadows has two more seasons of arbitration, meaning he won't become a free agent until after the 2024 season, where he'll be 30-years-old.
If he was to be traded on July 31st, his value resides in his all-star 2019 season as well as his 2 and a half seasons of team control.
Positional Need:
Much like Andrew Benintendi, who we covered in the last "Meet the Sellers", Austin Meadows is a left handed batting slugger. Also like Benintendi, Meadows would be an upgrade over both Ramiel Tapia and Bradley Zimmer.
If the Jays were to get Meadows, I could see him playing in a platoon role with Lourdes Gurriel Jr. I'd also argue that one of those two players could plug in at first base if needed.
Michael Fulmer:
Michael Fulmer is the only other player I could see the Tigers trading.
Statistics:
Originally a starter, he posted a 3.45 ERA and 3.71 FIP in 323.2 innings pitched in 2016 and 2017. He showed amazing control with a BB/9 of 2.3, and was even an all-star in 2017.
Fulmer struggled in his next two seasons, where he posted a 5.40 ERA and 4.93 FIP in 160 innings. Furthermore, his BB/9 increased to 3.3. This led to a move to the bullpen, which Fulmer has benefited from a lot.
In 2021, he had a 2.97 ERA and 3.46 FIP in 69.2 innings pitched.. Furthermore, his K/9 increased to 9.43 which was by far a career high (previous high was 7.48). His BB/9 dropped back down to 2.58 and he finished with an fWAR of 1.6.
This season, he has posted a 2.45 ERA and 3.05 FIP in 22 innings pitched. His K/9 increased again to 9.82, but his BB/9 is at 4.09, the highest mark of his career.
According to baseball savant, he throws his slider 58% of the time at 91 miles per hour (well above average.) He throws a fastball at 94 mph 31% of the time. However, Fangraphs notes he has a sinker and four seamer, nearly an identical amount.
Fulmer also has both a changeup (8% at 86 mph) and curveball (4% at 78%).
Contract:
Unlike Meadows, Fulmer will be a free agent at the end of the season. He's currently making $4,950,000. Furthermore, if he's re-signed, the Jays could look to try him as a starter again with the wisdom of Pete Walker.
Due to Fulmer being a free agent, his value is somewhat diminished due to the uncertainty of whether or not he'd re-sign with the team that trades for him. The Jays should look into the 29-year-old, if not at the trade deadline, then during free agency.
Positional Need:
Absolutely. Fulmer has pitched 8.1 innings in high leverage and batters are only averaging .074 against him. He's putting up great numbers, and with the guidance of Pete Walker, that BB/9 could drop to Fulmer's career average.
Fulmer is definitely a reliever the Jays should be looking at.
Andrew Chafin:
I was originally just going to write about Austin Meadows and Michael Fulmer, but Andrew Chafin deserves a mention.
Statistics:
Chafin has only started three games in his 9-year career. He has always been a reliever, and a pretty darn good one at that.
For his career, he has a 3.27 ERA and 3.13 FIP in 357.2 innings pitched. His career K/9 is at a rather high 9.34 while his BB/9 sits at 3.55, rather good numbers.
This season, he has a 2.51 ERA and 1.95 FIP in 14.1 innings pitched with a K/9 of 10.05 and BB/9 of 2.51.
Chafin is a lefty with two pitches, a fastball he throws 68% of the time at an average of 90 mph and a slider he throws 31% of the time at 82 mph. 
Contract:
This season, the soon-to-be-32-year-old is making $5,500,000. He also has a player option for the 2023 season. Chafin is a pretty good high leverage reliever on a rather team friendly deal.
Positional need:
The Jays currently have only one reliever in their bullpen (Tim Mayza). Chafin pitches in mainly low leverage, as 7 of his 14.1 innings have come in that role. After the Ryan Borucki trade, the Jays are lacking a lefty specialist, and Andrew Chafin could fit that role.
Are the Tigers an ideal trading partner:
The Jays will likely look to add another bullpen piece. I believe Michael Fulmer is the best option, but perhaps the Jays could make a Troy Tulowitzki-esque deal and also trade for Meadows?
Either way, I believe the Tigers are an ideal trade partner.
Previously in the Series….
As always, you can follow me on Twitter @Brennan_L_D. Next up will be the Orioles, due to the fact that they are the Blue Jays next opponents.
---